Press translations [Japan]. Social Series 0110, 1945-12-22.
translation-number: social-0458
call-number: DS801 .S84
---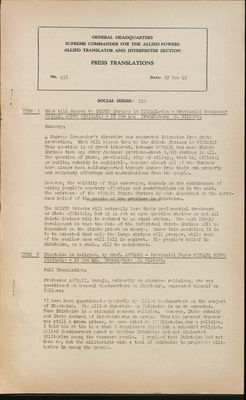 (View Page Image)
GENERAL HEADQUARTERS

SUPREME COMMANDER FOR THE ALLIED POWERS

ALLIED TRANSLATOR AND INTERPRETER SECTION

PRESS TRANSLATIONS

SOCIAL SERIES: 110

ITEM 1 What Will Happen to SHINTO Shrines in NIIGATA-Ken - Provincial Newspaper NIIGATA NIPPO (NIIGATA) - 17 Dec 45. Translator: C. Gilbert.
Summary:

A Supreme Commander's directive has separated Shintoism from State protection. What will happen then to the Shinto Shrines in NIIGATA? This question is of great interest, because NIIGATA has more Shinto Shrines than any other Japanese province-about 5,000 shrines in all. The question of State, provincial, city or village, that is, official or public, subsidy is negligible, because almost all of the Shrines have always been self-supported through income from their own property and voluntary offerings and contributions from the people.

However, the validity of this assertion, depends on the continuance of making people's monetary offerings and contributions as in the past. The existence of the NIIGATA Shinto Shrines is made dependant on the continued belief of the people of the province in Shintoism.

The SHINTO Priests will naturally lose their preferential treatment as State officials, but it is yet an open question whether or not all Shinto Shrines will be reduced to an equal status. The most likely development is that the fate of the individual Shinto Shrines will be dependant on the Shinto priest in charge. Under this condition it is to be expected that only the large shrines will prosper, while some of the smaller ones will fall in neglect. The people's belief in Shintoism, as a whole, will be maintained.

ITEM 2
Shintoism is Religion, by Prof. ANESAKI - Provincial Paper NIIGATA NIPPO (NIIGATA) - 18 Dec. 45. Translator; G. Gilbert.
Full Translation:

Professor ANESAKI, Masaji, authority on Japanese religions, who was questioned at General Headquarters on Shintoism, expressed himself as follows:

"I have been questioned repeatedly by Allied Headquarters on the subject of Shintoism. The Allied directive on Shintoism is as we expected. Pure Shintoism is a splendid peasant religion. However, State subsidy and State control of Shintoism was an error. When the present Emperor was still a crown prince, he once asked me if Shintoism was a religion. I told him at the time that I considered Shintoism a splendid religion. Allied Headquarters asked me whether Shintoism had not implanted Militarism among the Japanese people. I replied that Shintoism had not done so, but the militarists made a tool of Shintoism to propagate militaries in among the people.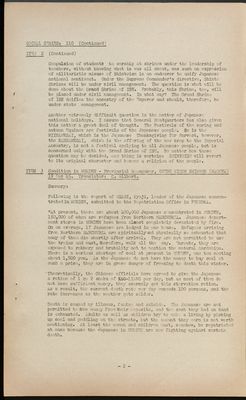 (View Page Image)
SOCIAL-SERIES: 110 (Continued)
Compulsion of students to worship at shrines under the leadership of teachers, without knowing what is was all about, was such an expression of militaristic misuse of Shintoism in an endeavor to unify Japanese national sentiment. Under the Supreme Commander's directive, Shinto Shrines will be under civil management. The question is what will be done about the Grand Shrine of ISE. Probably, this Shrine, too, will be placed under civil management. In what way? The Grand Shrine of ISE deifies the ancestry of the Emperor and should, therefore, be under state management.

Another extremely difficult question is the matter of Japanese national holidays. I assume that General Headquarters has also given this matter a great deal of thought. The Festivals of the spring and autumn Equinox are festivals of the Japanese people. So is the NIINAMESAI, which is the Japanese Thanksgiving for Harvest, however, the KANNAMESAI, which is the offering of the new crop to the Imperial Ancestry, is not a festival applying to all Japanese people, but is concerned only with the Grand Shrine of ISE. No matter how these question may be decided, one thing is certain: SHINTOISM will revert to its original character and become a religion of the people.

ITEM 3 Condition in MUKDEN - Provincial Newspaper, CHUBU NIHON SHIMBUN (NAGOYA) 19 Dec 45. Translator: C. Gilbert.
Summary:

Following is the report of USAMI, Kyoji, leader of the Japanese concentrated in MUKDEN, submitted to the Repatriation Office in FUKUOKA.

"At present, there are about 400,000 Japanese concentrated in MUKDEN, 150,000 of whom are refugees from Northern MANCHURIA. Japanese department stores in MUKDEN have been almost completely devastated by fire. On an average, 17 Japanese are lodged in one house. Refugees arriving from Northern MANCHURIA are spiritually aid physically so exhausted that many of them die shortly after arrival. They are not permitted to use the trains and must, therefore, walk all the way, Enroute, they are exposed to robbery and brutality not to mention the natural Hardships. There is a serious shortage of coal at present in MUKDEN, one ton costing about 1,500 yen. As the Japanese do not have the money to buy coal at such a price, they are in grave danger of freezing to death this winter.

Theoretically, the Chinese officials have agreed to give the Japanese a ratio of 1 go 2 shaku of KAO-LIANG per day, but as most of them do not have sufficient money, they scarcely get this starvation ration. As a result, the current death rate per day exceeds 100 persons, and the rate increases as the weather gets colder.

Death is caused by illness, famine and suicide. The Japanese are not permitted to draw money from their deposits, and the cash they had on hand is exhausted, Adults as well as children try to make a living by picking up coal and peddling on the streets, but the amount they earn is not worth mentioning. At least the women and children must, somehow, be repatriated at once because the Japanese in MUKDEN are now fighting against certain death.

- 2 -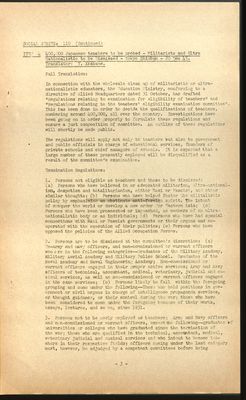 (View Page Image)
SOCIAL-SERIES: 110 (Continued)
ITEM 4 400,000 Japanese teachers to be probed - Militarists and Ultra Nationalistic to be Dismissed - Tokyo Shimbun - 20 Dec 45. Translator: Y. Akabane.
Full Translation:

In connection with the wholesale cleanup of militaristic or ultra-nationalistic educators, the Education Ministry, conforming to a directive of Allied Headquarters dated 31 October, has drafted "Regulations relating to examination for eligibility of teachers" and "Regulations relating to the teachers' eligibility examination committee". This has been done in order to decide the qualifications of teachers, numbering around 400,000, all over the country. Investigations have been going on in order properly to formulate these regulations and ensure a just composition of committee. An outline of these regulations will shortly be made public.

The regulations will apply not only to teachers but also to government and public officials in charge of educational services, founders of private schools and chief managers of schools. It is expected that a large number of these presently empleged will be disqualified as a result of the committee's examination.

Examination Regulations:
Persons not eligible as teachers and those to be dismissed: (a) Persons who have believed in or advocated militarism, ultra-nationalism, despotism and totalitarianism, either Nazi or Fascist, and other similar thoughts; (b) Persons who have helped foster the militalistic policy by emphasizing an obstinate anti-foreign spirit. The intent of conquer the world or develop a new order for Eastern Asia; (c) Persons who have been prosecuted or impeached, as members of an ultra-nationalistic body or as individuals; (d) Persons who have had special connections with Nazi or Fascist governments or their organs and cooperated with the execution of their policies; (e) Persons who have opposed the policies of the Allied Occupation Forces.
Persons are to be dismissed at the committee's discretion: (a) Ex-army and navy officers, and non-commissioned or warrant officers who are in the following categories—Graduates of the Military Academy, Military Aerial Academy and Military Police School. Graduates of the Naval Academy and Naval Engineering Academy; Non-commissioned or warrant officers engaged in their proper active services; Army and navy officers of technical, accountant, medical, veterinary, judicial and musical services, as well as non-commissioned or warrant officers engaged in the same services; (b) Persons likely to fall within the foregoing grouping and come under the following—Those who held positions in government or civil organs in charge of intelligence propaganda services, or thought guidance, or their control during the war; those who have been considered to come under the foregoing because of their works, essays, lectures, and so on, since 1931.
Persons not to be newly employed as teachers; Army and Navy officers and non-commissioned or warrant officers, except the following—graduates of universities or colleges who have graduated since the termination of the war; those who are qualified in the technical, accountant, medical, veterinary judicial and musical services and who intent to become teachers in their respective fields; officers coming under the last category must, however, be adjudged by a competent committees before being

- 3 -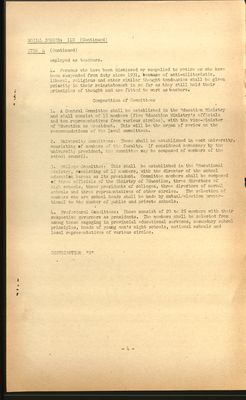 (View Page Image)



SOCIAL SERIES: 110 (Continued)





ITEM 4

(Continued)

employed as teachers.
Persons who have been dismissed or compelled to retire or who have been suspended from duty since 1931, because of anti-militaristic, liberal, religious and other similar thought tendencies shall be given priority in their reinstatement in so far as they still hold their principles of thought and are fitted to work as teachers.
Composition of Committees

A Central Committee shall be established in the Education Ministry and shall consist of 15 members (five Education Ministry's officials and ten representatives from various circles), with the vice-Minister of Education as president. This will be the organ of review on the recommendations of the local committees.
University Commiittees: These shall be established in each university, consisting of members of the faculty. If considered necessary by the university president, the committee may be composed of members of the school council.
College Committee: This shall be established in the Educational Ministry, consisting of 15 members, with the director of the school education bureau as its president. Committee members shall be composed of three officials of the Ministry of Education, three directors of high schools, three presidents of colleges, three directors of normal schools and three representatives of other circles. The selection of members who are school heads shall be made by mutual-election proportional to the number of public and private schools.
Prefectural Committees: These consist of 20 to 25 members with their respective governors as presidents. The members shall be selected from among those engaging in provincial educational services, secondary school principals, heads of young men's night schools, national schools and local representatives of various circles.
DISTRIBUTION "X"

- 4 -