Press translations [Japan]. Social Series 0106, 1945-12-21.
translation-number: social-0445
call-number: DS801 .S84
---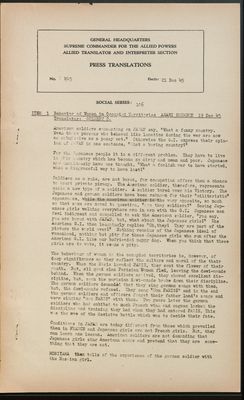 (View Page Image)
GENERAL HEADQUARTERS

SUPREME COMMANDER FOR THE ALLIED POWERS

ALLIED TRANSLATOR AND INTERPRETER SECTION

PRESS TRANSLATIONS

SOCIAL SERIES: 106

ITEM 1 Behavior of Women in Occupied Territories ASAHI SHIHBUN 19 Dec 45 Translator: GILBERT C.
American soldiers commenting on JAPAN say, "What a funny country. Even these persons who behaved like lunatics daring the war are now submissive as a passy cat." Otherwise the G.I. express their opinion of JAPAN in one sentence, "what a boring country!"

For the Japanese people it is a different problem. They have to live in this country which has become so dirty and mean and poor. Japanese new unanimously have one thought, "What a foolish war to have started, what a disgraceful way to have lost!"

Soldiers as a rule, are not bored, for occupation offers them a chance to exert private piracy. The American soldier, therefore, represents quite a new type of a soldier. A soldier bored over his Victory. The Japanese and german soldiers have been reknown for their "militaristic" appearance, while the American soldier is the very opposite, so much so that some are moved to question, "are they soldiers?" Seeing Japanese girls walking everywhere arm in arm with the G.I. Japanese men feel indignent and compelled to ask the American soldier, "you say, you are bored with JAPAN, but, what about the Japanese girls!" The American G.I. then laughingly replies "Oh, they! They are part of the picture the world over!" Nothing remains of the Japanese ideal of womenhood, nothing but pity for these Japanese girls who ran after the American G.I. like oar befriended pappy dog. When you think that these girls are to vote, it se. ms a pity.

The behaviour of women in the occupied territories is, however, of deep significance as they reflect the culture and moral of the their country. When the Nazis invaded PARIS, they sent the flower of their youth. But, all good clan Parisian Women fled, leaving the dewi-monde behind. When the german soldiers arrived, they showed excellent discipline, bat, soon the Parisian dewi-monde broke down their discipline. The german soldiers demanded that they sing german songs with them, but, the dewi-monde refused. They sang "Mon PARIS!" and in the end the german soldiers and officers forgot their father land's songs and were singing "men PARIS" with them. Two years later the german soldiers who had enbibed to much French wine and cognac lacked the discipline and training they had when they had entered PARIS, This was the eve of the decisive battle which was to decide their fate.

Conditions in JAPAN are today different from those which prevailed them in FRANCE and Japanese girls are not French girls. But, they can learn one lesson. American soldiers are not demanding that Japanese girls sing American songs and pretend that they are something that they are not.

MORITAMA then tells of the experience of the german soldier with the Russian girl.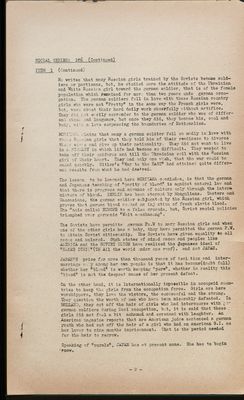 (View Page Image)
SOCIAL SERIES: 106 (Continued)
He writes that many Russian girls trained by the Soviets "became soldiers or partisans, but, he studied more the attitude of the Ukrainian and White Russian girl toward the german soldier, that is of the female population which remained for more than two years unde german occupation. The german soldiers fell in love with these Russian country girls who were not "Pretty" in the same way the French girls were, hat, were about their hard daily work cheerfully without artifice. They did not easily surrender to the german soldier who was of different stock and language, hat once they did, they became his, soul and body, with a love surpassing the boundaries of Nationalism.

MORIYAMA claims that many a german soldier fell so madly in love with these Russian girls that they told him of their readiness to divorce their wives and give up their nationality. They did not want to live in a GERMANY in which life had become so difficult. They wanted to take off their uniforms and till the Ukrainian soil with the Russian girl of their heart. They had only one wish, that the war would be ended quickly. Hitler's "Way to the EAST" had attained quite different results from what he had desired.

The lesson to be learned here MORIYAMA concludes, is that the german and Japanese teaching of "parity of blood." is against natural law and that there is progress and advance of culture only through the intern mixture of blood. BERLIN has been stormed by Mongolians. Tasters and Caucasians, the german soldier subjugated by the Russian girl, which proves that german blood needed an injection of fresh slavic blood. The Nazis called EUROPE to a false crusade, but, Soviet racial policies triumphed over germanic "Welt a
[illegible]
schaaong".
The Soviets have permitte german Ps. W to mary Russian girls and when one of the other girls has a baby, they have permitted the german P.W. to obtain Soviet citizenship. The Soviets have given equality to all races and colored. Such states of mixed races and peoples like AMERICA and the SOVIET UKIOH have realized the Japanese ideal of "HAKKO ICHIU" (TN All the world under one roof), and not JAPAN.

JAPAN'S price for more than thousand years of isolation and inter-marriage only among her own people is that it has become (doubt full) whether her "blood" is worth keeping "pure", whether in reality this "blood" is not the deepest cause of her present defeat.

On the other hand, it is Internationally impossible in occupeid countries to keep the girls from the occupation force. Girls are hers worshippers, they love the victors, the successful and the strong. They question the worth of men who have been miserably defeated. In HOLLAND, they cat off the hair of girls who had intercourse with german soldiers daring Nazi occupation, bat, it is said that these girls did not feel a bit ashamed and screamed with laughter. An American magazine reports that are American judge sentenced a german youth who had cat off the hair of a girl who had an American G.I. as her lover to nine months inprisonment. That is the period needed for the hair to regrow.

Speaking of "morals", JAPAN has at present none. She has to begin
[illegible]
new.
- 2 -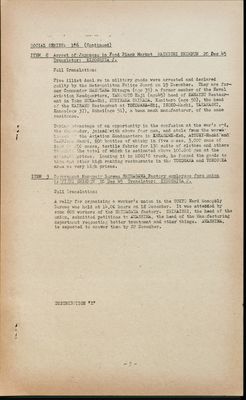 (View Page Image)
SOCIAL SERIES: 106 (Continued)
ITEM 2 Arrest of Japanese in Food Black Market MAINICHI SHIMBUN 20 Dec 45 Translator: KINOSHITA J.
Full Translation:

Five illict dealers in military goods were arrested and declared guilty by the Metropolitan Police Board on 19 December. They are former Commander MASUYAMA Mitsuya (age 39) a former member of the Naval Aviation Headquarters, YAMAMOTO Koji (age 45) head of KAMATSU Restaurant in Yoko SUKA-Shi, KURIHAMA SPIMADA, Kunitaro (age 50), the head of the KAIRAKU Restaurant at YOKOHAMA-Shi, ISOKO-Machi, TAKAHASHI, Kaneo(age 37), Kohei(age 5l), a bean mash manufacturer, of the same residence.

Taking advantage of an opportunity in the confusion at the war's end, the Commander, joined with above four men, and stole from the ware houses of the Aviation Headquarters in
[illegible]
-Ken, ATSUKI-Machi and
[illegible]
Machi, 600 bottles of whisky in five cases, 3,000 cans of food
[illegible]
250 cases, textile fabric for 130 suits of clothes and others thoughts the total of which is estimated above 100.000 yen at the official prices. Loading it in MOGI'S truck, he fenced the goods to them and other high ranking restaurants in the YOKOHAMA and YOKOSUKA area at very high prices.
ITEM 3 Government Monopoly Bureau SHINAGAWA Factory employees form union

[illegible]

CHI SHIMBUN 20 Dec 45 Translator: KINOSHITA J.
Full Translation:

A rally for organising a worker's union in the TOKYO Ward Monopoly Bureau was held at 14,00 hours on 18 December. It was attended by some 600 workers of the SHINAGAWA factory. SHIRAISHI, the head of the union, submitted petitions to AWASHIMA, the head of the Manufacturing department requesting better treatment and other things. AWASHIMA, is expected to answer them by 22 December.

DISTRIBUTION "X"

- 3 -