Press translations [Japan]. Social Series 0105, 1945-12-21.
translation-number: social-0441
call-number: DS801 .S84
---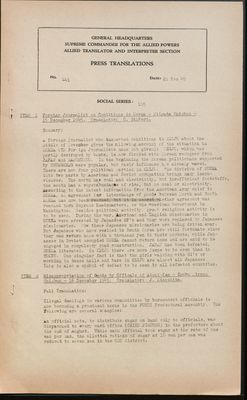 (View Page Image)
GENERAL HEADQUARTERS

SUPREME COMMANDER FOR THE ALLIED POWERS

ALLIED TRANSLATOR AND INTERPRETER SECTION

PRESS TRANSLATIONS

SOCIAL SERIES: 105

ITEM 1 Foreign Journalist on Conditions in Korea - Niigata Shimbun - 15 December 1945. Translator: C. Gilbert.
Summary:

A foreign journalist who inspected conditions in KEIJO about the middle of November gives the following account of the situation in KOREA (TN Foreign Journalists name not given): KEIJO, which was partly destroyed by bombs, is now flooded with Korean refugees from JAPAN and MANCHUKUO. In the beginning the Korean politicians supported by CHUNGKENG were popular, but their influence has already waved. There are now four political parties in KEIJO. The division of KOREA, into two parts by American and Soviet occupation brings many inconviences. The north has coal and electricity, but insufficient foodstuffs, the south has a superabundance of rice, but no coal or electricity. According to the latest information from the American Army chief in KOREA, an agreement for interchange of goods between North and South KOREA has now been reached, but it is secret whether agreement was reached thru Supreme Headquarters, or the American Government in Washington. Besides political activity great religious activity is to be seen. During the war, American and English missionaries in KOREA were arrested by Japanese MP's and they were replaced by Japanese missionaries. Now these Japanese missionaries are being driven away. But Japanese who have resided in South Korea are still fortunate since they can return home with a thousand yen in their pockets, while Japanese in Soviet occupied KOREA, cannot return home and are said to be engaged in compulsory road construction. JAPAN has been defeated, KOREA liberated. In KEIJO there are more jeeps to be seen than in TOKYO. One singular fact is that the girls walking with GI's or working in dance halls and bars in KEIJO are almost all Japanese. This is also a symbol of defeat to be seen in all defeated countries.

ITEM 2 Misappropriation of Goods by Officals of Aichi-Kan - Chubu Nippon Shimbun - 16 December 1945. Translator: J. Kinoshita.
Full Translation:

Illegal dealings in various commodities by bureaucrat officials is now becoming a prominent issue in the FUKUI Prefectural Assembly. The following are several examples:

An official note, to distribute sugar on hand only to officials, was dispatched to every ward office (CHIHO JIMUSHO) in the prefecture about the end of August. While each official took sugar at the rate of one san per man, the allotted rations of sugar at 10 sen per man was reduced to seven sen in the ONO district.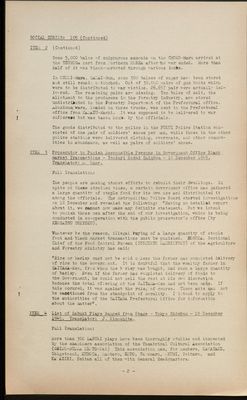 (View Page Image)
SOCIAL SERIES: 105 (Continued)
Some 5,000 bales of sulphurous ammonia on the CHOKO-Maru arrived at the TSURUGA port from Northern KOREA, after the war ended. More than half of it was black-marketed through various docks.

In OSEKI-Mura, SAKAI-Gun, some 300 balses of sugar have been stored arid still remain untouched. Out of 30,000 pairs of gum boots which were to be distributed to war victims, 26,657 pair were actually delivered. The remaining pairs are missing. Ten bales of salt, the allotment to the producers in the forestry industry, are stored undistributed in the Forestry Department of the Prefectural office. Aluminum ware, loaded on three trucks, was sent to the Prefectural office from KANAZU-Machi. It was supposed to be delivered to war sufferers but was taken home by the officials.

The goods distributed to the police in the FUKUI Police Station consisted of one pair of soldiers' shoes per man, while those in the other police stations were delivered clothing, overcoats, and other commodities in abundance, as well as pairs of soldiers' shoes.

ITEM 3 Prosecutor to Punish Responsible Persons in Government Office Black Market Transactions - Yomiuri Hochi Shimbun - 19 December 1945. Translator: M. Ohno.
Full Translation:

The people are making utmost efforts to rebuild their dwellings. In spite of these strained times, a certain Government office has gathered a large quantity of staple food for its own use and distributied it among the officials. The Metropolitan Police Board started investigations on 18 December and revealed the following: "Having no detailed report about it, we cannot now make any definite statement. But we intend to punish those men after the end of our investigation, which is being conducted in co-operation with the public prosecutor's office (by KENSATSU TOKYOKU).

Whatever be the reason, illegal buying of a large quantity of staple food and black market transactions must be punished. HOSODA, Sectional Chief of the Food Control Bureau (SYOKURYO KANRIKYOKU) of the Agriculture and Forestry Ministry has said:

"Rice or barley must not be sold unless the farmer has completed delivery of rice to the Government. It is doubtful that the wealthy farmer in SAITAMA-Ken, from whom the barley was bought, had such a large quantity of barley. Even if the farmer has completed delivery of foods to the Government, he could not sell the rest at his own discretion because the total offering at the SAITAMA-Ken had not been made. If this occured, it was against the rule, of course. These acts can not be sanctioned from the standpoint of morality. I intend to apply to the authorities of the SAITAMA Prefectural Office for information about the matter".

ITEM 4 List of Kabuki Plays Banned from Stage - Tokyo Shimbun - 19 December 1945. Translator: J. Kinoshita.
Full Translation:

More than 300 KABUKI plays have been thoroughly studies and inspected by the examiners association of the Theatrical Cultural Association (GEINO-BUNKA KENTO-Kai) This association has, for members, KAWATAKE, Shigetosni, KUBOTA, Mantaro, ENDO, Taienaru, AKUMI, Seitaro, and KAWAZIRI, Seitan all of them with General Headquarters.

- 2 -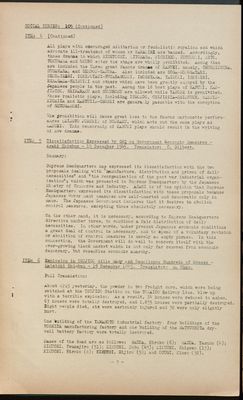 (View Page Image)
SOCIAL SERIES: 105 (Continued)
All plays with encouraged militarism or feudalistic royalism and which advocate ill-treatment of women or KARAKIRI are banned. Accordingly, those dramas in which HIDEYOSHI, KIYOMASA, NICHIREN, KUSUNOKI, MITO, TOKUGAWA and OKUBO enter the stage are wholly prohibited. Among them are included the Three great famous dramas of KABUKI, namely, CHUSHIHGURA, SUGAWARA, and SEMBON-SAKURA. Also included are SOGA-MONOGATARI, SENDAIHAGI, ICHINOTANI-FUTABAGUNKI, IMOSEYAMA, TAIKOKI, ISHIKIRI, HIRAGANA-SEISUIKI and others which nave been greatly enjoyed by the Japanese people in the past. Among the 18 best plays of KABUKI, KANJINCHO, SHIBARAKU and SUKUROKU are allowed while YMONE is prohibited. Those realistic plays, including ISEONDO, CHIJIRIYA-SHINSUKE, SANNINKICHIZA and BANZUIIN-CHOBEI are generally passable with the exception of SUZUGAMORI.

The prohibition will cause great loss to the famous marionette performances (NINGYO JORURI) of BUNRAKU, which acts out the same plays as KABUKI. This censorship of KABUKI plays should result in the writing of new dramas.

ITEM 5 Dissatisfaction Expressed by GHQ on Government Economic Measures - Asahi Shimbun - 19 December 1945. Translator: C. Gilbert.
Summary:

Supreme Headquarters has expressed its dissatisfaction with the two proposals dealing with "manufacture, distribution and prices of daily necessities" and "the reorganisation of the post war industrial organization" which was presented to Supreme Headquarters by the Japanese Ministry of Commerce and Industry. ASAHI is of the opinion that Supreme Headquarters expressed its dissatisfaction with these proposals because Japanese Government measures are half-hearted and democratic only in name. The Japanese Government declares that it desires the abolish control measures, excepting those absolutely necessary.

On the other hand, it is necessary, according to Supreme Headquarters directive number three, to continue a fair distribution of daily necessities. In other words, under present Japanese economic conditions a great deal of control is necessary, and to speak of a voluntary revision or abolition of control measures is merely an empty phrase. In this connection, the Government will do well to concern itself with the ever-growing black market which is not only far removed from economic democracy, but resembles economic anarchy.

ITEM 6 Explosion in TSUJIDO kills Many and Demolishes Hundreds of Houses - Mainichi Shimbun - 19 December 1945. Translator: M. Ohno.
Full Translation:

About 0715 yesterday, the powder in two freight cars, which were being switched at the TSUJIDO Station on the TOKAIDO Railway Line, blew up with a terrible explosion. As a result, 14 houses were reduced to ashes, 63 houses were totally destroyed, and 1,835 houses were partially destroyed. Eight people died, six were seriously injured and 32 were only slightly hurt.

One building of the YAMAMOTO industrial factory four buildings of the YOSHIDA manufacturing factory and one building of the MATSUSHITA dry-cell battery factory were totally destroyed.

Names of the dead are as follows: MAEDA, Hiroko (6); MAEDA, Yasuko (4); KIKUCHI, Tsunejiro (51); KIKUCHI, Nobu (43); KIKUCHI, Shigeko (13); KIKUCHI, Hiroko (8); KIKU
[illegible]
HI, Eijiro (5); and OSUGI, Kinzo (32).
- 3 -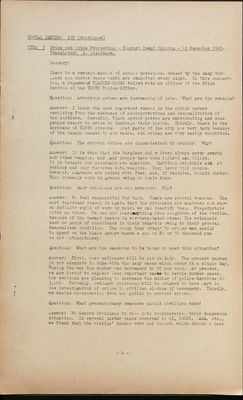 (View Page Image)
SOCIAL SERIES: 105 (Continued)
ITEM 7 Crime and Crime Prevention - Yomiuri Hochi Shimbun - 19 December 1945. Translator: H. Nishihara.
Summary:

There is a certain amount of social uneasiness caused by the many burglary and murder cases which are committed every night. In this connection, a repeater of YOMIURI-HOCHI talked with an officer of the Crime Section of the TOKYO Police Office.

Question: Atrocious crimes are increasing of late. What are the reasons?

Answer: I think the most important reason is the public unrest resulting from the weakness of administratives and demoralization of the soldiers. Secondly, black market prices are skyrocketing and some people resort to crime to increase their income. Thirdly, there is the darkness of TOKYO streets. Most parts of the city are very dark because of the damage caused by air raids, and crimes are very easily committed.

Question: The current crimes are characterized by cruelty. Why?

Answer: It is true that the burglars and robbers always carry swords and other weapons, and many people have been injured and killed. It is because the criminals are amateurs. Habitual criminals aim at robbery and only threaten with weapons. They never kill people. However, amateurs are seized with fear, and, if resisted, commit murder. They susually work in groups owing to their fear.

Question: Many criminals are not arrested. Why?

Answer: We feel responsible for that. There are several reasons. The most important reason is again that the criminals are amateurs and show no definite style of work by which we can identify them. Fingerprints offer no clues. We can not learn anything from neighbors of the victims, because of the vacant spaces in war-devastated areas. The criminals show no pangs of conscience in their behavior owing to their general demoralized condition. The money they obtain by crimes can easily be spent on the black market where a sum of 20 or 30 thousand yen is not extraordinary.

Question: What are the measures to be taken to meet this situation?

Answer: First, more policemen will be put on duty. The present number is not adequate to cope with the many cases which occur in a single day. During the war the number was decreased by 50 per cent. At present, we are forced to neglect less important cases to settle murder cases. Our sections are planning to increase the number of police-dectives to 3,000. Secondly, ordinary policemen will be ordered to take part in the investigation of crimes in civilian clothes if necessary. Thirdly, we desire co-operation from the public to prevent crimes.

Question: What precautionary measures should civilians take?

Answer: We desire civilians to take into consideration their dangerous situation. In several murder cases occurred in OI, OMORI,
[illegible]
AKA, etc., we found that the victims' houses were not locked, which showed a lack
- 4 -

(View Page Image)
SOCIAL SERIES: 105 (Continued)
of precaution. Also, we want to emphasize the following points: going out alone at night is dangerous: when going out, do not carry large sums of money; co-operation between neighbors is desired; if crimes happen, report them to the police as soon as possible; avoid excitement, and try to remember the individual characteristics of the criminals; keep the outside of your house lighted, if possible; and lastly, when detectives come to investigate, give them all possible assistances.

DISTRIBUTION "X"

- 5 -