Press translations [Japan]. Social Series 0102, 1945-12-21.
translation-number: social-0416
call-number: DS801 .S84
---
(View Page Image)
GENERAL HEADQUARTERS

SUPREME COMMANDER FOR THE ALLIED POWERS

ALLIED TRANSLATOR AND INTERPRETER SECTION

PRESS TRANSLATIONS

SOCIAL SERIES: 102

ITEM 1 Bad Treatment of Japanese Repatriates - Provincial Newspaper (Nagoya) Chubu Nippon Shimbun - l4 Dec 45. Translator: J. Kinoshita
Summary:

Almost ell the repatriates from the PACIFIC Islands in the URAGA Camp, for repatriates are being driven to desperation. The camp consists of rude barrack buildings which were originally used as worker's lodgings at the URAGA Docks. Filthy shelter, scanty food, and a lack of clothing have caused the repatriates untold sufferings. Many are barefooted and dressed in one or two items of summer clothing. Among them as found a fellow with only a pair of short drawers. 80 per cent of them are taken ill. Most children are mere skin and bones owing to extreme malnutrition, and everyone is suffering severely from cutaneous diseases. Two or three repatriates drop dead every day from starvation and exposure. Almost all the repatriates in the camp have no money, no acquaintances on whom to rely, and no .jobs in prospect.

The camp has been managed under the direct control of the Welfare of ice since 26 November as the URAGA Repatriate Relief Camp, but no remedial steps have been taken. No special dietary cure is supplied for the sick. Glucase injections for malnutrition were suspended because of the lack of money. In the 5th Camp, seven corpses clad in clothing remained untouched for a week. The vice-president of the organization, who is to reside there, has not yet arrived.

ITEM 2 Commentary on The Heroic War Dead Returned Alive - Provincial Newspaper (Nagasaki/Nagasaki Shimbun 14 Dec 45. Translator: J. Kinoshita
Summary:

Trogedies and comedies occur everywhere with the return of demobilized troops who had been considered dead. There are still 40,000 Japanese Army prisoners, almost all of whom have probably been listed as killed in action.

Just recently, 50 repatriates soldier, who presumably were killed on I
[illegible]
, returned home. A survivor from GU
[illegible]
returned the other day to find that his younger brother had inherited his right of property succession and married his wife, begetting a child.
Death in action was confirmed as soon as possible in order to give bareaved families proper compensation. When communications were cut after a general attack, all members of the attacking force were considered killed, even in case where some doubt remained. The names of war prisoners reported by the Allied Powers were almost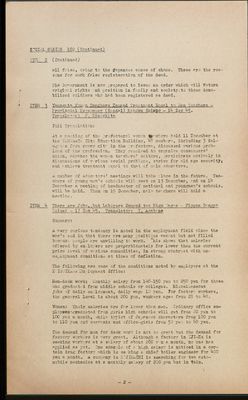 (View Page Image)
SOCIAL SERIES 102 (Continued)
all false, owing to the Japanese sense of shame. These are the reasons for such false registeration of the dead.

The Government is now prepared to issue an order which will return original rights and position in family and society to those demobilized soldiers who had been registered as deed.

ITEM 3 Yamagata Women Teachers Demand Treatment Equal to lien Teachers - Provincial Newspaper (Sandai) Kahoku Shimpo - 114 Dec 45. Translator: J. Kinoshita
Full Translation:

At a meeting of the prefectural women teachers held 11 December at the YAMAGATA City Education Building, 40 members, including 3 delegates from every city in the prefecture, discussed various problems of the profession. They resolved to organize consummers' union, advance the women teachers' culture, participate actively in discussions of various social problems, strive for old age security, and achieve treatment equal to that of male educators.

A number of educators' meetings will take place in the future. Teachers of young men's schools will meet on 13 December, and on 14 December a meeting of headmaster of national and youngmen's schools, will be held. Then on 15 December, male teachers will hold a meeting.

ITEM 4 There Are Jobs, but Laborers Demand too High Wages - Nippon Sangyo Keizai - 17 Dec 45. Translator: Y. Akabane
Summary:

A very curious tendency is noted in the employment field since the war's end in that there are many positions vacant but not filled because, people are unwilling to work. This shows that salaries offered by employers are proportionately far lower than the current price level of various commodities, in strong contrast with unemployment conditions at times of deflation.

The following are some of the conditions noted by employers at the KAISHIKAWA employment office:

Men-desk work: Monthly salary from 140-150 yen to 250 yen for those who graduated from middle schools or colleges. Miscellaneous jobs of daily employment, daily wage 10 yen. For factor workers, the general level is about 200 yon, workers ages from 20 to 40.

Women: Their salaries are far lower than men. Ordinary office employees graduated from girls high schools will get from 80 yen to 100 yen a month, while typist of Japanese characters from 100 yen to 110 yen and servants and office-girls from 50 yen to 50 yen.

The demand for men for desk work is net so great but the demand for factory workers is very great. Although a factory in OJI-Ku is seeking workers at a salary of about 200 yen a month, no one has applied as yet. One example of a high salary is noticed in a certain drug factory which is seeking a chief boiler engineer for 400 yen a month. A company in KOJIMACHI is searching for two automobile mechanics at a monthly salary of 200 yen but in Vain.

- 2 -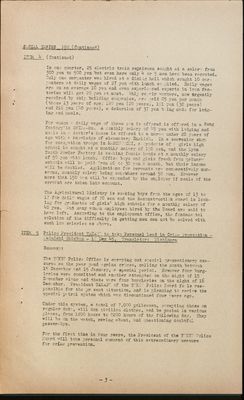 (View Page Image)
SOCIAL SERIES 102 (Continued)
In one quarter, 25 electric train repairmen sought at a salary from 300 yen to 500 yen but even here only 4 or 5 men have been recruited. Only one carpenter was hired at a dining hall which sought 10 carpenters at daily wages of 27 yen with lunch supplied. Daily wages are on an average 10 yen and even experienced experts in iron factories will get 20 yen at most. Ship repair workers, now urgently required by ship building companies, are paid 85 yen per month (those 13 years of age) 180 yen (20 years) 191 yen (30 years) and 216 yen (40 years), a deduction of 37 yen being made for lodging and meals.

For women a daily wage of three yen is offered is offered in a dung factory in SHIBA-ku. A monthly salary of 45 yen with lodging and meals in doctor's house is offered to a nurse under 20 years of age with a knowledge of elementary English. In a souvenior shop for occupation troops in MARUN
[illegible]
UCHI, a graduate of a girls high school is sought at a monthly salary of 150 yen, and the Lyon Tooth Powder Factory is seeking female hands at a monthly salary of 50 yen with lunch. Office boys and girls fresh from primary schools will be paid from 20 to 30 yen a month, but their income will be doubled. Applications for servants are comparatively numerous, monthly salary being somewhere around 50 yen. However more than 150 yen will be expended by the employer if meals of the servant are taken into account.
The Agricultural Ministry is seeking boys from the ages of 13 to 17 for daily wages of 70 sen and the Reconstruction Hoard is looking for graduates of girls' high schools for a monthly salary of 40 yen. But many women employees hired by the Board are said to have left. According to the employment office, the fundamental solution of the difficulty in getting men can not be solved with such low salaries as above.

ITEM 5 Police President TAKANO to take Personal Lead in Crime Prevention - Mainichi Shimbun - 16 Dec 45. Translator: Nishihara
Summary:

The TOKYO Police Office is carrying out special precautionary measures as the year pend agains crimes, calling the month between 15 December and 15 January, a special period. However four burglaries were committed and another attempted on the night of 15 December alone and these were four burglaries on the night of 16 December. President TAKANO of the TOKYO Police Board feels responsible for the present situation, and is planning to revive the special patrol system which was discontinued four years ago.

Under this system, a total of 7,000 policemen, excepting those on regular duty, will don civilian clothes, and be posted in various places, from 1800 hours to 0200 hours of the following day. They will be on the watch, raving about, and questioning doubtful passer-bys.

For the first time in four years, the President of the TOKYO Police Board will take personal command of this extraordinary measure for crime prevention.

- 3 -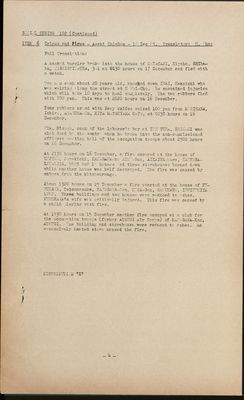 (View Page Image)
SOCIAL SERIES 102 (Continued)
ITEM 6 Crimes and Fires - Asahi Shimbun - 18 Dec Translator: M. Ohno
Full Translation:

A masked burglar broke into the house of N.KATANI, Kiyoho, SHIBA-ku, NISHISHIBAURA, 3-1 at 0130 hours on 17 December and fled with a watch.

Two men each about 20 years old, knocked down IWAI, Kaneichi who was walking along the street at HANGI-Cho. He sustained injuries which will take 10 days to heal completely. The two robbers fled with 700 yen. This was at 2220 hours on 16 December.

Four robbers armed with Navy knifes seized 100 yen from MORIHARA, Ichiro, ASAKUSA-Ku, KITA MATSUYAMA 0-79, at 0230 hours on 16 December.

OTA, Misogo, cook of the laborer's bar at YOKSUKA, SHIO-81 was shot dead by the sentr when he broke into the non-commissioned officers meeting hall of the occupation troops about 2300 hours on 16 December.

At 2130 hours on 16 December, a fire occured at the house of KOJIMA, Jorakichi, KANAGAWA-ku AIK
[illegible]
-Gun, AIKAIWA-Mura, HAMHARA-HAWAHANITA, 5695 and 14 houses and three storehouses burned, down while another house was half destroyed. The fire was caused by embers from the kitchenrange.
About 1320 hours on 15 December a fire started at the house of FURUKAWA, Te
[illegible]
sunosuke, KANAGAWA-Ken, KOZA-Gun, SAMUKAWA, ICHINOMIYA 1242. Three buildings and two house were reduced to ashes. FURUKAWA's wife was critically injured. This fire was caused by a child playing with fire.
At 1930 hours on 15 December another fire occured at a club for the occupation troops (former ATSUGI Air Corps) of KANAGAWA-Ken, ATSUGI. One building and storehouse were reduced to ashes. An excessively heated store caused the fire.

DISTRIBUTION "X"

- 4 -