Press translations [Japan]. Social Series 0096, 1945-12-18.
translation-number: social-0384
call-number: DS801 .S84
---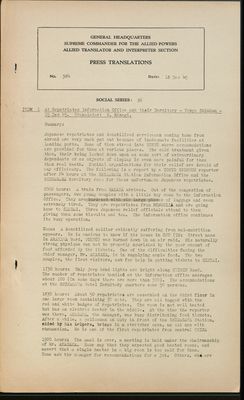 (View Page Image)
GENERAL HEADQUARTERS

SUPREME COMMANDER FOR THE ALLIED POWERS

ALLIED TRANSLATOR AND INTERPRETER SECTION

PRESS TRANSLATIONS

SOCIAL SERIES: 96

ITEM 1 At Repatriates Information Office and their Dormitory - Tokyo Shimbun - 15 Dec 45. Translator: K. Minagi.
Summary:

Japanese repatriates and demobilized servicemen coming home from abroad are very much put out because of inadequate facilities at landing ports. Some of them stream into TOKYO where accommodations are provided for them at various places. The cold treatment given them, their being looked down upon as some sort of extraordinary dependants or as objects of display is even more painful for them than real death. Nominal organizations for their relief are devoid of any efficiency. The following is a report by a TOKYO SHIMBUN reporter after 24 hours at the SHIHAGAWA Station Information Office and the SHINAGAWA dormitory room for these unfortunate Japanese repatriates.

2000 hours: A train from HAKATA arrives. Out of the congestion of passengers, two young couples with a little boy come to the Information Office, They are burdened with six large pieces of luggage and seem extremely tired. They are repatriates from MONGOLIA and are going home to SENDAI. Three Japanese relief officials attend to them giving them some biscuits and tea. The information office continues its busy operation.

Noon: A demobilized soldier evidently suffering from mal-nutrition appears. He is anxious to know if his house in OKU (TN: Street name in ARAKAVA Ward, TOKYO) was burned down in an air raid. His naturally strong physique can not be properly nourished by the poor amount of food afforded by the tickets. One of the difficulties facing the chief manager, Mr. AKASAKA, is in supplying ample food. The two couples, the first visitors, ask for help in getting tickets to SENDAI.

1730 hours: Only jeep head lights are bright along KEIHIN Road. The number of repatriates handled at the information office averages about 100 (On some days there are more than 300). The accommodations at the SHINAGAWA Hotel Dormitory quarters some persons.

1830 hours: About 50 repatriates are assembled on the third floor in one large room containing 30 mats. They are all tagged with the red and white badges of repatriates. The room is not well heated but has an electric heater in the middle. At the time the reporter was there, AKASAKA, the manager, was busy distributing food tickets. After a while, a policeman on duty in front of the SHINAGAWA Station, aided by his helpers. brings in a stretcher case, an old man with rheumatism. He is one of the first repatriates from central CHINA

1900 hours: The meal is over, a meeting is held under the chairmanship of Mr. AKASAKA. Some say that they expected good heated rooms, and assert that a single heater in a big room is too cold for them. Some ask the manager for recommendations for a job. Others, who are

(View Page Image)
SOCIAL SERIES:96 (Continued)
angry with black market dealers, say that they will engage in the honest productive employment of mining. Though short, it is a pleasant meeting where one feels the authorities real aid is always extended to people, whatever the circumstances.

Some of them have no place to go, but the Japanese comfort of sitting and talking on new green TATAMI matting gives them the atmosphere of peaceful friendship, Mr. AKASAKA, the manager, says that an information office without any connections with hotels is of little value. We have accomodations for only 50 or 60 persons, but this is better than nothing.

ITEM 2 Consumers Guild of TOKYO University - Asahi Shimbun - 15 Dec 45. Translator: J. Kinoshita.
Summary:

In the Imperial University of TOKYO a draft of the Purchasing and consumers Guild; which was proposed by Professor ISHII, Teruhisa, was recently finished. It is expected that the Guild will start functioning this spring.

The Guild is to be organized by 10,000 students and 7,000 professors, lecturers; and personnel
[illegible]
those in the hospital and the library. Its tasks, are the following: Management of the mess hall for mess ticket users and dormitories for students; establishment of sales and publishing departments and a special medical office of the Guild in the university hospital; a special post office, and branches of some banks and insurance companies.
The Guild is to be capitalized at 1,000,000 yen, which is supplied by a loan from the Central Gash Office of the Industrial Association. One share will be 50 yen, A professor is expected to have two shares, while a student me shore, which will be repaid after graduation.

Professor MINAMIHARA, Shigeru, the head of the law deportment of the Imperial University in TOKYO, was appointed president of the University on 13 December, at which time he expressed his opinions on the pending problems, saying:

"It is not desirable that the student's participate in university administration because of its difference in character from other enterprises in general. Freedom of the university includes freedom for studying and freedom of the student's life, which means a self-controlled life, A reform of the educational system must be carried out in accord with public opinion. For studying this problem, a committee has been organized in every department of the University.

ITEM 3 Labor disputes - Nippon Sangyo Keizai - 15 December 45 Translator: M. Ohno
.
Full Translation:

At present we are facing the crisis of a labor revolution. The outline of recent situations with regard to the restoration of union activities and labor disputes is as follows:

- 2 -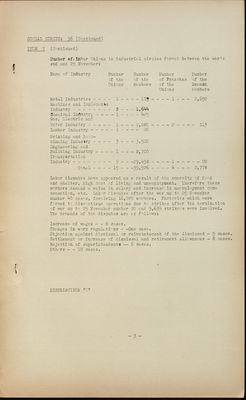 (View Page Image)
SOCIAL SERIES: 96 (Continued)
Number of Labor Unions in industrial circles formed between the war's end and 25 November:

| | | | | |
| --- | --- | --- | --- | --- |
| Name of Industry | Number of the Unions | Number of the Member | Number of Branches of the Unions | Number of the Branch Members |
| Metal Industries | 1 | 119 | 1 | 2,650 |
| Machines and Implements Industry | 2 | 1,644 | | |
| Chemical Industry | 1 | 425 | | |
| Gas, Electric and Water Industry | 1 | 2,080 | 2 | 113 |
| Lumber Industry | 1 | 20 | | |
| Printing and Book | | | | |
| binding Industry | 3 | 3,500 | | |
| Engineering and Building Industry | 1 | 2,700 | | |
| Transportation | | | | |
| Industry | 5 | 29,438 | 1 | 20 |
| Total | 15 | 39,926 | 4 | 2,778 |
Labor disputes have appeared as a result of the scarcity of food and shelter, high cost of living and unemployment. Therefore these workers demand a raise in salary and increase in unemployment compensation, etc. Labor disputes after the war up to 25 November number 40 cases, involving 16,089 workers. Factories which were forced to discontinue operations due to strikes after the termination of war up to 25 November number 20 and 9,639 strikers were involved. The demands of the disputes are as follows:

Increase of wages - - 8 cases.

Changes in work regulations - -One case.

Objection against dismissal or reinstatement of the dismissed - 5 cases Settlement or increase of dismissal and retirement allowances - 8 cases Rejection of superintendents — 6 cases.

Others 10 cases.

DISTRIBUTION "X"

- 3 -