Press translations [Japan]. Social Series 0093, 1945-12-18.
translation-number: social-0373
call-number: DS801 .S84
---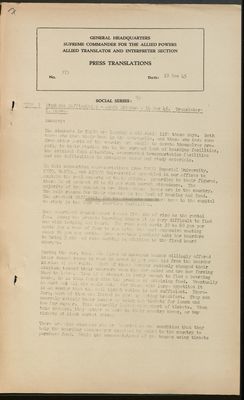 (View Page Image)
GENERAL HEADQUARTERS

SUPREME COMMANDER FOR THE ALLIED POWERS

ALLIED TRANSLATOR AND INTERPRETER SECTION

PRESS TRANSLATIONS

SOCIAL SERIES: 93

ITEM 1 Students Difficulties - Asahi Shimbun - 14 Dec 45. Translator: T. Ogawa.
Summary:

The students in TOKYO are leading a miserable life these days. Both those who have their home in the metropolis, and those who have come from other parts of the country are unable to devote themselves properly to their studies due to the current lack of boarding facilities, the critical food situation, overcrowded transportation facilities and the difficulties in obtaining paper and study materials.

In this connection representatives from TOKYO Imperial University, KEIO, WASEDA, and RIKKYO Universities assembled in our offices to explain the real aspects of their plight. According to their figures, there is at present 20 to 60 per cent normal attendance. The majority of the absentees are those whose homes are in the country. The main reason for their absence is the lack of housing and food. The greatest difficulty for the students who have come to the capital to study is the lack of boarding facilities.

Some apartment housekeepers demand five sho of rice as the rental fee. Among the private boarding houses it is very difficult to find one with lodging and board. The room rent costs 30 to 60 yen per month for a room of four to six mats, the most expensive costing about 90 yen per month. Some covetous landlady asks her boarders to bring 3 sho of rice monthly in addition to the fixed board charges.

During the war, those who lived in spacious houses willingly offered their vacant rooms to rent in order to get some aid from the boarder in case of aim raids. Most of these persons suddenly changed their attitude toward their boarders when the war ended and are now forcing them to leave. Even if a student is lucky enough to find a boarding house, he is then faced with the problem of obtaining food. Eventually he must eat all his meals out. For those with large appetites it is no wonder that the meal ticket ration is not sufficient. Therefore, most of them are forced to give up eating breakfast. They can scarcely satisfy their hunger by using two tickets for lunch and two for supper. This naturally leaves them short of tickets. When this happens, they either go back to their country homes, or buy tickets at black market prices.

There are also students who are boarded on the condition that they help the boarding housekeeper supplied by going to the country to purchase food. While the accommodations of the houses using tickets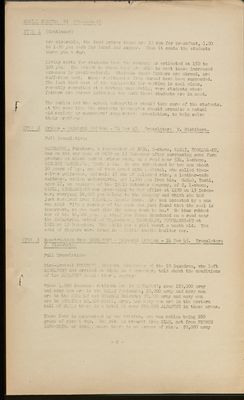 (View Page Image)
SOCIAL SERIES: 93 (Continued)
are miserable, the food prices there are 30 sen for breakfast, 1.00 to 1.30 yen each for lunch and supper. Thus it costs the students three yen a day.

Living costs for students from the country is estimated at 150 to 500 yen. The extent to which they are able to meet these increased expenses is problematical. Students whose fathers are abroad, are suffering most, since remittances from abroad have been suspended. The fact that most of the applicants for working in coal mines, recently recruited at a certain university, were students whose fathers are abroad indicates how much these students are in need.

The public and the school authorities take care of the students. At the same time the students themselves should organize a mutual aid society or consumers' cooperative association, to help solve their problems.

ITEM 2 Crimes - Mainichi Saimbun - 14 Dec 45. Translator: H. Nishihara.
Full Translation:

NARUSHIMA, Fukutaro, a rope-maker of 3634, 2-chome, KASAI, EDOGAWA-KU, was on his way home at 0100 on 13 December after purchasing some farm produce at black market prices when, on a road near 534, 1-chome, HIGASHI MATSUKAWA, EDOGAWA-Ku. He was threatened by two men about 30 years of age, one of them armed with a pistol, who called themselves policemen, and stole 15 sho of polished rice, a leather-made suitcase, woolen undershirts, and 1,000 yen form him. NAGAO, Toshi, aged 17, an employee of the TOKYO Motorcar Company, of 2, 1-chome, GINZA, KYOBASHI-KU was proceeding to her office at 1100 on 13 December, carrying 16,000 yen belong to the Company and which she had just received from YOKOHAMA Specie Bank. She was accosted by man who said "I'm a cashier of the bank and just found that the seal is incorrect, so you must give the money back to me." He thus robbed her of the 16,000 yen. A child was found abandoned on a road near the Industrial School of 92, 2-chome, TSUNOHAZU, YODOBASHI-KU at 1820 on 12 December. The child was a girl about a month old. Ten sets of diapers were found in a little bundle besider her.

ITEM 3 Repatriation from SINGAPORE - Mainichi Shimbun - 14 Dec 45. Translator: J. Kinoshita.
Full Translation:

Vice-Admiral FUKUTOME, Shigaru Commander of the 10 Squadron, who left SINGAPORE and arrived at URAGA on 8 December, told about the conditions of the JAPANESE people there, saying.

"Some 4,500 Japanese citizens are in SINGAPORE; some 120,000 army and navy men are in the MALAY Peninsula; 20,000 army and navy men are in the ANDAMAN and NICOBAR Islands; 70,000 army and navy men are in SUMATRA; 40,000 civil, army, and navy men are in the eastern half of JAVA; there is a total of some 290,000 JAPANESE in these areas.

Their food is guaranteed by the British, one man ration being 280 grams of rice a day. The rice is brought from SIAM, not from FRENCH INDO-CHINA or BURMA, where there is no excess of rice. 20,000 army

- 2 -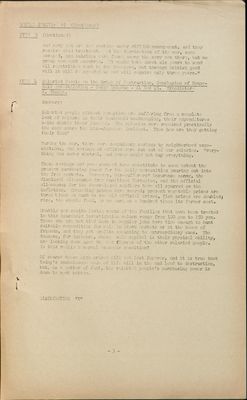 (View Page Image)
SOCIAL SERIES: 93 (Continued)
And navy men are now working under BRITISH management, and they receive good treatment. At the termination of the war, some escaped, and suicides were found among the navy men there, but no group movement occurred. It would take about six years to send all repatriates back to the homeland, but through British good will it will be speeded up and will require only years."

ITEM 4 Salaried People on the Brink of Destruction, Conclusion of House-hold Investigation - Tokyo Shimbun - 14 Dec 45. Translator: K. Minagi.
Summary:

Salaried people without exception are suffering from a complete lack of balance in their household bookkeeping, their expenditures being double their incomes. The salaries have remained practically the same since the Sino-Japanese Incident. Then how are they getting their food?

During the war, there were compulsory savings by neighborhood associations, and savings at offices were cut out of our salaries. Everything was under control, and money could not buy everything.

These savings and some cash at home constitute to some extent the present purchasing power for the daily necessities pouring out into the free markets. Moreover, war-sufferers! insurance money, the dismissal allowances from munitions factories, and the official allowances for the demobilized soldiers have all spurred on the inflation. Commodity prices have soared; present vegetable prices are three times as much as the old official prices, fish prices are doubled; rice, the staple food, is as much as a hundred times its former cost.

Monthly per capita living costs of the families that have been treated in this household investigation column range from 100 yen to 150 yen. Those who are not tied down to regular jobs have the enough to hunt suitable commodities for sale in black markets or at the homes of friends, and they get profits amounting to extraordinary sums. The dancers, for instance, whose sole capital is their physical ability, are looking down upon the red figures of the other salaried people. Is this really a normal economic condition?

Of course these high prices will not last forever, and it is true that today's unwholesome mode of life will in the end lead to destruction but, as a matter of fact, the salaried people's purchasing power is down to rock bottom.

DISTRIBUTION "X"

- 3 -