Press translations [Japan]. Social Series 0091, 1945-12-17.
translation-number: social-0361
call-number: DS801 .S84
---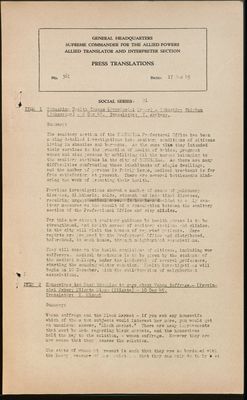 (View Page Image)
GENERAL HEADQUARTERS

SUPREME COMMANDER FOR THE ALLIED POWERS

ALLIED TRANSLATOR AND INTERPRETER SECTION

PRESS TRANSLATIONS

SOCIAL SERIES: 91

ITEM 1 Tokushima Health Census (Provincial Pacer) - Tokushima Shimbun (Tokusaime) - 8 Dec 45. Translator: Y. Akabane.
Summary:

The sanitary section of the TCHUSHIMA Prefectural Office has been making detailed investigations into sanitary conditions of citizens living in shanties and barracks. As the same time they intended their services to the promotion of health of babies, pregnant women and sick persons by mobilizing all the nurses belonging to the sanitary statiums in the city of TCKUSHIMA. As there are many difficulties confronting these inhabitants of simple dwellings, and the number of persons is fairly large, medical treatment is far from satisfactory at present. There are several bottlenecks hindering the work of promoting their health.

Previous investigations showed a number of cases of pulmonary diseases, diphtheria, colds, stomach and intestinal diseases, requiring urgent medical care. It has been decided to a ply sanitary measures as the result of a consulation between the sanitary section of the Prefectional Office and city clinics.

For this new attempt sanitary guidance by health nurses is to be strengthened, and health nurses of sanitary stations and clinics, in the city will visit the houses of reported patents. Here reports are reared by the: Prefectural Office and distributed, beforehand, to each house, through neighborhood associations.

They will concern the health conditions of citizens, including war sufferers. Medical treatments is to be given by the students of the medical college, under the leadership
[illegible]
of several professors, starting the coming winter vacation. Health investigations will begin on 10 December, with the collaboration of neighborhood
ITEM 2 Housewives too Busy Shopping to care about Woman Suffrage.- (Provincial Paper) Niigata Nippo (Niigata) - 10 Dec 45. Translator: K. Minagi
Summary:

Woman suffrage and the Black Market - if you ask any housewife which of these two subjects would interest her more, you would get an unanimous answer, "Black market." There are many improvements that must be made regarding black markets, and the housewives hold the key to the solution, - women suffrage. However they are now aware that they possess the solution.

The state of women at present is such that they are so burdened with the heavy pressure of her existence that they can only do their best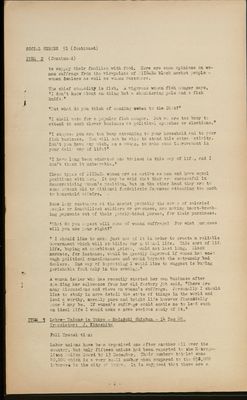 (View Page Image)
SOCIAL SERIES 91 (Continued)
to supply their families with food. Here are some opinions on woman suffrage from the viewpoints of MIIGARA black market people - women dealers as well as women customers.

The chief commodity is fish. A vigorous woman fish monger says, "I don't know about any thing but a shouldering pole and a fish knife."

"But what do you think of sending women to the Diet?"

"I shall vote for a popular fish monger. But we are too busy to attend to such clever business as political speeches or elections."

"I suppose you are too busy attending to your household and to your fish business. You will not be able to stand this extra activity. Don't you have any wish, as a woman, to make some improvement in your daily way of life?"

"I have long been educated and trained in this way of life, and I don't think it unbearable."

These types of NIIGATA women are as active as men and have equal positions, with men. It may be said that they are successful in democratizing women's position, but on the other hand they are to some extent old traditional feudalistic Japanese attending too much to household affairs.

Some lady customers at the market probably the wives of salaried people or demobilized soldiers or evacuees, are making heart-breaking payments cut of their poorly-bined purses, for their purchases.

"What do you expect will come of woman suffrage? For what purposes will you use your right?"

"I should like to make just use of it in order to create a reliable Government which will stabilize our national life. This sort of lif
[illegible]
life, buying at exorbitant prices, would not last long. Black markets, for instance, would be greatly improved if women had enough political consciousness and would boycott the extremely bad dealers. Ono way of boycotting I would like to suggest is buying perishable food only in the evening."
A woman dealer who has recently started her own business after spending her allowance from her old factory job said, "There are many discussions end views on women's suffrage. Personally I should like to study in more detail the state of things in the world and lead a worthy, morally pure and bright life however financially poor I may be. If women's suffrage could enable me to lead such an ideal life I would make a more serious study of it."

ITEM 3 Labour Unions in Tokyo - Mainichi Shimbun - 14 Dec 45. Traslator: J. Kinoshita
Full Translation:

Labor unions have been organized one after another all over the country, but only fifteen unions had been reported to the Metropolitan police Board by 13 December. Their members totaled some 40,000 which is a very small number when compared to the 650,000 laborers in the city of Tokyo. It is supposed that there are a

- 2 -

(View Page Image)
SOCIAL SERIES 91 (Continued)
considerable number of unreported unions such as the Self-Culture Association (JIKYCKAI) in the ISHIKAWAJIMA Heavy Industrial Company, and that of the TCKYO Rapid Transit Railways. There are seven reported unions concerned with press and communication o
[illegible]
izations. Those related to factories are very scarce, numbering only six, and having less than 3,000 members. Moreover, three or them were not organized by laborers themselves. This fact shows the apathetic state of factory laborers and the feudalistic character still remaining in Japanese factories.
The common demand of every onion is a to twofold increase in workers wages and workers' participation in distribution of commodities. Factory miens have a special demand for abolition of the different treatment between staffs workers and laborers.

Their dies
[illegible]
utes are different from previous ones. The most striking difference is that in the strikes of the TOKYO Rapid Transit Rail a
[illegible]
s and the KEISEI Electric Railways, the public facilities war were strictly preserved. In the SUMITOMO Communication, strike, a demand for a 50 per cent increase in wages was rejected by eider workmen as being unreasonable. In the MI
[illegible]
PON Leather strike, details of the worker's living costs were reported, and they demanded a 50 per cent increase in wages.
Most employers are submitting to the recent trend of workers in organizing unions, but there are still some who want to
[illegible]
them as before. Some suggested projects are being pla
[illegible]
her and there for the stabilization of the workers' livelihood by farming or the co-operative management by an employer and his employees.
ITEM 4 Crime Increase to be Met by Strengthened Police Patrol - Asahi Shimbun - 14 Dec 45. Translator: H. Nishihars
Full Translation:

Crimes are being committed in alarming number of late, and on the night of 12 December, four burglaries were commited in TOKYO. The TOKYO Police Office plans to take measures against the crime wave. Tours of inspection will be made more frequently; the guarding section will make its rounds at night in groups of two; extra police boxes will be installed; policemen in civilian clothes will be on duty at main stations and amusement resorts.

The ASAHI reports the following four burglary cases in TOKYO and on in YOKOHAMA.

At 1800 on 12 December, KURITA, Masaki, age 27, of 8, 2-chome SAKAMOTO-Cho, SHITAYA-Ku, was struck with a metal endgel and robbed of 1,400 yen by the men somewhere near 101, KOGETSU-Cho, ASAKUSA-Ku.
At 18.20 on the same day, FUKUDA, Kiichi, age 17, of 887, 2-chome, KAMIOCHLAI, YODOBASHI-Ku, and two others were threatened with daggers by a group of three men, of about 20 years of age, near 17, SAKURAYAMA-Cho, NAKANC-Ku. They were robbed of 25 yen and their overcoats.
At 1830 SHIWODA, Funiko, age 47, of 391, 1-chome, NISHIOKUO, YODOBISHI-Ku was threatened by a grou of three men with

[illegible]

,

- 3 -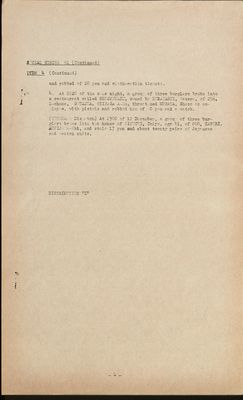 (View Page Image)



SOCIAL SERIES 91 (Continued)





ITEM 4

(Continued)

and robbed of 20 yen and cloth-ration, tickets.
At 2220 of the same night, a group of three burglars broke into a restaurant called SHOSENKAKU owned by KOBAYASHI, Water

[illegible]

, of 256, 1-chome, GOTANDA, SHINAGA

[illegible]

-Ku threatened MURATA, Shozo an employee, with pistols and robbed him of 0 yen and a watch.
(YOKOHAMA Dispatch) At 2300 of 12 December, a group of three burglars broke into the house of EIKUCHI, Chiyo, age 41, of 800, HATORI, AUJIJAWA-Shi, end stole 17 yen and about twenty pairs of Japanese and westrn suits.

DISTRIBUTIOU "X"

- 4 -