Press translations [Japan]. Social Series 0090, 1945-12-17.
translation-number: social-0353
call-number: DS801 .S84
---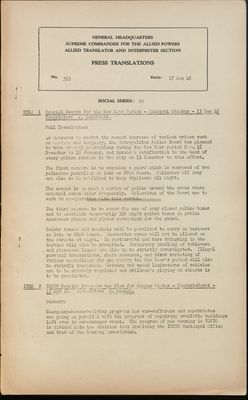 (View Page Image)
GENERAL HEADQUARTERS

SUPREME COMMANDER FOR THE ALLIED POWERS

ALLIED TRANSLATOR AND INTERPRETER SECTION

PRESS TRANSLATIONS

SOCIAL SERIES: 90

ITEM 1 Special Guards for the New Year Period - Mainichi Shimbun - 13 Dec 45 Translator: J. Kinoshita
Full Translation:

As measures to combat the recent increase of various crimes such as murders and burglary, the Metropolitan Police Board has planned to take special precautions during the New Year period from 15 December to 15 January, and issued a notification to the head of every police station in the city on 13 December to this effect.

The first measure is to organize a guard which is composed of two policemen patroling as late as 2200 hours. Policemen off duty arc also to be mobilized to keep vigilance all night.

The second is to post a cordon of police around the areas where criminal cases occur frequently. Delectives of the Board are to work in co-operation with this cordon.

The third measure is to renew the use of many closed police boxes and to establish temporarily 150 night police boxes in public amusement places and placed convenient for the guard.

Geisha houses and brothels will be permitted to carry on business so late as 0100 hours. Unescortes women will not be allowed on the streets at night. In restaurants and bars dringking in the daytime will also be premitted. Insanitary handling of tableware and poisonous liquor are also to be strictly investigated. Illegal personal transactions, short measures, and black marketing of various commodities for use during the New Year's period will also be strictly inspected. Driving and speed limitations of vehicles are to be severely regulated and children's playing on streets is to be prohibited.

ITEM 2 TOKYO Housing Programs too Slow for Coming Winter - Yomiuri-Hochi - 13 Dec 45. Translator: K. Minagi.
Summary:

Emergency-house-building programs for war-sufferers and repatriates are going on parallel with the programs of repairing available buildings left over in war-damaged areas. The program of new housing in TOKYO is divided into two division that involving the TOKYO Municipal Office and that of the Housing Association.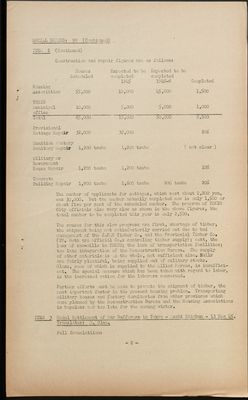 (View Page Image)
SOCIAL SERIES 90 (Continued)
Construction and repair figures arc as follows:
| | | | | |
| --- | --- | --- | --- | --- |
| | Houses Scheduled | Expected to be completed 1945 | Expected to be completed 1945-6 | Completed |
| Housing Association | 55,000 | 10,000 | 45,000 | 1,500 |
| TOKYO municipal office | 10,000 | 5,000 | 5,000 | 1,000 |
| Total | 65,000 | 15,000 | 50,000 | 2,500 |
| Provisional Cottage Repair | 32,000 | 32,00 | | 20% |
| Munition Factory Domitory Repair | 1,200 tsubo | 1,200 tsubo | | (not clear) |
| Military or Government House Repair | 1,200 tsubo | 1,200 tsubo | | 10% |
| Concrete Building Repair | 1,900 tsubo | 1,600 tsubo | 900 tsubo | 20% |
The number of applicants for cottages, which cost about 2,800 yen, was 30,000. But the number actually completed now is only 1,500 or about five per cent of the scheduled number. The program of TOKYO City officials also very slow as shown in the above figures, the total number to be completed this year is only 2,500.

The causes for this slow progress are first, shortage of timber, the shipment being not satisfactorily carried out due to bad management of the JAPAN Timber Co. and the Provincial Timber Co. (TN. Both are official Co.s controling timber supply); next, the loss of saw-mills in TOKYO; the lack of transportation facilities; too late inauguration of the Reconstruction Bureau. The supply of other materials is on the whole, not sufficient also. Nails are fairly plentiful, being supplied out of mulitary stocks. Glass, some of which is supplied to the Allied Forces, is insufficient. The special measure which has been taken with regard to labor, is the increased ration for the laborers concerned.

Further efforts must be made to promote the shipment of timber, the most important factor in the present housing problem. Transporting military houses and factory dormitories from other provinces which once planned by the Reconstruction Bureau and the Housing Associations is hopeless and too late for the coming winter.

ITEM 3 Model Settlement of War Sufferers in Tokyo - Asahi Shimbun - 13 Dec 45. Translator: H. Olno.
Full Translation: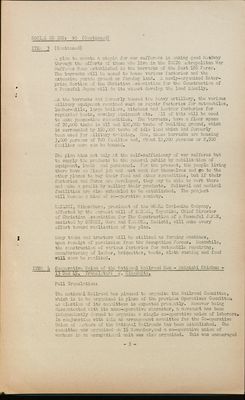 (View Page Image)
- 2 -

SOCIAL SERIES 90 (Continued)
A plan to create a utopia for war sufferers is making good headway through the efforts of those who live in the TOKYO - metropolitan War Sufferes Hone established in the barracks of the East 186 Force. The barracks will be used to house various factories and the extensive parade ground as fanning land. A newly-organized Enterprise Section of the Christian Association for the Construction of a Peaceful Japan will do its utmost develop the land ideally.

As the barracks had formerly housed the heavy artillery, the various military equipment remained such as repair factories for automobiles, lumber-mills, large boilers, kitchens and leather factories for repairing boots, cavalry equipment etc. All of this will be used to make peace-tine commodities. The barracks, have a floor space of 20,000 tsubo in all and 100,000 tsubo of building ground, which is surrounded by 150,000 tsubo of idle land which had formerly been used for military training. How, these barracks are housing 3,000 persons of 700 families and, about 10,000 persons or 2,500 families more can be housed.

The plan aims not only at the self-sufficiency of war sufferes but to supply the products to the general public by mobilization of equipment, lands and personnel. For the present, the people living there have no fixed job and must cook for themselves and go to the other places to buy their food and other commodities, but if their factories and farms are developed, they may be able to work there and make a profit by selling their products. Cultural and medical facilities are also scheduled to be established. The project will became a kind of co-operative society.

HAYASHI, Hikosaburo, president of the OHARA Coal-mine Company, affected by the earnest will of KAGAWA, Toyohiko, Chief Director of Christian Association for The Construction of a Peaceful JAPAN, assisted by SUZUKI, Goro and TAMAOKA, Kenichi, will make every effort toward realization of the plan.

Many tanks and tractors will be utilized as farming machines, upon receipt of permission from the Occupation Forces. Meanwhile, the construction of various factories for automobile repairing, manufacturing of lumber, briquettes, boots, cloth washing and food will soon be realized.

ITEM 4 Cooperative Union of the National Railrood Men - Mainichi Shimbun - 13 Dec 45. Translator: J. Kinoshita.
Full Translation:

The national Railroad has planned to organize the Railroad Committee, which is to be organized in place of the previous Operatives Committer An election of its committees is expected presently. However being discontented with its unco-operative character, a movement has been independently formed to organize a single co-operative union of laborers. In conjunction with this an arrangement committee for the Co-operative Union of Workers of the national Railroads has been established. The committee was organized on 15 November, and a co-operative union of workers in an occupational unit was also organized. This was encouraged

- 3 -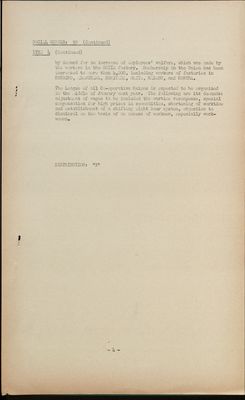 (View Page Image)
SOCIAL SERIES 90 (Continued)
by demand for an increase of employees' warfare, which was made by the workers in the OMIYA factory. Membership in the Union has been increased to more than 4,000, including workers of factories in KUSHIRO, ASAHIKAWA, KORIYAMA, OMIYA, HATABU, and KOKURA.

The League of all Co-operative Unions is expected to be organized in the middle of January next year. The following are its demands: adjustment of wages to be included the wartime recompense, special compensation for high prices in commodities, shortening of work time and establishment of a shifting eight hour system, objection to dismissal on the basis of an excess of workmen, especially work-women.

DISTRIBUTION: "X"

- 4 -