Press translations [Japan]. Social Series 0087, 1945-12-16.
translation-number: social-0346
call-number: DS801 .S84
---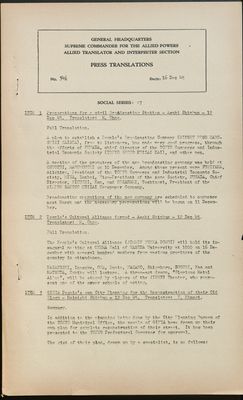 (View Page Image)
GENERAL HEADQUARTERS

SUPREME COMMANDER FOR THE ALLIED POWERS

ALLIED TRANSLATOR AND INTERPRETER SECTION

PRESS TRANSLATIONS

SOCIAL SERIES: 87

ITEM 1 Preparations for a civil Broadcasting Station - Asahi Shimbun - 12 Dec 45. Translator: M. Ohno.
Full Translation.

A plan to establish a People' s Broadcasting Company (MINSHU HOSO KAKUSHIKI KAISHA), free to listeners, has made very good progress, through the efforts of FUNADA, chief director of the TOKYO Commerce and Industrial Economic Society (TOKYO SHOKO KEIZAI KAI), and other men.

A meeting of the promoters of the new broadcasting company was held at CHUOTEI, MARUNOUCHI on 10 December. Among those present were FUJIYAMA, Aiichiro, President of the TOKYO Commerce and Industrial Economic Society, MIWA, Zenbei, Vice-President of the same Society, FUNADA, Chief Director, KIKUCHI, Kan, and KOZANANI, Toshinori, President of the NIPPON SANGYO KEIZAI Newspaper Company.

Broadcasting operations of the new company are scheduled to commence next March and the necessary preparations will be begun on 11 December.

ITEM 2 People's Cultural Alliance formed - Asahi Shimbun - 12 Dec 45. Translator: M. Ohno.
Full Translation.

The People's Cultural Alliance (JIMMIN BUNKA DOMEI) will hold its inaugural meeting at OKUMA Hall of WASEDA University at 1000 on l6 December with several hundred members from various provinces of the country In attendance.

NAKANISHI, Inosuke, OKA, Kunio, KAKANO, Shigeharu, EGUCHI, Kan and MATSUDA, Tokiko will lecture. A three-act drama, "Glorious Metal Alloy", will be staged by players of the JINSEI Theater, who represent one of the newer schools of acting.

ITEM 3 GINZA People's own city planning for the Reconstruction of their old Block - Mainichi Shimbun - 12 Dec 45. Translator: K. Minagi.
Summary.

In addition to the Planning being done by the City planning Bureau of the TOKYO Municipal Office, the people of GINZA have drawn up their own plan for complete reconstruction of their street. It has been presented to the TOKYO Prefectural Governor for approval.

The gist of their plan, drawn up by specialist, is as follows:

(View Page Image)
SOCIAL SERIES: 87 (Continued)
The present street car lines should, he removed to SHOWA Road, expanding the GINZA Road, to make it an exclusive passage for City buses and private automobiles. Stores along the GINEA should be concrete buildings of four to eight floors in height, with floors above the 5th being reserved for shop assistants' dormitories.

Trees should be planted in the middle of the GINZA Road, eliminating the present electric poles. Eight hotels of various styles and theaters and cinema houses should be built on SHOWA Road for the convenience of foreign Tourists. The GINZA Association Hall, containing all organizations, both official and civilian, concerned with the welfare of GINZA people, should be built opposite the river in KYOBASHI.

The GINZA LAND Co-operative should be inaugurated to regulate the landowners' interests. For the convenience of foreign air tourists, TSUKISHIMA should be an international air field, making it closely connected with the GINZA.

ITEM 4 Interview of President, of Metropolitan Police Bureau on Crime - Mainichi Shimbun - 12 Dec 45. Translator: K. Minagi.
Summary:

With the great increase in crimes since the end of the war, the Metropolitan police Bureau has, at present, eight unsolved murder cases on its bands; as well as four cases in which the Bureau is making a concentrated effort to arrest the criminals.

With reference to this increase in crime, many citizens have sent letters to the Bureau asking, "Is the extermination of crimes really impossible?" and "Why are the hateful criminals not arrested?" Consequently a MAINICHI reporter interviewed Mr. TAKANO, President of the Bureau, as to .just who is responsible for the inefficiency.

Question: Crimes are increasing. The number of arrests are very few. How do you interpret your responsibilities?

Answer: It is regrettable and we offer many apologies if the number of arrests are not satisfactory, but we are doing all we can, such as increasing the number of detectives, inaugurating a crime prevention section, sending out more night patrols, and so on.

Question: But why are the arrests not at all successful?

Answer: There may be many reasons. The chief reasons are the shortage of food for policemen, the employment of too many incompetent new policemen during the war, and the lack of adequate telephone facilities.

Question: Don't you think such inconveniences would cause still greater inconveniences to citizens?

Answer: Detectives and policemen are taking money from their own purses to buy potatoes to supplement their regular diet. We are

- 2 -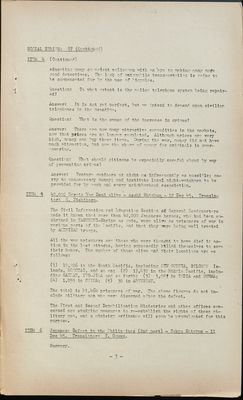 (View Page Image)
SOCIAL SERIES: 87 (Continued)
educating many competent policemen with on 'eye to making many more good detectives, The lack of automobile transportation is going to be compensated for by the use of bicycles.

Question: To what extent is the Police telephone system being repaired?

Answer: It is not yet perfect, but we intend to depend upon civilian telephones in the meantime.

Question: What is the cause of the increase in crimes?

Answer: There are now many attractive commodities in the markets, now that prices are no longer regulated. Although prices are very high, money can buy these items. During the war, money did not have much attraction, hut now the charm of money for criminals is overpowering.

Question: What should citizens be especially careful about by way of preventing crimes?

Answer: Venture outdoors at night as infrequently as possible; carry no unnecessary money; and institute local night-watchmen to he provided for by each and every neighborhood association.

ITEM 5 40,000 Heroic War Dead alive - Asahi Shimbun - 12 Dec 45. Translator: H. Nishihara.
The Civil Information and Education Section of General Headquarters made it known that more than 42,000 Japanese heroes, who had been enshrined in YASUKUNI-Shrine as gods, were alive as prisoners of war in various parts of the Pacific, and that they were being well treated by AMERICAN troops.

All the war prisoners are those who were thought to have died in action in the last attacks, having supposedly killed themselves to save their honor. The number of those alive and their locations are as follows:

(l) 19,806 in the South Pacific, including NEW GUINEA, SOLOMON Islands, MOROTAI, and so on; (2) 17,472 in the Middle Pacific, including SAIIAN, INO-JIMA and so forth; (3) 3,097 in INDIA and BURMA; (4) 1,059 in CHINA; (5) 30 in ARYUSHAN.

The total is 41,464 prisoners of war. The above figures do not include military men who were disarmed after the defeat.

The First and Second Demobilization Ministries and other offices concerned are studying measures to re-establish the rights of these military men, and a ministry ordinance will soon be promulgated for this purpose.

ITEM 6 Japanese Defeat in the Phillipoines (2nd part) - Tokyo Shimbun - 11 Dec 45. Translator: T. Ogawa
.
Summary.

- 3 -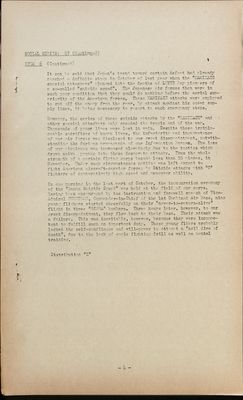 (View Page Image)
SOCIAL SERIES: 87 (Continued)
It can he said that Japan's trend toward certain defeat had already reached a definite stage in October of last year when the "KAMIKAZE special attackers" plunged into the depths of LEYTE Bay pioneers of a so-called "suicide squad". The Japanese air forces then were in such poor condition that they could, do nothing before the aerial superiority of the American forces. These KAMIKAZE attacks were employed to cut off the enemy from the rear, by attack against his ocean supply lines, it being necessary to resort to such emergency steps.

However, the series of these suicide attacks by the "KAMIKAZE" and other special attackers only speeded the tragic end of the war. Thousands of young lives were lost in vain. Despite these irriplaceable sacrifices of human lives, the inferiority and incompetence of our air forces was disclosed to our great disappointment, notwithstanding the furious propaganda of our Information Bureau, The loss of our airplanes was increased alarmingly due to the tactics which drove naive youths into those desperate attacks, Thus the whole strength of a certain flying corps became less than 10 planes, in November. Under such circumstances nothing was left except to fight American aircraft-carrier forces by Suicide attacks with "0" fighters of comparatively high speed and maneuver ability.

In one morning in the last part of October, the inauguration ceremony of the "Banda Suicide Squad." was held at the field of our corps. Having been encouraged by the instruction and farewell speech of Vice-Admiral FUKUTOME, Commander-in-Chief of the 1st Combined Air Base, nine young flighers started cheerfully on their "never-to-return-alive" flight in three "GINGA" bombers. Three hours later, however, to our great disappointment, they flew back to their base. Their attack was a failure. This was inevitable, however, because they were incompetent to fulfill such an important duty. These young fliers probably lacked the self-confidence and will-power to attempt a "hell dive of death", due to the lack of ample fighting drill as well as mental training.

DISTRIBUTION "X"

- 4 -