Press translations [Japan]. Social Series 0086, 1945-12-15.
translation-number: social-0339
call-number: DS801 .S84
---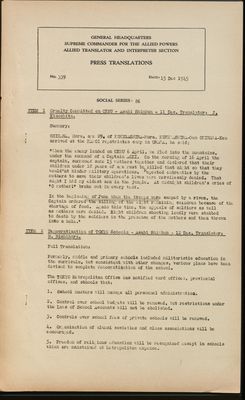 (View Page Image)
GENERAL HEADQUARTERS

SUPREME COMMANDER FOR THE ALLIED POWERS

ALLIED TRANSLATOR AND INTERPRETER SECTION

PRESS TRANSLATIONS

No. 339 Date:
15 Dec 1945
SOCIAL SERIES: 86

ITEM 1 Cruelty Committed on CEBU - Asahi Shimbun - 11 Dec. Translator: J. Kinoshita.
Summary:

CHIHANA, Haru, age 29, of KUNIGASHIRA-Mura, KUNIGASHIRA-Gun OKINAWA-Ken arrived at the KAMOI repatriates camp in URAGA, he said;

"When the enemy landed on CEBU 6 April, we fled into the mountains, under the command of a Captain ACKI. On the morning of 16 April the captain, summoned some 15 mothers together and declared that their children under 10 years of age must be killed that night so that they would'nt hinder military operations. Repeated entreaties by the mothers to save their children's lives were mercilessly denied. That night I hid my eldest son in the jungle. At midnight children's cries of "O mother!" broke out in every tent.

In the beginning of June when the troops were camped by a river, the Captain ordered the killing of the eight remaining children because of the shortage of food. Again this time, the appeals of soldiers as well as mothers were denied. Eight children shouting loudly were stabbed to death by the soldiers in the presence of the mothers and then thrown into a hole."

ITEM 2 Democratization of TOKYO Schools - Asahi Shimbun - 12 Dec. Translator: H. Nishihara.
Full Translation:

Formerly, middle and primary schools included militaristic education in the curricula, but consistent with other changes, various plans have been devised to complete democratization of the school.

The TOKYO Metropolitan Office has notified ward offices, provincial offices, and schools that:
School masters will manage all personnel administration.
Control over school budgets will be removed, but restrictions under the Laws of School Accounts will not be abolished.
Controls over school fees of private schools will be removed.
Organization of alumni societies and class associations will be encouraged.
Freedom of religious education will be recognized except in schools which are maintained at Metropolitan expence.



(View Page Image)



SOCIAL SERIES 86 (Continued)





ITEM 2

(Continued)
Physical training will be limited to athletic shorts.
The Metropolitan Office also proposes to re-educate teachers. All primary school head masters will be trained in an educational course. Subsequently, a course will be set up on 10 December for assistant head masters of primary schools, and one for middle school headmasters starting 11 December. All school teachers are scheduled to be re-educated by March of next year.

Items now under study are:
Removal of school from the supervision of ward chiefs.
Dissolution of schools burned down during the war.
Re opening of kindergartens.
ITEM 3 Raising Rents of War Sufferers Against Law - Mainichi Shimbun - 12 Dec. Translator. K. Minagi.
Summary:

Disputes between landlords and tenants on the right to use devastated lands are continuing. Authorities of the TOKYO Provincial Public Prosecutor's office have indicated that the following are legally applicable to such cases:
War sufferers who have constructed shelters in the place of houses destroyed in the war need not comply with the demands of landowners to remove the shelter or pay an illegally high rent, until special laws are drawn up. (War-time, War-devastated Land and Commodities Law Article 4.)
The same article applies to cases where house tenants are using war-devastated land, and the landowners or house-owners demand removal of the dwelling or illegal rent.
The same article applies to those who are both land tenants and house-owners. The right of renting a house is suspended until a time is appointed by a special order after the war. Consequently, if the house-tenant is using the same land, the removal of the house-tenant in order to rent the ground to another tenant is illegal. If the house-tenant is not using the land, the landowner has the right to use the land and right of renting it is suspended.
If the tenant of the land is forced by the landowner to pay a higher land rent under the pretext of renewing the lease, no Land and House Rent Regulations are applicable, and the raising of the land rent is illegal.
ITEM 4 Crimes - Asahi Shimbun & Yomiuri Hochi - 12 Dec. Translator: H. Nishihara.
Summary:

ASAHI newspaper reports that from 1 to 10 December, 10 cases of murder and 10 cases of burglary in TOKYO have been recorded. YOMIURI HOCHI

- 2 -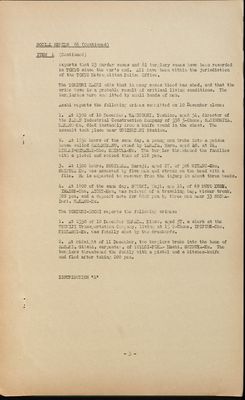 (View Page Image)
SOCIAL SERIES 86 (Continued)
reports that 23 murder cases and 6l burglary cases have been recorded in TOKYO since the war's end. All have been within the jurisdiction of the TOKYO Metropolitan Police Office.

The YOMIURI HACHI adds that in many cases blood was shed, and that the crime wave is a probable result of critical living conditions. The burglaries were committed by small bands of men.

Asahi reports the following crimes committed on 10 December alone:
At 2300 of 10 December, TANIGUCHI, Yoshino, aged 54, director of the JAPAN Industrial Construction Company of 538 5-Chome, SAGINOMIYA, NAKANO-Ku, died instantly from a knife wound in the chest. The assault took place near UGUISUDANI Station.
At 1850 hours of the same day, a young man broke into a geisha house called HANAMIMASU, owned by YAMADA, Haru, aged 40, at 24, MINAMI-HIRADAI-Cho, SHIBUYA-Ku. The burgler threatened the families with a pistol and robbed them of 110 yen.
At 1500 hours, SUGIYAMA, Harnji, aged 27, of 306 MITANI-Cho, SHIBUYA Ku, was accosted by five men and struck on the head with a file. He is expected to recover from the injury in about three weeks.
At 1800 of the same day, SUZUKI, Yuji, age 18, of 69 MOTO KOBE, IMAISE-Chu, AICHI-Ken, was reieved of a traveling bag, wicker trunk, 500 yen, and a deposit note for 6000 yen by three men near 33 SHOWA-Dori, NAKANO-Ku.
The YOMIURI-HOCHI reports the following crimes:
At 2330 of 10 December HARADA, Kinzo, aged 57, a clerk at the TSUKIJI Transportation Company, living at 15 2-Chone, IRIFUNE-Cho, KYOBASHI-Ku, was fatally shot by two drunkards.
At midnight of 11 December, two burglars broke into the home of SASAKI, Giichi, carpenter, of YOYLGI-FUKA- Machi, SHIBUYA-Ku. The burglars threatened the family with a pistol and a kitchen-knife and fled after taking 200 yen.
DISTRIBUTION "X"

- 3 -