Press translations [Japan]. Social Series 0085, 1945-12-15.
translation-number: social-0333
call-number: DS801 .S84
---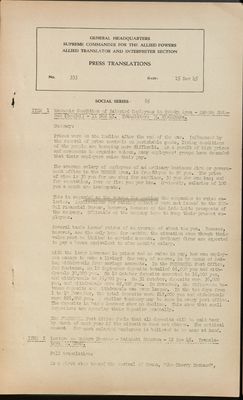 (View Page Image)
GENERAL HEADQUARTERS

SUPREME COMMANDER FOR THE ALLIED POWERS

ALLIED TRANSLATOR AND INTERPRETER SECTION

PRESS TRANSLATIONS

SOCIAL SERIES: 85

ITEM 1 Economic Condition of Salaried Employees in Tohoku Area - Kahoku Shimbun (Sendai) - 11 Dec 45. Translator: H. Nishihara.
Summary:

Prices were on the incline after the end of the war. Influenced by the removal of price controls on perishable goods, living conditions of the people are becoming more difficult. As a result of high prices and movements to organize unions, many employees' groups have demanded that their employers raise their pay.

The average salary of employees of an ordinary business firm or government office in the TOHOKU Area, is from 80 yen to 90 yen. The price of rice is 30 yen for one sho; for sardines, 30 yen for one kan; and for vegetables, four or five yen per kan. Obviously, salaries of 100 yen a month are inadequate.

This is regarded as the reason for pushing the companies to raise salaries, Applications for raising salaries were not issued to the SENDAI Financial Bureau, however, because of the indefinite prospects of the company. Officials of the company hope to keep their present employees.

Several banks issued raises of an average of about ten yen. Bonuses, however, are the only hope for meeting the situation even though their value must be limited to certain amounts. Ordinary firms are expected to pay a bonus equivalent to nine month's salary.

With the large increase in prices and no raise in pay, how can employees manage to make a living? One way, of course, is by means of making withdrawals from savings accounts. In the FUKUSHIMA Post Office, for instance, on 10 September deposits totalled 66,000 yen and withdrawals 30,000 yen. On 10 October deposits amounted to 16,000 yen, and withdrawals to 25,000 yen. On 31 October, deposits were 36,000 yen, and withdrawals were 62,000 yen. In November, the difference between deposits and withdrawals was even larger. In the ten days from 1 to 10 November, the total deposits were 242,000 yen and withdrawals were 628,000 yen. A similar tendency may be seen in every post office. The deposits in banks however show no decline. This show that small depositors are spending their deposits gradually.

The FUKUSHIMA Post office feels that all deposits will be paid back by March of next year if the situation does not change. The critical moment for most salaried employees is believed to be near at hand.

ITEM 2 Lecture on Modern Theater - Mainichi Shimbun - 12 Dec 45. Translator: M. Ohno.
Full translation:

As a first step toward the revival of drama, "The Cherry Orchard",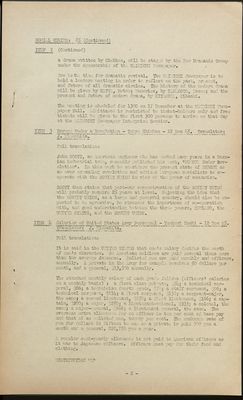 (View Page Image)
SOCIAL SERIES: 85 (Continued)
a drama written by Chekhoo, will be staged by the New Dramatic Group under the sponsorship of the MAINICHI Newspaper.

Now is the time for dramatic revival. The MAINICHI newspaper is to hold a lecture meeting in order to reflect on the past, present, and future of all dramatic circles. The history of the modern drama will be given by HATTA, Motoo; Memories, by YAMAMOTO, Yasue; and the present and future of modern drama, by KITAMURA, Kihachi.

The meeting is scheduled for 1300 on 17 December at the MAINICHI Newspaper Hall, Admittance is restricted to ticket-holders only and free tickets will be given to the first 300 persons to arrive on that day at the MAINICHI Newspaper Enterprise Section.

ITEM 3 Europe Under a Revolution - Tokyo Shimbun - 12 Dec 45. Translator: J. Kinoshita.
Full translation:

John SCOTT, an American engineer who has worked many years in a Russian industrial town, recently published his work, "EUROPE Under Revolution". In this work he considers the present state of EUROPE as an ever expanding revolution and advises European socialists to cooperate with the SOVIET UNION in view of the power of communism.

SCOTT then states that post-war reconstruction of the SOVIET UNION will probably require 25 years at least. Rejecting the idea that the SOVIET UNION, as a large and powerful country, should also be expected to be aggressive, he stresses the importance of co-operation with, and good understanding between the three powers, ENGLAND, the UNITED STATES, and the SOVIET UNION.

ITEM 4 Salaries of United States Army Personnel - Yomiuri Hochi -12 Dec 45. Translator: J. Kinoshita.
Full translation:

It is said in the UNITED STATES that one's salary decides the worth of one's character. So American soldiers are paid several times more than the average Japanese. Enlisted men are paid monthly and officers, annually. A private in the Army for example receives 50 dollars per month, and a general, $13,500 annually.

The standard monthly salary of each grade follows (officers' salaries on a monthly basis): a first class private, $54; a technical corporal, $66; a technician fourth grade, $78; a staff sergeant, $96; a technical sergeant, $114; a first sergeant, $138;a sergeant-major, the same; a second lieutenant, $150; a first lieutenant, $l66; a captain, $200; a major, $250; a lieutenant-colonel, $333; a colonel, the same; a major-general, $666; a lieutenant general, the same. The overseas extra allowance for an officer is ten per cent of base pay and that of an enlisted man, twenty per cent. The exchange rate of yen for dollars is fifteen to one so a private is paid 900 yen a month and a general, 222,750 yen a year.

A regular semi-yearly allowance is net paid to American officers as it was to Japanese officers. Officers must pay for their food and clothing.

DISTRIBUTION "X"

- 2 -