Press translations [Japan]. Social Series 0080, 1945-12-13.
translation-number: social-0307
call-number: DS801 .S84
---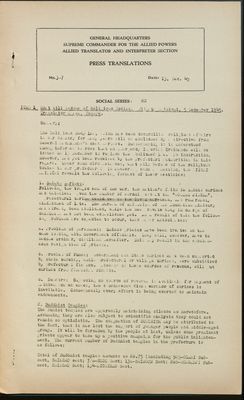 (View Page Image)
GENERAL HEADQUARTERS

SUPREME COMMANDER FOR THE ALLIED POWERS

ALLIED TRANSLATOR AND INTERPRETER SECTION

PRESS TRANSLATIONS

SOCIAL SERIES: 80

ITEM 1 What will become of Religious Bodies.

[illegible]

[illegible]

inic

[illegible]

i, 5 December 1945. Translator Ogawa, Ponoye.
Summary:

The Religious Body Law, which has been controlling religious affairs in our country for many years will be abolished by a
[illegible]
irective from General M
[illegible]
's Head quarters. Suesequently it is understood among informed so recs
[illegible]
t
[illegible]
t an Emergency Imperial Ordinance will be issued on 15 December to replace the bolished law. No instruction, however, has yet been received by the prefectural authorities in this regard. Under such circ
[illegible]
stances, want will become of the religious bodies in our prefectural in answer
[illegible]
such
[illegible]
[illegible]
estion, the
[illegible]
IIGAT
[illegible]
I
[illegible]
C
[illegible]
I reveals the following forcast of their destinies:
Following the tragic end of one war, the nation's faith on Shinto shrines has
[illegible]
inled. When the number of
[illegible]
orshi
[illegible]
ers at the "GOKOKU JINS
[illegible]
A",
[illegible]
prefectural shrine dedic
[illegible]
ted to the local war-dead, has re
[illegible]
r
[illegible]
bly ciminiched of late. The Bureau of S
[illegible]
, of me
[illegible]
aucation Ministry has already been abolished, while the new private body in charge of SA
[illegible]
has not been established yet. As a result of this the following problems are expected to occur, this
[illegible]
antici
[illegible]
tes:
a. Problems of personnel: Shinto priests have been treated on the same looking with Government officials. They will however, have to become ordinary civilians
[illegible]
after. This my result in the spontaneous resignation of priess.
b. Problems of funds: Government and State shrines
[illegible]
been supported by State subsidy, while prefectural or village shrines, were subsidized by prefectural fin
[illegible]
ace.
[illegible]
bsence of these sources of revenue, will
[illegible]
ut shrines from fin
[illegible]
straits.
c. Repairs: Supposing no source or revenue is available for payment of
[illegible]
intence ex
[illegible]
enses, the s
[illegible]
ontaneous disa
[illegible]
earance of shrines is inevitable. Consequently every effort is being exerted to maintain endowments.
The Budist temples are apparently maintaining silence as heretofore. Assumming they are also subject to scientific analysis they could not remain so optimistic. The stagnation of BUDDHISM may be attributed to the fact, that it has lost the support of younger people and middle-aged group. It will be forsaken by the people at last, unless some prominent priests appear to take up a positive campaign for the public inlightenment. The current number of Buddhist temples in the prefecture is as follows:

Total of Buddhist temples amounts to 28.75 (including 925-OTNI Sub-sect, SHINSHO sect; 728-SODO Sect; 138-SHINGON Sect; 268-HONGANJI Sub-sect, SHINSHU Sect; 134-
[illegible]
ICHIREN Sect.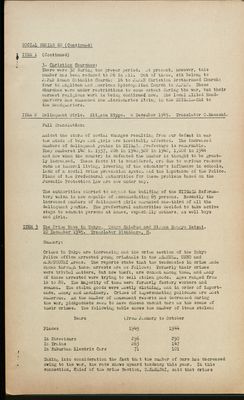 (View Page Image)
SOCIAL SERIES: 80 (Continued)
There were 32 during the prewar period. At present, however, this number has been reduced to 26 in all. Out of these, six belong to JAPAN Roman Catholic Church: 16 to JAPAN Christion Brotherhood Church: four to Anglican and American Episcopalian Church in JAPAN. These churches were under restrictions to some extent during the war, but their earnest religious work is being continued now. The local Allied Headquarters has summoned the missionaries living in the NIIGATA-Shi to the Headquarters.

ITEM 2 Delinquent Girls. Niigata Nippo. 6 December 1945. Translator O. Masashi.
Full Translation:

Amidst the storm of social changes resulting from our defeat in war the minds of boys and girls are inevitably affected. The increased numbers of delinquent youths in NIIGATA Prefecture is remarkable. They numbered 142 in 1937, 206 in 1940,922 in 1942, 1,002 in 1944 and now when the country is defeated the number is thought to be greatly increased. These facts it is considered, are due to various reasons such as immoral living, lowering of the educator's influence in schools, lack of a social crime prevention system and the impotence of the Police. Plans of the Prefectural authorities for these problems based on the Juvenile Protection Law are now under way.

The authorities started to expand the building of the NIIGATA Reformatory which is now capable of accommodating 65 persons. Recently the increased numbers of delinquent girls amounted one-third of all the delinquent youths. The prefectural authorities decided to take active steps to educate persons at homes, especially mothers, as well boys and girls.

ITEM 3 The Crime Wave in Tokyo. Tokyo Shimbun and Nippon Sangyo Keizai. 10 December Translator Nishihara, H
Summary:

Crimes in Tokyo are increasing and the crime section of the Tokyo Police office arrested young criminals in the ASAKUSA, UENO and MARUNOUCHI Areas. The reports state that the tendensies in crime made known through these arrests are as follows: Formerly their crimes were trivial matters, but now theft, are common among them, and many of those arrested were trying to sell stolen goods. Ages ranged from 18 to 20. The majority of them were formerly factory workers and seamen. The stolen goods were mostly clothing, and in order of importance, money and machinery. Crimes of impersonating policemen are most numerous, As the number of amusement resorts has decreased during the war, pickpockets seem to have chosen vacant cars as the scene of their crimes. The following table shows the number of items stolen:
| | | |
| --- | --- | --- |
| Years | (From January to October | |
| Places | 1945 | 1944 |
| In Streetcars | 296 | 290 |
| In Trains | 263 | 147 |
| In Suburban Electric Cars | 71 | 101 |
Taking into consideration the fact that the number of cars has decreased owing to the war, the rate shows upward tendency this year. In this connection, Chief of the crime Section, TAKAHASHI, said that crimes

- 2 -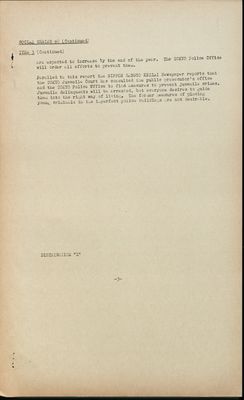 (View Page Image)
SOCIAL SERIES: 80 (Continued)
are expected to increase by the end of the year. The TOKYO Police Office will order all efforts to prevent them.

Paralled to this report the NIPPON SANGYO KEIZAI Newspaper reports that the TOKYO Juvenile Court has consulted the public prosecutor's office and the TOKYO Police Office to find measures to prevent juvenile crimes. Juvenile delinquents will be arrested, but everyone desires to guide them into the right way of living. The former measures of placing young criminals in the imperfect police buildings are not desirable.

DISTRIBUTION "X"

- 3 -