Press translations [Japan]. Social Series 0079, 1945-12-13.
translation-number: social-0304
call-number: DS801 .S84
---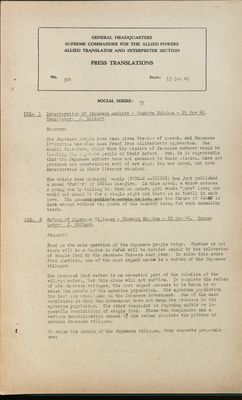 (View Page Image)
GENERAL HEADQUARTERS

SUPREME COMMANDER FOR THE ALLIED POWERS

ALLIED TRANSLATOR AND INTERPRETER SECTION

PRESS TRANSLATIONS

SOCIAL SERIES: 79

ITEM 1 Deterioration of Japanese Authors - Chukoku Shimbun - 29 Nov 45. Translator: O. Gilbert.
Summary:

The Japanese people have been given freedom of speech, and Japanese literature has also been freed from militaristic oppression. One would, therefore, think that the mission of Japanese authors would be teaching the Japanese people of their defeat. But, it is regrettable that the Japanese authors have not awakened to their mission, have not produced one constructive work of art since the war ended, but have deteriorated in their literary standard.

The widely read Mainichi Weekly (SHUKAN MAINICHI) has just published a novel "Purity" by KOJIMA Masajiro. In this novel, a widow seduces a young man by telling him that no modern girl wants "pure" love; she would not stand it for a single night and there is no thrill in such love. The general public's morale is low, and the future of JAPAN is dark enough without the youth of the country being fed such unhealthy trash.

ITEM 2 Reform of Japanese Villages - Chukoku Shimbun - 29 Nov 45. Translator: C. Gilbert.
Summary;

Food is the main question of the Japanese people today. Whether or not there will be a famine in JAPAN will be decided mainly by the deliveries of staple food by the Japanese farmers next year. To solve this acute food question, one of the most urgent needs is a reform of the Japanese villages.

The proposed land reform is an essential part of the solution of the village reform, but this alone will not suffice. To complete the reform of the Japanese villages, the most urgent measure to be taken is to raise the morale of the agrarian population. The agrarian population has lost its confidence in the Japanese Government. One of the main complaints is that the Government does not keep its promises to the agrarian population. The other complaint is imposing unfair or impossible requisitions of staple food. These two complaints and a certain demoralization caused by the defeat complete the picture of present Japanese villages.

To raise the morale of the Japanese villages, four concrete proposals are: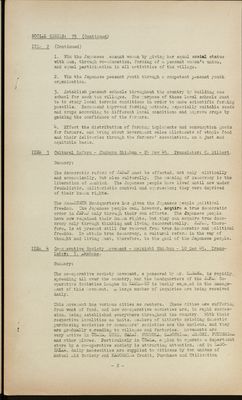 (View Page Image)
SOCIAL SERIES: 79 (Continued)
Win the Japanese peasant woman by giving her equal social status with men, through co-education, forming of a peasant women's union, and equal participation in all activities of the village.
Win the Japanese peasant youth through a competent peasant youth organization.
Establish peasant schools throughout the country by building one school for each ten villages. The purpose of these local schools must be to study local terrain conditions in order to make scientific farming possible. Recommend improved farming methods, especially suitable seeds and crops according to different local conditions and improve crops by gaining the confidence of the farmers.
Effect the distribution of farming implements and consumption goods for farmers, and bring about Government sales allotments of staple food and their deliveries through the farmers' association, on a just and aquitable basis.
ITEM 3 Cultural Reform - Chukoku Shimbun - 29 Nov Translator: C. Gilbert.
Summary:

The democratic reform of JAPAN must be effected, not only politically and economically, but also culturally. The meaning of democracy is the liberation of mankind. The Japanese people have lived until now under feudalistic, militaristic control and oppression; they were deprived of their human rights.

The Mac-ARTHUR Headquarters has given the Japanese people political freedom. The Japanese people can, however, acquire a true democratic order in JAPAN only through their own efforts. The Japanese people have now regained their human rights, but they can acquire true democracy only through thinking and living democratically. JAPAN, therefore, is at present still far removed from true democratic and political freedom. To attain true democracy, a cultural reform in the way of thought and living must, therefore, be the goal of the Japanese people.

ITEM 4 Co-operative Society Movement - Mainichi Shimbun - 10 Dec 45. Translator: Y. Akabane.
Summary:

The co-operative society movement, sponsored by Mr. KAGAWA, is rapidly spreading all over the country, and the headquarters of the JAPAN Cooperative Societies League in KANDA-KU is busily engaged in the management of this Movement. A large number of inquiries are being received daily.

This movement has various cities as centers. These cities are suffering from want of food, and new co-operative societies are, in rapid succession, being established everywhere throughout the country. With their respective localities as units, members of hitherto existing domestic purchasing societies or consumers' societies are the nucleus, and they are gradually spreading to villages and factories. Movements are very active in OSAKA, KOBE, SAKAI, FUKUOKA, KAGOSHIMA, AOMORI, FUKUSHIMA and other places. Particularly in OSAKA, a plan to operate a department store by a co-operative society is attracting attention, and in KAGO-SHIMA, daily necessities are supplied to citizens by two unions of Mutual Aid Society and KAGOSHIMA Credit, Purchase and Utilization

- 2 -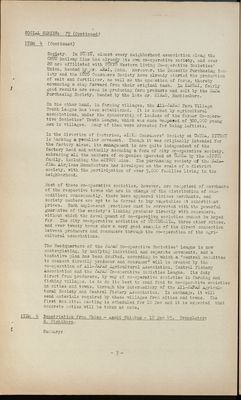 (View Page Image)
SOCIAL SERIES: 79 (Continued)
So
ci
ety. In TŌKYŌ, almost every neighborhood association along the CHUO Railway Line has already its own co-operative society, and over 20 are affiliated with TŌKYŌ Western Living Co-operative Societies' Union, headed by Mr. ARAI, Kaku. Moreover, the Domestic Purchasing Society and the KOTO Consumers Society have already started the production of salt and fertilizer, as well as the operation of farms, thereby advancing a step forward from their original task. In KANSAI, fairly good results are seen in producing farm products and salt by the NADA Purchasing Society, headed by the late Mr. HIRAO, Hachisaburo.
On the other hand, in farming villages, the All-JAPAN Para Village Youth League has been established. It is backed by agricultural associations, under the sponsorship of leaders of the former Co-operative Societies' Youth League, which was once composed of 300,000 young men in villages. Many of them were arrested for being leftists.

In the direction of factories, MIIKE Consumers' Society at ŌMUDA, KYUSHU is backing a peculiar movement. Though it was originally intended for the factory alone, its management is now quite independent of the factory head and actually assuming a form of city co-operative society, embracing all the members of companies operated at ŌMUDA by the MITSUI family, including the MITSUI mine. The purchasing society of the NAKAJIMA Airplane Manufacture has developed on the scale of a district society, with the participation of over 5,000 families living in the neighborhood.

Most of these co-operative societies, however, are comprised of merchants of the respective towns who are in charge of the distribution of commodities; consequently, there have appeared vicious merchants, and society members are apt to be forced to buy vegetables at exhorbitant prices. Such unpleasant practices must be corrected with the powerful guarantee of the society's linking producer directly with consumers, without which the development of co-operative societies cannot be hoped for. The city co-operative societies of UTSUNOMIYA, three other cities, and over twenty towns show a very good example of the direct connection between producers and consumers through the co-operation of the agricultural associations.

The Headquarters of the JAPAN Co-operative Societies' League is now contemplating, by unifying individual and separate movements, and a tentative plan has been drafted, according to which a "central committee to connect directly producer and consumer" will be created by the co-operation of All-JAPAN Agricultural Association, Central Fishery Association and the JAPAN Co-operative Societies League. Its duty direct from producers, by way of co-operative societies in farming and fishing villages, is to do its best to send food to co-operative societies in cities and towns, through the intermediary of the All-JAPAN Agricultural Society and Central Fishery Association. In exchange, it will send materials required by these villages from cities and towns. The first committee meeting is scheduled for 10 Dec and it is expected that concrete action will be taken at once.

ITEM 5 Repatriation from China - Asahi Shimbun - 10 Dec 45. Translator: H. Nishihara.
Summary:

- 3 -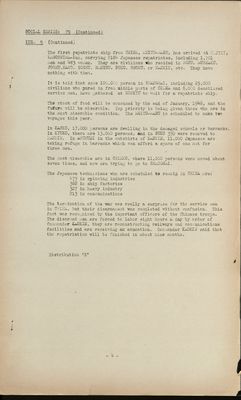 (View Page Image)
SOCIAL SERIES: 79 (Continued)
The first repatriate ship from CHINA, MEIYU-MARU, has arrived at KAJIKI, KAGOSHIMA-Ken, carrying 2184 Japanese repatriates, including 1,701 men and 483 women. They are civilians who resided in BOFU, MUSHAKU, JOSHU, KAKO, SOSHU, NANTSU, BUKO, SHOKU, or NANKIN, etc. They have nothing with them.

It is told that some 100,000 person in SHANGHAI, including 29,000 civilians who pured in from middle parts of CHINA and 6,000 demobilized service men, have gathered at HONKYU to wait for a repatriate ship.

The stock of food will he consumed by the end of January, 1946, and the future will be miserable. Top priority is being given those who are in the most miserable condition. The MEIYU-MARU is scheduled to make two voyages this year.

In KANKO, 17,000 persons are dwelling in the damaged schools or barracks. In KYUKO, there are 13,000 persons, and in BUKO 350 were removed to NANKIN. In ANCHUEI in the outskirts of NANKIN, 11,000 Japanese are taking refuge in barracks which can afford a space of one mat for three men.

The most miserable are in CHINKO, where 11,000 persons were moved about seven times, and now are trying to go to SHANGHAI.

The Japanese technicians who are scheduled to remain in CHINA are:

473 in spinning industries
362 in ship factories
327 in heavy industry
213 in communications

The termination of the war was really a surprise for the service men in CHINA, but their disarmament was completed without confusion. This fact was recognized by the important officers of the Chinese troops. The disarmed men are forced to labor eight hours a day by order of Commander KAOKIN, they are reconstructing railways and communications facilities and are receiving an education. Commander KAOKIN said that the repatriation will be finished in about nine months.

DISTRIBUTION "X"

- 4 -