Press translations [Japan]. Social Series 0078, 1945-12-13.
translation-number: social-0301
call-number: DS801 .S84
---
(View Page Image)
GENERAL HEADQUARTERS

SUPREME COMMANDER FOR THE ALLIED POWERS

ALLIED TRANSLATOR AND INTERPRETER SECTION

PRESS TRANSLATIONS

SOCIAL SERIES: 78

ITEM 1 Postoffice Employes Form Union - 9 Dec Asahi Shimbn Translator: H. Nishihara.
Full translation:

Employees of the Communication Bureau in TOKYO plan to organize a union to parallel the State Railways Employees' Union. At a 2 December meeting of the original members, it was strongly demanded that organization begin at one. Moreover, it was proposed that the authorities be approached with a demand that the high cost of consumer goods he reduced.

Approximately 2,500 employees of the TOKYO Central Post Office and 400 Employees of the SHITAYA Post Offices organized trade unions on 6 December.

On 6 December, representative employees of 30 TOKYO post offices met to discuss measures for the encouragement of unionization of all TOKYO post offices. As a result a general preparatory committee was formed. The discussion further led to plans for the formation of unions of the MEGURD and SHITOSE post office employees, to take place 10 December. Other post office employee unions are scheduled to be organized within a week.

By the end of this year the organization of the 35,000 employees of 77 telephone and post offices in TOKYO will be completed. It is further planned to establish a means whereby all the separate unions will be united.

ITEM 2 First Japanese Repatriates Ar

[illegible]

ve from Singapore - Asahi Shimbun. 9 Dec. 45. Translator: T. Ogawa
Extract:

The TAIAN MARU (6,500 tons), first repatriation ship from the British Colonies, made port Thursday afternoon at ODAKE Harbor, HIRDSHIMA-KEN, with 3,500 male Japanese from SINGAPCRE aboard. ASAHI correspondents who were among the passengers released the following statements:

"We were unable to secure any detailed information about the 600,000 Japanese residents of SIAM, BURMA, FRENCH INDO-CHINA, MALAYA, JAVA, and SUMATRA, since, being internees in various camps near SINGAPORE, all communications with the outside world were severed. Our only sources of information were the infrequent visitors, and occasional liaison men. Moreover, rumors abounded." (TN Rumors listed)

"There are more than 20 Japanese vessels in the South Seas, totaling approximately 50,000 tons. It is felt that if shipping were safer, 3,500 people might be repatriated at a time."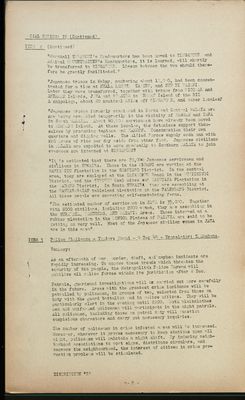 (View Page Image)
SOCIAL SERIES: 78 (Continued)
"Marshall
[illegible]
Headquarters has been moved to SINGAPORE and Admiral
[illegible]
TBATTEN's Headquarters, it is learned, will shortly be transferred to SINGAPORE. Liason between the two should therefore be greatly facilitated."
"Japanese troops in Malay, numbering about 12,000, had been, concentrated for a time at KUALA LAMPUR TAITEN, and SUN EI PATANI. Later they were transferred, together with troops from NICOBAR and ANDMAN Islands, JAVA and SUMATRA to
[illegible]
Island of the RIO A chipelogo, about 80 nautical miles off SINGAPORE, and other locales."
"Japanese troops formerly stationed in North and Central MALAYA are now being assembled temporarily in the vicinity of REMGAN and TAPA in South MALAYA. About 40,000 servicemen have already been moved to
[illegible]
Island. At these locales, the detaniees support themselves by producing tapioca and KANKON. Construction their own quarters and digging wells. The Allied Forces supply each man with 280 grams of rice per day aside from other food. Japanese civilians in MALAYA are expected to move gradually to Southern MALAYA to join evacuees now interned at SINGAPORE"
"It is estimated that there are 70,000 Japanese servicemen and civilians in SUMATRA. Those in the MEDANC are working at the MARIHATTO Plantation in the SHANTARO District. In the central area, they are employed at the TAYAKOMPU Ranch in the BUKICHINGI District, and the SUROKKU Coal mines and KAYUTANA Plantation in the BADANG District. In South SUMATRA they are assembling at the PANKARARATAN tableland plantation in the PALEMBANG District. All these people are operating self-sustaining farms.

"The estimated number of servicemen in JAVA is 35,000. Together with 8000 civilians, including 2000 women, they are assembling in the SURABAYA, BANDDENG, AND BATAVIA Areas. Those interned at a rubber plantation in the BONGOL Plateau of BATAVIA are said to be getting on very well. Most of the Japanese civilian women in JAVA are in this area".

ITEM 3 Police Vigilance - Yomiuri Hochi - 9 Dec 45 - Translator: Y. Akabane.
Summary:

As an aftermath of war, murder, theft, and mayhem incidents are rapidly increasing. To oppose these trends which threaten the security of the people, the Metropolitan Police Bureau will mobilize all police forces within its juridiction after 8 Dec.

Patrols, guardsand investigations will be carried out more carefully in the future. Areas with the greatest crime incidence will be patrolled by policemen, in groups of two, selected from those on duty with the guard battalion and in police offices. They will be particularly alert in the evening until 2200. Both plainclothes men and uniformed policemen will participate in the might patrols. All policemen, including those on patrol duty will question suspisious characters and carry out necessary inquiries.

The number of policemen in crime infested areas will be increased. Moreover, wherever it proves necessary to keep stations open all night, policemen will maintain a night shift. By inducing neighborhood associations to post signs, distribute circulars, and canvass the neighborhood, the interest of citizen in crime prevention problems will be stimulated.

DISTRIBUTION "X"

- 2 -