Press translations [Japan]. Social Series 0077, 1945-12-12.
translation-number: social-0296
call-number: DS801 .S84
---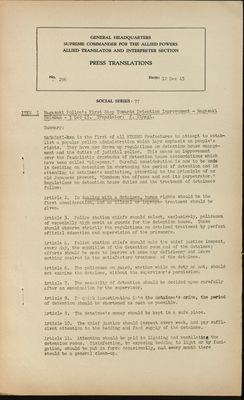 (View Page Image)
GENERAL HEADQUARTERS

SUPREME COMMANDER FOR THE ALLIED POWERS

ALLIED TRANSLATOR AND INTERPRETER SECTION

PRESS TRANSLATIONS

SOCIAL SERIES: 77

ITEM 1 Nagasaki Police's First Step Towards Detention Improvement - Nagasaki Shimbun - 5 Dec 45. Translator: K. Minagi.
Summary:

NAGASAKI-ken is the first of all KYUSHU Prefectures to attempt to establish a popular police administration which lays emphasis on people's rights. They have now drawn up regulations on detention house management and the duties of judicial police. This means an improvement over the feudalistic drawbacks of detention house accomodations which have been called "pig-pens." Careful consideration is now to be made in deciding on detention in shortening the period of detention and in attending to detainee's sanitation, according to the principle of an old Japanese proverb, "Condemn the offence and not its perpetrator." Regulations on detention house duties and the treatment of detainees follow:

Article 2. In dealing with a detainee, human rights should be the first consideration, and no illegal or improper treatment should be given.

Article 3. Police station chiefs should select, exclusively, policemen of especially high merit as guards for the detention house. These should observe strictly the regulations on detained treatment by perfect official education and supervision of the prisoners.

Article 4. Police station chiefs should make the chief justice inspect, every day, the condition of the detention room and of the detainee; efforts should be made to improve at once any deficiency and leave nothing desired in the satisfactory treatment, of the detainee.

Article 6. The policeman on guard, whether while on duty or not, should not examine the detainee, without the supervisor's permission.

Article 7. The necessity of detention should be decided upon carefully after an examination by the supervisor.

Article 8. By quick investigation into the detainee's crime, the period of detention should be shortened as much as possible.

Article 9. The detainee's money should be kept in a safe place.

Article 10. The chief justice should inspect every week, and pay sufficient attention to the bedding and food supply of the detainee.

Article 11. Attention should be paid to lighting and ventilating the detention rooms. Disinfection, by exposing bedding to light or by fumigation, should be put in force occasionally, and every month there should be a general clean-up.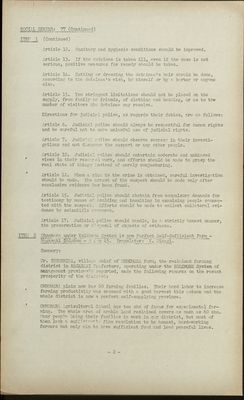 (View Page Image)
SOCIAL SERIES: 77 (Continued)
Article 12. Sanitary and hygienic conditions should be improved.

Article 13. If the detainee is taken ill, even if the case is not serious, positive measures for remedy should be taken.

Article 14. Cutting or dressing the detainee's hair should be done, according to the detainee's wish, by himself or by a barber or anyone else.

Article 15. Too stringent limitations should not be placed on the supply, from family or friends, of clothing and bedding, or as to the number of visitors the detainee may receive.

Directions for judicial police, as regards their duties, are as follows:

Article 6. Judicial police should always be respectful for human rights and be careful not to make unlawful use of judicial rights.

Article 7. Judicial police should observe secrecy in their investigations and not dishonor the suspect or any other people.

Article 10. Judicial police should entertain moderate and unbiased views in their research work, and efforts should be made to grasp the real state of things instead of merely conjecturing.

Article 12. When a clue to the crime is obtained, careful investigation should be made. The arrest of the suspect should be made only after conclusive evidence has been found.

Article 15. Judicial police should abstain from compulsory demands for testimony by means of scolding and insulting in examining people connected with the suspect. Efforts should be made to collect collateral evidence by scientific research.

Article 17. Judicial police should handle, in a strictly honest manner, the preservation or disposal of objects of evidence.

ITEM 2 Ohnohara under Kolchose System is now Perfect Self-Sufficient Farm - Nagasaki Shimbun - 5 Dec 45. Translator: K. Minagi.
Summary:

Mr. TOYOSHIMA, village chief of OHNOHARA Farm, the reclaimed farming district in NAGASAKI Prefecture, operating under the KOLCHOSE System of management previously reported, made the following remarks on the recent prosperity of the district:

OHNOHARA plain now has 60 farming families. Their hard Labor to increase farming productivity was crowned with a good harvest this autumn and the whole district is now a perfect self-supplying province.

OHNOHARA Agricultural School, has ten cho of farms for experimental farming. The whole area of arable land reclaimed covers as much as 60 cho. Many people bring their families to work in our district, but most of them lack a sufficiently firm resolution to be honest, hard-working farmers but only aim to have sufficient food and lead peaceful lives.

- 2 -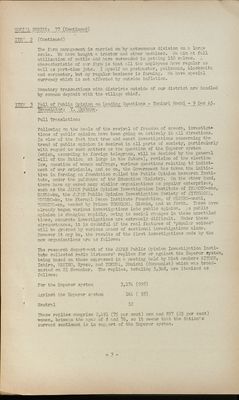 (View Page Image)
SOCIAL SERIES: 77 (Continued)
The farm management is carried on by autonomous division on a large scale. We have bought a tractor and other machines. We aim at full utilization of cattle and have succeeded in getting 150 calves. A characteristic of our farm is that all the employees have regular as well as part-time jobs. I myself am postmaster, policeman, blacksmith and carpenter, but my regular business is farming. We have special currency which is not affected by outside inflation.

Monetary transactions with districts outside of our district are handled by common deposit with the village chief.

ITEM 3 Poll of Public Opinion on Leading Questions - Yomiuri Hochi - 9 Dec 45. Translator: Y. Akabane.
Full Translation:

Following on the heels of the revival of freedom of speech, investigations of public opinion have been going on actively in all directions. In view of the fact that true and exact investigations concerning the trend of public opinion is desired in all parts of society, particularly with regard to such matters as the question of the Emperor system (which, according to foreign telegrams, will be decided by the general will of the Nation at large in the future), revision of the election law, question of woman suffrage, various questions relating to indictment of war criminals, and so on, the Government has taken the initiative in forming an foundation called the Public Opinion Research Institute, under the guidance of the Education Ministry. On the other hand, there have appeared many similar organizations as popular enterprises, such as the JAPAN Public Opinion Investigation Institute of IWAMOTO-cho, KANDA-ku, the JAPAN Public Opinion Investigation Society of JIYUGAOKA, MEGURO-ku, the Eternal Peace Institute Foundation, of MEJIRO-machi, TOSHIMA-ku, headed by Prince TOKUGAWA, Gishin, and so forth. These have already begun various investigations into public opinion. As public opinion is changing rapidly, owing to social changes in these unsettled times, accurate investigations are extremely difficult. Under these circumstances, it is doubtful if the real features of "popular voices" will be grasped by various means of sectional investigations alone. However it may be, the results of the first investigations made by the new organizations are as follows:

The research department of the JAPAN Public Opinion Investigation Institute collected radio listeners' replies for or against the Emperor system, being based on those expressed in a meeting held by Diet members KIYOSE, Ichiro, MAKINO, Ryozo, and TOKUDA, Shuichi (Communist) which was broadcasted on 21 November. The replies, totaling 3,348, are itemized as follows:
| | |
| --- | --- |
| For the Emperor system | 3,174 (95%) |
| Against the Emperor system | 164 (5%) |
| Neutral | 10 |
These replies comprise 2,491 (75 per cent) men and 857 (25 per cent) women, between the ages of 8 and 76, so it seems that the Nation's current sentiment is in support of the Emperor system.

- 3 -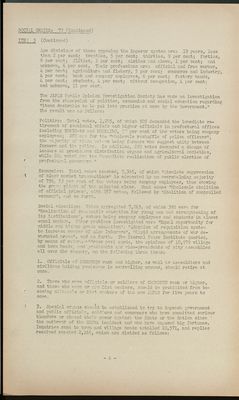 (View Page Image)
SOCIAL SERIES: 77 (Continued)
Age divisions of those opposing the Emperor system are: 19 years, less than 2 per cent; twenties, 5 per cent; thirties, 9 per cent; forties, 6 per cent; fifties, 1 per cent; sixties and above, 1 per cent; and unknown, 6 per cent. Their professions are: official and free worker, 4 per cent; agriculture and fishery, 5 per cent; commerce and industry, 4 per cent; bank and company employees, 6 per cent; factory hands, 4 per cent; students, 4 per cent; without occupation, 4 per cent: and unknown, 11 per cent.

The JAPAN Public Opinion Investigation Society has made an investigation from the standpoint of politics, economics and social education regarding "items desirable to be put into practice at once by the Government." The result was as follows:

Politics: Total votes, 1,265, of which 505 demanded the immediate retirement of sectional chiefs and higher officials in prefectural offices including TOKYO-to and HOKKAIDO, 50 per cent of the voters being company employees; 280 are for the "wholesale reshuffle of police officers", the majority of these voters being farmers who suggest unity between farmers and the police, In addition, 220 votes demanded a change of leaders of provisions distribution organs and agricultural societies, while 201 voted for the, "immediate realization of public election of prefectural governors".

Economics: Total votes reached, 7,365, of which "Absolute suppression of black market transactions" is advocated by an overwhelming majority of 756, 53 per cent of the voters being company employees, thus showing the grave plight of the salaried class. Next comes "Wholesale abolition of official prices", with 257 votes, followed by "Abolition of controlled economy", and so forth.

Social education: Votes aggregated 7,245, of which 382 were for "Realization of democratic education for young men and strengthening of its institutions", voters being company employees and students in almost equal number. Other problems investigated were "Equal opportunity for middle and higher grade education", "Adoption of requisition system to increase number of mine laborers", "Rapid arrangements of war devastated areas", and so forth. The Eternal Peace Institute queried, by means of return-address post cards, the opinions of 10,979 village and town heads, and presidents and vice-presidents of city assemblies all over the country, on the following three items:
Officials of CHOKUNIN rank and higher, as well as ex-soldiers and civilians holding positions in controlling organs, should retire at once.
Those who were officials or soldiers of CHOKUNIN rank or higher, and those who were or are Diet members, should be prohibited from becoming officials or Diet members of the new JAPAN for five years to come.
Special organs should be established to try to impeach government and public officials, soldiers and commoners who have committed serious blunders or abused their power against the State or the Nation since the outbreak of the CHINA incident and who have amassed big fortunes. Inquiries sent to town and village heads totalled 10,571, and replies received reached 2,166, which are divided as follows:
- 4 -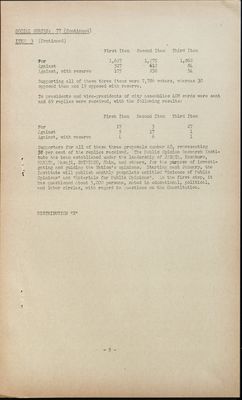 (View Page Image)
SOCIAL SERIES: 77 (Continued)
| | | | |
| --- | --- | --- | --- |
| | First Item | Second Item | Third Item |
| For | 1,627 | 1,275 | 1,862 |
| Against | 327 | 612 | 84 |
| Against, with reserve | 175 | 232 | 54 |
Supporting all of these three items were 7,786 voters, whereas 30 opposed them and 19 opposed with reserve.

To presidents and vice-presidents of city assemblies 408 cards were sent and 69 replies were received, with the following results:
| | | | |
| --- | --- | --- | --- |
| | First Item | Second Item | Third Item |
| For | 17 | 3 | 27 |
| Against | 5 | 17 | 1 |
| Against, with reserve | 4 | 6 | 1 |
Supporters for all of these three proposals number 40, representing 58 per cent of the replies received. The Public Opinion Research Institute has been established under the leadership of JABATA, Kosaburo, HARATA, Masaji, SHIMIDZU, Shim, and others, for the purpose of investigating and guiding the Nation's opinions. Starting next January, the Institute will publish monthly pamphlets entitled "Science of Public Opinions" and "Materials for Public Opinions". As the first step, it has questioned about 5,000 persons, noted in educational, political, and labor circles, with regard to questions on the Constitution.

DISTRIBUTION "X"

- 5 -