Press translations [Japan]. Social Series 0072, 1945-12-10.
translation-number: social-0277
call-number: DS801 .S84
---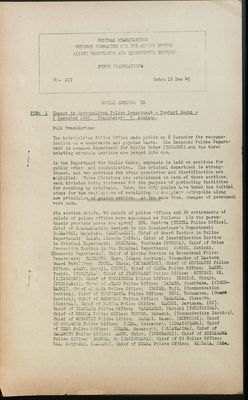 (View Page Image)
GENERAL HEADQUARTERS

SUPREME COMMANDER FOR THE ALLIED POWERS

ALLIED TRANSLATOR AND INTERPRETER SECTION

PRESS TRANSLATIONS

SOCIAL SERIES: 72

ITEM 1 Change in Metropolitan Police Department - Yomiuri Hochi - 7 December 1945. Translator: Y. Akabane.
Full Translation:

The Metropolitan Police Office made public on 6 December its reorganization on a democratic and popular basis. The Economic Police Department is renamed Department for Public Order (CHOANBU) and the three existing economic sections are merged into one.

In the Department for Public Order, emphasis is laid on sections for public order and communication. The criminal department is strengthened, and two sections for crime prevention and identification are amplified. Three divisions are established in each of these sections, each division being increased for the purpose of perfecting facilities for rounding up criminals. Thus, the city police have taken the initial steps for the realization on of rebuilding an exemplary metropolis along new principles of police service. At the same time, changes of personnel were made.

Six section chiefs, 40 chiefs of police offices and 14 retirements of chiefs of police offices were announced as follows: (In the parenthesis previous posts are shown) EDO, Sratora (TOZUKA Police Office), Chief of Communication Section in the Commissioner's Department; SHIRAISHI, Mataichi, (KOJIMACHI), Chief of Guard Section in Police Department; TAKAO, Kinsaku (MITA), Chief of Identification Section in Criminal Department; NOROYAMA, Yukikaze (OTSUKA), Chief of Crime Prevention Section in the Criminal Department; KOSUGI, Heiichi, (Economic Department), Chief of Living Section in Economical Police Department; TAKEMOTO, Taro, (Guard Section), Commander of Eastern Guard Batallion; TSUDA, Chuta, (MUSASHINO), Chief of KOJIMACHI Police Office, ASARI, Haruji, (UENO), Chief of KANDA Police Office; DANNO, Yoshio, (TOMIZAKA), Chief of NIHONEBASHI Police Office; MIYOSHI, Ki, (IKEBUKURO), Chief of TSUKISHIMA Police Office; YOSHIMI, Shinju, (NISHIARAI), Chief of ATAGO Police Office; HAYASE, Yoshitaka, (NIHONBASHI), Chief of MITA Police Office; ISHIGE, Yuji, (Communication Section), Chief of TORIIZANKA Police Office; SEKI, Tokumatsu, (Guard Section), Chief of ROPPONGI Police Office; YAMANAKA, Hisanobu, (Central), Chief of WASEDA Police Office; TAKUNI, Narimasa, (OI), Chief of TOMIZAWA Police Office; TAKAHASHI, Unkichi (TSUKISHIMA), Chief OTSUKA Police Office: TEZOME, Sahachi, (Communication Section), Chief of MOTOFUJI Police Office; SASAKI, Masao, (ROPPONGI), Chief of KOMAGOME Police Office; IHEDA, Keisaburo, (KOMATSUGAWA), Chief of UENO Police Office; KUSAMA, Masayoshi, (MIKAWAJIMA), Chief of SAKAMOTO Police Office; ANDO, Shire, (YODOBASHI), Chief of SHINAGAWA Police Office; HOSOYA, Gi (TAKINOGAWA), Chief of Oi Police Office; OKA, Akiyoshi, (NAKANO), Chief of EHARA Police Office; MENDAKA, Hide,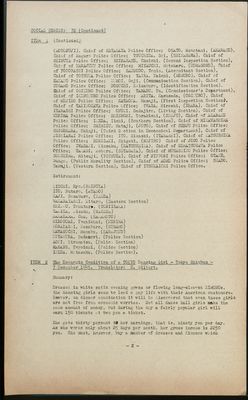 (View Page Image)
SOCIAL SERIES: 72 (Continued)
(MOTOFUJI), Chief of SETAGAYA Police Office; OSATO, Monotami, (AKABANE), Chief of Meguro Police Office; TSUCHIDA, Sei, (SHINAGAWA), Chief of SHIBUYA Police Office; SHIRAHASE, Chuichi, (Second Inspection Section), Chief of HARAJUKU Police Office; MIYAUCHI, Motoharu, (KOMAGOME), Chief of YODOBASHI Police Office; SANNODO, Temio, (Accomitant Section), Chief of TOTSUKA Police Office; TAIRA, Yaichi, (MEGURO), Chief of NAKANO Police Office; KUMOI, Goji, (Communication Section), Chief of SUGAMO Police Office; NOGUCHI, Keisaburo, (Identification Section), Chief of OGIKUBO Police Ofiice; TAMARU, Yu, (Commissioner's Department), Chief of IKEBUKURO Police Office; ARITA, Kazusada, (OGIKUBO), Chief of MEJIRO Police Office; KATAOKA, Masaji, (First Inspection Section), Chief of TAKINOKAWA Police Office; IWASA, Hiroshi, (EHARA), Chief of ITABASHI Police Office; ONUKI, Sadajiro, (Living Section), Chief of NERIMA Police Office; SHINBORI, Torakichi, (SENJU), Chief of AKABANE Police Office; IKEDA, Iichi, (Southern Section), Chief of MIKAWASHIMA Police Office; SHIMIZU, Mataji, (JOTO), Chief of SENJU Police Office; SHIGEHARA, Shinji, (Third Section in Economical Department), Chief of NISHIARAI Police Office; ITO, Hisashi, (ITABASHI), Chief of KATSUSHIKA Police Office; HORIZAKI, Shigeki, (MEJIRO) Chief of JOTO Police Office; IWASAKI, Kinsaku, (KATSUSHIKA), Chief of KOMATSUGAWA Police Office; TAKAGI, Noboru, (SETAGAYA), Chief of MUSASHINO Police Office; SOESHIMA, Mitsuji, (YOTSUYA), Chief of NIPPORI Police Office; OTAKE, Bungo, (Public Morality Section), Chief of AOME Police Office; SHADO, Takuji, (Western Section), Chief of ITSUKAICHI Police Office.

Retirement:

KIUCHI, Ryo, (SHIBUYA)

ITO, Butaro, (ATAGO)

KAJI, Sosaburo, (KANDA)

WAKABAYASHI, Eitaro, (Eastern Section)

SHINMU, Tokutaro, (TORIISAKA)

TAKITA, Kisaka, (WASEDA)

NAKAYAMA, Chu, (SAKAMOTO)

HIROTOMI, Yoshikuni, (NERIMA)

KOBAYASAI, Kosaburo, (SUGAMO)

KAWAGUCHI, Manabu, (HARAJUKU)

KITAMURA, Sadanori, (Police Section)

AOKI, Hiromatsu, (Police Section)

MAGABE, Toyoichi, (Police Section)

IKEDA, Matasaku, (Police Section).

ITEM 2 The Economic Condition of a TOKYO Dancing Girl - Tokyo Shimbun - 7 December 1954. Translator: C. Gilbert.
Summary:

Dressed in white satin evening gowns or flowing long-sleeved KIMONOs, the dancing girls seem to lead a gay life with their American customers. However, on closer examination it will be discovered that even these girls are not free from economic worries. Not all dance hall girls make the same amount of money, but during the day a fairly popular girl will earn 150 tickets at two yen a ticket.

She gets thirty percent of her earnings, that is, ninety yen per day. As she works only about 25 days per month, her gross income is 2250 yen. She must, however, buy a number of dresses and Kimonos Which

- 2 -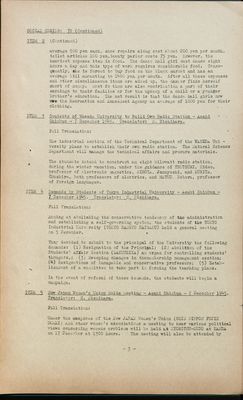 (View Page Image)
SOCIAL SERIES: 72 (Continued)
average 500 yen each, shoe repairs along cost about 200 yen per month, toilet articles 100 yen, "beauty parlor costs 75 yen. However, the heaviest expense item is food. The dance hall girl must dance eight hours a day and this type of work requires considerable food. Consequently, she is forced to buy food on the black market and has an average bill amounting to 1400 yen per month. After all these expenses and other miscellaneous items are added up, the dancer finds herself short of money. Most fo them are also contribution a part of their earnings to their families or for the upkeep of a child or a younger brother's education. The net result is that the dance hall girls now owe the Recreation and Amusement Agency an average of 1000 yen for their clothing.

ITEM 3 Students of Waseda University to Build Own Radio Station - Asahi Shimbun - 7 December 1945. Translator: H. Nishihara.
Full Translation:

The industrial section of the Technical Department of the WASEDA University plans to establish their own radio station. The Natural Science Department will manage the technical affairs and procure materials.

The students intend to construct an eight kilowatt radio station, during the winter vacation, under the guidance of TSUTSUMI, Hideo, professor of electronic magnetics, HIROTA, Jomoyoshi, and KURITA, Chushiro, both professors of electrics, and MATUO, Noboru, professor of foreign languages.

ITEM 4 Demands by Students of Tokyo Industrial University - Asahi Shimbun - 7 December 1945. Translator: H. Nishihara.
Full Translation:

Auming at abolishing the conservative tendencey of the administration and establishing a self-governing system, the students of the TOKYO Industrial University (TOKYO SANGYO DAIGAKU) held a general meeting on 5 December.

They decided to submit to the principal of the University the following demands: (l) Resignation of the Principal; (2) Abolition of the Students' Affair Section (GAKUSEKA) an organ for controlling students' thoughts,; (3) Sweeping changes in the membership management section; (4) Resignations of incapable and conservative professors; (5) Establishment of a committee to take part in forming the teaching plans.

In the event of refusal of these demands, the students will begin a campaign.

ITEM 5 New Japan Women's Union Holds Meeting - Asahi Shimbun - 7 December 1945. Translator: H. Nishihara.
Full Translation:

Under the auspices of the New JAPAN Women's Union (SHIN NIPPON FUJIN DOMEI) and other women's associations a meeting to hear various political views concerning womens problems will be held at KYORITSU-KODO at KANDA on 17 December at 1300 hours. The meeting will also be attended by

- 3 -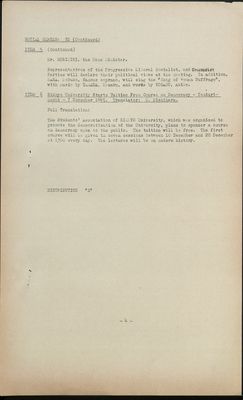 (View Page Image)
SOCIAL SERIES: 72 (Continued)
Mr. HORIKIRI, the Home Minister.

Representatives of the Progressive Liberal Socialist, and Communist Parties will declare their political views at the meeting. In addition, HARA, Nobuko, famous soprano, will sing the "Song of Woman Suffrage", with music by YAMADA, Kosaku, and words by YOSANO, Akiko.

ITEM 6 Rikkyo University Starts Tuition Free Course on Democracy - Yomiuri-Hochi - 7 December 1945. Translator: H. Nishihara.
Full Translation:

The Students' Association of RIKKYO University, which was organized to promote the democratization of the University, plans to sponsor a course on democracy open to the public. The tuition will be free. The first course will be given in seven sessions between 10 December and 20 December at 1300 every day. The lectures will be on modern history.

DISTRIBUTION "X"

- 4 -