Press translations [Japan]. Social Series 0071, 1945-12-10.
translation-number: social-0273
call-number: DS801 .S84
---
(View Page Image)
GENERAL HEADQUARTERS

SUPREME COMMANDER FOR THE ALLIED POWERS

ALLIED TRANSLATOR AND IHTERPRETER SECTION

PRESS TRANSLATIONS

SOCIAL SERIES: 71

ITEM 1 Conditions of Japanese on the Continent; Information of Recent Repatriates - Nagasaki Shimbun - 24 and 25 Nov 45. Translator: K. Minagi.
Summary:

The post-war conditions of the Japanese residents in MONGOLIA, MANCHURIA, KOREA, and CHINA are miserable, judging from the reports of some repatriates at NAGASAKI.

In MONGOLIA, according to Mrs. HIRAKO, Asae, about 50,000 Japanese are suffering from severe cold and hunger. The report of her experiences from the end of the war to her arrival in JAPAN is as follows:

"I was living with my family at (
[illegible]
) (TN: KOWA) when on 11 August 1945 there was a report that Soviet troops had invaded MANCHURIA, and all women and children at KOWA were ordered to move into KALGAN. I arrived there on the 15th and our group was promptly sub-divided. The group I was placed, into consisted of 150 women and children who went to BUDO YO, west of KALGAN. For a week everything there was quite satisfactory and the food was rather good. On the sixth day after our arrival each of us was given a bale of rice, some flour, and sugar. However, on the following day we had to proceed to TIENTSIN discarding all our possessions. It was a five day journey between KALGAN and TIENTSIN. We rode in an open carriage during a cold torrential rain, which lasted every day. It made us want to die.
Upon our arrival at TIENTSIN 11 October, my three year old child died of malnutrition. During the trip 5 or six deaths occurred daily. As a matter of fact, five days of soaking without any food except an occasional present of military biscuits from some soldiers who were with us is unbearable even for adults. At TIENTSIN about 1,000 Japanese live in the Japanese Dye-Stuff Co. warehouse without beds or blankets and sleeping under machines. Although going out alone in TIENTSIN was prohibited, I went out to make preparations for my coming delivery. Then terrible rioting broke out which, even now, makes me I shudder to think about it. Close to OHASHI in the Japanese settlement I heard Japanese crying and saw men and women being stripped of their clothes by Chinese rioters mixed with Chinese soldiers. Some, Japanese fleeing were so seriously wounded that blood was streaming all over their bodies and shreds of flesh hanging from them. The rioting was soon ended by American soldiers. Moreover the Americans brought us to their General Headquarters, and there thousands of Japanese were leading a peaceful life eating rice-balls. The kindness of the American army in protecting us from Chinese riots was quite contrary to what we had bean told about them. On the boat I gave birth to a boy but when I returned to NAGASAKI I discovered that my recent home and the house I had been born in were destroyed. I think there are still 50,000 or 60,000 Japanese in MONGOLIA, starving in sub-zero weather. They must be rescued at once."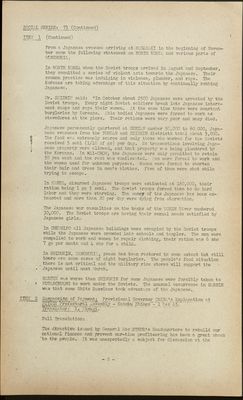 (View Page Image)
SOCIAL SERIES: 71 (Continued)
From a Japanese evacuee arriving at NAGASAKI in the beginning of November came the following statement on NORTH KOREA and various parts of MANCHURIA.

In NORTH KOREA when the Soviet troops arrived in August and September, they committed a series of violent acts towards the Japanese, Their common practice was indulging in violence, plunder, and rape. The Koreans are taking advantage of this situation by continually robbing Japanese.

Mr. SEISHIN said: "In October about 2500 Japanese were arrested by the Soviet troops. Every night Soviet soldiers break into Japanese internment camps and rape their women. At the same time there were constant burglaries by Koreans. Able bodied Japanese were forced to work as stevedores at the piers. Their rations were very poor and many died.

Japanese permanently quartered at GENZAN number 50,000 to 60,000, Japanese evacuees from the TUNGAN and SEISHIN districts total about 5,000. The food was extremely scarce and only those who worked for the Soviets received 5 seki (1/10 of go) per day. No transactions involving Japanese property were allowed, and that property was being plundered by the Koreans. In HAI-CHOW, the Japanese were only permitted to retain 50 yen each and the rest was confiscated. Men were forced to work and the women used for unknown purposes. Women were forced to shorten their hair and dress in men's clothes. Five of them were shot while trying to escape.

In KANKO, disarmed Japanese troops were estimated at 160,000, their ration being 1 go 5 seki. The Soviet troops forced them to do hard labor and they were starving. The money of the Japanese has been exhausted and more than 20 per day were dying from starvation.

The Japanese war casualties on the banks of the KOREN River numbered 30,000. The Soviet troops are having their sexual needs satisfied by Japanese girls

In CHEMULPO all Japanese buildings were occupied by the Soviet troops while the Japanese were crowded into schools and temples. The men were compelled to work and women to repair clothing, their ration was 6 sho 7 go per month and 4 sho for a child.

In SHINGKIN, MANCHURIA, peace has been restored to some extent but still there are some cases of night burglaries. The people's food situation there is not critical and the military rice stores will support the Japanese until next March.

HARBIN was worse than SHINGKIN for some Japanese were forcibly taken to MUTANCHUANG to work under the Soviets. The unusual occurrence in HARBIN was that some White Russians took advantage of the Japanese.

ITEM 2 Suspension of Payment; Provisional Governor CHIBA's Explanation at MIYAGI Prefectural Assembly - Kahoku Shimpo - 1 Dec 45. Translator: K. Minagi.
Full Translation:

The directive issued by General MacARTHUR's Headquarters to rebuild our national finance and prevent war-time profiteering has been a great shock to the people. It was unexpectedly a subject for discussion at the

- 2 -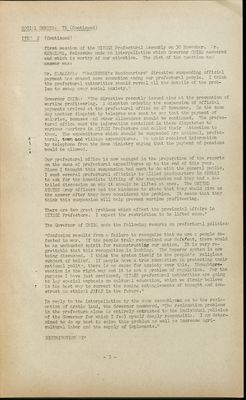 (View Page Image)
SOCIAL SERIES: 71 (Continued)
first session of the MIYAGI Prefectural Assembly on 30 November, Mr. KABAZAWA, Keinosuke made an interpellation which Governor CHIBA answered and which is worthy of our attention. The gist of the question and answer was:

Mr. KABAZAWA: "MacARTHUR's Headquarters' directive suspending official payment has caused some commotion among our prefectural people. I think the prefectural authorities should reveal all the details of the problem to sweep away social anxiety."

Governor CHIBA: "The directive recently issued aims at the prevention of wartime profiteering. A dispatch ordering the suspension of official payments arrived at the prefectural office on 27 November. On the same day another dispatch by telegram was sent to say that the payment of salaries, bonuses and other allowances should be continued. The prefectural office sent the information contained in these dispatches to various quarters in MIYAGI Prefecture and called their attention to them. The expenditures which should be suspended are national, prefectural, town and village expenditures. We again received information by telephone from the Home Ministry saying that the payment of pensions would be allowed.

Our prefectural office is now engaged in the preparation of the reports on the sums of prefectural expenditures up to the end of this year. Since I thought this suspension had much to do with the general public, I sent several prefectural officials to Allied Headquarters in SENDAI to ask for the immediate lifting of the suspension and they had a detailed discussion on why it should be lifted at once. The UNITED STATES Army officers had the kindness to state that they would give us the answer after they have considered the problem. It seems that they think this suspension will help prevent wartime profiteering.

There are two great problems which affect the provincial affairs in MIYAGI Prefecture. I expect the restriction to be lifted soon."

The Governor of CHIBA made the following remarks on prefectural policies:

"Confusion results from a failure to recognize that we are a people defeated in war. If the people truly recognized our defefeat, there would be an undaunted spirit for reconstructing our nation. It is very regrettable that this recognition is lacking. The Emperor system is now being discussed. I think the system itself is the people's religious subject of belief. If people have a true conviction in protecting their national polity, there is no cause for anxiety over this. Thought prevention is the right way and it is not a problem of regulation. For the purpose I have just mentioned, MIYAGI prefectural authorities are going to lay special emphasis on cultural education, which we firmly believe is the best way to correct the coming entanglements of thought and construct an ethical JAPAN in the future."

In reply to the interpellation by the same assemblyman as to the reclamation of arable land, the Governor answered, "The reclamation problems in the prefecture alone is entirely entrusted to the individual policies of the Governor for which I feel myself deeply responsible. I am determined to do my best to solve this problem as well as increase agricultural labor and the supply of implements."

DISTRIBUTION "X"

- 3 -