Press translations [Japan]. Social Series 0069, 1945-12-07.
translation-number: social-0257
call-number: DS801 .S84
---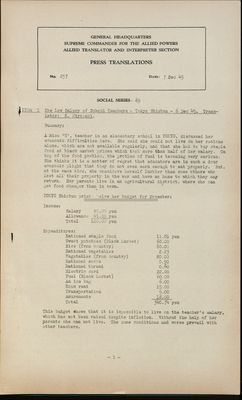 (View Page Image)
GENERAL HEADQUARTERES

SUPREME COMMANDER FOR THE ALLIED POWERS

ALLIED TRANSLATOR AND INTERPRETER SECTION

PRESS TRANSLATIONS

SOCIAL SERIES: 69

ITEM 1 The Low Salary of School Teachers - Tokyo Shimbun - 6 Dec 45. Translator: K. Miyozaki.
Summary:

A Miss 'U', teacher in an elementary school in TOKYO, discussed her economic difficulties here. She said she could not live on her rations alone, which are not available regularly, and that she had to buy staple food at black market prices which took more than half of her salary. On top of the food problem, the problem of fuel is becoming very serious. She thinks it is a matter of regret that educators are in such a dour economic plight that they do not even earn enough to eat properly. But, at the same time, she considers herself luckier than some others who lost all their property in the war and have no home to which they may return. Her parents live in an agricultural district, where she can get food cheaper than in town.

TOKYO Shimbun print a below her budget for November:

Income:
| | |
| --- | --- |
| Salary | 85.00 yen |
| Allowance | 41.00 yen |
| Total | 126.00 yen |
Expenditures:
| | |
| --- | --- |
| Rationed staple food | 11.01 yen |
| Sweet potatoes (Black Market) | 60.00 |
| Rice (from country) | 60.00 |
| Rationed vegetables | 2.23 |
| Vegetables (from country) | 80.00 |
| Rationed socks | 0.90 |
| Rationed thread | 0.60 |
| Electric cord | 22.00 |
| Fuel (Black Market) | 60.00 |
| An ice bag | 6.00 |
| Room rent | 15.00 |
| Transportation | 5.00 |
| Amusements | 18.00 |
| Total | 340.74 yen |
This budget shows that it is impossible to live on the teacher's salary, which has not been raised despite inflation. Without the help of her parents she can not live. The same conditions and worse prevail with other teachers.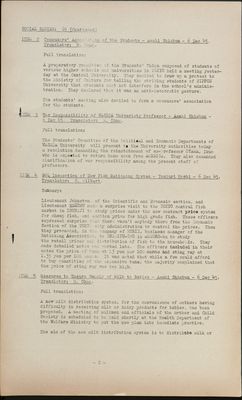 (View Page Image)
SOCIAL SERIES: 69 (Continued)
ITEM 2 Consumers' Association of the Students - Asahi Shimbun - 6 Dec 45. Translator: M. Ohno.
Full translation:

A preparatory committee of the Students' Union composed of students of various higher schools and universities in TOKYO held a meeting yesterday at the Central University. They decided to draw up a protest to the Ministry of Culture for telling the striking students of NIPPON University that students must not interfere in the school's administration. They declared that it was an anti-democratic gesture.

The students' meeting also decided to form a consumers' association for the students.

ITEM 3 War Responsibility of WASEDA University Professor - Asahi Shimbun - 6 Dec 45. Translator: M. Ohno.
Full translation:

The Students' Committee of the Political and Economic Departments of WASEDA University will present to the University authorities today a resolution demanding the reinstatement of ex-Professor OYAMA, Ikuo who is expected to return home soon from AMERICA. They also demanded clarification of war responsibility among the present staff of professors.

ITEM 4 GHQ Inspection of New Fish Rationing System - Yomiuri Hochi - 6 Dec 45. Translator: C. Gilbert.
Summary:

Lieutenant Johnston, of the Scientific and Economic section, and Lieutenant EBASHU made a surprise visit to the TOKYO central fish market in TSURIJI to study prices under the new contract price system for cheap fish, and auction price for high grade fish. These officers expressed surprise that there wasn't anybody there from the Economic Section of the TOKYO city administration to control the prices. Then they proceeded, in the company of HORIE, business manager of the Rationing Association to SHIMIZIU-CHO in MEGURO-ku to study the retail prices and distribution of fish to the households. They made detailed notes end worked late. The officers included in their notes the price of tuna at 13 yen per 100 momme and sting ray at 1.35 yen per 100 momme. It was noted that while a few could afford to buy Quantities of aha expensive tuna, the majority complained that the price of sting ray was too high.

ITEM 5 Measures to Ensure Supply of Milk to Babies - Asahi Shimbun - 6 Dec 45. Translator: M. Ohno.
Full translation:

A new milk distribution system, for the convenience of mothers having difficulty in receiving milk or dairy products for babies, has been proposed. A meeting of milkmen and officials of the Mother and Child Society is scheduled to be held shortly at the Health Department of the Welfare Ministry to put the new plan into immediate practice.

The aim of the new milk distribution system is to distribute milk or

- 2 -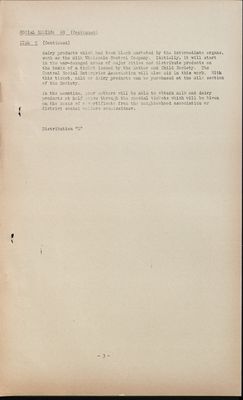 (View Page Image)
SOCIAL SERIES: 69 (Continued)
ITEM 5 (Continued)

dairy products which had been black marketed by the intermediate organs, such as the Milk Wholesale Control Company. Initially, it will start in the war-damaged areas of major cities and distribute products on the basis of a ticket issued by the Mother and Child Society. The Central Social Enterprise Association will also aid in this work. With this ticket, milk or dairy products can be purchased at the milk section of the Society.

In the meantime, poor mothers will be able to obtain milk and dairy products at half price through the special tickets which will be given on the basis of a certificate from the neighborhood association or district social welfare commissioner.

Distribution "X"

- 3 -