Press translations [Japan]. Social Series 0063, 1945-12-05.
translation-number: social-0232
call-number: DS801 .S84
---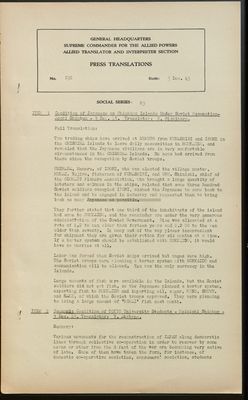 (View Page Image)
GENERAL HEADQUARTERS

SUPREME COMMANDER FOR THE ALLIED POWERS

ALLIED TRANSLATOR AND INTERPRETER SECTION

PRESS TRANSLATIONS

SOCIAL SERIES: 63

ITEM 1 Condition of Japanese on Chishima Islands Under Soviet Occupation- Asahi Shimbun - 3 Dec. 45. Translator: E. Nishihara.
Full Translation:

Two trading ships have arrived at NEMURO from KUNASHIRI and IRONE in the CHISHIMA Islands to leave daily necessities in HOKKAIDO, and revealed that the Japanese civilians are in very comfortable circumstances in the CHISHIMA Islands. No news had arrived from there since the occupation by Soviet troops.

UMEHARA, Mamoru, of IRONI, who was elected the village master, MUKAE, Yujiro, fisherman of KUNASHIRI, and ONO, Shinichi, chief of the ODOMARI Fishers Association, who brought a large quantity of lobsters and salmons in the ships, related that some three hundred Soviet soldiers occupied IRONI, wished the Japanese to come back to the island and be engaged in industry and requested them to bring back as many Japanese as possible.

They further stated that one third of the inhabitants of the island had come to HOKKAIDO, and the remainder are under the very generous administration of the Soviet Government. Rice was allocated at a rate of 4.2 to men older than forteen years and 2.2 GO to the men older than seventy. In many out of the way places inconvenient for shipment they are given their ration for six months at a time. If a barter system should be established with HOKKAIDO, it would have no worries at all.

Labor was forced when Soviet ships arrived but wages were high. The Soviet troops were planning a better system with HOKKAIDO and communication will be allowed. Yen was the only currency in the Islands.

Large amounts of fish were available in the Islands, but the Soviet soldiers did not eat fish, so the Japanese planned a barter system, exporting fish to HOKKAIDO and importing oil, sugar, MISO, SHOYU, and SAKE, of which the Soviet troops approved. They were planning to bring a large amount of "KOMAI" fish next month.

ITEM 2 Economic Condition of TOKYO University Students - Mainichi Shimbun - 3 Dec. 45. Translator: Y. Akabane.
Summary

Various movements for the reconstruction of JAPAN along democratic lines through collective co-operation in order to recover by some means or other from the defeat of the war are becoming very active of late. Some of them have taken the form, for instance, of domestic co-operative societies, consumers! societies, students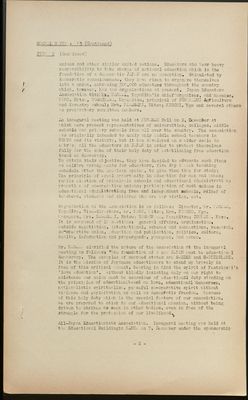 (View Page Image)
SOCIAL SERIES: 63 (Continued)
unions and other similar united actions. Educators who bear heavy responsibility to take charge of national education which is the foundation of a democratic JAPAN are no exception. Stimulated by democratic consciousness, they have risen to organize themselves into a union, embracing 500,000 educators throughout the country which, however, has two organizations at present. Japan Educators Association, with Mr. KAGAWA, Toyohiko is chiefs organizer, and Messers. KONO, Mitsu, YOSHIKAWA, Kanemitsu, principal of FUNARASHI Agriculture and Forestry school; Mrs. KAWASAKI, Nstsa; KIUHI, Kgo and several others as preparatory committee members.

An inaugural meeting was held at KURAMAE Hall on 2, December at which were present representatives of universities, colleges, middle schools and primary schools from all over the country. The association as originally intended to unify only middle school teachers in TOKYO and its vicinity, but it has developed on a wider scale to embrace all the educators in JAPAN in order to protect themselves fully for the sake of their holy duty of establishing free education based on democracy.

To attain their objective, they have decided to advocate such items as welfare arrangements for educators, five day a week teaching schedule after the American system, to give them time for study; The principle of equal opportunity in education for men and women; public election of principal's schools and educational administration; promotion of co-operative unions; participation of such unions in educational adminiatration; free and independent schools, relief of teachers, students and children who are war victims, ect.

Organization of the Association is as follows: Director Mr. KAGAWA, Toyoliko. Vice-directors, Mr. KONO, Mitsu; Mrs. KIUCHO, Kgo. Managers, Mrs. KAWASA
[illegible]
I, Natsu; YOSHIKAWA Kanemitsu; INOMATA Kozo. It is composed of 14 sections: general affairs, organization, outside negotiation, international, schemes and connections, research, co-operative union, education and publication, politics, culture, health, information and properganda, youngmen, and women.
Mr. KAGAWA clarified the nature of the association at the inaugural meeting as follows: "The foundation of a new JAPAN must be educational democracy. The examples of unarmed states are SWEDEN and SWITZERLAND. It is the mission of Japanese educationors to stand up bravely in face of this critical moment, bearing in mind the spirit of Pestalozzi's 'love education'. without blindly insisting only on our right to existence our union must be conscious of educational duty standing on the principles of education; based on love, educational democracy, nationalistic spiritualism, peaceful co-operative spirit without violence and exploitation as well as democratic freedom. Because of this holy duty which is the special feature of our association, we are prepared to stick to our educational mission, without being driven to strikes as seen in other bodies, even in face of the struggle for the protection of our livelihood.

All-Japan Educationists Association. Inaugural meeting was held at the Educational Building in KANDA on 7, December under the sponsorship

- 2 -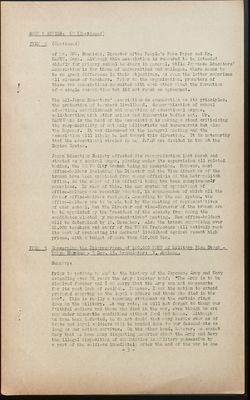 (View Page Image)
SOCIAL SERIES: 63 (Continued)
of Mr. ONO, Shunichi, Director of the People's News Paper and Mr. HANYU, Garo. Although this dissociation is rumoured to be intended chiefly for primary school teachers in general, while Japanese Educators' Association is for those of universities and colleges, there seems to be no great difference in their objectives, as even the latter comprises all classes of teachers. Prior to the organization, promoters of these two associations consulted with each other about the formation of a single association but did not reach on agreement.

The All-Japan Educators' Association is enumeration as its principles, the protection of teachers livelihood, democratization of school education, establishment and operation of educational organs, collaboration with other unions and democratic bodies ect. Mr. HANYU who is the heed of the association is making a stand criticizing the responsibility of not only militarists and bureaucrats but also the Emperor. It was discussed at the inaugral meeting and the association will likely be led toward this direction. It is noteworthy that the educational circles in new JAPAN are divided in two on the Empire System.

Japan Education Society effected its reorganization last March and started as a control organ, placing under its supervision all related bodies, the TOKYO City branch being no exception. However, most office-holders including the Director and the Vice directors of the branch have been appointed from among officials of the Metropolitan Office, so the color of its official being has been conspicuously powerless. In view of this, the new system of appointment of office-holders was recently adopted, in consequence of which all the former office-holders resigned. According to the new system, the office-holders are to be elected by the meeting of representatives of each school, but the Director and vice-director of the branch are to be appointed by the President of the society from among the candidates elected by representatives' meeting. New office-holders will be determined by 10 December. Also the branch comprising over 24,000 teachers and staff of the TOKYO Prefecture will actively much its work of protecting its members' livelihood against recent high prices, with a budget of more than 610,000 Yen.

1TEM 3 Concerning the Disappearnce of 400,000 KOKU of Military Rice Stock Tokyo Shimbun - 3 Dec. 45. Translator: Y. Akabane.
Summary:

Prior to putting an end to the history of the Japanese Army and Navy extending ever 70 years the Army Minister said: "The Army is to be disolved forever and I am sorry that the Army can not compensate for its past lack of realism. However, I ask the nation to extend proformed sympathy to the loyal soldiers and those who died in the war". This is really a touching statement as the curtain rings down on the military. At any rate, we will not forget to thank our faithful soldiers and those who died in the war, even though we are now under miserable conditions without food and homes. Although we have been defeated, we do not doubt that many heroic stores of brave and loyal soldiers will be handed down to our descendants as long as our nation survives. On the other hand, however, we cannot deny that we have many disgusting memories abort the Army and Navy the illegal disposition of commodities in military possession by a part of the soldiers immediately after the end of the war is one

- 3 -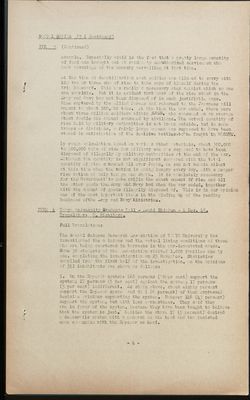 (View Page Image)
SOCIAL SERIES 63 (Continued)
example. Especially vivid is the fact that a pretty large quantity of food was brought out at random by unauthorized servicemen who took advantage of the anarchy prevailing at that time.

At the time of demobilization each soldier was allowed to carry with him two or three she of rice to take care of himself during the trip homeward. This s really a necessary step against which no one can complain. But it is evident that most of the rice stock in the Army and Navy has not been disposed of in ouch justifiable ways. Rice captured by the Allied Forces and returned to the Japanese will amount to about 100, 000 tons. At the time the war ended, there were about three million soldiers within JAPAN, who consumed on an average about double the amount consumed by civilians. The actual quantity of rice held by military authorities is not known outside, but in some troops or divisions, a fairly large amount was supposed to have been stored in anticipation of the decisive battles to be fought in HONSHU.

By rough calculation based on various other materials, about 300,000 to 400,000 koku of rice for military use was supposed to have been disposed of illegally by military authorities at the end of the war. Although the quantity is not significant compared with the total quantity of rice consumed all over Japan, we can net remain silent at this time when the nation is going hungry every day, with a meager rice ration of only two go one shaku. It is absolutely necessary for the Government to make public the exact amount of rice and all the other goods the Army and Navy had when the war ended, together with the amount of goods illegally disposed of. This is in our opinion one of the most important items in the winding up of the pending business of the Army and Navy Ministries.

ITEM 4 Tokyo University Students Boll - Asahi Shimbun - 4 Dec. 45. Translator: H. Nishihara.
Full Translation:

The Socica1 Science Research dissociation of TOKYO University has investigated the opinions and the actual living conditions of those who are being quartered in barracks in the war-devastated areas. Some 30 students of the Association visited 1,000 families one by one, completing, the investigation on 25 November. Statistics compiled from the first half of the investigation, on the opinions of 341 inhabitants are shown as follows:
On the Emperor system: 268 persons (78per cent) support the system; 17 persons (5 per cent) against the system; 17 persons (5 Per cent) indifferent. As shown above, about eighty percent support the Emperor system and a (26 percent) of their expressed decisive opinions supporting the system, However 146 (43 percent) support the system, but with less earnestness. They said they are in favor of the system, because they have been taught to believe that the system is just. Besides the above 17 (5 percent) desired democratic system with a monarch as the head and two insisted upon communism with the Emperor as head.

- 4 -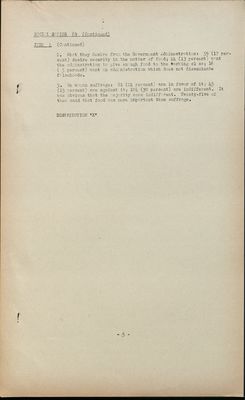 (View Page Image)



SOCIAL SERIES 63 (Continued)





ITEM 4

(Continued)
What they desire from the Government Administration: 59 (17 percent) desire security in the matter of food; 44 (13 percent) want the administration to give enough food to the working class; 16 (5 percent) want an administration which does not disseminate falsehoods.
. On woman suffrage: 81 (24 percent) are in favor of it; 45 (13 percent) are against it; 104 (30 percent) are indifferent. It was obvious that the majority were indifferent. Twenty-five of them said that food was more important than suffrage.
DISTRIBUTION "X"

- 5 -