Press translations [Japan]. Social Series 0060, 1945-12-10.
translation-number: social-0217
call-number: DS801 .S84
---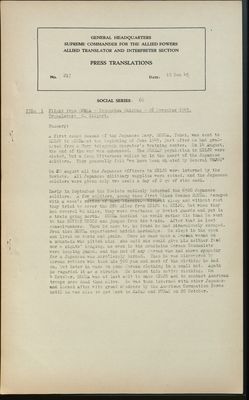 (View Page Image)
GENERAL HEADQUARTERS

SUPREME COMMANDER FOR THE ALLIED POWERS

ALLIED TRANSLATOR AND INTERPRETER SECTION

PRESS TRANSLATIONS

SOCIAL SERIES: 60

ITEM 1 Flight from KOREA - Tokushima Shimbun - 26 November 1945. Translator: C. Gilbert.
Summary:

A first class seaman of the Japanese Navy, HONDA, Yohei, was sent to HEIJO in KOREA at the beginning of June 1945, just after he had graduated from a Navy telegraph operator's training center. On 14 August, the end of the war was announced. The KOREAN population in HEIJO were elated, but a deep bitterness welled up in the heart of the Japanese soldiers. They generally felt "we have been cheated by General TOJO!"

On 20 August all the Japanese officers in HEIJO were interned by the Soviets. All Japanese militiary supplies were seized, and the Japanese soldiers were given only two meals a day of 2 go of rice each.

Early in September the Soviets suddenly interned the 6500 Japanese soldiers. A few soldiers, among them First Class Seaman HONDA, escaped with a week's ration of hard biscuit. Without sleep and without rest they tried to cover the 280 miles from HEIJO to KEIJO, but when they had covered 40 miles, they were overtaken by Soviet guards and put in a train going north. HONDA decided he would rather die than be sent to the SOVIET UNION and jumped from the train. After that he lost consciousness. When he came to, he found he had miraculously escaped. From then HONDA experienced untold hardships. He slept in the open and lived on roots and grain. Once he came upon a Korean woman on a mountain who pitied him; she said she could give him neither food nor a nights' lodging, as even in the mountains Korean Communists were keeping guard, and the hut of any Korean who had shown sympathy for a Japanese was mercilessly burned. Then he was discovered by Korean robbers who took his 500 yen and most of the clothing he had on, but later he came on some Korean clothing in a small hut. Again he regarded it as a miracle. He donned this native clothing. On 4 October, HONDA was at last ablt to make KEIJO and to contact American troops more dead than alive. He was then interned with other Japanese and locked after with great kindness by the American Occupation Force until he was able to get back to JAPAN and FUSAN on 20 October.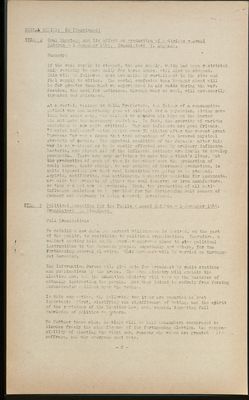 (View Page Image)
SOCIAL SERIES: 60 (Continued)
ITEM 2 Coal Shortage and its effect on Production of Medicines - Asahi Shimbun - 1 December 1945. Translator: Y. Akabans.
Summary:

If the coal supply is stopped, the gas supply, which has been restricted only recently to once daily for three hours, will also he stooped. This will be followed, most probably, by curtailment in the rice and fuel supply to cities. The social confusion thus brought about will be far greater than what we experienced in air raids during the war. Besides, the need for medicines, through want of coal, will necessarily threaten our existance.

At a certain village in CHIBA Prefecture, the father of a consumptive patient who had hurriedly gone at midnight for a physician, living more than ten miles away, was obliged to abandon his hope as the doctor did not have the necessary medicine. In fact, the scarcity of various medicines is now quite critical. War and influenza are good friends. "Spanish influenza" which killed over 30 million after the recent great European War was a demon that took advantage of the lowered physical strength of people. The physical condition of the Japanese after this war is so weakened as to be easily effected even by ordinary influenza bacteria, and almost all of the influenza patients are liable to develop pneumonia. There are many medicines to save the patient's lives, out the production of most of them is dependent upon the production of coal; hence, their supply, to say nothing of increased production, is quite impossible now that coal industries are in, to be stopped. Aspirin, antifebrite, and antilungen, a specific medicine for pneumonia, are also the products of either the coal industry or iron manufacture, so they can not now be produced. Thus, the production of all antinfluenza medicines to be provided for the forthcoming cold season of January and February is being severely threatened.

ITEM 3 Political Education for the Public - Asahi Shimbun - 1 December 1945. Translation: H. Nishihara.
Full Translation:

To rebuild a new JAPAN, an earnest willingness is desired, on the part of the public, to contribute to political organization. Therefore, a cabinet meeting held on 20 November approved plans to give political instructions to the Japanese people, especially new voters, for the forthcoming general election. This movement will be carried on throughout December.

The Information Bureau will give data for broadcast by radio stations and publications by the press. Th. Home Ministry will explain the Election Law, and the Education Ministry will take up the business of actually instructing the people. But they intend to refrain from forcing bureaucratic opinions upon the people.

In this connection, the following two items are regarded as most important: first, clarifying the significance of voting, and the spirit of the revisions of the Election Law; and, second, imparting full knowledge of politics to voters.

To further these aims, meetings will be held and members encouraged to discuss freely the significance of the forthcoming election, the responsibility of electing the right men, reasons why women are granted
[illegible]
suffrage, and why everyone must vote.
- 2 -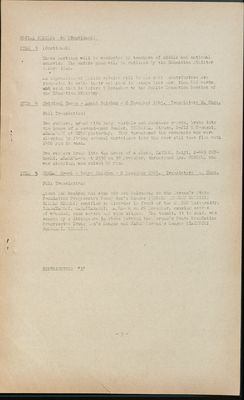 (View Page Image)
SOCIAL SERIES: 60 (Continued)
These meetings will be conducted by teachers of middle and national schools. The entire plan will he outlined by the Education Minister before long.

An expression of public opinion will be desired; contributors are requested to write their opinions in essays (not more than 800 words and send them in before 5 December to the Public Education Section of the Education Ministry.

ITEM 4 Criminal Cases - Asahi Shimbun - 2 December 1945. Translator: M. Ohno.
Full Translation:

Two robbers, armed with large pistols and Japanese swords, broke into the house of a second-hand dealer, TSUSHIMA, Kikuzo, 2-212 OKU-Machi, ARAKANAKU at 0250 yesterday. They threatened the occupants who were sleeping by firing several cartridges into the door sill then fled with 2400 yen in cash.

Two robbers broke into the house of a clerk, KAWEKO, Seiji, 2-449 OKU-Machi, ARAKAWA-Ku at 2330 on 30 November, threatened Mrs. TOYOKO, who was sleeping, and seized 48 yen.

ITEM 5 KOREAN Brawl - Tokyo Shimbun - 2 December I945. Translator: M. Ohno.
Full Translation:

About one hundred and some odd men belonging to the Korean's State Foundation Progressive Young Men's League (CHOSEN
[illegible]
SOKUSHIN SEINEN REMMEI) scuffled in disorder in front of the SENSHU University, IMAGAWAKOJI, MANAITABASHI,
[illegible]
on 29 November, causing scores of wounded, some severe and some slight. The tumult, it is said, was caused by s divergence in views between the Korean's State Foundation Progressive Young Men's League and JAPAN Korean's League (ZAINICHI CHOSEN
[illegible]
[illegible]
).
DISTRIBUTION "X"

- 3 -