Press translations [Japan]. Social Series 0057, 1945-12-04.
translation-number: social-0207
call-number: DS801 .S84
---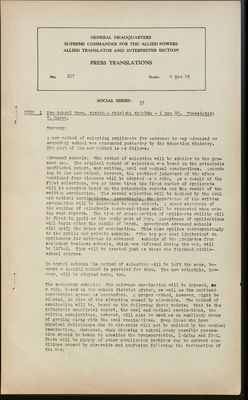 (View Page Image)
GENERAL HEADQUARTERS

SUPPEME COMMANDER FOR THE ALLIED POWERS

ALLIED TRANSLATOR AND INTERPRETER SECTION

PREESS TRANSLATION

SOCIAL SERIES: 57

ITEM 1 New School Exam, System - Mainichi Shimbun - 1 Dec 45. Translator: T. Ogawa.
Summary:

A new method of selecting applicants for entrance to any advanced or secondary school was announced yesterday by the Education Ministry. The gist of the new method is as follows:

Advanced schools: The method of selection will be similar to the present one. The original method of selection was based on the principals unofficial report, and written, oral and medical examinations. According to the new method, however, the combined judgement of the afore mentioned four elements will be adopted as a rule. As a result of the first selections, two or three times the fixed number of applicants will be accepted based on the principals reports and the result of the written examination. The second selection will be decided by the oral and medical examinations. Accordingly, the importance of the written examination will be increased to some extent. A clear statement of the ranking of principals recommendations shall be requested when making such reports. The time of consideration of applicants ability will be fixed in April or the early part of May. Acceptance of applications will begin after the middle of March. Government advanced schools will unify the dates of examination. This also applies correspondingly to the public and private schools. "The ten per cent limitation" on applicants for entrance to advanced schools of the graduates from secondary business schools, which was enforced during the war, will be lifted. They will be treated just as those who finished middle-school courses.

In normal schools the method of selection will be left the same, because a special method is provided for them. The new principle, however, will be adopted here, too.

The secondary schools; The entrance examination will be imposed, as a rule, based on the school district system, as well as the combined examination system as heretofore. A proper method, however, might be adopted, in view of the situation caused by air-raids. The method of examination will be, based on the following three points: That is the principals unofficial report, the oral and medical examinations, the written examinations, however, will also be used as an auxiliary means of grading along with the oral examinations. Even those who have physical deficiencys due to air-raids will not be omitted by the medical examination. Moreover, when choosing a school every possible precaution should be taken to consider the transportation, lodging and food. There will be plenty of other complicated problems due to current conditions caused by air-raids and confusion following the termination of the war.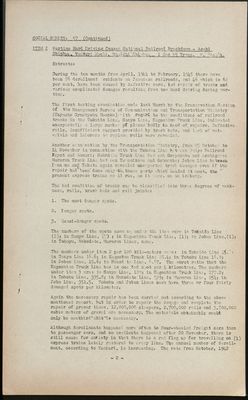 (View Page Image)
SOCIAL SERIES: 57 (Continued)
ITEM 2 Wartime Hard Driving Causes. National Railroad Breakdown - Asahi Shimbun Yomiuri Hochi. Maynichi shimbun - 1 Dec Trans. K.

[illegible]

.
Extracts:

During the ten months from April, 1944 to February, 1945 there have been 76 derailment accidents on Japanese railroads, and 46 which is 62 per cent, have been caused by defective cars, bad repair of tracks and various complicated damages resulting from too hard driving during wartime.

The first testing examination made last March by the Preservation Section of the Management Bureau of Communication and Transportation Ministry (Unyusho Gymukyoku Hoanka) with regard to the conditions of railroad tracks in the Tokaido Line, Sanyo Line, Kagoshima Trunk Line, indicated unexpectedly a large number of places badly in need of repairs. Defective rails, insufficient support provided by track beds, and lick of materials and laborers to replace rails were revealed.

Another examination by the Transportation Ministry, from 25 October to 14 November in connection with the Tohoku Line between Omiya Railroad Depot and Aomori; Hakodate Trunk Line between Goryokaku and Asahigawa; Muroran Trunk Line between Yuwamizawa and Oshmanbe; Joban Line between Iwanama and Tabata again revealed unexpected track damages even if the repair had been done only to those parts which needed it most, the present express trains would run, as it were, on an iceberg.

The bad condition of tracks may be classified into three degrees of weakness, rails, track beds and rail joints:
The most danger spots.
Danger spots.
Quasi-danger spots.
The numbers of the spots coming under the item were in Tokaido Line (2); in Sanyo Line, (
[illegible]
); in Kagoshima Trunk Line, (l); in Joban Line,(l); in Tohoyu, Hakodate, Muroran Lines, none.
The numbers under item 2 per 100 kilo-meters were: in Tokaido Line 15 in Sanyo Line 16.6; in Kagosima Trunk Line: 25.4; in Tohoku Line in 16.9; in Joban Line, 15.6; in Hakod to Line, 6.67. The worst ratio that the Kagoshima Trunk Line has is one bad spot per 4 kilometres. The numbers under item 3 are: in Sanyo Line, 129; in Kagoshima Trunk Line, 177.2; in Tohoku Line, 335.8; in Hakodate Line, 329; in Muroran Line, 254; in Joba Line, 351.5. Tohoku and Joban Lines each have three or four fairly damaged spots per kilometer.

Again the necessary repair has been carried Out according to the above mentioned report, but in order, to repair the damage and complete the repair of prewar times, 12,000,000 sleepers, 2,700,000 rails and 3,500,000 cubic meters of gravel are necessary. The materials obtainable would only be onethird what is necessary.

Although derailments happened more often to four-wheeled freight cars than to passenger cars, and no accidents happened after 20 November, there is still cause for anxiety in that there is a red flag up for travelling on (1) express trains lately restored to every line. The annual number of derailment, according to Yomiuri, is increasing. The rate from October, 1942

- 2 -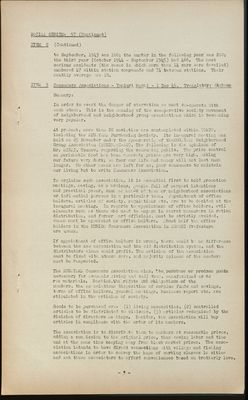 (View Page Image)
SOCIAL SERIES: 57 (Continued)
to September, 1943 was 100; the number in the following year was 200; the third year (October 1944 - September 1945) bad 466. The most serious accidents (the cases in which more than 14 cars were derailed) numbered 47 within station compounds and 74 between stations. Their monthly average was 10.

ITEM 3 Consumers Associations - Yomiuri Hochi - 1 Dec 45. Translator: Akabane
Summary:

In order to avert the danger of starvation we must co-operate with each other. This is the meaning of the co-operative society movement of neighborhood and neighborhood group associations which is becoming very popular.

At present, more than 20 societies are contemplated within TOKYO, including the KUGAYAMA Purchasing Society, Its inaugural meeting was held on 25 November under the sponsorship of the KUGAYAMA Neighborhood Group Association (SUGINAMI-KU), The following is the opininon of Mr. HIRAI, Tsunew, regarding the consuming public. The price control on perishable food has been removed; prices are very high, making our future very dark; we fear our life and money will not last much longer. No other means are left for us, poor consumers to maintain our living but to write Consumers Association.

To orginize such association, it is essential first to hold promotion meetings, having, as a nucleus, people full of earnest intentions and practical power, such as heads of town or neighborhood associations or influential persons in a particular town. Appointment of office holders, articles of society, regulations etc. are to be decided at the inaugural meeting. In regards to appointment of office holders, evil elements such as those who used to engage in secret maneuvers in ration distribution, and former ward officials, must be strictly avoided, Women must be appointed as office holders. About half the office holders in the KURISO Consumers Association in AOMORI Prefecture are women.

If appointment of office holders is wrong, there would be no difference between the new association and the old distribution system, and the distributors alone would profit. The articles of the association must be fixed with utmost care, and majority opinons of the members, must be respected.

The KUGAYAMA Consumers Association aims, "to purchase or produce goods necessary for economic living and sell them, manufaclined or as raw materials. Besides the rights and obligations of the members, the associations disposition of surplus funds and savings, terms of office holders, general meetings, business report etc. are stipulated in the articles of society.

Goods to be purchased are: (1) living necessities, (2) controlled articles to be distributed to citizens, (3) articles recognized by the dicision of directors meetings. Besides, the Association will buy articles in compliance with the order of its members.

The association is to distribute them to members at reasonable prices, adding a commission to the original price, thus saving labor and time and at the same time keeping away from black market prices. The association intends, to have direct connections with village and fishing associations in order to convey the hope of working classes in cities and ask these associators to afford conveniences based on brotherly love.

- 3 -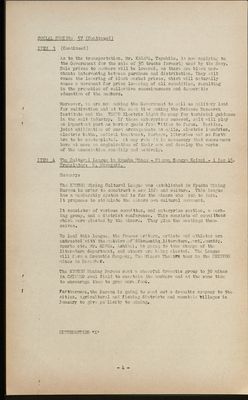 (View Page Image)
SOCIAL SERIES: 57 (Continued)
As to the transportation, Mr. KAGAWA, Tayohihe, is now applying to the Government for the sale of 30 trucks formerly used by the Navy. Sale prices to members will be lowered, as there are black merchants intervening between purchase and distribution. They will cause the lowering of black market prices, which will naturally cause a movement for price lowering of all comodities, resulting in the promotion of collective consciousness and democratic education of the members.

Moreover, we are now asking the Government to sell us military land for cultivation and at the same time asking the Science Research Institute and the TOKYO Electric Light Company for techinial guidance in the salt industry. If these enterprises succeed, salt will play an important part as barter goods from Cities to farms. Besides, joint utilization of such arrangements as mills, electric laundries, electric baths, medical treatment, barbers, libraries and so forth are to be contemplated. At any rate; it is necessary that consumers have at once an orginization of their own and develop the works of the association steadily and actively.

ITEM 4 The Cultural League in Kyushu Mines - Nippon Sangyo Keizai - 1 Dec 45. Translator: K. Miyazaki.
Summary:

The KYUSHU Mining Cultural League was established in Kyushu Mining Bureau in order to construct a new life and culture. This league has a membership system and is for the miners who wish to join. It proposes to stimulate the miners own cultural movement.

It consists of various committes, and enterprize section, a working group, and a district conference. This consists of committees which were elected by the miners. They plan the meetings themselves.

To lead this league, the famous writers, artists and athletes are entrusted with the matters of discussing literature, art, music, sports etc. Mr. HINOA, Ashihei, is going to take charge of the literature department, and others are being elected. The League will form a Dramatic Company, The Miners Theatre tour in the CHIKVHO mines in December.

The KYUSHU Mining Bureau sent a cheerful dramatic group to 30 mines in CHIKUHO coal field to enertain the workers and at the same time to encourage them to grow more food.

Furthermore, the Bureau is going to send out a dramatic company to the cities, agricultural and fishing districts and mountain villa in January to give publicity to mining.

DISTRIBUTION "X"

- 4 -