Press translations [Japan]. Social Series 0055, 1945-12-03.
translation-number: social-0190
call-number: DS801 .S84
---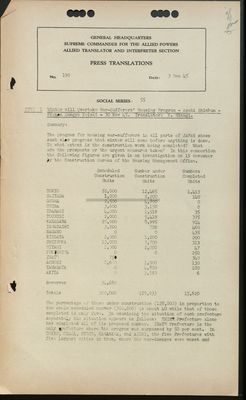 (View Page Image)
GENERAL HEADQUARTERS

SUPREME COMMANDER FOR THE ALLIED POWERS

ALLIED TRANSLATOR AND INTERPRETER SECTION

PRESS TRANSLATIONS

SOCIAL SERIES: 55

ITEM 1 Winter will Overtake War-Sufferers' Housing Program - Asahi Shimbun - Nippon Sangyo Keizai - 30 Nov 45. Translator: K. Minagi.
Summary:

The program for housing war-sufferers in all parts of JAPAN shows such slow progress that winter will come before anything is done. To what extent is the construction work being completed? What are the prospects or the urgent measures taken? In this connection the following figures are given in an investigation on 15 November the Construction Bureau of the Housing Management Office.

Scheduled Construction Units
Number under Construction Units
Numbers Complete Units
TOKYO
55,000
12,465
1,413
SAITAMA
1,000
2,200
140
GUNMA
2,500
4,800
0
CHIBA
3,600
3,150
0
IBARAGI
4,000
1,519
35
TOCHIGI
2,000
5,419
375
KANAGAWA
25,000
8,995
914
YAMANASHI
3,200
720
460
NAGANO
0
0
435
NIIGATA
2,000
1,200
200
SHIZUOKA
13,000
7,700
313
MIYAGI
2,000
2,000
47
FUK

[illegible]

SHIMA
0
0
250
IWATE
750
340
AOMORI
2,600
1,000
130
YAMAGATA
0
4,800
100
AKITA
0
3,850
6
Reserves
34,680
Totals
300,000
128,933
15,620
The percentage of those under construction (128,000) in proportion to the whole scheduled number (300,000) is about 40 while that of those completed is only five, In examining the situation of each prefecture separately the situation appears as follows: EHIME Prefecture alone has completed all of its proposed number. IWATE Prefecture is the only prefecture where the program was surpassed by 50per cent. In TOKYO, OSAKA, HYOGO, KANAGAWA, and AICHI, the five Prefectures with five largest cities in them, where the war-damages were worst and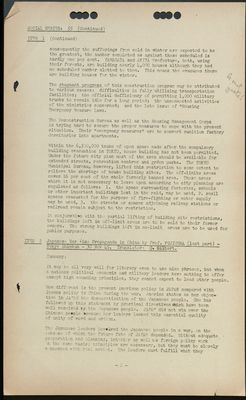 (View Page Image)
SOCIAL SERIES: 55 (Continued)
consequently the sufferings from cold in winter are expected to be the greatest, the number completed as against those scheduled is hardly one per cent. YAMAGATA and AKITA Prefecture, both, using their forests, are building nearly 4,000 houses although they had no scheduled number alotted to them. This means the evacuees there are building houses for the winter.

The stagnant progress of this construction program may be attributed to various causes: difficulties in fully utilizing transportation facilities; the official defficiency of permitting 1,000 military trucks to remain idle for a long period; the unconnected activities of the ministries concerned; and the late issue of "Housing Emergency Measure Laws.

The Reconstruction Bureau as well as the Housing Management Corps is trying hard to secure the proper measures to cope with the present situation. Their "emergency measures" are to convert munition factory dormitories into apartments.

Within the 6,300,000 tsubo of open space made after the compulsory building evacuation in TOKYO, house building has not been permitted. Under the future city plan most of the area should be available for extended streets, recreation centres and green parks. The TOKYO Municipal Bureau, however, lifted this restriction to some extent to relieve the shortage of house building sites. The off-limits areas cover 16 per cent of the whole formerly banned area. Those areas which it is not necessary to leave open according to city planning are regulated as follows: 1. the space surrounding factories, schools or other important buildings lost in the raid, may be used, 2. small spaces evacuated for the purpose of fire-fighting or water supply may be used, 3. the streets or spaces adjoining railway stations or railroad remain subject to the restriction.

In conjunction with the partial lifting of building site restrictions, the buildings left in off-limit areas are to be sold to their former owners. The strong buildings left in on-limit areas are to be used for public purposes.

ITEM 2 Japanese War Time Propaganda in China by Prof. FUJIMURA (last part) - Tokyo Shimbun - 30 Nov 45. Translator: C. Gilbert.
Summary:

It may be all very well for literary even to use nice phrases, but when a nations political economic and military leaders have nothing to offer except high sounding principles, they cannot expect to lead other people.

How different is the present American policy in JAPAN compared with Japans policy in China during the war. America states as her objective in JAPAN the democratization of the Japanese people. She has followed up this statement by practical directives which have been well received by the Japanese people. JAPAN did not win over the Chinese people because her leaders lacked this essential quality of unity of word and action.

The Japanese leaders involved the Japanese people in a war, on the outcome of which the future fate of JAPAN depended. Without adequate preparation and planning, interior as well as foreign policy work on the same basis; principles are necessary, but they must be closely connected with real action. The leaders must fulfill what they

- 2 -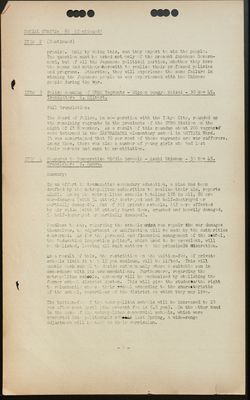 (View Page Image)
SOCIAL SERIES: 55 (Continued)
promise. Only by doing this, can they expect to van the people. The question must be asked not only of the present Japanese Government, but of all the Japanese political parties, whether they have the means and methods therewith to realize their professed policies and programs. Otherwise, they will experience the same failure in winning the Japanese people as was experienced with the Chinese people during the war.

ITEM 3 Police Roundup of UENO Vagrants - Nippon Sangyo Keizai - 30 Nov 45. Translator: C. Gilbert.
Full translation:

The Board of Police, in co-operation with the Tokyo City, rounded up the remaining vagrants in the precincts of the UENO Station m the night of 28 November. As a result of this roundup about 200 vagrants were interned in the SAKURAGAOKA elementary school in SHITAYA Ward. It was ascertained that 70 per cent of these vagrants are war sufferers. Among them, there was also a number of young girls who had lost their parents and sunk to prostitution.

ITEM 4 Measures to Democratize Middle Schools - Asahi Shimbun - 30 Nov 45. Translator: T. Ogawa.
Summary:

In an effort to democratize secondary education, a plan has been drafted by the metropolitan authorities to realize their aim, reports ASAHI. Among the metropolitan schools totaling 158 in all, 80 are war-damaged (with 54 utterly destroyed and 26 half-destroyed or partially damaged). Out of 303 private schools, 153 were affected by air raids (with 98 utterly burnt down, crushed and heavily damaged, 5
[illegible]
half-destroyed or partially damaged).
Needless to say, regarding the schools which can repair the war damages themselves, no adjustment or unification will be made by the authorities concerned. As for the personal and financial management of the school, the "education inspection policy", which used to be prevalent, will be abolished, leaving all such matters to the principal's discretion.

As a result of this, the restriction on the tuition-fee, of private schools limit it to a 15 yen maximum, will be lifted. This will enable each school to decide autonomously where a suitable sum in accordance with its accommodations. Furthermore, regarding the metropolitan schools, autonomy will be emphasized by abolishing the farmer school district system. This will give the student's the right to voluntarily choose their school according to the characteristic of the school, regardless of the district in which they may live.

The tuition-fee of the metropolitan schools will be increased to 10 yen after next April (the present fee is 5.5 yen). On the other hand in the case of the metropolitan commercial schools, which were converted into politechnic schools last Spring, a wide-range adjustment will be made in their curriculum.

- 3 -

(View Page Image)
SOCIAL SERIES: 55 (Continued)
ITEM 5 Brothers of Emperor to Report at Shrines of all Imperial Ancestors - Asahi Shimbun - 30 Nov 45. Translator: H. Nishihara.
Full translation:

Following His Majesty, the Emperor's visits to the KOTAI-JINGU at ISE and to the Imperial Mausoleum at UNEBI, MOMOYAMA, and TAMA, His Majesty has revealed his intention to send the seven princes, including His Highness Prince TAKAMATSU, as representatives to worship at all Imperial Mausoleums in JAPAN.

His Highness Prince TAKAMATSU is scheduled to leave TOKYO on 1 December and visit the forty-six Imperial Mausoleums in KYOTO-Fu, including CHUAI TENNO's Mausoleum, for a period of six days.

His Highness Prince MIKASA is scheduled to visit the three mausoleums of the age of Gods and four mausoleums in KAGOSHIMA-Ken and YAMAGUCHIKen in six days starting 1 December.

His Highness Prince KANIN will visit the forteen mausoleums in NARAKen, including the KAIKA TENNO's Mausoleum, for four days starting 6 December.

His Highness Prince KAGA, Kunihisa will visit sixteen mausoleums in NARA-Ken, including SUIZEI TENNO's Mausoleum, for four days starting 6 December.

His Highness Prince ASAKA, Hatohiko, will visit the sixteen mausoleums in OSAKA-Fu, including CHUAI TENNO's Mausoleum for four days starting 6 December.

His Highness Prince HIGASHIKUNI, Moriatsu will visit twenty-three Mausoleums in KYOTO-Fu and SHIGA-Ken, including KWANMU-TENNO's Mausoleum, for five days starting 6 December.

His Highness Prince TAKEDA, Tsunenori, will visit two mausoleums in KAGAWA-KFN and HYOGO-KEN, including SUTOKU TENNO's Mausoleum, for five days starting 1 December.

ITEM 6 Medical Bureau Established - Asahi Shimbun - 30 Nov 45. Translator: H. Nishihara.
Full translation:

The Welfare Ministry decided to reform the Military Rescue Institute (GUNJI HOGOIN) and to establish a Medical Treatment Office (IRYO KYOKU) as a detached office of the Welfare Ministry. At a cabinet meeting held on 29 November, it was decided to reform the regulations of the Military Rescue Institute and provide new regulations for the Medical Treatment Office. Both regulations will be promulgated on 1 December. The important points of this measure are as follows:
The Military Rescue Institute is to change the name to the Rescue Institute and concern itself chiefly with affairs concerning sick and wounded military men, and bereaved families. The Welfare Ministry is to hold the post of the chief of the institute in addition to his other post.
The Medical Treatment Office is to be established as a detached office of the Welfare Ministry to manage affairs concerning the medical

- 4 -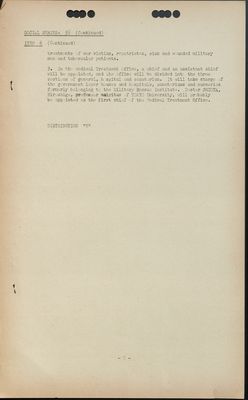 (View Page Image)



SOCIAL SERIES: 55 (Continued)





ITEM 6

(Continued)

treatments of war victims, repatriates, sick and wounded military men and tubercular patients.
In the Medical Treatment Office, a chief and an assistant chief will be appointed, and the office will be divided into the three sections of general, hospital and sanatorium. It will take charge of the government leper houses and hospitals, sanatoriums and nurseries formerly belonging to the Military Rescue Institute. Doctor SHIOTA, Hiroshige, profe

[illegible]

sor emiritus of TOKYO University, will probably be appointed as the first chief of the Medical Treatment Office.
DISTRIBUTION "X"

- 5 -