Press translations [Japan]. Social Series 0054, 1945-12-02.
translation-number: social-0186
call-number: DS801 .S84
---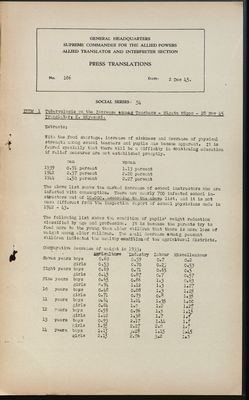 (View Page Image)
GENERAL HEADQUARTERS

SUPREME COMMANDER FOR THE ALLIED POWERS

ALLIED TRANSLATOR AND INTERPRETER SECTION

PRESS TRANSLATIONS

SOCIAL SERIES: 54

ITEM 1 Tuberculosis on the Increase among Teachers - Nigata Nippo - 28 Nov 45 Translator: K. Miyazaki.
Extracts:

With the food shortage, increase of sickness and decrease of physical strength among school teachers and pupils has became apparent. It is feared specially that there will be a difficulty in continuing education if relief measures are not established promptly.

| | | |
| --- | --- | --- |
| | men | women |
| 1939 | 0.91 percent | 1.13 percent |
| 1942 | 2.37 percent | 2.20 percent |
| 1944 | 4.50 percent 2.27 percent | |
The above list shows the marked increase of school instructors who are infected with consumption. There are nearly 700 infected school instructors out of 10,000 according to the above list, and it is not much different from the inspection report of school physicians made in 1942 - 43.

The following list shows the condition of pupils' weight reduction classified by age and profession. It is because the parents try to feed more to the young than elder children that there is more loss of weight among elder children. The small decrease among peasant children indicates the healthy condition of the agricultural districts.

Comparative decrease of weight in 1933.

| | | | | | |
| --- | --- | --- | --- | --- | --- |
| | | Agriculture | Industry | Labour | Miscellenious |
| Seven years | boys | 0.69 | 0.59 | 0.7 | 0.2 |
| | girls | 0.53 | 0.70 | 0.23 | 0.53 |
| Eight years | boys | 0.69 | 0.71 | 0.65 | 0.5 |
| | girls | 0.43 | 0.87 | 0.7 | 0.57 |
| Nine years | boys | 0.65 | 0.86 | 1.3 | 0.63 |
| | girls | 0.94 | 1.12 | 1.3 | 1.27 |
| 10 years | boys | 0.48 | 0.88 | 1.3 | 1.25 |
| | girls | 0.71 | 0.73 | 0.8 | 1.35 |
| 11 years | boys | 0.64 | 1.24 | 1.35 | 1.00 |
| | girls | 0.84 | 1.0 | 1.2 | 1.27 |
| 12 years | boys | 0.59 | 0.96 | 1.5 | 1.15 |
| | girls | 1.42 | 1.38 | 1.7 | 1.7 |
| 13 years | boys | 0.93 | 2.17 | 1.14 | 1.7 |
| | girls | 1.95 | 2.27 | 2.0 | 1.7 |
| 14 years | boys | 1.15 | 3.28 | 1.15 | 1.45 |
| | girls | 2.15 | 2.76 | 3.2 | 1.0 |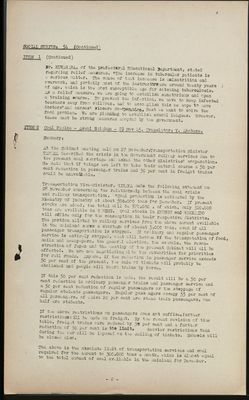 (View Page Image)
SOCIAL SERIES: 54 (Continued)
Dr. KUWAHARA, of the prefectural Educational Department, stated regarding relief measures, "The increase in tubercular patients is a serious matter. The cause of that increase is innutrition and overwork, and probably most of the instructors are around twenty years of age, which is the most susceptible age for catching tuberculosis. As a relief measure, we are going to establish sanatoriums and open a training course. To prevent the infection, we have to keep infected teachers away from children, and to accomplish this we hope to have doctors' and nurses' sincere co-operation. Next we want to solve the food problem. We are planning to establish school leagues. However, these must be strong measures adopted by the government.

ITEM 2 Coal Famine - Asahi Shiabun - 29 Nov 45. Translator: Y. Akabane.
Summary:

At the Cabinet meeting held on 27 November, Transportation Minister TANAKA described the crisis in the Government railway services due to the present coal shortage and asked the other Ministries' cooperation. He said that if things are left to take their natural course a 50 per cent reduction in passenger trains and 30 per cent in freight trains could be unavoidable.

Transportation Vice-Minister, HIRAYA made the following statement on 28 November concerning the relationship between the coal crisis and railway transportation. "Coal production is estimated by the Ministry of industry at about 500,000 tons for December. If present stocks are added, the total will be 970,000, of which, only 310,000 tons are available in HONSHU. Coal stocks in KYUSHU and HOKKAIDO will office only for the consumption in their respective districts. The portion alloted to railway services from the above amount available in the mainland shows a shortage of amount 5,000 tons, even if all passenger transportation is stopped. If ordinary and regular passenger service is entirely stopped, what will become of the transportation of food, mails and newspapers, the general election, the schools, the reconstruction of Japan and the destiny of the present Cabinet will all be effected are now negotiating with the authorities for priorities for rail roads. Any now, if the reduction in passenger service exceeds 50 per cent of the present, the sale of tickets will probably be abolished and people will board trains by force.

If this 50 per cent reduction is made, the result will be a 50 per cent reduction in ordinary passenger trains and passenger service and a 50 per cent reduction of regular passengers or the stoppage of regular students passengers. Regular passangers occupy 55 per cent all passangers, of which 20 per cent are steam train passengers, one half are students.

If the above restrictions on passengers does not suffice, further restrictions will be made on freight. By the recent revision of the table, freight trains were reduced by 30 per cent and a further reduction of 30 per cent is the limit. Heavier restrictions than during the war will be imposed on the selling of tickets. Schools will be closed also.

The above is the absolute limit of transportation services and coal required for the amount to 300,000 tons a month, which is almost equal to the total amount of coal available in the mainland for December.

- 2 -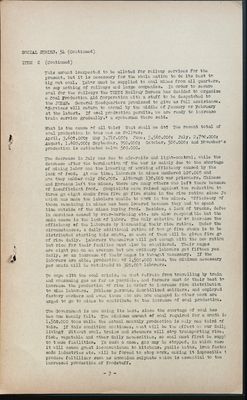 (View Page Image)
SOCIAL SERIES: 54 (Continued)
This amount is expected to be alloted for railway services for the present, but it is necessary for the whole nation to do its best to dig out coal. Labor must be supplied to coal mines from all quarters, to say nothing of railways and large companies. In order to secure coal for the railways the TOKYO Railway Bureau has decided to organize a Coal Production Aid Corporation with a staff to be despatched to the JOPAN. General Headquarters promised to give us full assistance. "Services will return to normal by the middle of January or February at the latest. If coal production permits, we are ready to increase train service gradually." a spokesman there said.

What is the cause of all this? What shall we do? The recent total of coal production in tons was as follows: April, 3,600,000; May 3,710,000; June, 3,560,000; July, 2,700,000; August, 1,620,000; September, 900,000; October, 520,000; and November's production is estimated below 500,000.

The decrease in July was due to air-raids and light-control, while the decrease after the termination of the war is mainly due to the shortage of mining labor and the lowering of working efficiency caused by the lack of food. At one time, laborers in mines numbered 420,000 and now they number only 260,000. Although 130,000 war prisoners, Chinese and Koreans left the mines, there are many others who left there because of insufficient food. Complaints were raised against the reduction to three go eight shaku from five go five shaku in the rice ration since June which has made the labolers unable to work in the mines. Efficiency of those remaining in mines has been lowered because they had to spend tint outside of the mines buying food. Besides, a lack of trucks, defec
[illegible]
in machines caused by over-burdening etc. are also responsible but the main cause is the lack of labor. The only solution is to increase the efficiency of the laborers by increasing their rice ration. Under the circumstances, a daily additional ration of two go five shaku is to be distributed starting this month, so each of them will be given five go of rice daily. Laborers themselves will get enough with the new ration but rice for their families must also be considered. Their wages are eight yen on an average but now ordinary laborers get fifteen yen daily, so an increase of their wages is thought necessary. If the laborers are able, production of 1,500,000 tons, the minimum necessary per month will be obtained with 320,000 laborers.
To cope with the coal crisis, we mist refrain from travelling by train and consuming gas as far as possible, and farmers must do their best to increase the production of rice in order to increase rice distribution to mine laborers. Jobless persons, demobilized soldiers, and employed factory workers and even those who are now engaged in other work are urged to go to mines to contribute to the increase of coal production.

The Government is now doing its best, since the shortage of coal has become keenly felt. The minimum amount of coal required for a month it 1,500,000 tons while the actual monthly production is only one third of this. If this condition continues, what will be the effect on our daily living? Without coal, trains and steamers will stop transporting rice, fish, vegetable and other daily necessities, so coal must first be supply to these facilities. In such a case, gas may be stopped, in which case it will cause great inconvenience to kitchens, public baths, iron factor soda industries etc, will be forced to stop work, making it impossible to produce fertilizer such as ammonium sulphate which is essential to the increased production of foodstuff.

- 3 -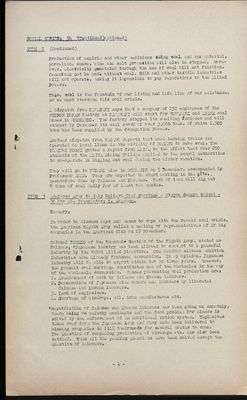 (View Page Image)
SOCIAL SERIES: 54 (Continued)
Production of aspirin and other medicines using coal and raw material, porcelain, sauce, wine and salt production will also be stopped. Moreover, electricity generated through the use of coal will not function. Cement can not be made without coal. Silk and other textile industries will not operate, making it impossible to pay reparations to the Allied Powers.

Thus, coal is the fountain of our living and life line of our existence, so we must overcome this coal crisis.

A dispatch from KAWASAKI says that a company of 250 employees of the NIPPON KOKAN factory at KAWASAKI will start for SUNAKAWA and coal mines in HOKKAIDO. The factory stopped its salting furnaces and will exhaust by December its coal stock of over 3,000 tons, of which 1,500 tons has been supplied by the Occupation Forces.

Another dispatch from NAGANO reports that wood burning trains are operated on local linen in the vicinity of NAGANO to save coal. The YOMIURI HOCHI quotes a report from AKITA to the effect that over 200 students of the AKITA Mining Collate applied to the school authorities to co-operate in digging out coal during tie winter vacation.

They will go to YUBARI mine in HOKKAIDO on 5 December, accompanied by professor AKAO. They are expected to start working in the pits, heretofore done by Chinese and Koreans. Each of them will dig out 8 tons of coal daily for at least two months.

ITEM 3 American Army to Help Relieve Coal Shortage - Nippon Sangyo Keizai - 30 Nov 45. Translator: Y. Akabane.
Summary:

In order to discuss ways and means to cope with the recent coal crisis, the American Eighth Army called a mooting of representatives of 20 big companies in the American Club on 27 November.

Colonel DARADO of the Economic Section of the Eighth Army, stated as follows: "Japanese industry has been allowed to convert to a peaceful industry by the third Allied Directive. One hundred sixteen munition industries have already finished conversion. In my opinion, Japanese industry will be able to export within two or three years. However, the present coal shortage constitutes one of the obstacles in the way of the wholesale conversion. Causes preventing coal production are:
Abandonment of work by Chinese and Korean laborers.
Persecution of Japanese nine owners and laborers by liberated Chinese and Korean laborers.
Lack of explosives.
Shortage of wirerope, oil, iron manufactures etc.
"Repatriation of Chinese and Korean laborers has been going on smoothly, there being on unlucky accidents and the food problem for miners is solved by the enforcement of an additional ration system. Explosives taken over from the Japanese Army and Navy have been delivered to missing companies to fill their needs for several months to come. The question of reopening production of wirerope etc. has also been settled. Thus all the pending questions nave been solved except the question of laborers.

- 4 -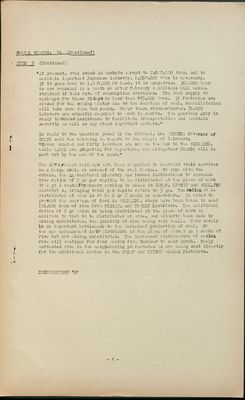 (View Page Image)
SOCIAL SERIES: 54 (Continued)
"At present, coal stock in markets amount to 2,000,000 tons, and to maintain important Japanese industry, 1,500,000 tons is necessary. If it goes down to 1,000,000 or less, it is dangerous. 300,000 tons is now consumed in a month so after February conditions will become strained if this rate of consumption continues. The coal supply to railways for these 30days is less than 695,000 tons. If factories are closed for the coming winter due to the shortage of coal, rehabilitation will take more than ten years. Under these circumstances, 70,000 laborers are urgently required to work in shafts. The American Army is ready to render assistance to facilitate transportation and maintain security as well as any other important matters."

In reply to the question posed by the Colonel, Mr. HIROSE, Governor of TOKYO said tie folowing in regard to the supply of laborers: "Seven hundred and fifty laborers are now on the way to the HOKKAIDO, while 4,000 are preparing for departure, and altogether 10,000 will be sent out by the end of the year."

The Government railways have been compelled to restrict train services on a large scale on account of the coal famine. To cope with the crisis, the Agricultural Ministry has issued instructions to increase rice ration of 2 go per capita, to be distributed at the place of work to 2 go 5 shaku for miners working in mines in JOBAN, KYUSHU and HOKKAIDO districts, bringing total per capita ration to 5 go. The ration to be distributed at none is to be 2 go 5 shaku as heretofore. In order to prevent the shortage of food in HOKKAIDO, steps have been taken to send 130,000 koku of rice from NIIGATA and TOHOKU Districts. The additional ration of 2 go which is being distributed at the place of work in addition to that to be distributed at home, has hitherto been made by mixing substitutes, the quantity of rice being very small. This surely is an important bottleneck to the increased production of coal. So the new arrangement is to distribute at the place of work 2 go 5 shaku of rice but not mixing substitutes. The increased distribution of ration rice will continue for four months from December to next March. Newly harvested rice in the neighbouring prefectures is now being sent directly for the additional ration in the JOBAN and KYUSHU mining Districts.

DISTRIBUTION "X"

- 5 -