Press translations [Japan]. Social Series 0049, 1945-12-02.
translation-number: social-0171
call-number: DS801 .S84
---
(View Page Image)
GENERAL HEADQUARTERS

SUPREME COMMANTER FOR THE ALLIED POWERS

ALLIED TRANSLATOR AND INTERPRETER SECTION

PRESS TRANSLATIONS

SOCIAL SERIES: 49

ITEM 1 KYOTO Imperial University discontinues lectures on composition of atoms - Yomiuri-Hochi - 29 Nov 45. Translator: T. Ogawa.
Full Translation:

Having obtained the students' consent Prof. ARAKATSU of the Scientific Department of the KYOTO Imperial University announced yesterday that his chair of "Experimental Physics on Atomic Nucleus" will Closed for the present. The chair, however, will be replaced with a new one as soon as a new theme of research is determined reports YOMIURI-HCCHI.

It is learned also that the destruction of the cyclotron for the study of atomic energy, which has been carried on by the Allied Forces since 20 Nov in compliance with General MacARTHUR's directive was completed on 27 Nov.

ITEM 2 Students of Private Universities demand democratization - Asahi Shimbun - 29 Nov 45. Translator: T. Ogawa.
Summary:

The League of Schools, which has been organized among the students of the private universities in order to promote the democratization of institutions by the students themselves yesterday, held a meeting at KEIO University. At the meeting the autonomous activity of schools was stressed, and a move to make the league a unified front of all students aiming at the autonomous reform of institutions was approved. A representative of the students will visit Mr. MAEDA, the Education Minister to explain the intentions of the league. Regarding this Mr. MIYAKE Shire, representing the Medical Department of NIHON University states as follows: "Rumor has it that the education authorities have stated that it is poor policy to have the students meddling, in the line of school operation. If not satisfied with the policy of the school, they should leave the school. We entered the school in 1942 and then came the war" he continues, "At that time some 80 students were already excluded from the school by hint of their anti-war feelings. We are willing to endeavor to elevate our school despite the fact that we find ourselves in muddy marsh. The conservative influences are trying to prevent the democratization of the school, and we students must smash these conservative influences. The education authorities are permitting the students to change their schools because of the food problem. I think the unqualified schools might disappear automatically if we push this trend to the utmost", he concludes.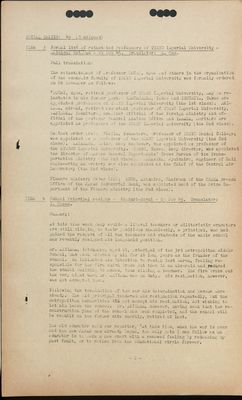 (View Page Image)
SOCIAL SERIES 49 (Continued)
IIEM 3 Formal list of reinstated Professors of TOKYO Imperial University - Mainichi Shimbun - 29 Nov 45. Translator: M. Ono.
Full translation:

The reinstatement of Professor OUHI, Hyoe and others in the organization of the economic faculty of TOKYO Imperial University was formally ordered on 28 November as follows:

"OUCHI, Hyoe, retired professor of TOKYO Imperial University, may be reinstated in his former post. YAUCHARA, Tadao and TSUCHIYA, Takao are appointed professors of TOKYO Imperial University (the 1st class). ABIZAWA, Hiroki, retired assistant professor of TOKYO Imperial University,
[illegible]
AKI
[illegible]
UR
[illegible]
, Yoshitaro examiner official of the Foreign Ministry and official of the post-war Central Liaison Office and YAMADA, Moritaro are appointed as professors of the TOKYO Imperial University (the 2nd class).
Cabinet order (28): FUJITA, Tsunetaro, professor of TOKYO Dental College, was appointed as a professor of the TOKYO Imperial University (the 2nd class). WATANABE, Keiko Navy engineer, was appointed as professor of the KYUSHU Imperial University. OKUBO, Takeo, Navy director, was appointed the director of Marine General Departments' Crews Bureau of the Transportation Ministry (the 2nd class).
[illegible]
AKAHARA, Jyuichiro, engineer of Rail Engineering Laboratory was also appointed as the Chief of the Central Air Laboratory (the 2nd class).
Finance Ministry Order (28): KUDO, Akishiro, Chairman of the OSAKA Branch Office of the JAPAN Industrial Bank, was appointed head of the Price Department of the Finance Ministry (the 2nd class).

ITEM 4 School Principal resigns - Yomiuri-Hochi - 29 Nov 45. Translator: T. Ogawa.
Summary:

At this time when many would-be liberal teachers or militaristic educators are still clinging to their positions shamelessly, a principal, who had gained the respect of all the teachers and students of the whole school has recently resigned his long-held position.

Mr. AKIYAWA, Yotsumaio, aged 61, Principal of the 3rd Metropolitan Middle School, has been beloved by all for 16 long years as the founder of the school. He intimated his intention to resign last March, feeling responsible for the fire which broke out then in an air-raid and reduced the school building to ashes, thus killing a teacher. The fire broke out the very, night when Mr. AKIYAMA was on duty. His resignation, however, was not accepted then.

Following the termination of the war his determination has become more steady. The old principal, tendered his resignation repeatedly, but the Metropolitan authorities did not accept his resignation, not wishing to let him leave the school. Mr. AKIYAWA, however, having seen that the reconstruction plan of the school has been completed, and the school will be rebuilt on the former site shortly, retired at last.

The old educator told our reporter, "At this time, when the war is over and the new JAPAN has already begun, the only path I can follow as an educator is to make a new start with a renewed feeling by redeeming my past fault, or to retire from the educational circle forever.

- 2 -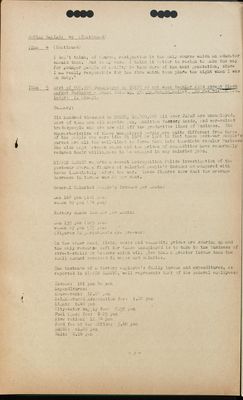 (View Page Image)
SOCIAL SERIES 49 (Continued)
I don't think, of course; resignation is the only course which an educator should take. But in my case, I think it better to resign to make the way for younger people of ability to take care of the next genetation, since I am really responsible for the fire which took place the night when I was on duty,"

ITEM 5 Most of 600,000 Unemployed in TOKYO do not want Regular Jobs except Black Market Business - Asahi Shimbun,

[illegible]

Sanagyo Keizai 20 Nov 45. Translator: K. Minagi.
Summary:

Six hundred thousand in TOAYO, 10,000,000 all over JAPAN are unemployed, Most of them are old service Men, munition factory hands, and war-ruined trades people who are now all off the productive lines of business. The characteristics of these unemployed people are quite different from these of the people's who were idle in 1925 or 1926 in that these post-war people' purses are all too well-lined to force them into immediate regular business. The wide gaps between wages and the prices of commodities have remarkably reduced their willingness to be engaged in any salaried jobs.

NIPPON SANGYO reports a recent Metropolitan Police investigation of the post-war average figures of salaried people's incomes as compared with those immediately before the war. These figures show that the average decrease in income was 20 per cent.

General Salaried People's Incomes per month:
men 162 yen (1
[illegible]
1 yen)
women 69 yen (74 yen)
Factory Hands Incomes per month:
men 135 yen (165 yen)
women 67 yen (75 yen)
(Figures in parenthesis are pre-war)

On the other hand, living costs and commodity prices are soaring up and the only recourse Left for these unemployed is to take to the business of street-stalls or brokers which will give them a greater income than the small amount received in wages and salaries.

One instance of a factory employee's family income and expenditures, as reported in NIPPON SANGYO, well represents that of the general employees:
Income: 161 yen 48 sen
Expenditures:
House-rent: 12.00 yen
Neighborhood Association Fee: 1.00 yen
Light: 6.40 yen
City-water supply fee: 0.55 yen
Fuel (gas; fee: 0 25 yen
Rice ration: 11.34 yen
Food fee at the Office; 3.60 yen
SHOYU: 61.20 yen
Salt: 0.16 yen

- 3 -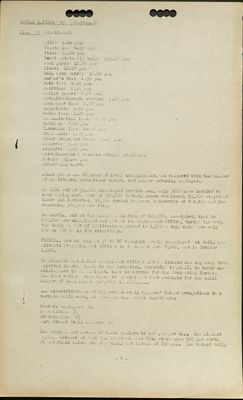 (View Page Image)
SOCIAL SERIES 49 (Continued)
MISO: 1.44 yen
Vegetable: 4.50 yen
Fish: 68.24 yen
Sweet potato (13 kan):
198.20 yen
Wool yarn:- 12.00 yen
Linen: 12.00 yen
GETA (one pair): 16.00 yen
Barber's fee: 2.50 yen
Bath fee: 4.80 yen
Medicine: 2.30 yen
Toilet paper: 0.20 yen
Mosquito-incence sticks: 1.20 yen
Newspaper fee: 2.70 yen
magazines: 3.50 yen
Radio fee: 1.00 yen
Communication fees: 0.75 yen
Savings: 7.00 yen
Insurance fee: 14.00 yen
Tram pass: 3.00 yen
Other Transport fees:
[illegible]
.00 yen
Tobacco: 9.00 yen
Liquors: 8.00 yen
Miscellaneous (
[illegible]
reseats etc.): 32.50 yen
Total: 513.
[illegible]
8 yen
352.20 yen short
ASAHI gives one figures of local unemployment, as compared with the number of applicants, situations vacant, and number actually employed.

In KOBE out of 36,000 unemployed service men, only 3200 have decided to seek employment. Out of 370,000 factory hands dismissed, 63,000 stayed at their old factories, 15,000 turned to peace industries or farming, and the remaining 300,0o0 are idle.

In NAGOYA, out of the whole population of 600,000, one-third, that is 200,000 are unemployed and yet at the Employment Office, during the war, the daily number of a applicants amounted to 1,500 a day, while now only 200 or 300 apply for situations.

FUSKUOKA, has as many as 30 to 40 thousand people unemployed at dally applicants at Employment Offices in September 2,000, and in October 1,600.

In KU
[illegible]
OTO and S
[illegible]
NDAU Employment Offices had applicants who shy away from physical labor. There is one exception, according to ASAHI, to their un-willingness to be Employed, that is service for the Occupation Forces. The food ration given there is popular and that accounts for the small number of unemployed (10,000) in YOKO
[illegible]
.
The classifications of 253 street-stall keepers' former occupations in a certain TOKYO ward as
[illegible]
given in the NIPPON SANGYO are:
Factory employees
[illegible]
Demobilized 70
Trades people 07
[illegible]
ure Street Stall Keepers 2
[illegible]
The average net income of these dealers is 100 yen per day. The highest paying
[illegible]
usiness of
[illegible]
(
[illegible]
and fish stew) uses 500 yen worth of materials which ri
[illegible]
s daily net income of 150 yen. The recent daily
- 4 -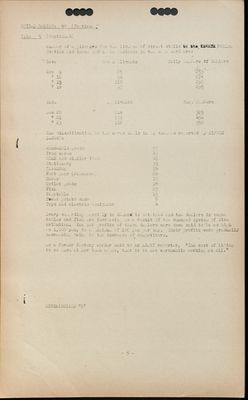 (View Page Image)
SOCIAL SERIES 49 (Continued)
Number of applications for the license of street stalls to the KAMATA Police Station and those
[illegible]
in
[illegible]
siness in the s
[illegible]
e ward are:
| | | |
| --- | --- | --- |
| Date | New Applicants | Daily Members of Dealers |
| Nov 9 | 25 | 253 |
| " 12 | 58 | 278 |
| " 15 | 110 | 290 |
| " 18 | 97 | 295 |
| | | |
| --- | --- | --- |
| Date | Applicants | Shop Member |
| Nov 20 | 116 | 325 |
| " 21 | 109 | 450 |
| " 23 | 112 | 550 |
The classification of the wares dealt in by then as reported by NIPPON SANGYO:
| | |
| --- | --- |
| Household goods | 57 |
| Iron wares | 43 |
| ODEN and similar food | 41 |
| Stationary | 39 |
| Clothing | 16 |
| Foot gear (Japanese) | 28 |
| Shoes | 10 |
| Toilet goods | 16 |
| Fish | 23 |
| Vegetable | 15 |
| Sweet potato cake | 6 |
| Toys and electric equipment | 4 |
Every commodity possibly in demand is obtained and the dealers in vegetables and fish increasing as a result of the changed system of distribution. The net profits of these dealers were once said to be as high as 1,000 yen, to a minimum of 100 yen per day. Their profits were gradually decreasing owing to the increases of competitors.

As a former factory worker said to an ASAHI reporter, "The cost of living is so much higher than wages, that it is not worthwhile working at all."

DISTRIBUTION "X"

- 5 -