Press translations [Japan]. Social Series 0047, 1945-12-01.
translation-number: social-0163
call-number: DS801 .S84
---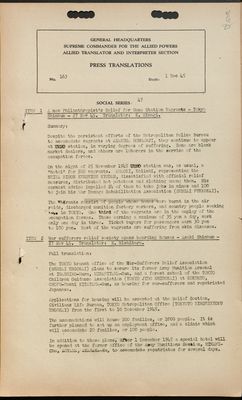 (View Page Image)
GENERAL HEADQUARTERS

SUPREME COMMANDER FOR THE ALLIED POWERS

ALLIED TRANSLATOR AND INTERPRETER SECTION

PRESS TRANSLATIONS

SOCIAL SERIES: 47

ITEM 1 A new Philanthropist's Relief for Ueno Station Vagrants - Tokyo Shimbun - 27 Nov 45. Translator: K. Minagi.
Summary:

Despite the persistent efforts of the Metropolitan Police Bureau to accomodate vagrants at ASAKUSA HONGANJI, they continue to appear at UENO station, in varying degrees of suffering. Some are black market dealers, and others are laborers in the service of the occupation forces.

On the night of 25 November 1945 UENO station was, as usual, a "hotel" for 500 vagrants. AMOKI, Keiichi, representing the NEIWA NIHON KENSETSU KYODAN, dissatisfied with official relief measures, distributed hot potatoes and clothing among them. His earnest advice impelled 24 of them to take jobs in mines and 100 to join his war Damage Rehabilitation Association (SENSAI FUKKOKAI).

The vagrants consist of people whose homes were burnt in the air raids, discharged munition factory workers, and country people seeking
[illegible]
in TOKYO. One third of the vagrants are in the employ of the occupation forces. Those earning a maximum of 35 yen a day, work only one day in three. Ticket buyers for passengers earn 30 yen to 100 yen. Most of the vagrants are suffering from skin diseases.
ITEM 2 War sufferers relief society opens boarding houses - Asahi Shimbun - 27 Nov 45. Translator: H. Nishihara.
Full translation:

The TOKYO branch office of the War-Sufferers Relief Association (SENSAI ENGOKAI) plans to secure its former Army Munition Arsenal at INASHIRO-Mura, MINAMITAMA-Gun, and a forest school of the TOKYO Children Guidance Association (TOKYO JIDO SHIDOKAI) at KOKURYO, CHOFU-Machi KITATAMA-Gun, as housing for war-sufferers and repatriated Japanese.

Applications for housing will be accepted at the Relief Section, Civilians Life Bureau, TOKYO Metropolitan Office (TOKYOTO MINSEIKYOKU ENGOKAI) from the first to 10 December 1945.

The accomadations will house 200 families, or 1000 people. It is further planned to set up an employment office, and a clinic which will accomodate 20 families, or 100 people.

In addition to these plans, after 1 December 1945 a special hotel will be opened at the former office of the Army Munitions Section, MINAMI-Cho, AOYAMA, AKASAKA-Ku, to accomodate repatriates for several days.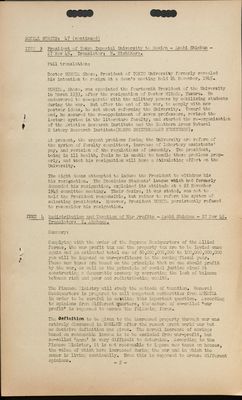 (View Page Image)
SOCIAL SERIES: 47 (Continued)
ITEM 3 President of Tokyo Imperial University to Resign - Asahi Shimbun - 27 Nov 45. Translator: H. Nishihara.
Full translation:

Doctor UCHIDA Shozo, President of TOKYO University formerly revealed his intention to resign at a dean's meeting held 24 November, 1945.

UCHIDA, Shozo, was appointed the fourteenth President of the University in March 1933, after the resignation of Doctor HIRAGA, Yuzuru. He endeavored to co-operate with the military powers by mobilizing students during the war. But after the end of the war, to comply with new postwar ideas, he set about reforming the University. Toward the end, he secured the re-appointment of seven professors, revised the lecture system in the literature faculty, and started the re-organization of the Aviation Research Institute and the Southern Areas Natural History Research Institute(NANPO SHIZENKAGAKU KENKYUSHO).

At present, the urgent problems facing the University are reform of the system of faculty committees, increase of laboratory assistants' pay, and revision of the regulations of assembly. The president, being in ill health, feels he is unable to handle these problems properly, and that his resignation will have a stimulating effect on the University.

The eight deans attempted to induce the President to withdraw his resignation. The Economics Students' League which had formerly demanded his resignation, explained its attitude at a 22 November 1945 committee meeting. Their desire, it was stated, was not to hold the President responsible, but rather to reform the system of selecting presidents. However, President UCHIDA persistently refused to reconsider his resignation.

ITEM 4 Redistribution and Taxation of War Profits - Asahi Shimbun - 27 Nov 45. Translator: Y. Akabane.
Summary:

Complying with the order of the Supreme Headquarters of the Allied Forces, the war profit tax and the property tax are to be levied once again and an estimated total sum of 80,000,000,000 to 100,000,000,000 yen will be imposed on war-profiteers in the coining fiscal year. These new taxes are based on the principle that no one should profit by the war, as well as the principle of social justice aimed at constructing a democratic economy by correcting the lack of balance between rich and poor and redistributing wealth.

The Finance Ministry will study the methods of taxation. General Headquarters is prepared to call competent authorities from AMERICA in order to be careful in settling this important question. According to opinions from different quarters, the nature of so-called "war profit" is supposed to assume the following forms.

The definition to be given to the increased property through war was actively discussed in ENGLAND after the recent great world war but no decisive definition was given. The normal increase of savings based on reasonable income is to be excluded from war-profit, but so-called 'norm' is very difficult to determine. According to the Finance Minister, it is not reasonable to impose new taxes on houses, the value of which have increased during the war and in which the owner is living continually. Even this is supposed to arouse different opinions.

- 2 -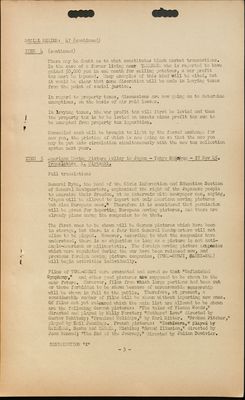 (View Page Image)
SOCIAL SERIES: 47 (Continued)
There may be doubt as to what constitutes black market transactions. In the case of a farmer living near YAMANAKA who is reported to have gained 50,000 yen in one month for selling potatoes, a war profit tax must be imposed, Many examples of this kind will be cited, but it would be clear that some discretion will be made in levying taxes from the point of social justice.

In regard to property taxes, discussions are now going on to determine exemptions, on the basis of air raid losses.

In levying taxes, the war profit tax will first be levied and then the property tax is to be levied on assets minus profit tax sum to be exempted from property tax imposition.

Concealed cash will be brought to light by the forced exchange for new yen, the printing of which is now going on so that the new yen may be put into circulation simultaneously with the new tax collection system next year.

ITEM 5 American Moving Picture Policy in Japan - Tokyo Shimbun - 27 Nov 45. Translator: K. Miyazaki.
Full translation:

General Dyke, the head of the Civic Information and Education Section of General Headquarters, emphasized the right of the Japanese people to exercise their freedom, at an interview with newspaper men, saying, "Japan will be allowed to import not only American moving pictures but also European ones." Therefore it is considered that permission will be given for importing European moving pictures, and there are already plans among the companies to do that.

The first ones to be shown will be German pictures which have been in storage, but there is a fear that General Headquarters will not allow to be played. However, according to what the companies have understood, there is no objection as long as a picture is not anti-Anglo-American or militaristic. The foreign moving picture companies which were regulated during the war have been released now, and previous foreign moving picture companies, (TOWA-SHOJI, SANEI-SHA) will begin activities individually.

Films of TOWA-SHOJI were evacuated and saved so that "Unfinished Symphony," and other good pictures are supposed to be shown in the near future. Moreover, films from which large portions had been cut or those forbidden to be shown because of unreasonable censorship will be shown in full to the public. Therefore, at present, a considerable number of films will be shown without importing new ones. Of films not yet released which the main list are allowed to be shown are the following German pictures: "The tales of Vienna Woods," directed and played by Willy Forster; "Mothers' Love" directed by Gustav Uchitsky; "Promised Holidays," by Karl Ritter. "Broken Pitcher," played by Emil Jennings. French pictures: "Yoshiwara," played by HAYAKAWA, Seshu and TANAKA, Michiko; "Grand Illusion," directed by Jean Renaud; "The End of the Journey," directed by Julian Dewivier.

DISTRIBUTION "X"

- 3 -