Press translations [Japan]. Social Series 0046, 1945-11-21.
translation-number: social-0161
call-number: DS801 .S84
---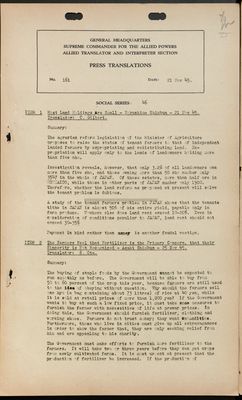 (View Page Image)
GENERAL HEADQUARTES

SUPREME COMMANDER FOR THE ALLIED POWERS

ALLIED TRANSLATOR AND INTERPRETER SECTION

PRESS TRANSLATIONS

SOCIAL SERIES: 46

ITEM 1 Most Land Holdings Are Small - Tokushima Shimbun - 21 Nov . Translator: C. Gilbert.
Summary:

The agrarian reform legislation of the Minister of Agriculture proposes to raise the status of tenant farmers to that of independent landed farmers by expropriating and redistributing land. Expropriation will apply only to the lands of landowners holding more than five cho.

Investigation reveals, however, that only 3.2% all landowners own more than five cho, and those owning more than 50 cho number only 3547 in the whole of JAPAN. Of these estates, more than half are in HOKKAIDO, while those in other parts of JAPAN number only 1900. Therefore, whether the land reform as proposed at present will solve the tenant problem is dubious.

A study of the tenant farmers problem in JAPAN shows that the tenants tithe in JAPAN is almost 50% of his entire yield, payable only in farm produce. Nowhere else does land rent exceed 10-20%. Even in consideration of conditions peculiar to JAPAN, land rent should not exceed 30-35%

Payment in kind rather than money is another feudal vestige.

ITEM 2 The Farners Feel that Fertilizer is the Primary Concern, that their Sincerity is Not Recognized - Asahi Shimbun - 25 Nov 45. Translator: S. Ota.
Summary:

The buying of staple foods by the Government cannot be expected to run smoothly as before. The Government will be able to buy from 50 to 60 percent of the crop this year, because farmers are still used to the idea of obeying without question. Why should the farmers sell one hyo (a bag containing about 73 litres) of rice at 40 yen, while it is sold at retail prices of more than 1,000 yen? If the Government wants to buy at such a low fixed price, it must take some measures to furnish the farmer with necessities of life at prewar prices. In doing this, the Government should furnish fertilizer, clothing and working shoes. Farmers do not trust money; they want commodities. Furthermore, those who live in cities must give up all extravagances in order to show the farmer that, they are only seeking relief from him and are appealing to his charity.

The Government must make efforts to furnish more fertilizer to the farmers. It will take two or three years before they can get crops from newly cultivated farms. It is most urgent at present that the production of fertilizer be increased. If the production of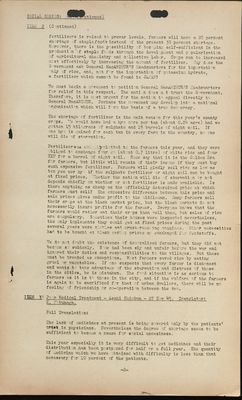 (View Page Image)
SOCIAL SERIES: 46 (Continued)
fertilizers is raised to prewar levels, farmers will have a 20 percent shortage of staple food instead of the present 30 percent shortage. Moreover, there is the possibility of becoming self-sufficient in the production of staple foods through the development and popularization of agricultural chemistry and collective labor. Crops can be increased most effectively by increasing the amount of fertilizer. Why does the Government ask General MacARTHUR'S Headquarters for the importation only of rice, and, not for the importation of potassium hydrate, a fertilizer which cannot be found in JAPAN?

We must begin a movement to petition General Mac ARTHUR'S Headquarters for relief in this respect. The nation does not trust the Government. Therefore, it is most urgent for the nation to appeal directly to General MacARTHUR. Perhaps the movement may develop into a national organization which will form the basis of a true democracy.

The shortage of fertilizer is the main reason for this year's scanty crops. We would have had a hyo more per tan (about 0.24 acre) had we gotten 15 kilograms of sulphate and 15 barrels of night soil. If one hyo is gained for each tan in every farm in the country, no one will die of starvation.

Fertilizer was
[illegible]
alotted to the farmers this year, and they were obliged to exchange four go (about 0.7 litre) of white rice and four YEN for a barrel of night soil. Some say that it is the Golden Era for farmers, but little will remain of their income if they must buy such expensive fertilizer. Farmers will gladly sell rice as low as ten yen per hyo if the sulphate fertilizer or night soil can be bought at fixed prices. Whether the nation will die of starvation or not depends chiefly on whether or not fertilizer is made available. Is there anything as cheap as the officially determined price at which farmers must sell? The excessive difference between this price and sale prices gives undue profit to the middleman. Many farmers sell their crops at the black market price, but the black markets do not necessarily insure profits for the farmer. Everyone knows that the farmers would rather eat their crops than sell them, but sales of rice are compulsory. Sometimes their houses were inspected nevertheless, the only implements they could get at fixed prices during the past several years were sickles and crust-removing machines. Other necessities had to be bought at black market prices or exchanged for foodstuffs.
We do not doubt the existence of demoralized farmers, but they did not become so suddenly. Some had been sly and unfair before the war and ignored their duties and responsibilities to the villages. But these must be treated as exceptions. Most farmers saved rice by eating gruel or vegetables. If one suspects that every farmer is dishonest and wants to take advantage of the starvation and distress of those in the cities, he is mistaken. The food situation is as serious to farmers as it is to those in the city, and if the welfare of the farmers is again to be sacrificed for that of urban dwellers, there will be no feeling friendship or co-operation between the two.

ITEM 3 Poor Medical Treatment - Asahi Shimbun - 27 Nov 45. Translator: K. Nobunaga.
Full Translation:

The lack of medicines at present is being covered only by the patients' trust in physicians. Nevertheless the degree of shortage seems to be sufficient to become a cause for social uneasiness.

This year especially it is very difficult to get medicines and their distribution has been postponed for half or a full year. The quantity of medicine which we have obtained with difficulty is less than that necessary for 10 percent of the patients.

- 2 -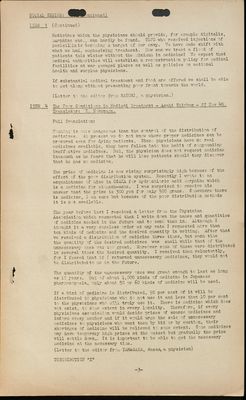 (View Page Image)
SOCIAL SEIRES: 46 (Continued)
Medicines which the physicians should provide, for example digitalis, morphine etc., can hardly he found. TOJO who received injections of penicillin is becoming a target of our envy. We have made shift with what we had, emphasizing treatment. How can we treat a flood of patients this winter without the minimum in medicine? We expect that medical authorities will establish a reconstruction policy for medical facilities at war ravaged places as well as policies on national health and surplus physicians.

If substantial medical treatment and food are offered we shall be able to get along without presenting poor front towards the world.

(Letter to the editor from SATOMI, a physician.)

ITEM 4 The Poor Conditions in Medical Treatment - Asahi Shimbun - 27 Nov 45. Translator: K. Nobunaga.
Full Translation:

Nothing is more dangerous than the control of the distribution of medicines. At present we do not know where proper medicines can be procured even for dying patients. Since physicians have no real medicines available, they have fallen into the habit of compounding ineffective medicines. But, the physician does not request medicine inasmuch as he fears that he will lose patients should they discover that he has no medicine.

The price of medicine is now rising surprisingly high because of the effect of the poor distribution system. Recently I wrote to an acquaintance of mine in OSAKA for hydrochloric acid morphine which is a medicine for stomach-ache. I was surprised to receive his answer that the price is 300 yen for only 500 grams. Somewhere there is medicine, I am sure but because of the poor distribution methods it is not available.

The year before last I received a letter from the Physician Association which requested that I write down the names and quantities of medicine needed in the future and to send them in. Although I thought it a very careless order at any rate I requested more than ten kinds of medicine and the desired quantity in writing. After that we received a distribution of medicine three times, but each time the quantity of the desired medicines, was small while that of the unnecessary ones was too great. Moreover some of these were distributed in several times the desired quantity. I received them reluctantly, for I feared that if I returned unnecessary medicines, they would not be distributed to me in the future.

The quantity of the unnecessary ones was great enough to last as long as 10 years. Out of about 1,000 kinds of medicine in Japanese pharmacopoeia, only about 50 or 60 kinds of medicine will be used.

If a kind of medicine is distributed, 90 per cent of it will be distributed to physicians who do not use it and less than 10 per cent to the physicians who will truly use it. There is medicine which does not exist, to some extent in every locality. Therefore, if every physicians association would decide prices of scarce medicines and inform every member and if it would urge the sale of unnecessary medicines to physicians who want them by bid or by auction, their shortages of medicine will be relieved to some extent. Some medicines may have temporary high prices at the outset but gradually the price will settle down. It is important to be able to get the necessary medicine at the necessary time.

(Letter to the editor from YAMAGATA, Masao, a physician)

DISTRIBUTION "X"

- 3 -