Press translations [Japan]. Social Series 0045, 1945-11-30.
translation-number: social-0155
call-number: DS801 .S84
---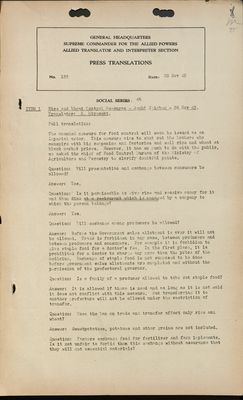 (View Page Image)
GENERAL HEADQUARTERS

SUPREME COMMANDER FOR THE ALLIED POWERS

ALLIED TRANSLATOR AND INTERPRETER SECTION

PRESS TRANSLATIONS

SOCIAL SERIES: 45

ITEM 1 Rice and Wheat Control Measures - Asahi Shimbun - 28 Nov 45. Translator: K. Miyazaki.
Full translation:

The amended measure for food control will soon be issued as an Imperial order. This measure aims to shut out the brokers who conspire with big companies and factories and sell rice and wheat at black market prices. However, it has so much to do with the public, we asked the chief of Food Control bureau of the Ministry of Agriculture and forestry to clarify doubtful points.

Question: Will presentation and exchange between consumers be allowed?

Answer: Yes.

Question: Is it permissable to give rice and receive money for it and then dine at a restaurant which is managed by a company to which the person belongs?

Answer: Yes.

Question: Will exchange among producers be allowed?

Answer: Before the Government sales allotment is over it will not be allowed. Trade is forbidden in any case, between producers and between producers and consumers. For example it is forbidden to give staple food for a doctor's fee. In the first place, it is prohibited for a doctor to charge any more than the price of the medicine. Exchange of staple food is not supposed to be done before government sales allotments are completed and without the permission of the prefectural governor.

Question: Is a family of a producer allowed to take out staple food?

Answer: It is allowed if there is need and as long as it is not sold it does not conflict with this measure. But transferring it to another prefecture will not be allowed under the restriction of transfer.

Question: Does the ban on trade and transfer affect only rice and wheat?

Answer: Sweet potatoes, potatoes and other grains are not included.

Question: Farmers exchange food for fertilizer and farm implements. Is it not unfair to forbid them, this exchange without assurance that they will get essential materials?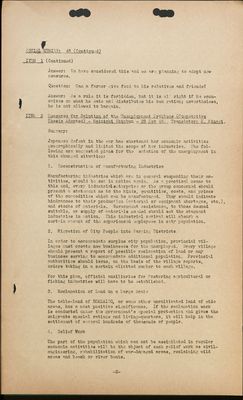 (View Page Image)
SOCIAL SERIES: 45 (Continued)
Answer: We have considered this and we are planning to adopt new measures.

Question: Can a farmer give food to his relatives and friends?

Answer: As a rule it is forbidden, but it is all right if he economizes on what he eats and distributes his own ration; nevertheless, he is not allowed to bargain.

ITEM 2 Measures for Solution of the Unemployment Problems (Competetive Thesis Adopted) - Mainichi Shimbun - 28 Nov 45. Translator: K. Minami.
Summary:

Japanese defeat in the war has shortened her economic activities geographically and limited the scope of her industries. The following are suggested plans for the solution of the unemployment in this changed situation:
Reconstruction of Manufacturing Industries

Manufacturing industries which are in general suspending their activities, should be set in motion again. As a practical means to this end, every industrial enterprise or the group concerned should present a statement as to the kinds, quantities, costs, and prices of the commodities which can be manufactured. They should indicate hindrances to their production (material or equipment shortages, etc.), and stocks of materials. Government assistance, to those deemed suitable, or supply of materials needed should set the stagnant industries in motion. This industrial revival will absorb a certain amount of the experienced employees in city population.
Migration of City People into Farming Districts

In order to accommodate surplus city population, provincial villages must create new businesses for the unemployed. Avery village should present a report of possible reclamation of land or any business serving to accommodate additional population. Provincial authorities should issue, on the basis of the village reports, orders taking in a certain allotted number to each village.

For this plan, official auxiliaries for fostering agricultural or fishing industries will have to be established.
Reclamation of Land on a Large Scale

The table-land of HOKKAIDO, or some other uncultivated land of wide areas, has a most positive significance. If the reclamation work is conducted under the government's special protection and gives the emigrants special rations and living-quarters, it will help in the settlement of several hundreds of thousands of people.
Relief Work

The part of the population which can not be assimilated in regular economic activities will be the object of such relief work as civil-engineering, rehabilitation of war-damaged areas, reclaiming wild areas and beach or river banks.

- 2 -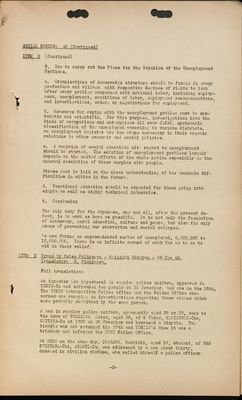 (View Page Image)



SOCIA SERIES: 45 (Continued)





ITEM 2

(Continued)
How to carry out the Plans for the Solution of the Unemployment Problems.
Organizations of democratic structure should he formed in every prefecture and village with respective degrees of rights to look after every problem concerned with national labor, including employment, unemployment, conditions of labor, employment recommendations, and investigations, orders or negotiations for employment.
Measures for coping with the unemployment problem must be systematic and scientific. For this purpose, investigations into the kinds of occupations and enterprises all over JAPAN, systematic classification of the unemployed according to various districts, an unemployment register are the steps necessary in their organic relations to other economic and social policies.
A campaign of social education with regard to unemployment should be started. The solution of unemployment problems largely depends on the united efforts of the whole nation especially on the unusual resolution of those surplus city people.

Stress must be laid on the clear understanding of the economic difficulties in cities in the future.
Vocational education should be expanded for those going into simple as well as highly technical industries.
Conclusion
The only duty for the Japanese, one and all, after the present defeat, is to work as hard as possible. It is not only the foundation of democracy, moral education, culture and peace, but also the only means of preventing our starvation and social collapse.

We are facing an unprecedented number of unemployed, 6,000,000 to 10,000,000. There is an infinite amount of work for us to do to aid in their relief.

ITEM 3 Fraud by false Policeman - Mainichi Shimbun - 28 Nov 45, Translator: H. Nishihara.
Full translation:

An imposter (or imposters) in regular police uniform, appeared in TOKYO-To and defrauded two people on 26 November, and one on the 25th. The TOKYO Metropolitan Police office and the Police Office concerned are carrying on investigations regarding these crimes which were probably committed by the same person.

A man in regular police uniform, apparently aged 28 or 29, came to the home of TORIZAWA Keizo, aged 50, of 5 Chome, KAMIYOSHI-Cho, SHITAYA-Ku at 1700 on 26 November and borrowed a bicycle. The bicycle was not returned the 27th and TORIZAWA knew it was a trickery and informed the UENO Police Office.

At 2000 on the same day, IKAZAWA, Genkichi, aged 19, student, of 382 KURIHARA-Cho, ADACHI-Ku, was addressed by a man about thirty, dressed in civilian clothes, who called himself a police officer

- 3 -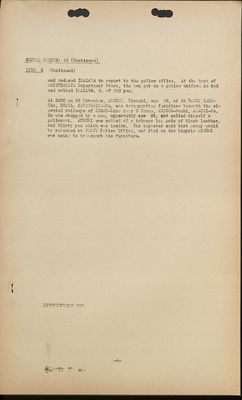 (View Page Image)
SOCIAL SERIES: 45 (Continued)
and ordered IMAZAWA to report to the police office. At the hack of MATSUZAKAYA Department Store, the man put on a police uniform he had and robbed IMAZAWA, G, of 950 yen.

At 2230 on 25 November, ATSUMI, Hiroshi, age 23, of 24 TACHI ISHI-Cho, HONDA, KATSUSHIKA-Ku, was transporting furniture beneath the elevated railways of JOBAN-Line near 3 Chome, HINODE-Machi, ADACHI-Ku. He was stopped by a man, apparently age 26, who called himself a policeman. ATSUMI was robbed of a tobacco box made of black leather, and thirty yen which was inside. The imposter said that money would be returned at SUEJU Police Office, and fled on the bicycle ATSUMI was using to transport his furniture.

DISTRIBUTION "X"

- 4 -