Press translations [Japan]. Social Series 0043, 1945-11-30.
translation-number: social-0147
call-number: DS801 .S84
---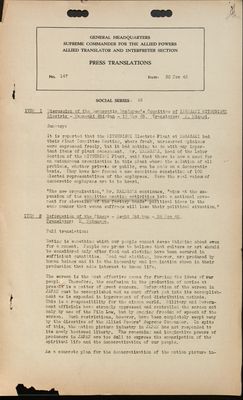 (View Page Image)
GENERAL HEADQUARTERS

SUPREME COMMANTER FOR THE ALLIED POWERS

ALLIED TRANSLATOR AND INTERPRETER SECTION

PRESS TRANSLATIONS

SOCIAL SERIES: 43

ITEM 1 Discussion of the Democratic Employee's Committee of NAGASAKI MITSUBISHI Electric - Nagasaki Shimbun - 19 Nov 45. Translator: M. Minagi.
Summary:

It is reported that the MITSUBISHI Electric Plant at NAGASAKI had their Plant Committee Meeting, where frank, unreserved opinions were expressed freely, but it had nothing to do with any important items of plant management. Mr. NAKAGAMA, head of the Labor Section of the MITSUBISHI Plant, said that there is now a need for an autonomous organization in this plant where the solution of all problems, whether private or public, can be made on a democratic basis. They have how formed a new committee consisting of 100 elected representatives of the employees. Here the real voices of democratic employees are to be heard.

"The new organization," Mr. NAKAGAWA continues, "aims at the expansion of the committee meeting activities into a national movement for elevating of the factory hands' political ideas in the same manner that woman suffrage will lose their political situation."

ITEM 2 Reformation of the Cinema - Asahi Shimbun - 24 Nov 45. Translator: K. Nobunaga.
Full translation:

Eating is something which our people cannot cease thinking about even for a moment. People are prone to believe that culture or art should be considered only after food and clothing have been secured in sufficient quantities. Food and clothing, however, are produced by human beings and it is the ingenuity and imagination shown in their production that adds interest to human life.

The screen is the most effective means for forming the ideas of our people. Therefore, the confusion in the production of movies at present is a matter of great concern. Reformation of the screen in JAPAN must be accomplished and as much effort put into its accomplishment as is expended in improvement of food distribution methods. This is a responsibility for the cinema world. Military and Government officials have strongly oppressed and controlled the screen not only by use of the Film Law, but by gagging freedom of speech of the screen. Such restrictions, however, have been completely swept away by the directive of the Allied Powers' Supreme Commander. In spite of this, the motion picture industry in JAPAN has not responded to its newly bestowed liberty. The reasoning and imaginative powers of producers In JAPAN are too dull to express the emancipation of the spiritual life and the democratization of our people.

As a concrete plan for the democratization of the motion picture in-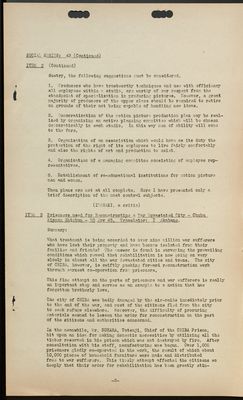 (View Page Image)
SOCIAL SERIES: 43 (Continued)
dustry, the following suggestions must be considered.

Producers who have trustworthy techniques and use with efficiency all employees within a studio, are worthy of our respect from the standpoint of specialization in producing pictures. However, a great majority of producers of the upper class should be required to retire on grounds of their not being capable of handling new ideas.
Democratization of the motion picture production plan may he realized by organizing an active planning committee which will be chosen democratically in each studio. In this way men of ability will come to the fore.
Organization of an association which would have as its duty the protection of the right of its employees to live fairly comfortably and also the rights of art and production to exist.
Organization of a managing committee consisting of employee representatives.
Establishment of re-educational institutions for motion picture men and women.
Then plans are not at all complete. Here I have presented only a brief description of the most central subjects.

(IWASAKI, a critic)

ITEM 3 Prisoners used for Reconstructing a War Devastated City - Chubu Nippon Shimbun - 25 Nov 45. Translator: Y Akabane.
Summary:

What treatment is being accorded to over nine million war sufferers who have lost their property and have become isolated from their families and friends? The answer is found in surveying the prevailing conditions which reveal that rehabilitation is now going on very slowly in almost all the war devastated cities and towns. The city of CHIBA, however, is swiftly pushing forward reconstruction work through earnest co-operation from prisoners.

This fine attempt on the parts of prisoners and war sufferers is really an important step and serves as an example to a nation that has forgotten brotherly love.

The city of CHIBA was badly damaged by the air-raids immediately prior to the end of the war, and most of the citizens fled from the city to seek refuge elsewhere. Moreover, the difficulty of procuring materials seemed to lessen the ardor for reconstruction on the part of the citizens and authorities concerned.

In the meanwhile, Mr. NOHARA, Tatsuji, Chief of the CHIBA Prison, hit upon an idea for making domestic necessities by utilizing all the timber reserved in his prison which was not destroyed by fire. After consultation with his staff, manufacturing was begun. Over 1,000 prisoners gladly co-operated in the work, the result of which about 10,000 pieces of household furniture were made and distributed free to war sufferers. This timely attempt affected the citizens so deeply that their ardor for rehabilitation has been greatly stim-

- 2 -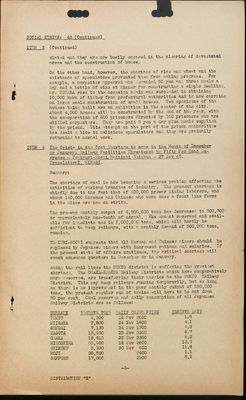 (View Page Image)
SOCIAL SERIES: 43 (Continued)
ulated and they are now busily engaged in the clearing of devastated areas and the construction of homes.

On the other hand, however, the shortage of rice and wheat and the existence of speculators prevented them from making progress. For example, a carpenter appeared who demanded 50 yen and three meals a day and a bottle of wine at dinner for constructing a simple dwelling. Mr. NOHARA rose to the occasion again and succeeded in obtaining 10,000 koku of timber from prefectural authorities and is now carrying on large scale construction of small houses. Two specimens of the houses being built are on exhibition in the center of the city. About 4,000 houses will be constructed by the end of the year, with the co-operation of 600 prisoners directed by 100 prisoners who are skilled carpenters. They are paid 5 yen a day plus meals supplied by the prison. This attempt on the part of the prison authorities has dealt a blow to malicious speculators and they are gradually returning to normal work.

ITEM 4 The Crisis in the Coal Shortage to come in the Month of December or January: Railway Facilities Threatened by Fifty Per Cent Decrease - Yomimuri-Hochi, Mainichi Shimbun - 27 Nov 45. Translator: K. MINAGI.
Summary:

The shortage of coal is now becoming a serious problem affecting the activities of various branches of industry. The present shortage is chiefly due to the fact that of 400,000 prewar mining laborers, and about 140,000 Koreans and Chinese who were once a front line force in the mines are now on strike.

The pre-war monthly output of 4,500,000 tons has decreased to 500,000 or approximately one-tenth of normal. The amount reserved and available for immediate use is 1,000,000 tons, which will hardly be sufficient to keep railways, with a monthly demand of 500,000 tons, running.

YOMIURI-HOCHI suggests that all Korean and Chinese miners should be replaced by Japanese miners with increased rations and salaries. If the present state of affairs continues, the critical shortage will reach consumer quarters in December or in January.

Among the rail lines the TOKYO district is suffering the greatest shortage. The OSAKA-NAGOYA Railway Districts which have comparatively more reserves, are transferring their margins to the TOKYO Railway District. This may keep railways running temporarily, but as long as there is no improvement in the poor monthly output of 550,000 tons, the present regular run of trains will have to be cut down 50 per cent. Coal reserves and daily consumption of all Japanese Railway Districts are as follows:
| | | | |
| --- | --- | --- | --- |
| BUREAUX | RESERVE TONS | DAILY CONSUMPTION | RESERVE DAYS |
| TOKYO | 4,200 | 24 Nov 2600 | 1.6 |
| NIIGATA | 7,560 | 24 Nov 1800 | 4.1 |
| SENDAI | 7,130 | 24 Nov 1700 | 4.2 |
| NAGOYA | 15,930 | 23 Nov 2300 | 6.7 |
| OSAKA | 18,810 | 23 Nov 2300 | 8.2 |
| HIROSHIMA | 55,980 | 18 Nov 2600 | 13.9 |
| SHIKOKU | 6,930 | 20 Nov 600 | 11.6 |
| MOJI | 26,500 | 2400 | 1.1 |
| SAPPORO | 17,000 | 2900 | 5.9 |
DISTRIBUTION "X"

- 3 -