Press translations [Japan]. Social Series 0038, 1945-11-29.
translation-number: social-0128
call-number: DS801 .S84
---
(View Page Image)
GENERAL HEADQUARTERS

SUPREME COMMANDER FOR THE ALLIED POWERS

ALLIED TRANSLATOR AND INTERPRETER SECTION

PRESS TRANSLATIONS

No. 128 Date:
29 Nov 1945
SOCIAL SERIES: 38

ITEM 1 Amiable Relations Between M. P. and Privates - Osaka Shimbun - 11 Nov 45. Translator: K. Minagi.
Full translation:

Many good examples of public services have been shown to us by the Occupation Forces during their stay here for three months. The cases witnessed by the reporter are all good examples of the disposition of American soldiers as shown in the amiable relations between Military Police and private soldiers at TAKARAIUKA, OSAKA.

An American soldier who had to go back to C troop, rushed up to M station after the last train for T had gone, and was embarrassed because he knew that he would have to wait until the next morning. A member of the Military Police seeing the soldier in a fix, gave the soldier a lift in his jeep and drove to T, which was 20 kilometres away.
Military Police conduct a silent patrol along the amusement street allotted the Allied soldiers. Sometimes a soldier has too much Japanese beer and a military policeman stops up to the bar tender and says that the soldier is too drunk. "Please do not sell him any more until —- o'clock." The soldier readily obeys and sobers up when he realizes what has been said to the bar-man.
One evening several military Police stopped a tipsy American soldier who had just left the train at T station. AS a joke, the soldier wore a Japanese war-cap instead of his regular one. A beer-bottle was sticking out of one of his pockets and his own cap out of another. I was watching the scene, wondering how the Military Police would deal with him. One of them began talking to him and the man stood firm, offering a cigarette to the policeman, and taking one himself. One of the military policemen at once lighted the man's cigarette.

Their talk to him sounded like a gentle wife's calm admonition to a husband coming home drunk. They skillfully changed the cap, buttoned up his coat and ascertained that he had nothing more than a half-bottle of beer. Then he said, "Thank you, good-bye." He was as satisfied with his intoxication as before but quite tidied up.

4. Taking care not to put one to shame in public, a military policeman advises a soldier. "Button up your coat. If it is too hot take it off," a good example of looking after soldiers out of parental love.
Military Police are, to Americans, neither terrible directors nor regulators, but those who look after or serve the soldiers. With those soldiers who obey only harsh orders such a merry scene would never lie presented. It is the result of good discipline on both sides.
(View Page Image)
SOCIAL SERIES: 38 (Continued)
Police are, as Americans often say, public servants, and we can easily set that from these examples. I hope a similar relationship will soon arise between Japanese people and their police.

ITEM 2 Restriction of gas supply - Yomiuri Hochi - 21 Nov 45. Translator: T. Ogawa.
Summary:

The gas supply in the TOKYO-YOKOHAMA area has been restricted to three times a day, in the morning, at noon and in the evening, since 2 November. Moreover, the noon supply was stopped on 13 November due to the shortage of coal. Now the supply will be further restricted to only once a day. The citizens are fearing that someday they will have to cook their meals without gas at all. Regarding this, Mr. OKAMATSU, Director of the Fuel Board of Commerce and Industry Ministry, states his opinion as follows: No coa1 stock is on hand at the Gas Company at present. In the early part of November 900 tons were delivered daily. This figure has been decreased to 350-400 tons per day since the latter part of this month. With the present stock, the gas supply would not be stopped until the end of this month, I should say. We can't really forecast, however, what will become of it after next month.

"The coal output in KYUSHU," he continues, "has been showing a slight improvement, which will be expected to indicate a rise in output after December. We cannot, however, be too optimistic about this."

Referring to the restoration of gas works, we have already completed 90 per cent of the repairs thanks to the effort of the workmen. The largest barrier in the restoration work are the few undamaged houses or emergency shelters of raid-victims, built in devastated areas. Repair work of such dwellings is most difficult.

ITEM 3 How does the new Rationing system Work - Yomiuri Hochi, Asahi Shimbun, Tokyo Shimbun Nippon Sangyo, Mainichi Shimbun - 21 Nov 45. Translator: K. Minagi.
Summary:

In summarizing news from five TOKYO papers on the new system of rationing, of perishable food, vegetables and fish, they all agree that on the first day it was put into practice the 20th prices were much higher than expected. Some were even higher than black market. For instance clams cost 15 yen per kan. The shipments to the markets are increasing especially to those on the GINZA, UENO, ASAKUSA, NIPPON SANGYO says that the total vegetable shipments to TOKYO on the 20th amounted to 100,000 kan which was five times (ASAHI says 3 times) as much as the usual amount. Ninety five per cent of it is to be used by the general public, which means 15 mo
[illegible]
e per capital in TOKYO. The fish received was not quite as much as was expected. Only five car loads of frozen fish, 2 carloads of SIJIM (a sort of fresh water clam) and some clams were received.
The vegetable shipments, DAIKON occupied 60 per cent of the total. The maximum and minimum prices of DAIKON per kan given in the five papers is as follows:

- 2 -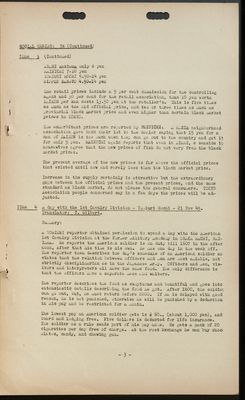 (View Page Image)
SOCIAL SERIES: 38 (Continued)
ASAHI maximum only 8 yen

MAINICHI 7-10 yen

YOMIURI HOCHI 5.50-14 yen

NIPPON SANGYO 4.50-14 yen

The retail prices include a 5 per cent commission for the controlling agent and 30 per cent for the retail association, thus 10 yen worth DAIKON per kan costs 13.50 yen at the retailer's. This is five times as much as the old official price, and two or three times as much as provincial black market price and even higher than certain black market prices in TOKYO.

The exhorbitant prices are reported by MAINICHI A KANDA neighborhood association gave back they lot to the dealer saying that 15 yen for a kan of DAIKON is too much when their can go out to the country and get it for only 5 yen. MAINICHI again reports that even in ATAMI, a seaside to housewives agree that the new prices of fish do not vary from the black market prices.

The present average of the new prices is far above the official prices that existed until now and rarely less than the black market price.

Increase in the supply certainly is attractive but the extraordinary gaps between the official prices and the present prices and the same standard as black market, do not please the general consumers. TOKYO Association people concerned say in a few days the prices will be adjusted.

ITEM 4 A day with the 1st Cavalry Division - Yomiuri Hochi - 21 Nov 45. Translator: C. Gilbert.
Summary:

A YOMIURI reporter obtained permission to spend a day with the American 1st Cavalry Division at the former military Academy in OSAKA MACHI, SAITAMA. He reports the American soldier is on duty till 1600 in the after noon, after that his time is his own. He has one day in the week off. The reporter then describes the day's schedule of an American soldier and states that the relation between officers and men are most amiable, not strictly disciplinarian as in the Japanese Army. Officers and men, visitors and interpreters all have the same food. The only difference is that the officers have a separate mess and waiters.

The reporter describes the food as sumptuous and bountiful and goes into enthusiastic details describing the food he got. After 1600, the soldier can go out, but, he must return before 2200. If he is delayed with good reason, he is not punished otherwise he will be punished by a deduction in his pay and be restricted for a month.

The lowest pay an American soldier gets is $ 60., (about 1,000 yen), and board and lodging free. Five dollars is deducted for life insurance. The soldier as a rule sends part of his pay home. He gets a pack of 20 cigarettes per day free of charge. At the Post Exchange he can buy chocolates, candy, and chewing gum.

- 3 -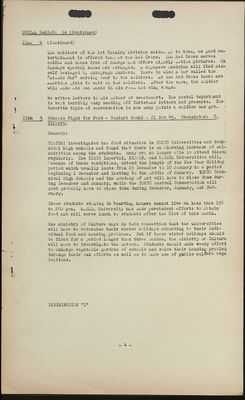 (View Page Image)
SOCIAL SERIES: 38 (Continued)
The soldiers of the 1st Cavalry Division seldom go to town, as good entertainment is offered them at the Red Cross. The Red Cross serves coffee and cakes free of charge and offers nightly motion pictures. On Sundays special shows are arranged. A Japanese musician will find himself besieged by autograph hunters. There is also a bar called the "Atomic Bar" serving beer to the soldiers, At the Red Cross there are American girls to wait on the soldiers, After the show, the soldier will make his own music in his room and sing, songs.

He writes letters to his mother or sweetheart. The postal department is kept terribly busy sending off Christmas letters and presents. The favorite topic of conversation is how many points a soldier has got.

ITEM 5 Schools fight for Food - Yomiuri Hochi - 21 Nov 45. Translator: C. Gilbert.
Summary:

YOMIURI investigated the food situation in TOKYO Universities and technical high schools and found that there is an alarming increase of mal-nutrition among the students. Many are no longer able to attend classes regularly. The TOKYO Imperial, NIPPON, and WASEDA Universities will, because of these conditions, extend the length of the New Year Holiday period which usually lasts from 25 December to 10 January to a period beginning 1 December and lasting to the middle of January. TOKYO Technical High Schools and the Academy of Art will have to close down during December and January, while the TOKYO Musical Conservation will most probably have to close down during December, January, and February.

Those students staying in boarding houses cannot live on less than 150 to 200 yen, WASEDA. University has made persistent efforts to obtain food and will serve lunch to students after the 21st of this month.

The ministry of Culture says in this connection that the universities will have to determine their winter holidays according to their individual food and housing problems. But if these winter holidays should be fixed for a period longer than three months, the ministry of Culture will have to investigate the matter. Students should make every effort to enlarge vegetable gardens of schools and solve their housing problem through their own efforts as well as to make use of public welfare organizations.

DISTRIBUTION "X"

- 4 -