Press translations [Japan]. Social Series 0037, 1945-11-28.
translation-number: social-0124
call-number: DS801 .S84
---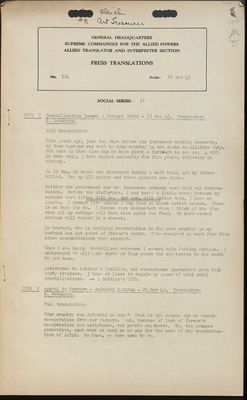 (View Page Image)
GENERAL HEADQUARTERS

SUPREME COMMANDER FOR THE ALLIED POWERS

ALLIED TRANSLATOR AND INTERPRETER SECTION

PRESS TRANSLATIONS

SOCIAL SERIES: 37

ITEM 1 Demobilization Lament - Yomiuri Hochi - 18 Nov 45. Translator: K. Nobunaga.
Full translation:

Five years ago, just two days before our September wedding ceremony, my dear husband was sent to some country in the south on military duty. Not once in that time has he been given a furlough to see me. A wife in name only, I have waited patiently for five years, believing in victory.

On 23 May, my house was destroyed during a B-29 raid, and my father killed. Now my ill mother and three sisters are alone.

Neither the government nor the insurance company have paid any compensation. Before the misfortune, I had saved a little money because my parents were living with me. But now, with father dead, I have no income. I cannot live unless I buy food at black market prices. There is no hope for me. I become very despondent when I think of the time when all my savings will have been spent for food. My hard-earned savings will vanish in a moment.

My brother, who is awaiting repatriation in the same country as my husband has not heard of father's death. I've received no word from them since communications were stopped.

When I see happy demobilized veterans I cannot, help feeling envious. I understand it will take three or four years for the troops in the south to get home.

Assistance to soldier's families, and subsistence quarantees seem to be empty promises. I hope at least to regain my peace of mind until demobilizations. — A Soldier's Wife.

ITEM 2 Appeal to Farmers - Mainichi Shimbun - 20 Nov 45. Translator: K. Nobunaga.
Full translation:

"Our country was defeated in war." That is the reason why we expect co-operation from our farmers. But, because of lack of farmer's co-operation and assistance, our people may starve. We, the younger generation, must work as hard as we can for the sake of the reconstruction of JAPAN. We know, we have much to do.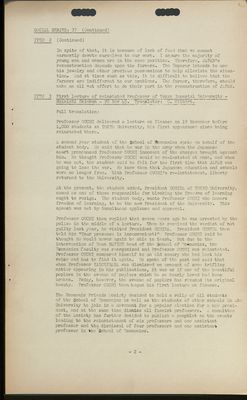 (View Page Image)
SOCIAL SERIES: 37 (Continued)
In spite of that, it is because of lack of food that we cannot earnestly devote ourselves to our work. I am sure the majority of young men and women are in the same position. Therefore, JAPAN's reconstruction depends upon the farmers. The Emperor intends to use his jewelry and other precious possessions to help alleviate the situation. And at times such as this, it is difficult to believe that the farmers are indifferent to our problems. The farmer, therefore, should make an all out effort to do their part in the reconstruction of JAPAN.

ITEM 3 First lecture of reinstated Professor of Tokyo Imperial University - Mainichi Shimbun - 20 Nov 45. Translator: C. Gilbert.
Full translation:

Professor OUCHI delivered a lecture on finance on 19 November before 1,000 students at TOKYO University, his first appearance since being reinstated there.

A second year student of the School of Economics spoke on behalf of the student body. He said that he was in the army when the Japanese court pronounced Professor OUCHI innocent of the charges brought against him. He thought Professor OUCHI would be re-instated at once, and when he was not, the student said he felt for the first time that JAPAN was going to lose the war. He knew then that Japanese education and schools were no longer free. With Professor OUCHI's re-instatement, liberty returned to the University.

At the present, the student added, President UCHIDA of TOKYO University, named as one of those responsible for blocking the freedom of learning ought to resign. The student body, wants Professor OUCHI who honors freedom of learning, to be the new President of the University. This speech was met by tumultuous applause and approval.

Professor OUCHI then replied that seven years ago he was arrested by the police in the middle of a lecture. When he received the verdict of not guilty last year, he visited President UCHIDA. President UCHIDA then told him "Your presence is inconvenient!" Professor OUCHI said he thought he would never again be able to teach. But due to the intervention of Dean MAEIDE head of the School of Economics, the Economics faculty was reorganized and Professor OUCHI was reinstated. Professor OUCHI compared himself to an old canary who had lost his voice and has to find it again. He spoke of the past and said that when Professor YAUCHIBARA was dismissed on account of some trifling matter appearing in his publications, it was as if one of the beautiful poplars in the avenue of poplars which he so dearly loved had been broken. Today, however, the avenue of poplars has resumed its original beauty. Professor OUCHI then began his first lecture on finance.

The Economic Friends Society decided to hold a rally of all students of the School of Economics as well as the students of other schools in the University to join in a movement for a popular election for a new president, and at the same time dismiss all fascist professors. A committee of the Society has further decided to publish a pamphlet on the events leading to the reinstatement of six professors and one assistant professor and the dismissal of four professors and one assistant professor in the School of Economics.

- 2 -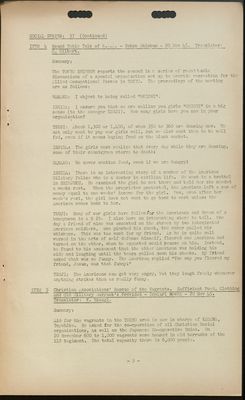 (View Page Image)
SOCIAL SERIES: 37 (Continued)
ITEM 4 Round Table Talk of R.A.A. - Tokyo Shimbun - 20 Nov 45. Translator: C. Gilbert.
Summary:

The TOKYO SHIMBUN reports the second in a series of round table discussions of a special organization set up to provide recreation for the Allied Occupational Forces in TOKYO. The proceedings of the meeting are as follows:

HANAKO: I object to being called "OKICHI".

ISHIDA: I assure you that we are calling you girls "OKICHI" in a big sense (to the manager TSUJI). How many girls have you now in your organization?

TSUJI: About 1,300 or 1,400, of whom 350 to 360 are dancing now. We not only want to pay our girls well, but we also want them to be well fed, even if it means buying food on the black market.

ISHIDA: The girls must realize that every day while they are dancing, some of their countrymen starve to death!

HANAKO: We never mention food, even if we are hungry!

ISHIDA: There is an interesting story of a member of the American Military Police who is a doctor in civilian life. He went to a brothel in SHINJUKU. He examined the girl he met there and told her she needed a weeks rest. When the proprietor protested, the American left a sum of money equal to one weeks' income for the girl. Now, even after her week's rest, the girl does not want to go back to work unless the American comes back to her.

TSUJI: Many of our girls have fallen for the Americans and dream of a honeymoon in a B 29. I also have an interesting story to tell. One day a friend of mine was accosted on the street by two intoxicated American soldiers, one pinched his cheek, the other pulled his whiskers. This was too much for my friend. As he is quite well versed in the arts of self defense himself, floored one American and turned on the other, whom he expected would pounce on him. Instead, he found to his amazement that the other American was holding his side and laughing until the tears rolled down his cheeks. My friend asked what was so funny. The American replied "The way you floored my friend, Jesus, was that funny!"

TSUJI: The Americans can get very angry, but they laugh freely whenever anything strikes them as really funny.

ITEM 5 Christian Associations' Rescue of the Vagrants. Sufficient Food, Clothing and Old Military Barrack's Provided - Yomiuri Hochi - 20 Nov 45. Translator: K. Minagi.
Summary:

Aid for the vagrants in the TOKYO area is now in charge of KAGAWA, Toyohiko. He asked for the co-operation of all Christian Social organizations, as well as the Japanese Co-operative Union. On 20 November 600 to 1,000 vagrants were housed in old barracks of the 112 Regiment. The total capacity there is 6,000 people.

- 3 -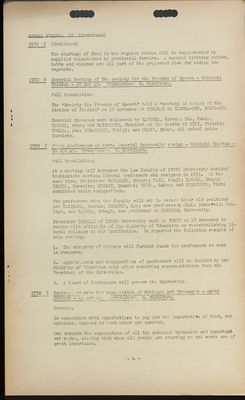 (View Page Image)
SOCIAL SERIES: 37 (Continued)
The shortage of food in the regular ration will be supplemented by supplies volunteered by provincial farmers. A special clothing ration, baths and cinemas are all part of the projected plan for aiding the vagrants.

ITEM 6 Memorial Meeting of The Society for the Freedom of Speech - Mainichi Shimbun - 20 Nov 45. Translator: H. Nishihara.
Full translation:

The "Society for Freedom of Speech" held a "meeting in memory of the victims of fascism" on 19 November at HIKOKAN in TAMURA-CHO, SHIBA-KU.

Memorial Speeches were delivered by SAEGUSA, Hirone; OKA, Kunio; EGUCHI, Kwan; and MATSUMOTO, Shinichi on the deaths of MIKI, Hiroshi; TOSAKA, Jun; KOBAYASHI, Takiji; and OZAKT, Hideo, all actual antifascists.

ITEM 7 Seven professors of Kyoto Imperial University resign - Mainichi Shimbun - 20 Nov 45. Translator: H. Nishihara.
Full translation:

At a meeting on 17 November the law faculty of KYOTO University decided to reinstate certain liberal professors who resigned in 1933. At the same time, Professors WATANABE, Sotaro; MAKI, Kenji; TANAKA, Shuyu; ISHIDA, Bunshire; ROTANI, Shunrei; IKEDA, Sakae; and NISHIMOTO, Eishi submitted their resignations.

The professors whom the faculty will ask to assure their old positions are TAKIKAWA, Koshin; TSUNETO, Kyo; now professor at OSAKA Commercial College, and TAMURA, Tokuji, now professor at DOSHISHA University.

President TORIKAI of KYOTO University went to TOKYO on 18 November to confer with officials of the Ministry of Education on re-establishing liberal policies at his institution. He reported the following results of this meeting.

The ministry of Culture will furnish funds for professors to work in research.
Appointments and resignations of professors will be decided by the Ministry of Education only after receiving recommendations from the President of the University.
A Board of Professors will govern the University.
ITEM 8 Controversy over the exportation of National Art Treasures - Asahi Shimbun - 21 Nov 45. Translator: H. Nishihara.
Summary:

In connection with exportations to pay for the importation of food, two opinions, opposed to each other are current.

One demands the exportation of all the national treasures and important art works, staging that when all people are starving no art works are of great importance.

- 4 -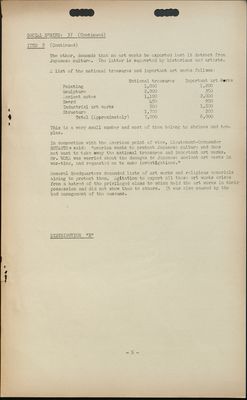 (View Page Image)
SOCIAL SERIES: 37 (Continued)
The other, demands that no art works be exported lest it detract from Japanese culture. The latter is supported by historians and artists.

A list of the national treasures and important art works follows:
| | | |
| --- | --- | --- |
| | National treasures | Important art works |
| Painting | 1,000 | 1,200 |
| Sculpture | 2,000 | 350 |
| Ancient notes | 1,100 | 2,000 |
| Sword | 450 | 900 |
| Industrial art works | 500 | 1,500 |
| Structure | 1,700 | 200 |
| Total (Approximately) | 7,000 | 6,000 |
This is a very small number and most of them belong to shrines and temples.

In connection with the American point of view, Lieutenant-Commander SUTAUTO* said: "America wants to protect Japanese culture and does not want to take away the national treasures and important art works. Mr. WONA was worried about the damages to Japanese ancient art works in war-time, and requested me to make investigations."

General Headquarters demanded lists of art works and religious memorials aiming to protect them. Agitation to export all these art works arises from a hatred of the privileged class to which held the art works in their possession and did not show them to others. It was also caused by the bad management of the museums.

- 5 -