Press translations [Japan]. Social Series 0036, 1945-11-28.
translation-number: social-0121
call-number: DS801 .S84
---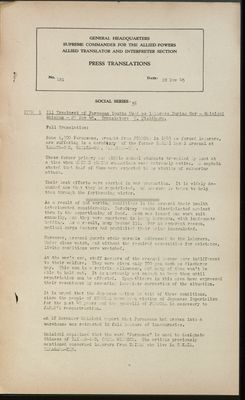 (View Page Image)
GENERAL HEADQUARTERS

SUPREME COMMANDER FOR THE ALLIED POWERS

ALLIED TRANSLATOR AND INTERPRETER SECTION

PRESS TRANSLATIONS

SOCIAL SERIES: 36

ITEM 1 Ill Treatment of Formosan Youths Used as laborers During War - Mainichi Shimbun - 20 Nov 45. Translator: H. Nishihara.
Full Translation:

Some 8,000 Formosans, brought from FORMOSA in 1943 as forced laborers, are suffering in a dormitory of the former SAGAMI Naval Arsenal at YAMATO-CHO, TAKAZA-GU
[illegible]
, NAWAGAWA-K
[illegible]
.
These former primary and middle school students travelled by boat at a time when UNITED STATES submarines were extremely active. A captain stated that half of them were expected, to be victims of submarine attack.

Their best efforts were exerted in war production. It is widely demanded now that they be repatriated, and measure be taken to help them through the forthcoming winter.

As a result of bad working conditions in the arsenal their health deteriorated considerably. Dormitory cooks discriminated against them in the apportioning of food. Each was issued one work suit annually, and they were quartered in leaky barracks, with inadequate bedding. As a result, many became ill. For no apparent reason, medical corps doctors had prohibited their being inocculated.

Moreover, arsenal guards stole parcels addressee to the laborers. Under close watch, and without the required necessities for existence, living conditions were wretched.

At the war's end, staff members of the arsenal became more indifferent to their welfare. They were given only 700 yen each as discharge pay. This sum is a retiring allowance, and many of them won't be able to hold out. It is obviously not enough to keep them until repatriation can be affected. Sympathizers in this area have expressed their resentment by demanding immediate correction of the situation.

It is urged that the Japanese nation be told of these conditions, since the people of FORMO
[illegible]
A have been victims of Japanese Imperialism for the past 40 years and the good will of FORMOSA is necessary to JAPAN'S reconstruction.
An 18 November Mainichi report that Formosans had broken into a warehouse was retracted in full because of inaccuracies.

Mainichi explained that the word "Formosan" is used to designate Chinese of TAIWAN-SHO, OHUKA MINKOKU. The article previously mentioned concerned laborers from TAIWAN who live in TAIWAI, KANAGAWA-KEN.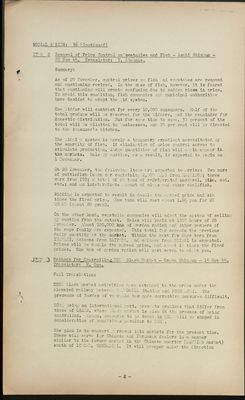 (View Page Image)
SOCIAL SERIES: 36 (Continued)
ITEM 2 Removal of Price Control on Vegetables and Fish - Asahi Shimbun - 20 Nov 45. Translator: Y. Akabane.
Summary:

As of 20 November, control prices on fish and vegetables are removed and auctioning revived. In the case of fish, however, it is feared that auctioning will create confusion due to sudden rises in price. To avoid this condition, fish companies and municipal authorities have decided to adopt the bid system.

One bidder will contract for every 10,000 consumers. Half of the total produce will be reserved for the bidders, and the remainder for domestic distribution. But for some time to come, 30 percent of the total will be allotted to businesses, and 70 per cent will be directed to the consumer's kitchen.

The bidding system is merely a temporary expedient necessitated by the scarcity of fish. If elimination of price control serves to stimulate production, large quantities of fish will again appear in the markets. Sale by auction, as a result, is expected to begin on 1 December.

On 20 November, the following items are expected to arrive: Two cars of cuttlefish (each car containing 2,000 KAM) from HACHINON; three cars from ITO; a total of 20 tons of refrigerated mackerel, pike, cod, etc,; and an indeterminate amount of clams and other shellfish.

Bidding is expected to result in double the agreed price and six times the fixed price. Raw tuna will cost about 1.65 yen for 20 MOMME (about 80 gram).

On the other hand, vegetable companies will adopt the system of selling by auction from the outset. Sales will begin at 1000 hours of 20 November. About 120,000 kan of garden radish and other members of the rape family are expected. This total far exceeds the previous daily quantity at the market. Within the next few days taro from IBARAKI, onions from SAITAMA, and cabbage from MIYAGI is expected. Prices will be double the agreed price, and about 10 times the fixed prices. One kan of garden radish will cost seven to eight yen.

ITEM 3 Methods for Controlling KOBE Black Market - Osaka Shimbun - 15 Nov 45, Translator: M. Ono.
Full Translation:

KOBE black market activities have extended to the areas under the elevated railway between S
[illegible]
MOMIYA Station and MOTOKACHI. The presence of hordes of vagrants has made corrective measures difficult.
KOBE being an international port, presents problems that differ from those of OSAKA, whose black a root is also in the process of being controlled. Hence, measures to be taken in KOBE will be shaped in consideration of conditions peculiar to KOBE.

The plan is to convert carracks into markets for the present time. These will serve for Chinese and Formosan dealers in a manner similar to the former market in the Chinese quarter (NANKING market) south of ICOHOME, MOTOMACHI. It will prosper under the direction

- 2 -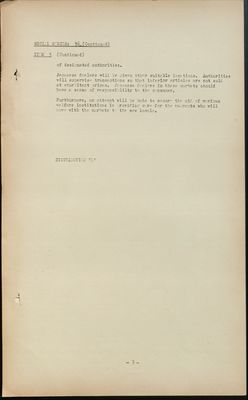 (View Page Image)
SOCIAL SERIES: 36 (Continued)
of designated authorities.

Japanese dealers will be given other suitable locations. Authorities will supervise transactions so that inferior articles are not sold at exorbitant prices. Japanese dealers in these markets should have a sense of responsibility to the consumer.

Furthermore, an attempt will be made to secure the aid of various welfare institutions in providing care for the vagrants who will move with the markets to the new locale.

DISTRBUTION "X"

- 3 -