Press translations [Japan]. Social Series 0035, 1945-11-28.
translation-number: social-0119
call-number: DS801 .S84
---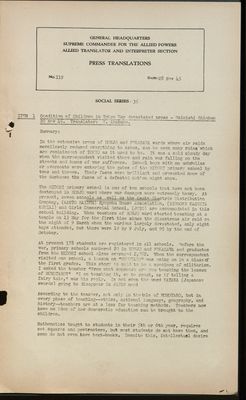 (View Page Image)
GENERAL HEADQUARTERS

SUPREME COMMANDER FOR THE ALLIED POWERS

ALLIED TRANSLATOR AND INTERPRETER SECTION

PRESS TRANSLATIONS

SOCIAL SERIES: 35

ITEM 1 Condition of Children in Tokyo War devastated areas - Mainichi Shimbun 20 Nov 45. Translator:" Y. Akabane.
Summary:

In the extensive areas of HONJO and FUKAGAWA wards where air raids mercilessly reduced everything to ashes, can be seen many ruina which are reminiscent of TOKYO as it used to be. It was a cold cloudy day when the correspondent visited there and rain was falling on the streets and homes of war sufferers. School boys with no umbrellas or overcoats were entering the gates of the MIDORI primary school by twos and threes. Their faces were brilliant and presented none of the darkness the faces of a defeated nation might show.

The MIDORI primary school is one of two schools that have not been destroyed in HONJO ward where war damages were extremely heavy. At present, seven schools as well as the Kanto Electric Distribution Company, (KANTO HAIDEN) Ryogoku House Association, (RYOGOKU KASHIYA KUMIAI) and Girls Commercial School, (JOTO) are accommodated in this school building. When teachers of HONJO ward started teaching at a temple on 13 May for the first time since the disastrous air raid on the night of 9 March when the ward was largely devastated, only eight boys attended, but there were 19 by 9 July, and 95 by the end of October.

At present 178 students are registered in all schools. Before the war, primary schools numbered 20 in HONJO and FUKAGAWA and graduates from the MIDORI school alone averaged 2,052. When the correspondent, visited one school, a lesson on "MONOTARO" was going on in a class of the first grades. This story is said to be a specimen of militarism. I asked the teacher "From what approach are you teaching the lesson of MOMOTARO?" "I am teaching it, so to speak, as if telling a fairy tale," was his reply. Is not even the word KATANA (Japanese swords) going to disappear in JAPAN now!

According to the teacher, not only in the tale of MOMOTARO, but in every phase of teaching—ethics, national language, geography, and history—teachers are at a loss for teaching methods. Teachers now have no idea of how democratic education can be brought to the children.

Mathematics taught to students in their 5th or 6th year, requires set squares and protractors, but most students do not have them, and some do not even have text-books. Despite this, intellectual desire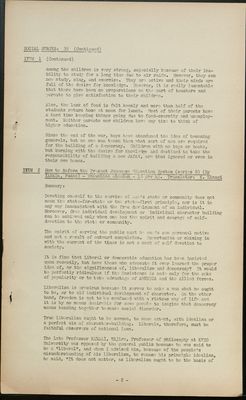 (View Page Image)
SOCIAL SERIES: 35 (Continued)
among the children is very strong, especially because of their inability to study for a long time due to air raids. However, they can now study, sing, and exercise. They are active and their minds are full of the desire for knowledge. However, it is really lamentable that there have been no preparations on the part of teachers and parents to give satisfaction to their children.

Also, the lack of food is felt keenly and more than half of the students return home at noon for lunch. Most of their parents have a hard time keeping things going due to food-scarcity and unemployment. Neither parents nor children have any time to think of higher education.

Since the end of the war, boys have abandoned the idea of becoming generals, but no one can teach them what sort of men are required for the building of a democracy. Children with no toys or books, but burning with the desire for knowledge and destined to take the responsibility of building a new JAPAN, are thus ignored or even in their own homes.

ITEM 2 How to Reform the Present Japanese Education System (series B) (By YAMADA, Fumio) - Tokushima Shimbun - 18 Nov 45. Translator: K. Minagi
Summary:

Devoting oneself to the service of one's state or community does not mean the state-for-state or the state-first principle, nor is it in any way inconsistent with the free development of an individual. Moreover, free individual development or individual character building can be achieved only when one has the spirit and courage of self-devotion to the state or community.

The spirit of serving the public must be one's own personal motive and not a result of outward compulsion. Opportunism or chiming in with the current of the times is not a mark of self devotion to society.

It is fine that Liberal or democratic education has been insisted upon recently, but have those who advocate it ever learned the proper idea of, or the significances of, liberalism and democracy? It would be perfectly ridiculous if the insistence is made only for the sake of popularity or to take advantage of AMERICA and the Allied forces.

Liberalism is precious because it serves to make a man what he ought to be, or to aid individual development of character. On the other hand, freedom is apt to be confused with a riotous way of life and it is by no means desirable for some people to imagine that democracy means banding together to cause social disorder.

True liberalism ought to be common, to some extent, with idealism or a perfect aim of character-building. Liberals, therefore, must be faithful observers of national laws.

The late Professor KAWAAI, Eijiro, Professor of philosophy at KEIO University was opposed by the general public because he was said to be a "liberal", and when I advised him, because of the people's misunderstanding of his liberalism, to rename his principle idealism, he said, "It does not matter, as liberalism ought to be the basis of

- 2 -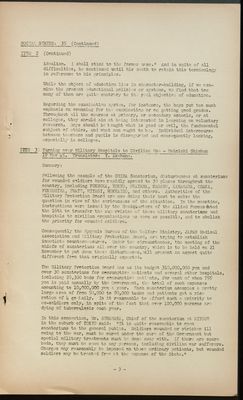 (View Page Image)
SOCIAL SERIES: 35 (Continued)
idealism. I shall stick to the former name." And in spite of all difficulties, he continued until his death to retain this terminology in reference to his principles.

While the object of education lies in character-building, if we examine the present educational policies or systems, we find that too many of them are quite contrary to the real objective of education.

Regarding the examination system, for instance, the boys put too much emphasis on cramming for the examination or on getting good grades. Throughout all the courses at primary, or secondary schools, or at colleges, they should aim at being interested in learning on voluntary research. Boys should be taught what is good or evil, the fundamental subject of ethics, and what man ought to be. Individual intercourse between teachers and pupils is disregarded and consequently lacking, especially in colleges.

ITEM 3 Turning over Military Hospitals to Civilian Use - Mainichi Shimbun 19 Nov 45. Translator: Y. Akabane.
Summary:

Following the example of the CHIBA Sanatorium, disturbances at sanatoriums for wounded soldiers have rapidly spread to 30 places throughout the country, including FUKUOKA, TOKYO, OKAYAMA, NAGANO, KANAGAWA, OSAKA, FUKUSHIMA, IWATE, MIYAGI, HOKKAIDO, and others. Authorities of the Military Protection Board are now doing their best to solve the question in view of the seriousness of the situation. In the meantine, instructions were issued by the Headquarters of the Allied Forces dated the 16th to transfer the supervision of these military sanatoriums and hospitals to civilian organizations as soon as possible, and to abolish the priority for wounded soldiers.

Consequently the Hygenic Bureau of the Welfare Ministry, JAPAN Medical Association and Military Protection Board, are trying to establish immediate countermeasures. Under the circumstances, the meeting of the chiefs of sanatoriums all over the country, which is to be held on 21 November to put down these disturbances, will present an aspect quite different from that originally expected.

The Military Protection Board has as its budget 310,000,000 yen and over 30 sanatoriums for consumptive patients and several other hospitals, including 28,300 beds for consumptive patients, for each of whom 755 yen is paid annually by the Government, the total of such expenses amounting to 10,000,000 yen a year. Each sanatorium occupies a pretty large area of from 50,000 to 80,000 tsubo and patients get a rice ration of 4 go daily. Is it reasonable to afford such a priority to ex-soldiers only, in spite of the fact that over 100,000 persons are dying of tuberculosis each year.

In this connection, Mr. SUNAHARA, Chief of the sanatorium at KIYOSE in the suburb of TOKYO said: "It is quite reasonable to open sanatoriums to the general public. Soldiers wounded or stricken ill owing to the war, must be cured under the care of the Government but special military treatments must be done away with. If there are spare beds, they must be open to any persons, including civilian war sufferers. Charges may reasonably be imposed on these ordinary patients, but wounded soldiers may be treated free at the expense of the State."

- 3 -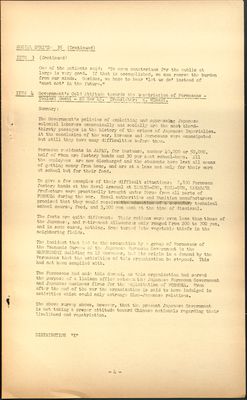 (View Page Image)
SOCIAL SERIES: 35 (Continued)
One of the patients said: "To open sanatoriums for the public at large is very good. If that is accomplished, we can remove the burden from our minds. Besides, we hope to hear 'let us do' instead of 'must not' in the future."

ITEM 4 Government's Cold Attitude towards the Repatriation of Formosans - Yomiuri Hochi - 20 Nov 45. Translator: K. Minagi.
Summary:

The Government's policies of exploiting and oppressing Japanese colonial laborers economically and socially are the most blood thirsty passages in the history of the crimes of Japanese Imperialism. At the conclusion of the war, Koreans and Formosans were emancipated but still they have many difficulties before them.

Formosan residents in JAPAN, for instance, number 40,000 or 50,000, half of whom are factory hands and 30 per cent school-boys. All the employees are now discharged and the students have lost all means of getting money from home, and are at a loss not only for their work at school but for their food.

To give a few examples of their difficult situations: 7,800 Formosan factory hands at the Naval Arsenal at YAMATO-CHO, KOZA-GUN, KANAGAWA Prefecture were practically brought under force from all parts of FORMOSA during the war. Naval authorities and Munition manufacturers promised that they would receive the education of a secondary technical school course, food, and 3,000 yen each at the time of dismissal.

The facts are quite different: Their rations were even less than those of the Japanese, and retirement allowances only ranged from 200 to 700 yen, and in some cases, nothing. Some turned into vegetable thiefs in the neighboring fields.

The incident that led to the occupation by group of Formosans of the Economic Bureau of the Japanese Formosan Government in the MARUNOUCHI Building on 12 November, had its origin in a demand by the Formosans that the activities of this organization be stopped. This had not been complied with.

The Formosans had made this demand, as this organization had served the purpose of a liaison office between the Japanese Formosan Government and Japanese business firms for the exploitation of FORMOSA. Even after the end of the war the organization is said to have indulged in activities which could only estrange Sino-Japanese relations.

The above survey shows, however, that the present Japanese Government is not taking a proper attitude toward Chinese nationals regarding their livelihood and repatriation.

DISTRIBUTION "X"

- 4 -