Press translations [Japan]. Social Series 0034, 1945-11-27.
translation-number: social-0115
call-number: DS801 .S84
---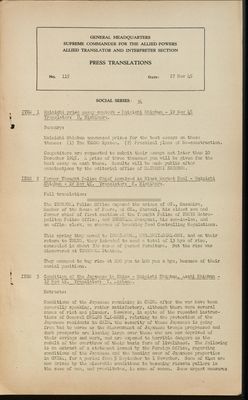 (View Page Image)
GENERAL HEADQUARTERS

SUPREME COMMANDER FOR THE ALLIED POWERS

ALLIED TRANSLATOR AND INTERPRETER SECTION

PRESS TRANSLATIONS

SOCIAL SERIES: 34

ITEM 1 Mainichi price essay contest - Mainichi Shimbun - 19 Nov 45 Translator: H. Nishihara.
Summary:

Mainichi Shimbun announced prizes for the best essays on these themes: (1) The TENNO System. (2) Practical plans of Re-construction.

Competitors are requested to submit their essays not later than 10 December 1945. A prize of three thousand yen will be given for the best essay on each theme. Results will be made public after examinations by the editorial office of MAINICHI SHIMBUN.

ITEM 2 Former Thought Police Chief involved in Black Market Deal - Mainichi Shimbun - 19 Nov 45. Translator: H. Nishihara.
Full translation:

The TSURUOKA Police Office exposed the crimes of OTA, Masahiro, Member of the House of Peers, of OTA, Masaaki, his eldest son and former chief of first section of the Thought Police of TOKYO Metropolitan Police Office, and YOKOYAMA Masayuki, his son-in-law, and an office clerk, on charges of breaking Food Controlling Regulations.

This spring they moved to IZUMI-MURA, HIGASHITAGAWA-GUN, and on their return to TOKYO, they intended to send a total of 13 hyo of rice, concealed in about 300 cases of packed furniture. But the rice was discovered at TSURUOKA Station.

They managed to buy rice at 200 yen to 400 yen a hyo, because of their social positions.

ITEM 3 Condition of the Japanese in China - Mainichi Shimbun, Asahi Shimbun - 19 Nov 45. Translator: Y. Akabane.
Extracts:

Conditions of the Japanese remaining in CHINA after the war have been generally speaking, rather satisfactory, although there were several cases of riot and plunder. However, in spite of the repeated instructions of General CHIANG KAI-SHEK, relating to the protection of the Japanese residents in CHINA the security of these Japanese is going from bad to worse as the disarmament of Japanese troops progressed and dark prospects are looming large over those who are now deprived of their savings and work, and are exposed to horrible dangers as the result of the overthrow of their basic form of livelihood. The following is an extract of a statement issued by the Foreign Office, regarding conditions of the Japanese and the handing over of Japanese properties in CHINA, for a period from 5 September to 1 November. Some of them are now driven by the miserable conditions to becoming ricksha pullers in the case of men, and prestitutes, in case of women. Some urgent measures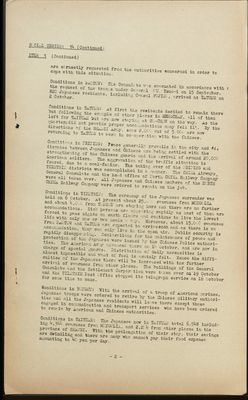 (View Page Image)
SOCIAL SERIES: 34 (Continued)
are earnestly requested from the authorities concerned in order to cope with this situation.

Conditions in PAOTOW: The Consulate was evacuated in accordance without the request of the troops under General FU, Tsuo-i on 15 September. 820 Japanese residents, including Consul FUJIN
[illegible]
, arrived at TATUNG on 2 October.
Conditions in TATUNG: At first the residents decided to remain there but following the example of other places in MENGCHAN, all of them left for TAIYUAN but are now staying at SO-CHOW on the way. As the quarters did not provide proper accommodations many fell ill. By the directions of the SHANSI Army, some 2,000 out of 5,000 are now returning to TATUNG to work in co-operation with the Chinese.

Conditions in PEIPING: Peace generally prevails in the city and disputes between Japanese and Chinese are being settled with the strengthening of the Chinese guards and the arrival of around 20,000 American soldiers. The aggravation of the traffic situation is feared, due to a coal-famine. The taking over of the PEIPING and TIENTSIN districts was accomplished in a manner. The CHINA Airways, General Consulate and the head office of North CHINA Railway Company were all taken over. All Japanese and Chinese members of the NORTH CHINA Railway Company were ordered to remain on the job.

Conditions in TIENTSIN: The ceremony of the Japanese surrender was held on 6 October. At present about 25,000 evacuees from MONGOLIA and about 4,000 from TONGKU are staying here and there are no further accommodations. Sick persons are appearing rapidly as most of them are forced to pass nights on earth floors and continue to live the lowest life with only one or two meals a day. Moreover, about 15,000 evacuees from PAOTOW and TATUNG are expected to arrive soon and as there is no accommodation, they can only live in the open air. Public security is rapidly disappearing. Declarations for the maintenance of peace and protection of the Japanese were issued by the Chinese Police authorities. The American Army advanced there on 14 October, and are now in charge of special guards. Distribution of daily necessities is almost impossible and want of fuel is acutely felt. Hence the difficulties of the Japanese there will be increased with the further arrival of evacuees from other places. The buildings of the General Consulate and the Settlement Corporation were taken over on 19 October and the TIENTSIN Post Office stopped its telegraph service on 16 October for some time to come.

Conditions in TONGKU: With the arrival of a troop of American marines, Japanese troops were ordered to retire by the Chinese military authorities and all the Japanese residents will leave there except those engaged in communication and transport services who have been ordered to remain by American and Chinese authorities.

Conditions in TAIYUAN: The Japanese now in TAIYUAN total 6,548 including 4,344 evacuees from MONGOLIA, and 2,204 from other places in the province of SHANSI. With the prolongation of their stay, their savings are dwindling and there are many who cannot pay their food expense amounting to 40 yen per day.

- 2 -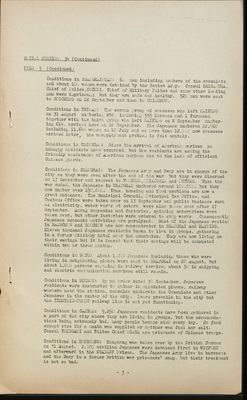 (View Page Image)
SOCIAL SERIES: 34 (Continued)
Conditions in SHANGHAIKUAN: 60 men including members of the consulate and about 100 women were detained by the Soviet Army. Consul SHIRA
[illegible]
URA, Chief of Police, SUZUKI, Chief of Military Police and some other leading men were imprisoned but they are safe and healthy. 520 men were sent to SUICHUNG on 12 September and then to CHINCHOW.
Conditions in TSIWAN: The second group of evacuees who left KAIFENG on 31 August numbering 858, including 355 Koreans and 1 Formosan together with the third group who left KAIFENG on 8 September numbering 814, arrived here on 22 September. The Japanese numbered 22,460 including 11,648 women on 10 July and as more than 12,000 new evacuees arrived later, the unemployment problem is felt acutely.

Conditions in TSINGTAO: Since the arrival of American marines no unhappy accidents have occurred, but the residents are asking the friendly assistance of American marines due to the lack of efficient Chinese guards.

Conditions in SHANGHAI: The Japanese Army and Navy are in charge of the city as they were even after the end of the war, but they were disarmed on 17 September and removed to W
[illegible]
SUNG, KIANGWAN and FUTUNG. When the war ended, the Japanese in SHANGHAI numbered around 100,000, but they now number over 150,000. Thus, housing and food problems are now a great nuisance. The Municipal Council, Principal Tax Office, and Customs Office were taken over on 13 September and public business such as electricity, water works et cetera were also token over after 17 September. Among companies and factories, spinning enterprises were taken over, but other factories were ordered to stop works. Consequently Japanese economic activities are paralyzed. Most of the Japanese resider in HANGOHOW and SOOGHOW are now concentrated in SHANGHAI and NANKING. Eleven thousand Japanese residents began to live in groups, gathering in a former military hotel near the mountains. They are now living on their savings but it is feared that their savings will be exhausted within two or three months.
Conditions in BOFU: About 1,200 Japanese including those who were living in neighboring places were sent to SHANGHAI on 20 August, but about 1,000 persons engaging in railway service, about 30 in shipping and electric communication services still remain.

Conditions in HUCHOW: By an order dated 30 September, Japanese residents were instructed to gather in appointed places, railway workers near the station, consular members in the Consulate and other Japanese in the center of the city. Peace prevails in the city but the TIENTSIN-PUKOW railway line is not yet functioning.

Conditions in CANTON: 5,250 Japanese residents have been gathered in a part of the city where they are living in groups, but the accommodations being extremely bad, many people became sick every day. No food except rice for a month was supplied or neither was fuel nor salt. Consul YONEGAKI and Police Chief OSAYA are prisoners of Chinese troops.

Conditions in HONGKONG: Hongkong was taken over by the British Forces on 31 August. 2,000 civilian Japanese were detained first in WITFORD and afterward in the STANLEY Prison. The Japanese Army live in barracks and the Navy in a former British war prisoners' camp, but their treatment is not so bad.

- 3 -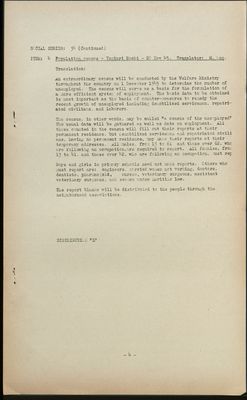 (View Page Image)
SOCIAL SERIES: 34 (Continued)
ITEM: 4 Population census - Yomiuri Hochi - 20 Nov 45. Translator: M. Ono.
Translation:

An extraordinary census will be conducted by the Welfare Ministry throughout the country on 1 December 1945 to determine the number of unemployed. The census will serve as a basis for the formulation of a more efficient system of employment. The basic data to be obtained is most important as the basis of counter-measures to remedy the recent growth of unemployed including demobilized servicemen, repatriated civilians, and laborers.

The census, in other words, may be called "a census of the unemployed" The usual data will be gathered as well as data on employment. All those counted in the census will fill out their reports at their permanent residence, but demobilized servicemen and repatriated civilians, having no permanent residence, may make their reports at their temporary addresses. All males, from 13 to 6l and those over 62, who are following an occupation, are required to report. All females, from 13 to 41, and those ever 42, who are following an occupation, must rep
[illegible]
Boys and girls in primary schools need not make reports. Others who must report are: engineers, married women not working, doctors, dentists, pharmacists, nurses, veterinary surgeons, assistant veterinary surgeons, and seamen under maritime law.

The report blanks will be distributed to the people through the neighborhood associations.

DISTRIBUTION "X"

- 4 -