Press translations [Japan]. Social Series 0032, 1945-11-27.
translation-number: social-0107
call-number: DS801 .S84
---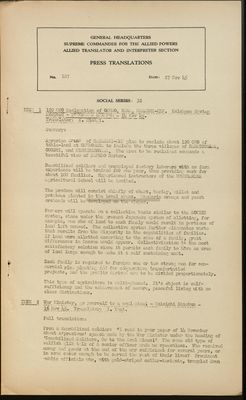 (View Page Image)
GENERAL HEADQUARTERS

SUPREME COMMANDER FOR THE ALLIED POWERS

ALLIED TRANSLATOR AND INTERPRETER SECTION

PRESS TRANSLATIONS

SOCIAL SERIES: 32

ITEM 1 120 CHO Reclamation of OKUNO, HARA, NAGASHI-KEN. Kolchose System Adopted - To

[illegible]

us

[illegible]

Shimbun - 14 Nov 45. Translator: K. Minagi.
Summary:

Agrarian areas of NAGASAKI-KEN plan to reclaim about 120 CHO of table-land at OKUNOHARA to include the three villages of NANATSUGAMA, OGUSHI, and NISHIHISEGAWA. The area to be reclaimed commands a beautiful view of SASEBO Harbor.

Demobilized soldiers and unemployed factory laborers with no farm experience will be trained for one year, thus providing work for about 100 families. Experienced instructors of the UCHIGAHARA Agricultural School with be invited.

The produce will consist chiefly of wheat, barley, millet and potatoes planted in the level areas. Mandarin orange and peach orchards will be developed on the Slopes.

Farmers will operate on a collective basis similar to the SOVIET system, since under the present Japanese system of allotting, for example, one cho of land to each family would result in portions of land left unused. The collective system further eliminates waste that results from the disparity in the capabilities of families. If land were allotted according to the size of a family, great differences in income would appear. Collectivization is the most satisfactory solution since it permits each family to have an area of land large enough to make it a self sustaining unit.

Each family is required to furnish one or two strong men for commercial rice planting and for cooperative transportation projects, and the profits derived are to be divided proportionately.

This type of agriculture is multi-phased. It's object is self-sufficiency and the achievement of secure, peaceful living with no class distinctions.

ITEM 2 War Minister, go yourself to a coal mine - Mainichi Shimbun - 16 Nov 45. Translator: I. Imai.
Full translation:

From a demobilized soldier: "I read in your paper of 14 November about a 'precious' speech made by the Minister under the heading of 'Demobilized Soldiers, Go to the Coal Mines! The same old type of selfish glib talk of a senior officer made me speechless. Who received money and goods at the end of the war sufficient for several years, or in some cases enough to be served the rest of their lives? Prominent public officials who, with gold-striped collar-insignia, trampled down

(View Page Image)
SOCIAL SERIES: 32 (Continued)
the soldiers like slaves with their orders, while they were always on horseback! If you really think the country is in bad need of coal, why don't you yourself jump into the mines, stripped of all your gear?

"Then when you do so, it may be interpreted as atonement for your crimes committed against the country. Why have you been explaining for a long time the meaning of the Imperial Rescript and Instructions for the Soldiers on the Battlefield? The very moment when we see the Public Officials and other senior officers start their work in the coal mines after taking off their colorful uniforms, we, the demobilized soldiers, shall help them with great pleasure."

ITEM 3 Round Table Discussion of Tokyo Special Recreation Organization for Occupation Forces - Tokyo Shimbun - 18 Nov 45. Translator: C. Gilbert.
Summary:

Participants at the round table discussion were: Chairman; ISHIDA, Kazumoto, R.A.A. Cabaret Manager; TSUJI, Mineru, Representative of the Liaison Office of the Metropolitan Police Board; KOBAYASHI, Hisayoshi, Head of the Information Section of the MARUMOUCHI Police Station; NOGUCHI, Yaga; and dancers AZUMA, Hanako, and MUTO, Hiroko.

ISHIDA: The purpose of this round table discussion is to find out what is going on in TOKYO in an unrestrained talk about ourselves. Some girls are dancing with American soldiers. On the surface, they appear to be dancing for a living, but actually they are playing the role of modern "OKICHIS of SHIMODA." (TN: In unsubstantiated folk-lore, OKICHI was made TOWNSEND HARRIS's mistress for the good of the nation.)

TSUJI: On 22 August, representatives of seven amusement groups including the TOKYO Cooks Union, the Geisha Union, the Geisha House Union, and the Prostitutes Union, were called to the Metropolitan Police Board. The atmosphere at that time was tense and quite different from today. Women and children were warned to keep off the streets during the occupation by the Allied Forces. No wonder the Metropolitan Police Board thought it necessary to organize a group ready to sacrifice itself for Japanese womanhood. We were called upon for that purpose and we had to do something. Next morning we went to the Imperial Palace and vowed to serve like a TOKKOTAI (special attack corps). It was indeed with a tragic feeling that we commenced upon our enterprise and so the "special recreation organization" was formed. The demand was to create fifty to sixty thousand OKICHI.

But when the occupation troops arrived, they were much better behaved than we had dreamed, so the feeling of the organization numbers changed. They now wanted to offer something higher than mere "entertainment". They wanted to create a good impression; that is, something from heart to heart.

ISHIDA: But dancers meet body to body!

HANAKO: Even in swinging only the arms and legs something is transmitted.

- 2 -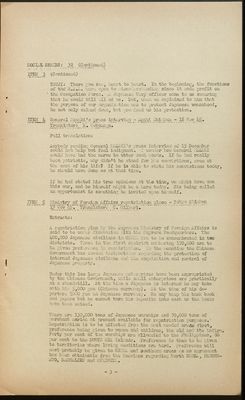 (View Page Image)
SOCIAL SERIES: 32 (Continued)
TSUJI: There you see, heart to heart. In the beginning, the functions of the R.A.A. were open to misunderstanding since it made profit on the Occupation Force. A Japanese Navy officer came to us swearing that he would kill all of us. But, when we explained to him that the purpose of our organization was to protect Japanese womanhood, he not only calmed down, but promised us his protection.

ITEM 4 General Mazaki's press interview - Asahi Shimbun - 18 Nov 45. Translator: K. Nobunaga.
Full translation:

Anybody reading General MAZAKI's press interview of 15 December could not help but feel indignant. I wonder how General NAZAKI could have had the nerve to utter such words. If he had really been patriotic, why didn't he stand for his convictions, even at the cost of his life? If he is able to state his convictions today, he should have done so at that time.

If he had stated his true opinions at the time, we might have won this war, and he himself might be a here today. His being called an opportunist is something he invited, upon himself.

ITEM 5 Ministry of Foreign Affairs repatriation place - Tokyo Shimbun 19 Nov 45. Translator: G. Gilbert.
Extracts:

A repatriation plan by the Japanese Ministry of Foreign Affairs is said to be under discussion with the Supreme Headquarters. The 400,000 Japanese civilians in CHINA are to be concentrated in two districts. Those in the first district numbering 170,000 are to be given preference in repatriation. In the meantime the Chinese Government has issued instruction regarding the protection of interned Japanese civilians and the acquisition and control of Japanese property.

Under this law large Japanese enterprises have been expropriated by the Chinese Government, while small enterprises are practically at a standstill. At the time a Japanese is interned he may take with him 5,000 yen (Chinese currency). At the time of his departure 1000 yen in Japanese currency. He may keep his bank book and papers but he cannot turn his deposits into cash as the banks have been seized.

There are 130,000 tons of Japanese warships and 70,000 tons of Merchant marine at present available for repatriation purposes. Repatriation is to be effected from the most needed areas first, preference being given to women and children, the old and the infirm. Forty per cent of the warships are allocated to the Philippines, 60 per cent to the SOUTH SEA Islands. Preference is then to be given to territories inhere living conditions are hard. Preference will most probably be given to CHINA and southern areas as no agreement has been obtainable from the Russians regarding North KOREA, MANCHUKUO, SAGHALIEN and CEISHIMA.

- 3 -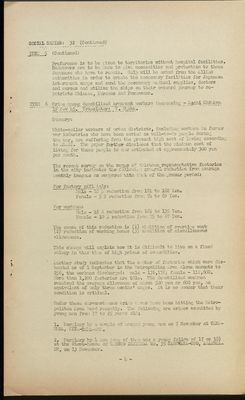 (View Page Image)
SOCIAL SERIES: 32 (Continued)
Preference is to be given to territories without hospital facilities. Endeavors are to be made to give necessities and protection to those Japanese who have to remain. Help will be asked from the Allied authorities in order to create the necessary facilities for Japanese interment camps and send the necessary medical supplies, doctors and nurses and utilize the ships on their outward journey to repatriate Chinese, Koreans and Formosans.

ITEM 6 Crime among demobilized armament workers increasing - Asahi Shirmbun 19 Nov 45. Translator: T. Ogawa.
Summary:

White-collar workers of urban districts, including workmen in former war industries who have been envied as well-to-do people during the war, are suffering from the present high cost of living according to ASAHI. The paper further discloses that the minimum cost of living for these people is now estimated at approxomately 300 yen per month.

The recent survey on the wages of thirteen representative factories in the city indicates the following: general reduction from average monthly incomes as compared with that of the prewar period:

For factory officials:
Male - 10 % reduction from 181 to 162 Yen.
Female - 5 % reduction from 74 to 69 Yen.
For workmen:
Male - 18 % reduction from 165 to 135 Yen.
Female - 10 % reduction from 75 to 67 Yen.
The cause of this reduction is (l) abolition of overtime work (2) reduction of working homes (3) abolition of miscellaneous allowances.

This change will explain how it is difficult to live on a fixed salary in this time of high prices of commodities.

Another study indicates that the number of factories which were disbanded as of 1 September in the Metropolitan Area alone amounts to 256, the workmen discharged: male - 178,178, female - 112,600. More than 1,200 factories are idle. The demobilized workmen received the average allowance of about 500 yen or 600 yen, on equivalent of only three months' wages. It is no wonder that their condition is critical.

Under these circumstances crime waves have been hitting the Metropolitan Area hard recently. The following are crimes committed by young men from 17 to 25 years old:
Burglary by a couple of masked young men on 7 November at TAMAMURA, KITA-TAHA-GUN.
Burglary by 4 men (one of them was a young fellow of 17 or 18) at the store-house of TATSUO ISHIKAWA No. 35 SARUWAKA-CHO, ASAKUSA-KU, on 13 November.

- 4 -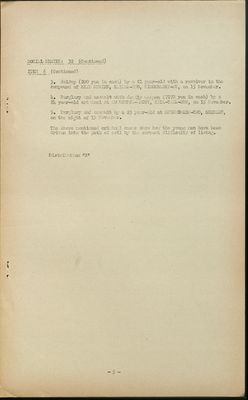 (View Page Image)



SOCIAL SERIES: 32 (Continued)





ITEM 6

(Continued)
Holdup (200 yen in cash) by a 21 year-old with a revolver in the compound of HIYE SHRINE, KAYABA-CHO, NIHONBASHI-KU, on 15 November.
Burglary and assault with deadly weapon (7270 yen in cash) by a 24 year-old criminal at KOKUBUNJI-MACHI, KITA-TAMA-GUN, on 15 November.
Burglary and assault by a 23 year-old at SHINMONZEN-CHO, SHIBAKU, on the night of 19 November.
The above mentioned 1 criminal cases show how the young men have been driven into the path of evil by the current difficulty of living.

DISTRIBUTION "X"

- 5 -