Press translations [Japan]. Social Series 0031, 1945-11-27.
translation-number: social-0104
call-number: DS801 .S84
---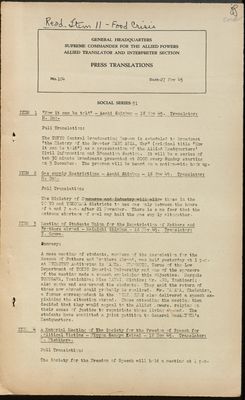 (View Page Image)
GENERAL HEADQUARTERS

SUPREME COMMANDER FOR THE ALLIED POWERS

ALLIED TRANSLATOR AND INTERPRETER SECTION

PRESS TRANSLATIONS

SOCIAL SERIES: 31

ITEM 1 "Now it can be told" - Asahi Shimbun - 18 Nov 45. Translator: M. Ono.
Full Translation:

The TOKYO Central Broadcasting Bureau is scheduled to broadcast "the History of the Greater PAST ASIA, War" (original title "Now it can be told") as a presentation of the Allied Headquarters' Civil Information and Education Section. It will be a series of ten 30 minute broadcasts presented at 2000 every Sunday starting on 9 December. The program will be heard on a nation-wide hook up.

ITEM 2 Gas supply Restrictions - Asahi Shimbun - 18 Nov 45. Translator: M. Ono.
Full Translation:

The Ministry of Commerce and Industry will allow those in the TOKYO and YOKOHAMA districts to use gas only between the hours of 4 and 7 a.m. after 21 November. There is same fear that the extreme shortage of coal may halt the gas supply altogether.

ITEM 3 Meeting of Students Union for the Repatriation of Fathers and Brothers abroad - Mainichi Shimbun - 18 Nov 45. Translator: T. Ogawa.
Summary:

A mass meeting of students, members of the Association for the Rescue of Fathers and Brothers Abroad, was held yesterday at 1 p.m. at KYORITSU Auditorium in KAHDA. FUJIMCTO, Terue of the Law Department of TCKYO Imperial University and one of the sponsors of the meeting made a speech explaining this objective. Marquis TOKUGAWA, Yoshichika; Miss KAWAI, Michike; Mr. ABE, Yoshinari; also spoke and encouraged the students. They said the return of those now abroad could probably be realized. Mr. HAWAWA, Cheichiro, a former correspondent in the WILL
[illegible]
INES also delivered a speech explaining the situation abroad. Those attending the meeting then decided that they would appeal to the Allied Powers, relying on their sense of justice to repatriate these living abroad. The students have sumbitted a joint petition to General MacARTHUR's Headquarters.
ITEM 4 A Memorial Meeting of The Society for the Freedom of Speech for Political Victims - Nippon Sangya Kaizai - 18 Nov 45. Translator: H. Nishihara.
Full Translation:

The Society for the Freedom of Speech will hold a meeting at 1 p.m.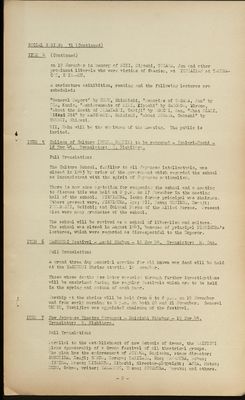 (View Page Image)
SOCIAL SERIES: 31 (Continued)
on 19 November in memory of MIKI, Kiyoshi, TOZAKA, Jun and other prominent liberals who were victims of fascism, at
[illegible]
IKOKAILAN at TAMURA-C
[illegible]
O, SRIRA-KU.
A caricature exihibition, reading and the following lectures are scheduled:

"General Report" by UNKU, Shinkichi, "Memorie's of TASAWA, Jun" by OKA, Kunio, "Achievements of NIKI, Kiyoshi" by SAEGUSA, Hirone, "About the death of RCBAYASKL, Takiji" by EGUCNI, Kan, "What OZAKI, Ridemi Did" by MATSUMOTO, Shinichi, "About NCGAWA, Takashi" by TSUBOI, Shigezi.

NII, Kahu will be the chairman of the meeting. The public is invited.

ITEM 5 College of Culture (BUNKA GAKUIN) to be reopened - Yomiuri-Hochi - 18 Nov 45. Translator: H. Nishibara.
Full Translation:

The Culture School, familiar to all Japanese intellectuals, was closed in 1943 by order of the government which regarded the school as inconsistent with the spirit of Japanese nationalism.

There is now some agatation for reopening the school and a meeting to discuss this was held at 2 p.m. on 17 - November in the meeting hall of the school. NISHIMURA, Isaku former principal was chairman. Others present were, NISHI
[illegible]
UEA, Aya; NII, Kaku; KUNIEDA, Kwanji; FU
[illegible]
ABASHI, Seiichi; and Colonel Parks of the allied Forces, Present also were many graduates of the school.
The school will be revived as a school of liberalism and culture. The school was closed in August 1943, because of principal NISHIMURA'S lectures, which were regarded as disrespectful to the Emperor.

ITEM 6 YASUKUNI Festival - Asahi Simbun - 18 Nov 45. Translator: M. Ono.
Full Translation:

A grand three day memorial service for all known war dead will be held at the YASUKUINI Shrine starting 19 November.

Those whose deaths are later revealed through further investigations will be enshrined during the regular festivals which are to be held in the spring and autumn of each year.

Worship at the shrine will be held from 6 to 8 p.m. on 19 November and from early morning to 8 p.m. on both 20 and 21 November. General UMEZU, Yosbijiro was appointed chairman of the festival.

ITEM 7 New Japanese Theatre Novement - Mainichi Shimbun - 19 Nov 45. Translator: H. Nishihara.
Full Translation:

Parallel to the establishment of new Schools of drama, the MAINICHI plans sponsorship of a drama festival of all theatrical groups. The plan has the endorsement of AOYOMA, Sugisaku, stage director; SUSUKIDA, Kenji; SENDA, Koreya; TAKIZAWA, Shu; MAKAMURA, Nobuo; NISEIMA, kasao; KITAMURA, Kihachi, director-playwright;
[illegible]
ATTA, Motoo; KUBO, Sakae, writer; YAMAMOTO, Yasue; SUGIMURA, Haruko; and others.
- 2 -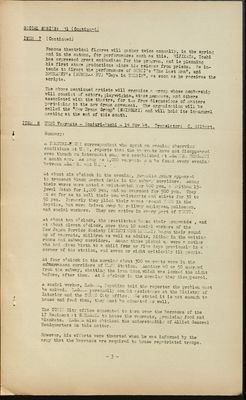 (View Page Image)
SOCIAL SERIES: 31 (Continued)
Famous theatrical figures will gather twice annually, in the spring and in the autumn, for performances such as this. HIJIKATA, Yoshi has expressed great enthusiasm for the program, end is planning his first stage productions since his release from prison. He intends to direct the performance of GORKI's "The Last Man", and BRUKAEFF's (BURUKA
[illegible]
FU) "Days in TOLBIN", soon as he receives the scripts.
The above mentioned artists will organize a group whose membership will consist of actors, playwrights., stage managers, and others associated with the theatre, for the free discussions of matters pertaining to the new drama movement. The organization will be called the "Now Drama Group" (SWINGEKI) and will hold its inaugural meeting at the end of this month.

ITEM 8 UENO Vagrants - Yomiuri-Hochi - 19 Nov 45. Translator: C. Gilbert.
Summary:

A YOMIURI-HCCHI correspondent who spent an evening observing conditions at U
[illegible]
, reports that the vagrants have not disappeared even though an internment camp was established at ASA
[illegible]
USA HONGANJI a month ago. As many as 1,000 vagrants con be found every evening between ASAKUSA and U
[illegible]
NO,
At about six o'clock in the evening, juvenile gangs appeared to transact black market deals in the subway corridors. Among their wares were noted a wrist-watch for 400 yen, a Waltham 15-jewel Watch for 1,200 yen, and an overcoat for 500 yen. They go so far as to sell their own waistcoats and shirts for 30 to 50 yen. Formerly they plied their wares around U
[illegible]
NO in the daytime, but were driven away by railway employees, policemen, and social workers. They are active in every part of TOKYO.
At about ten o'clock, the prostitutes began their promenade and at about eleven o'clock, more than 10 social workers of the New Japan Service Society (SHINNIECNS M
[illegible]
OKAI) began their round up of vagrants, children as well as adults, hiding in the waiting rooms and subway corridors. Among those picked up were a mother who had given birth to a child four or five days previously in a corner of the station, and seven or eight critically ill people.
At four o'clock in the morning about 300 vagrants were in the subterranean corriders of UENO Station. Another 40 or 50 emerged from the subway, shutting the iron door, which was locked the night before, after them. At 6 o'clock in the morning they disappeared.

A social worker, KAGA
[illegible]
A, Toyohiko told the reporter the problem must be solved. KAGANA personally sou
[illegible]
ht assistance at the Ministry of Interior and the TOKYO City office. He stated it is not enough to house and feed them, they must be educated as well.
The TOKYO City office consented to turn over the barracks of the 17 Regiment at SETAGAYA to house the vagrants, promising food and blankets. KAGAWA also obtained the understanding fee of Allied General Headquarters on this matter.

However, his efforts were thwarted when he was informed by the army that the barracks are required to house repatriated troops.

- 3 -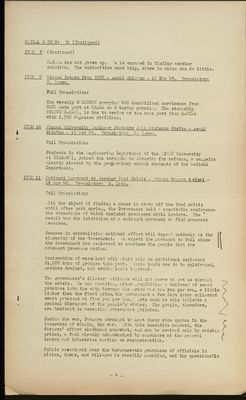 (View Page Image)
SOCIAL SERIES: 31 (Continued)
KAGAWA has not given up. He is engaged in finding another solution. The authorities must help, since he alone can do little.

ITEM 9 Troops Return from TRUK - Asahi Shimbun - 19 Nov 45. Translator: T. Ogawa.
Full Translation:

The warship SHIMUSHU carrying 400 demobilized servicemen from TRUX made port at URAGA on Saturday morning. The steamship TSUKUSHI-MARU, is due to arrive at the same port from MANILA with 1,700 Japanese civilians.

ITEM 10 Nippon University Engineer Students Join Students Strike - Asahi Shimhun - 19 Nov 45. Translator; T, Ogawe.
Full Translation:

Students in the Engineering Department of the NIHON University at ITABASHI, joined the struggle on Saturday for reforms, a campaign already started by the preparatory school students of the medical Department.

ITEM 11 National Movement to Weather Food Crisis - Nippon Sangyo eisai - 18 Nov Translator: M. Kato.
Full Translation:

with the abject of finding a means to stave off the food crisis until after next spring, the Government held a roundtable conference the attendants of which included prominent civic leaders. The result was the initiation of a national movement to find concrete measures.

Success in crystalizing national effort will depend entirely on the sincerity of the Government. We expect the movement to fail since of the Government has neglected to convince the people that the movement presages action.

Reclamation of wasteland will yield only an additional estimated 21,000 koku of produce this year. Waste lands are to be cultivated, marshes drained, and arable lands improved.

The government's dilatory attitude will not serve to get us through the crisis, On one occasion, after prohibiting a delivery of sweet potatoes into the city because the price was one yen per kan, a little higher than the fixed price, the government a few days later collected sweet potatoes at five yen per kan. Acts such as this indicate a cynical disregard of the people's wishes. The people, therefore, are hesitant in accepting government policies,

During the war, farmers strained to meet their rice quotas in the interests of winning the war. With this incentive removed, the farmers' effort slackened somewhat, and can be revived only by raising prices, a fact already acknowledged by consumers at the general trades and industries meeting on reconstruction.

Public resentment over the bureaucratic practices of officials in cities, towns, and villages is steadily mounting, and the questionable

- 4 -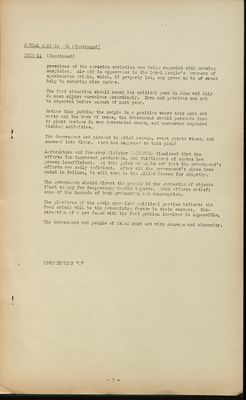 (View Page Image)
SOCIAL SERIES: 31 (Continued)
practices of the agrarian societies are being regarded with growing suspicion. Already in appearance is The Loyal People's Movement of spontaneous origin, which, if properly led, may prove to be of great help in securing rice quotas.

The food situation should reach its critical peak in June and July, We must adjust ourselves accordingly. Corn and potatoes can not be expected before August of next year.

Rather than putting the people in a position where they must eat roots and the bark of trees, the Government should persuade them to plant gardens in war devastated areas, and encourage expanded fishing activities.

The Government had planned to grind acorns, sweet potato wines, and seaweed into flour. What has happened to this plan?

Agriculture and Forestry Minister
[illegible]
disclosed that the efforts for increased production, and fulfillment of quotas has proven insufficient. At this point we might add that the government's efforts are sadly deficient. After all the government's plans have ended in failure, it will turn to the Allied Powers for sympathy.
The government should direct the people in the gathering of objects d'art to pay for desperately needed imports. Such efforts satisfy some of the demands of both production and consumption.

The platforms of the newly organized political parties indicate the food crisis will be the determining factor in their success. Construction of a new JAPAN with the food problem involved is impossible.

The Government and people of JAPAN must act with courage and sincerity.

DISTRIBUTION "X"

- 5 -