Press translations [Japan]. Social Series 0030, 1945-11-27.
translation-number: social-0102
call-number: DS801 .S84
---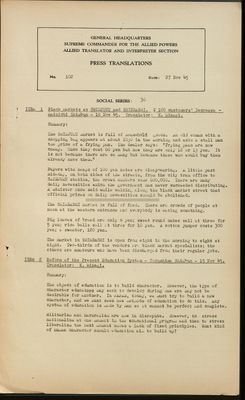 (View Page Image)
GENERAL HEADQUARTERS

SUPREME COMMANDER FOR THE ALLIED POWERS

ALLIED TRANSLATOR AND INTERPRETER SECTION

PRESS TRANSLATIONS

SOCIAL SERIES: 30

ITEM 1 Black Markets at SHINJUKU and SHINBASHI. Ұ 100 customers' Decrease - Mainichi Shimbun - 18 Nov 45. Translator: K. Minagi.
Summary:

The SHINJUKU market is full of household goods. An old woman with a shopping bag appears at about 1030 in the morning and asks a stall man the price of a frying pan. The dealer says: "Frying pans are now cheap. Once they cost 60 yen but now they are only 12 or 13 yen. It is not because there are so many but because those who would buy them already have them."

Buyers with heaps of 100 yen notes are disappearing. A little past mid-day, on both sides of the streets, from the city tram office to SHINJUKU station, the crowd numbers some 600,000. There are many daily necessities which the government has never succeeded distributing. A minister once said while walking along the black market street that official prices on daily necessities should be abolished.

The SHIMBASHI Market is full of food. There are crowds of people at noon at the western entrance and everybody is eating something.

Big loaves of bread are only 6 yen; sweet round cakes sell at three for 5 yen; rice balls sell at three for 10 yen. A cotton jumper costs 300 yen; a sweater, 120 yen.

The market in SHIMBASHI is open from eight in the morning to eight at night. Two-thirds of the vendors are black market specialists; the others are amateurs who have been discharged from their regular jobs.

ITEM 2 Reform of the Present Education System - Tokushima Shimbun - 15 Nov 45. Translator: K. Minagi.
Summary:

The object of education is to build character. However, the type of character educators may seek to develop during one era may not be desirable for another. In JAPAN, today, we must try to build a new character, and we must seek new methods of education to do this. Any system of education is made by man so it cannot be perfect and complete.

Militarism and naturalism are now in disrepute. However, to stress nationalism at one moment in the educational program and then to stress liberalism the next moment shows a lack of fixed principles. What kind of human character should education aim to build up?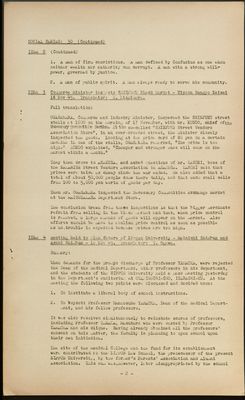 (View Page Image)
SOCIAL SERIES: 30 (Continued)
ITEM 2 (Continued)

A man of firm convictions. A man defined by Confucius as one whom neither wealth nor authority can corrupt. A man with a strong will-power, governed by justice.
A man of public spirit. A man always ready to serve his community.
ITEM 3 Commerce Minister inspects SHINJUKU Black Market - Nippon Sangyo Keizai 18 Nov 45. Translator: H. Nishihara.
Full translation:

OGASAWARA, Commerce and Industry Minister, inspected the SHINJUKU street stalls at 1000 on the morning of 17 November, with Mr. KONDO, chief of the Necessary Commodities Section. At the so-called "SHINJUKU Street Vendors Association Store", in an over-crowded street, the minister closely inspected the goods. Looking at the price card of 80 yen on a certain machine in one of the stalls, OGASAWARA remarked, "The price is too high." KONDO explained, "Cheaper and stronger ones will come on the market within a month."

They then drove to ASAKUSA, and asked questions of Mr. KASORI, boss of the NAKAMISE Street Vendors Association in ASAKUSA. KASORI said that prices were twice as cheap since the war ended. He also added that a total of about 50,000 people come there daily, and that each stall sells from 100 to 5,000 yen worth of goods per day.

Then Mr. OGASAWARA inspected the Necessary Commodities Exchange Market at the MATSUZAKAYA Department Store.

The conclusion drawn from these inspections is that the bigger merchants refrain from selling in the black market and that, when price control is removed, a large amount of goods will appear on the market. Also efforts should be made to abolish price control as soon as possible as no trouble is expected because prices are too high.

ITEM 4 Meeting held to plan future of Nippon University - Mainichi Shimbun and Asahi Shimbun - 18 Nov 45. Translator: T. Ogawa.
Summary:

When demands for the prompt discharge of Professor YAMAOKA, were rejected the Dean of the Medical Department, other professors in his department, and the students of the NIPPON University held mass meeting yesterday in the Department's auditorium at OTANIGUCHI-CHO, ITABASHI-KU. At the meeting the following two points were discussed and decided upon:
To institute a liberal body of school instructions.
To boycott Professor Mannosuke YAMAOKA, Dean of the Medical Department, and his fellow professors.
It Was also resolved simultaneously to reinstate scores of professors, including Professor TANAKA, Masutaro who were ousted by Professor YAMAOKA and his clique. Having already obtained all the professors' consent on this matter, the faculty is planning to open school upon their own initiation.

The site of the medical College and the fund for its establishment were contributed to the NIPPON Law School, the predecessor of the present NIPPON University, by the former's Parents' Association and Alumni Association. This sum was, however, later misappropriated by the school

- 2 -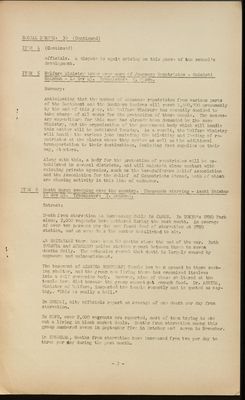 (View Page Image)
SOCIAL SERIES: 30 (Continued)
officials. A dispute is again arising on this phase of the school's development.

ITEM 5 Welfare Ministry takes over cars of Japanese Repatriates - Mainichi Shimbun - 18 Nov 45. Translator: T. Ogawa.
Summary:

Anticipating that the number of Japanese repatriates from various parts of the Continent and the Southern Regions will reach 1,500,000 presumably by the end of this year, the Welfare Ministry has recently decided to take charge of all works for the protection of these people. The necessary expenditure for this work has already been demanded by the same Ministry, and the organization of the government body which will handle this matter will be published Tuesday. As a result, the Welfare Ministry will handle the various jobs including the biletting and feeding of repatriates at the places where they arrive as well as the additional transportation to their destinations, including food supplies on their way, etcetera.

Along with this, a body for the protection of repatriates, will be established in several districts, and will maintain close contact with existing private agencies, such as the War-Sufferers Relief Association and the Association for the Relief of Compatriots Abroad, both of which are showing activity in this line of endeavor.

ITEM 6 Death March sweeping over the country. Thousands starving - Asahi Shimbun 18 Nov 45. Translator: Y. Akabane.
Extract:

Death from starvation is increasing daily in JAPAN. In TOKYO's UENO Park alone, 2,000 vagrants have gathered during the past month. An average of over two persons per day are found dead of starvation at UENO station, and on some days the number has climbed to six.

At SHITAYAKU there have been 60 deaths since the end of the war. Both YOTSUYA and ATAGACHO police station report between three to seven deaths daily. The autopsies reveal that death is largely caused by exposure and malnourishment.

The basement of ASAKUSA HONGWANJI Temple has been opened to those seeking shelter, and the group now living there has organized itselves into a self governing body. However, nine of those sheltered at the temple have died because the group cannot get enough food. Dr. ASHIDA, Minister of Welfare, inspected the temple recently and is quoted as saying,. "This as really a hell."

In SENDAI, city officials report an average of one death per day from starvation.

In KOFU, over 2,000 vagrants are reported, most of them trying to eke out a living in black market deals. Deaths from starvation among this group numbered seven in September five in October and seven in November.

In YOKOHAMA, deaths from starvation have increased from two per day to three per day during the past month.

- 3 -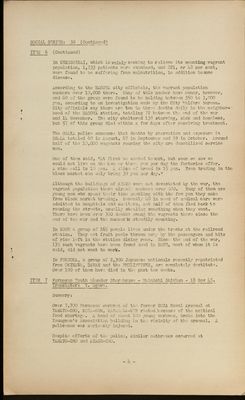 (View Page Image)
SOCIAL SERIES: 30 (Continued)
In KENISHIKAI, which is vainly seeking to relieve its mounting vagrant population, 1,733 patients were examined, and 821, or 43 per cent, were found to be suffering from malnutrition, in addition to some disease.

According to the NAGOYA oity officials, the vagrant population numbers over 10,000 there. Many of this number have money, however, and 60 of the group were found to be holding between 350 to 3,000 yen, according to an investigation made by the City Welfare Bureau. City officials say there are two to three deaths daily in the neighbor-hood of the NAGOYA station, totaling 72 between the end of the war and 14 November. The city sheltered 138 starving, sick and homeless, but 57 of this group died within a few days after receiving treatment.

The OSAKA police announce that deaths by starvation and exposure in OSAKA totaled 60 in August, 67 in September and 69 in October. Around half of the 10,000 vagrants roaming the city are demobilized service men.

One of them said, "At first we wanted to work, but soon we saw we could not live on the two or three yen per day the factories offer. A rice ball is 10 yen. A slice of bread is 15 yen. Even trading in the black market can only bring 30 yen per day."

Although the buildings of KYOTO were not devastated by the war, the vagrant population there already numbers over 500. Many of them are young men who spend their time gambling with the few yen they make from black market trading. Recently 40 in need of medical care were admitted to hospitals and shelters, but half of them fled back to roaming the streets, usually stealing something when they went. There have been over 300 deaths among the vagrants there since the end of the war and the number is steadily mounting.

In KOBE a group of 165 people lives under the tracks at the railroad station. They eat fruit peels thrown away by the passengers and bits of rice left in the station dining room. Since the end of the war, 135 such vagrants have been found dead in KOBE, most of whom it is said, did not want to work.

In FUKUOKA, a group of 2,300 Japanese nationals recently repatriated from OKINAWA, DAVAS and the PHILIPPINES, are completely destitute. Over 100 of them have died in the past two weeks.

ITEM 7 Formosan Youth plunder Storehouse - Mainichi Shimbun - 18 Nov 45. Translator: T. Ogawa.
Summary:

Over 7,700 Formosan workmen of the former KOZA Naval Arsenal at YAMATO-CHO, KOZA-GUN, KANAGAWA-KEN rioted because of the critical food shortage. A band of about 100 young workmen, broke into the Youngmen's Association building in the vicinity of the arsenal. A policeman was seriously injured.

Despite efforts of the police, similar outbreaks occurred at YAMATO-CHO and AYASE-CHO.

- 4 -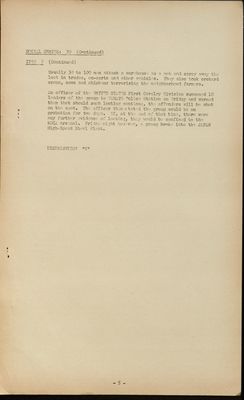 (View Page Image)
SOCIAL SERIES: 30 (Continued)
Usually 30 to 100 men attack a warehouse as a mob and carry away the loot in trudes, ox-carts and other vehicles. They also took orchard crops, cows and chickens terrorizing the neighborhood farmers.

An officer of the UNITED STATES First Cavalry Division summoned 10 leaders of the group to YAMATO Police Station on Friday and warned them that should such looting continue, the offenders will be shot on the spot. The officer then stated the group would be on probation for two days. If, at the end of that time, there were any further evidence of looting, they would be confined to the KOZA arsenal. Friday night however, a group broke into the JAPAN High-Speed Steel Plant.

DISTRIBUTION "X"

- 5 -