Press translations [Japan]. Social Series 0029, 1945-11-26.
translation-number: social-0100
call-number: DS801 .S84
---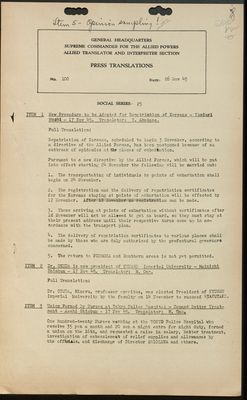 (View Page Image)
GENERAL HEADQUARTERS

SUPREME COMMANDER FOR THE ALLIED POWERS

ALLIED TRANSLATOR AND INTERPRETER SECTION

PRESS TRANSLATIONS

SOCIAL SERIES: 29

ITEM 1 New Procedure to be Adopted for Repatriation of Koreans - Yomiuri Hochi - 17 Nov 45. Translator: Y. Akabane.
Full Translation:

Repatriation of Koreans, scheduled to begin 3 November, according to a directive of the Allied Forces, has been postponed because of an outbreak of epidemics at the places of embarkation.

Pursuant to a new directive by the Allied Forces, which will be put into effect starting 24 November the following will be carried out:
The transportating of individuals to points of embarkation shall begin on 24 November.
The registration and the delivery of repatriation certificates for the Koreans staying at points of embarkation will be effected by 17 November, After 18 November no registration can be made
Those arriving at points of embarkation without certificates after 18 November will not be allowed to get on beard, so they must stay at their present address until their respective turns come up in accordance with the transport plan,
The delivery of repatriation certificates to various places shall be made by those who are duly authorized by the prefectural governors concerned.
The return to FORMOSA and Southern areas is not yet permitted
ITEM 2 Dr. OKUDA is new president of KYUSHU Imperial University - Mainichi Shimbun - 17 Nov 45. Translator: M. Ono.
Full Translation:

Dr. OKUDA, Minoru, Professor emeritus, was elected President of KYUSHU Imperial University by the faculty on 14 November to succeed HYAKUTAKE.

ITEM 3 Union Formed By Nurses at Tokyo Police Hospital - Demand Better Treatment - Asahi Shimbun - 17 Nov 45. Translator: M. Ono.
One hundred-twenty Nurses working at the TOKYO Police Hospital who receive 35 yen a month and 20 sen a night extra for night duty, formed a union on the l6th, and requested a raise in salary, better treatment, investigation of embezzlement of relief supplies and allowances by the officials, and discharge of Director SHIOZAWA and others.

(View Page Image)
SOCIAL SERIES: 29 (Continued)
ITEM 4 Special Treatment for Demobilized Soldiers - Tokushima Shimbun - 12 Nov 45. Translator: S. Fukuda.
Extracts:

The War Office petitioned Allied Headquarters some time ago to set up a guidance society and let demobilized soldiers have vocational guidance. The petition was rejected, with the statement that demobilized soldiers were not to be specially treated. As a result, the future existence of the Army Vocational Society (RIKUGUN SHOKUGIYO HODKAI), The Naval Support Society of Demobilization (KAIGUN FUKUIN ENGO KAI) and The Board of Military Protection (GUN JI HOGO IN) becomes problematerial. However, wounded soldiers will be given special consideration.

ITEM 5 Conditions of Railway Travelling - Question and Answer —Tokyo Shimbun - 17 Nov 45.Translator: Y. Akabane.
Summary:

Difficulty in purchasing railway tickets, despite their fee sale, continues. Officials at the SHINSUKU station conducted a five day poll among 250 people to learn what they wanted.

Following are the questions and results.

Which do you prefer, the old system of the new one?

The question was answered: five, indifferent; 20, prefer the new system, five, think that either will do, out passengers should not form lines overnight, 18, prefer old system, seven, think the new system is a nuisance; seven, think that neither will do; seven, think that the present system will do if there is a waiting room.
When is it convenient to deliver papers authorizing the purchase of tickets?

The answers were: Five, early morning; five, 6 A.M.; nine: said, 7 am; 16, present time 6 p.m.; two favored 10 p.m.; one, any time convenient to the station; two said, 4 p.m.; two, stated 1 p.m.; one, preferred 7:30 p.m.
Is it good or bad to form lines according by direction of travel? Answers: Good, 48; Bad, 7.
What do you think is most needed at present? Five said to set up waiting rooms; one wanted to number the lines; four favored no lines; one said, abolish "neighborhood association system" in forming lines. Five said increase the number of tickets to be sold; on; one wishes to abolish black market transactions of tickets; five, ask for a system to enable one passenger to buy several tickets; five want to abolish the free riding system of the railway staff; five advocate the transport of short distance passengers by freight cars; two suggest an increase In the number of trains; and two suggest proirities be given to those on official business.
The above shows that an equal number is for as well as against the new system of selling tickets. It is especially noted that the steps taken by the station authorities to arrange passengers in lines according to their direction of travel is unanimously supported. Similar surveys of public opinions will continue to be held at SHINJUKU Station.

- 2 -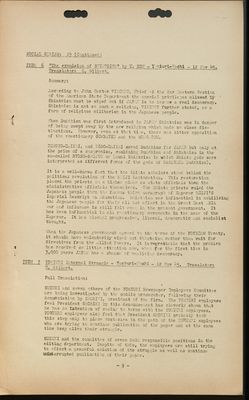 (View Page Image)
SOCIAL SERIES: 29 (Continued)
ITEM 6 "The expulsion of SHINTOISM" by H. KON - Yomiuri - Hochi - 18 Nov 45. Translator: C. Gilbert.
Summary:

According to John Carter VINCENT, Chief of the Far Eastern Section of the American State Department the special privileges allowed by Shintoism must be wiped out if JAPAN is to became a real democracy, Shintoism is not so much a religion, VINCENT further stated, as a form of religious militarism in the Japanese people.

When Buddhism was first introduced in JAPAN Shintoism was in danger of being swept away by the new religion which made no class distinctions. However, even at that time, there was bitter opposition of the reactionary GUMBATSU and the MONONOBU.

DENGYO-DAISHI, and KOBO-DAISAI saved Buddhism for JAPAN but only at the price of a compromise, combining Buddhism and Shintoism in the so-called RYOBU-SHINTO or (dual Shintoism in which Shinto gods were interpreted as different forms of the gods of MAHAYANA Buddhism).

It is a well-known fact that the Shinto scholars stood behind the political revolution of the MEIJI Restoration. This restoration placed the priests on a higher plane as state officials than the administrative officials themselves. The Shinto priests ruled the Japanese people thru the famous third paragraph of Emperor MEIJI'S Imperial Rescript on Education. Shintoism was influential in mobilizing the Japanese people for their all out effort in the Great East ASIA War and influence is still felt even in the present government. It has been influential in all reactionary movements in the name of the Emperor. It has blocked progressive, liberal, democratic and socialist thought.

When the Japanese government agreed to the terms of the POTSDAM Treaty, it should have voluntarily wiped out Shintoism rather than wait for directives from the Allied Powers, It is regrettable that the problem has received so little attention now, when for the first time in 3,000 years JAPAN has a chance of realizing democracy.

ITEM 7 YOMIURI Internal Struggle - Yomiuri - Hochi - 18 Nov 45. Translator: C. Gilbert
.
Full Translation:

SUZUKI and seven others of the YOMIURI Newspaper Employers Committee are being investigated by the public prosecuter, following their denunciation by SHORIKI, president of the firm. The YOMIURI employees feel President SHORIKI by this denouncement has cleverly shown that he has no intention of coming to terms with the YOMIURI employees, YOMIURI employees also feel the that President SHORIKI probably took this step only to place obstacles in the path of the YOMIURI employees who are trying to continue publication of the paper and at the same time keep alive their struggle.

SUZUKI and the committee of seven hold responsible positions in the editing department. Inspite of this, the employees are still trying to effect a peaceful solution of the struggle as well as continued uninterrupted publication of their paper.

- 3 -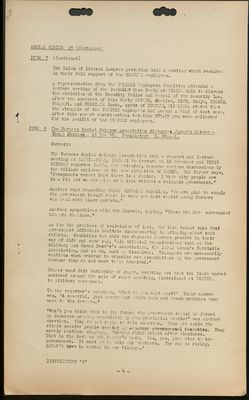 (View Page Image)
SOCIAL SERIES 29(Continued)
The Union of Literal Lawyers yesterday held a meeting which resulted in their full support of the YOMIURI employees.

A representative from the YOMIURI Employees Committee attended a lecture meeting of the Socialist Mass Party at HIBITYA Hall to discuss the abolution of the Security Police and repeal of the Security Law, After the speakers of this Party HISHIO, Suahiro, KATO, Kanjo, TSUBOI, Shigeji, and KUBOKAWA Ineko, spoke of YOMIURI, HISHIYAMA stated that the struggle of the YOMIURI employees had become a kind of test case. After this speech contributions totaling 283,99 yen were collected for the benifit of the YOMIURI employees.

ITEM 8 The Farmers Social Science Association discusses Japan's future - Tokyo Shimbun - 18 Nov 45. Translator: K. Minagi.
Summary:

The Farmers Social Science Association held a concert and lecture meeting at TAKEDA-NURA, IMARAGI Prefecture on 12 November and TOKYO SHIMBUN reporter INOUE, who attended, reports various discussions by the village audience on the new situation of JAPAN. One farmer says, "Newspapers report that there is a famine. I know city people are in a fix but we are also at a loss without a reliable government."

Another says regarding their official supplies, "We are glad to supply the government though there is much new made wealth among farmers who deal with black markets."

Another sympathizes with the Emperor, saying, "Those who have surrounded him are to blame."

As for the problems of redivision of Land, one land tenant says that government officials hesitate unnecessarily in bringing about such reforms. Feudalism has made the Japanese farmers passive in their way of life and some say, "All official organizations such as the Military and Naval People's Association, the JAPAN women's Patriatic Association, and so on, must ho dissolved. Villagers are necessarily cautious when ordered to organize new associations by the government because they do not want to be deceived,"

Others want fair rationing of sugar, pointing out that the black market centered around the sale of sugar specially distributed at JSHIOKA to military personnel.

To the reporter's question, "What do you want most?" Their answer was, "A powerful, just government which does not break promises once made to the farmers."

"Won't you think that in the future the government should be formed by Japanese people, especially by you provincial people?" was another question. They do not reply to this question. They are again the silent passive people created by Japanese governmental despotism. They merely continue singing. "Making JAPAN bright after blackness. That is the task on the farmer's back. Yes, yes, give rice to the government. It must go to help our brothers. The sun is rising, JAPAN'S down is coming in our village,"

DISTRIBUTION "X"

- 4 -