Press translations [Japan]. Social Series 0025, 1945-11-24.
translation-number: social-0085
call-number: DS801 .S84
---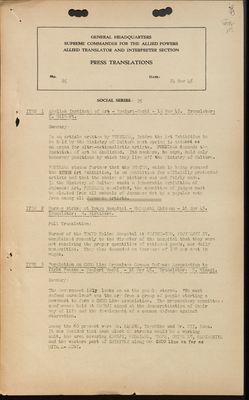 (View Page Image)
GENERAL HEADQUARTERS

SUPREME COMMANDER FOR THE ALLIED POWERS

ALLIED TRANSLATOR AND INTERPRETER SECTION

PRESS TRANSLATIONS

SOCIAL SERIES: 25

ITEM 1 Abolish Institute of Art - Yomiuri-Hochi - 15 Nov 45. Translator: C. Gilbert.
Summary:

In an article written by FUKUZAWA, Ichiro the Art Exhibition to be held by the Ministry of Culture next spring is attaked as an organ for ultra-nationalistic artists. FUKUZAWA demands the Institute of Art be abolished. Its members, he says, hold only honorary positions by which they live off the Ministry of Culture.

FUKUZAWA states further that the BUNTEN, which is being renamed the NIHON Art Exhibition, is an exhibition for officially protected artists and that the choice of pictures was not fairly made. If the Ministry of Culture wants a democratic exhibition of Japanese Art, FUKUZAWA concluded, the committee of judges must be elected from all schools of Japanese art by a popular vote from among all Japanese artists.

ITEM 2 Nurses strike at Tokyo Hospital - Mainichi Shimbun - 16 Nov 45. Translator: H. Nishihara.
Full Translation:

Nurses of the TOKYO Police Hospital at FUJIMI-CHO, KOJIMACHI KU, complained recently to the director of the hospital that they were not receiving the proper quantities of rationed goods, nor daily necessities. The also demanded an increase of 300 per cent in wages.

ITEM 3 Population on CHUO Line Organizes Common Defense Association to fight Famine - Yomiuri Hochi - 16 Nov 45. Translator: K. Minagai.
Summary:

The Government idly looks on as the people starve. "We must defend ourselves" was the cry from a group of people starting a movement to form a CHUO Line Association. The preparatory committee conference held at KOENJI aimed at the democratization of their way of life and the development of a common defense against starvation.

Among the 60 present were Mr. KAGAWA, Toyohiko and Mr. NII, Kaku. It was decided that each block of streets would be a working unit, the area covering KOENJI, KUGAYAMA, EGODA, OMIYAWAE, SAGINOMIYA and the western part of SHINTUKU along the CHUO Line as far as
[illegible]
ITAWA-ACHI.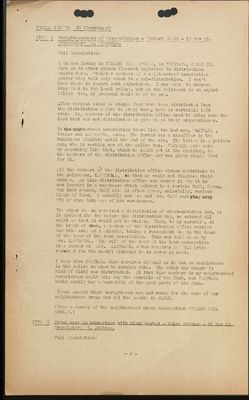 (View Page Image)
SOCIAL SERIES: 25 (Continued)
ITEM 4 Unrighteousness of Dissemination - Yomiuri Hochi - 15 Nov 45. Translator: K. Mobunaga.
Full Translation:

I am now living in HIGASHI
[illegible]
CHOKAI, in YUKIGAYA, O ORI KU. Just as in other places flagrant injustice in distribution exists here. Whenever members of a neighborhood association gather they talk only about this mal-distribution. I don't know where to report such injustices. I was going to propose this fact to the local police, but as the policeman is an unjust follow, too, my proposal would be of no use.
After various kinds of staple food have been distributed from the distribution office to every home, some is certainly left over. So, members of the distribution office used to bring home the food that was not distributed or give it to their acquaintances.

In the neighborhood association there live two bad men, FUJIWARA, Tatsuo and KAGESHIMA, Asao. The former was a chauffeur in the Munitions Ministry until the end of the war. The latter is a policeman, who is working now at the police box. FUJIWARA gave sake or something like that, which he could get at the ministry, to the members of the distribution office and was given staple food for it.

All the members of the distribution office always contribute to the policeman, KAGESHIMA, so that he would not disclose their crimes. As this distribution office was bombed in May it is now located in a warehouse which belongs to a certain NAOI, Genzo. For that reason, NAOI also is often given, unlawfully, various kinds of food. I actually saw Mr. and Mrs. NAOI carrying many HYO of rice into one of his warehouses.

The other day we received a distribution of sweet-potatoes and, as it arrived the day before the distribution day, we watched all night s that it would not be stolen. Then, to my surprise, at the break of dawn, a member of the distribution office carried one bale away on a bicycle, taking a roundabout way to the house of the head of the town association. This was told to me by Mrs. KAGESHIMA. The wife of the head of the town association is a sister of AOI. KAGESHIMA often receives O
[illegible]
MAI (rice reserved for the needy) although he is never in need.
I hear that FUJIWARA also receives OKYUMAI as he has an acqaintance in the police to whom he carries sake. The other day maguro (a kind of fish) was distributed. At that time members in my neighborhood association could only buy the entrails of the fish, but FUJIWARA could easily buy a bucketful of the good parts of the fish.

Please punish these unrighteous men and women for the sake of our neighborhood group and all the people in JAPAN.

(From a member of the neighborhood group association HIGASHI NAKA CHOKAI.)

ITEM 5
.
Fraud case in connection with black market - Tokyo Shimbun - 16 Nov 45. Translator: Y. Akabana.
Full 'Translation:

- 2 -

(View Page Image)
SOCIAL SERIES: 25 (Continued)
Cases of swindling are now becoming quite prevalent as a result of the food shortage. A lad of about 22 called at the home of Mr. YAMAGUCHI, clerk of a company in OTSUKA, KOISHIKAWA-KU at about 1800 on 13 November and deceived his wife saying, "I am the son of a farmer in the IBAR
[illegible]
I District, and can bring you rice and wheat flour if you need it." He defrauded her of 200 yen on the pretext that he would bring some rice on the following day, and left a pistol for her to keep it until he returned. On the afternoon of the next day, he arrived empty-handed, and, watching for a chance, he stole 700 yen from the pocket of a jacket and fled.
ITEM 6 Repatriation of Japanese from South KOREA - Asahi Shimbun - 16 Nov 45. Translator: T. ogawa.
Summary:

The evacuation of Japanese servicemen and civilians from South KOREA has been carried out very smoothly because of the systematic transportation plan which has been adopted under the guidance of the UNITED STATES Military Government in this area. Three special trains between SEOUL and FUSAN, and one between TAIDEN and FUSAN, are running daily, carrying the evacuees homeward. The number of those who have been repatriated, as of ll November, is 300,000 both soldiers and civilians. As for the transportation of aged evacuees, patients, and pregnant women, the operation of special cars for this purpose is now under deliberation.

ITEM 7 Strike of ASHIKAGA High School girls - Tokyo Shimbun - 16 Nov 45. Translator: Y. Akabane.
Full Translation:

All of the 750 students of the ASHIKAGA Girls Housekeeping School, suddenly went on strike on 14 November, demanding of the principal, Mrs. KANIOKA, Tatsu, that she retire, and at the same time, exposing the antiquated system by which the school has been run.

ITEM 8 MAINICHI Recommends Philippine as Example for Solving Japanese Tenants Problem - Mainichi Shimbun - 16 Nov 45. Translator: K. Minagi.
Summary

History making bills are being drafted by the Ministry of Forestry and Agriculture for enabling tenants to pay their rent in money rather than in commodities, for lowering rental rates generally, and for giving tenants a chance to own their land. Much is expected from these measures because they will break down the Japanese feudal system in which tenants were looked upon almost as slaves, and increase greatly the productive capacity of farms.

An ex-assistant professor of TOKYO Imperial University who is now in agricultural administration made the following suggestions and comments on improving the tenant system:

Payment of more than half the crop to the land owner is a remnant the feudalistic system adopted during the TOKUGAWA, Period. Too much of an economic burden on the tenant and the fear of losing his land at any moment prevent the peasant from attempting either to make improvements on his land or to increase its productivity. Necessary steps should of course, be taken, but laws for the accomplishment of this

- 3 -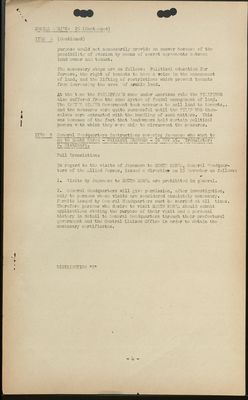 (View Page Image)
SOCIAL SERIES: 25 (Continued)
purpose would not necessarily provide an answer because of the possibility of evasion by means of secret agreements between land owner and tenant.

The necessary steps are as follows; Political education for farmers, the right of tenants to have a voice in the management of land, and the lifting of restrictions which prevent tenants from increasing the area of arable land.

At the time the PHILIPPINES came under American rule the FILIPINOS also suffered from the same system of feudal management of land. The UNITED STATES Government took measures to sell land to tenants,. and the measures were quite successful until the FILIPIONS themselves were entrusted with the handling of such matters. This was because of the fact that landowners held certain political powers with which they were able to circumvent the measures.

ITEM 9 General Headquarters instructions covering Japanese who want to go to South Korea - Mainichi Shimbun - 16 Nov 45. Translator: H. Nishihara.
Full Translation:

In regard to the visits of Japanese to SOUTH KOREA, General Headquarters of the Allied Forces, issued a directive on 15 November follows:
Visits by Japanese to SOUTH KOREA are prohibited in general.
General Headquarters will give permission, after investigation, only to persons whose visits are considered absolutely necessary. Permits issued by General Headquarters must be carried at all times. Therefore persons who desire to visit SOUTH KOREA should submit applications stating the purpose of their visit and a personal history in detail to General Headquarters through their prefectural government and the Central Liaison Office in order to obtain the necessary certificates.
DISTRIBUTION "X"

- 4 -