Press translations [Japan]. Social Series 0024, 1945-11-23.
translation-number: social-0081
call-number: DS801 .S84
---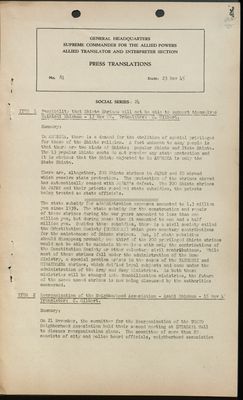 (View Page Image)
GENERAL HEADQUARTERS

SUPREME COMMANDER FOR THE ALLIED POWERS

ALLIED TRANSLATOR AND INTERPRETER SECTION

PRESS TRANSLATIONS

SOCIAL SERIES: 24

ITEM 1 Possibility that Shinto Shrines will not be able to support themselves Mainichi Shimbun - 13 Nov 45. Translator: C. Gilbert.
Summary:

In AMERICA, there is a demand for the abolition of special privileges for those of the Shinto religion. A fact unknown to many people is that there are two kinds of Shinto: popular Shinto and State Shinto. The 13 popular Shinto sects do not receive any state protection and it is obvious that the Shinto objected to in AMERICA is only the State Shinto.

There are, altogether, 200 Shinto shrines in JAPAN and 20 abroad which receive state protection. The protection of the shrines abroad has automatically ceased with JAPAN'S defeat. The 200 Shinto shrines in JAPAN and their priests received state subsidies, the priests being treated as state officials.

The state subsidy for administration expenses amounted to 1.3 million yen since 1939. The state subsidy for the construction and repair of these shrines during the war years amounted to less than one million yen, but during peace time it amounted to one and a half million yen. Besides these subsidies, there is a civil society called the Constitution Society (HOSANKAI) which gave monetary contributions for the maintenance of Shinto shrines. But, if state subsidies should disappear probably one third of the 200 privileged Shinto shrines would not be able to maintain themselves with only the contributions of the Constitution Society or other voluntary civil contributions. While most of these shrines fall under the administration of the Home Ministry, a special problem arises in the cases of the YASUKUNI and MINATOGAWA shrines, which deified loyal subjects and came under the administration of the Army and Navy Ministries. As both these ministries will be changed into demobilization ministries, the future of the above named shrines is now being discussed by the authorities concerned.

ITEM 2 Reorganization of the Neighborhood Association - Asahi Shimbun - 15 Nov 45 Translator: C. Gilbert.
Summary:

On 21 November, the committee for the Reorganization of the TOKYO Neighborhood Association held their second meeting at SETAGAYA Hall to discuss reorganization plans. The committee of more than 20 consists of city and police board officials, neighborhood association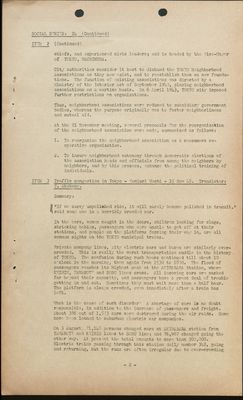 (View Page Image)
SOCIAL SERIES: 24 (Continued)
chiefs, and experienced civic leaders; and is headed by the Vice-Mayor of TOKYO, MACHIMURA.

City authorities consider it best to disband the TOKYO Neighborhood Associations as they now exist, and to reestablish them on new foundations. The function of existing associations was directed by a Ministry of the Interior Act of September 1940, placing neighborhood associations on a wartime basis. On 6 April 1943, TOKYO city imposed further restrictions on organizations.

Thus, neighborhood associations were reduced to subsidiary government bodies, whereas the purpose originally was to foster neighborliness and mutual aid.

At the 21 November meeting, several proposals for the reorganization of the neighborhood association were made, summarized as follows:
To reorganize the neighborhood association as a consumers cooperative organization.
To insure neighborhood autonomy through democratic elections of the association heads and officials from among the neighbors by neighbors, and by this process, enhance the political training of individuals.
ITEM 3 Traffic congestion in Tokyo - Yomiuri Hochi - 15 Nov 45. Translator: Y. Akabane.
Summary:

"If we carry unpolished rice, it will surely become polished in transit," said some one in a horribly crowded car.

In the cars, women caught in the doors, children looking for clogs, shrieking babies, passengers who were unable to get off at their stations, and people on the platforms forcing their way in, are all common sights on the TOKYO municipal trains.

Private company lines, city electric cars and buses are similarly overly-crowded. This is really the worst transportation muddle in the history of TOKYO. The confusion during rush hours continued till about 10 o'clock in the morning, then again from 1530 to 1800. The flood of passengers reaches its highest peak at the AKIHABARA Station, where KEIHIN, YAMANOTE and SOBU lines cross. All incoming cars are packed far beyond their capacity, and passengers have a great deal of trouble getting in and out. Sometimes they must wait more than a half hour. The platform is always crowded, even immediately after a train has left.

What is the cause of such disorder? A shortage of cars is no doubt responsible, in addition to the increase of passengers and freight. About 386 out of 1,573 cars were destroyed during the air raids. Some have been loaned to suburban electric car companies.

On 3 August, 71,148 persons changed cars at AKIHABARA station from YAMANOTE and KEIHIN lines to SOBU line; and 76,967 changed going the other way. At present the total amounts to more than 300,000. Electric trains passing through this station daily number 342, going and returning, but the runs are often irregular due to over-crowding

- 2 -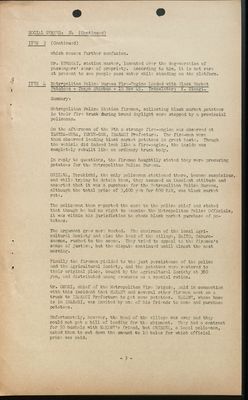 (View Page Image)
SOCIAL SERIES: 24 (Continued)
which causes further confusion.

Mr. KUMAGAI, station master, lamented over the degeneration of passengers' sense of propriety. According to him, it is not rare at present to see people pass water while standing on the platform.

ITEM 4 Metropolitan Police Bureau Fire-Engine Loaded with Black Market Potatoes - Tokyo Shimbun - 15 Nov 45. Translator: K. Minagi.
Summary:

Metropolitan Police Station firemen, collecting black market potatoes in their fire truck during broad daylight were stopped by a provincial policeman.

On the afternoon of the 9th a strange fire-engine was observed at TAKEDA-MURA, YUKUE-GUN, IBARAGI Prefecture. The fire-men were then observed loading black market potatoes in great haste. Though the vehicle did indeed look like a fire-engine, the inside was completely rebuilt like an ordinary truck body.

In reply to questions, the fireman haughtily stated they were procuring potatoes for the Metropolitan Police Bureau.

ONIZAWA, Torakichi, the only policeman stationed there, became suspicious, and while trying to detain them, they assumed an insolent attitude and asserted that it was a purchase for the Metropolitan Police Bureau, although the total price of 3,600 yen for 600 KAN, was black market rate.

The policeman then reported the case to the police chief and stated that though he had no right to examine the Metropolitan Police Officials, it was within his jurisdiction to check black market purchase of potatoes.

The argument grew more heated. The chairman of the local Agricultural Society and also the head of the village, SAITO, Saburozaemon, rushed to the scene. They tried to appeal to the firemen's sense of justice, but the dispute continued until almost the next morning.

Finally the firemen yielded to the just persistence of the police and the Agricultural Society, and the potatoes were restored to their original place, bought by the Agricultural Society at 360 yen, and distributed among evacuees as a special ration.

Mr. OMORI, chief of the Metropolitan Fire Brigade, said in connection with this incident that NAKANE and several other firemen went on a truck to IBARAGI Prefecture to get some potatoes. NAKANE, whose home is in IBARAGI, was invited by one of his friends to come and purchase potatoes.

Unfortunately, however, the head of the village was away and they could not get a bill of loading for the shipment. They had a contract for 50 bushels with NAKANE's friend, but ONISAWA, a local policeman, asked them to cut down the amount to 10 bales for which official price was paid.

- 3 -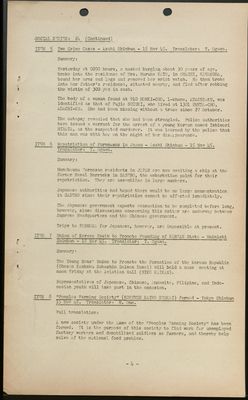 (View Page Image)
SOCIAL SERIES: 24 (Continued)
ITEM 5 Two Crime Cases - Asahi Shimbun - 15 Nov 45. Translator: T. Ogawa.
Summary:

Yesterday at 0200 hours, a masked burglar, about 30 years of age, broke into the residence of Mrs. Haruko KATO, in OMACHI, KAMAKURA, bound her arms and legs and removed her wrist watch. He then broke into her father's residence, situated nearby, and fled after robbing the victim of 300 yen in cash.

The body of a woman found at 910 HONKI-CHO, 1-chome, ADACHI-KU, was identified as that of Fujie SUZUKI, who lived at 1301 UMEDA-CHO, ADACHI-KU. She had been missing without a trace since 27 October.

The autopsy revealed that she had been strangled. Police authorities have issued a warrant for the arrest of a young Korean named Ishimori HIRATA, as the suspected murderer. It was learned by the police that this man was with her on the night of her disappearance.

ITEM 6 Repatriation of Formosans in Japan - Asahi Shimbun - 15 Nov 45. Translator: T. Ogawa.
Summary:

Homebound Formosan residents in JAPAN are now awaiting a ship at the former Naval Barracks in SASEBO, the embarkation point for their repatriation. They are assembling in large numbers.

Japanese authorities had hoped there would be no large concentration in SASEBO since their repatriation cannot be affected immediately.

The Japanese government expects evacuation to be completed before long, however, since discussions concerning this matter are underway between Supreme Headquarters and the Chinese government.

Trips to FORMOSA for Japanese, however, are impossible at present.

ITEM 7 Union of Korean Youth to Promote Founding of KOREAN State - Mainichi Shimbun - 15 Nov 45. Translator: T. Ogawa.
Summary:

The Young Mens' Union to Promote the Formation of the Korean Republic (Chosen Kenkoku Sokushin Seinen Domei) will hold a mass meeting at noon Friday at the Aviation Hall (HIKO KAIKAN).

Representatives of Japanese, Chinese, Annamite, Filipino, and Indonesian youth will take part in the occasion.

ITEM 8 "Peoples Farming Society" (KOKUMIN KAIMO KYOKAl) formed - Tokyo Shimbun 15 Nov 45. Translator: M. Ono.
Full translation:

A new society under the name of the "Peoples Farming Society" has been formed. It is the purpose of this society to find work for unemployed factory workers and demobilized soldiers as farmers, and thereby help solve of the national food problem.

- 4 -

(View Page Image)
SOCIAL SERIES: 24 (Continued)
The main office of the Society is situated at 1-7, HON MACHI, NIHONBASHI KU. President of the Society is Mr. SAGAWA, Naomi, president of the Asbestos Industrial Company, Ltd. (SEKIMEN KOGYO KAISHA LTD.) The chief director is Mr. SHIBATA, Kei, professor of KYOTO Imperial University.

ITEM 9 Friendly Relations Between U.S. Army and Peking and Tientsin Japanese Residents. Same as in Japan. - Tokyo Shimbun - 15 Nov 45. Translator: K. Minagi.
Summary:

On 7 November a second boat packed with 3,000 Japanese returning from MONGOLIA and NORTH CHINA arrived at HAKATA.

A banker asked to discuss the recent situation in PEKING and TIENTSIN stated, "As a whole, 150,000 Japanese residents in PEKING and TIENTSIN are leading peaceful lives, thanks to the UNITED STATES Army's arrival at the beginning of October and the arrival of regular forces of Chinese on 10 October. They had the usual ration of food until the conclusion of the war plus some additional food from a reserve store.

"My rough calculation is that their food will last for another six months. The Japanese who are still there were once told that the repatriation will be completed by next April, but owing to the fact that the three boats available are having constant break-downs and that UNITED STATES Army authorities do not allow overloading, it will take until the end of next year to bring all Japanese nationals home. American soldiers helped Japanese when the boats sailed. For example, at mid-night, in order to protect us from attack by the Chinese, they transported us in their jeeps.

The Japanese are all thankful for the Americans good will. It is the same as in TOKYO where girls are walking arm in arm with Americans, and people come crowding around asking for chocolate and tobacco. Until 1 November, when I was last in TIENTSIN and PEKING, there was no cause for anxiety there. Later, however, I fear for a shortage of food and fuel, which was result in many deaths."

DISTRIBUTION "X"

- 5 -