Press translations [Japan]. Social Series 0021, 1945-11-18.
translation-number: social-0069
call-number: DS801 .S84
---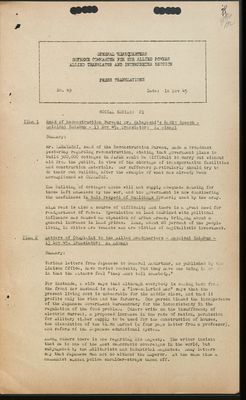 (View Page Image)
GENERAL HEADQUARTERS

SUPREME COMMANDER FOR THE ALLIED POWERS

ALLIED TRANSLATOR AND INTERPRETER SECTION

PRESS TRANSLATIONS

SOCIAL SERIES: 21

ITEM 1 Head of Reconstruction Bureau; Mr. Kabayaski's Radio Speech - Mainichi Shimbun - 13 Nov 45. Translator: K. Minagi
Summary:

Mr. KABAYASHI, head of the Reconstruction Bureau, made a broadcast yesterday regarding reconstruction, stating that government plans to build 300,000 cottages in JAPAN would be difficult to carry out without aid from the public, in view of the shortage of transportation facilities and construction materials. War sufferers particularly should try to do their own building after the example of what has already been accomplished at OT
[illegible]
MACHI.
The building of cottages alone will not supply adequate housing for those left homeless by the war, and the government is now considering the usefulness in this respect of buildings formerly used by the army.

High rent is also a source of difficulty and there is a great need for readjustment of rates. Speculation on land combined with political influence has caused an expansion of urban areas, bringing about a general increase in land prices. Thus, about 80 percent of the people living in cities are tenants who are victims of capitalistic investment.

ITEM 2 Letters of Complaint to the Allied Headquarters - Mainichi Shimbun - 13 Nov 45. Translator: K. Minagi
Summary:

Various letters from Japanese to General MacArthur, as published by the Liaison Office, have varied contents, but they have one thing in co
[illegible]
in that the authors feel "they must tell somebody."
For instance, a wife says that although everybody is coming back from the front her husband is not. A "low-salaried man" says that the present living cost is unbearable for the middle class, and that it profits only the rich and the farmers. One person blamed the incompetence of the Japanese Government bureaucracy for the inconsistency in the regulation of the food problem. Others write on the insufficency of electric current, a proposed increase in the rate of ration, permission for military timber supply to be used for the construction of houses, the dissolution of the black market (a four page letter from a professor), and reform of the Japanese educational system.

Among others there is one regarding His Majesty. The writer insists that he is one of the most democratic sovereigns in the world, but subjugated by the militarists and industrial magnates. Many letters say that Japanese can not do without the Emperor. At the same time a communist wanted police shoulder-straps taken off.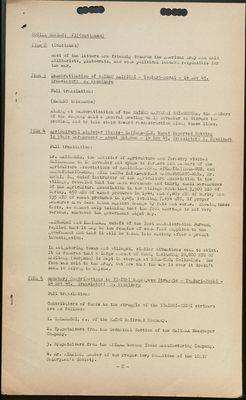 (View Page Image)
SOCIAL SERIES: 21(Continued)
Most of the letters are friendly towards the American Army and held militarists, plutocrats, and some political leaders responsible for the war.

ITEM 3 Democratization of SAINNO MAINICAI - Yomiuri-Hochi - 14 Nov 45. Translator: H. Nishinara
Full translation:

(NAGANO telephone)

Aiming at democratization of the SHINNO MAINICHI SHIMBUNSHA, the members of the company held a general meeting on 13 November to discuss the problem, and to take steps toward reconstruction along these lines.

ITEM 4 Agricultural Minister Visits- SAITAMA-KEN, Wheat Reported Rotting in State Warehouses - Asahi Shimbun - 14 Nov 45. Translator: H. Nishihara
Full translation:

Mr. MATSUMURA, the Minister of Agriculture and Forestry visited SAITA
[illegible]
on 12 November and spoke to farmers and members of the Agriculture Associations of
[illegible]
URA, MINAMISAITAMA-GUN, and MATSUFUSERYO-MURA, KITA KATSU, SA
[illegible]
MATSUFUSERYO-MURA, Mr. ENORI, S
[illegible]
chief instructor of the Agriculture Association in the village, revealed that the main warehouse and thirty small warehouses of the Agriculture Association in the village contained 3,300 HYO of barley, 850 HYO of wheat produced in 1944, and 2,809
[illegible]
YO of barley and 935 HYO of wheat produced in 1945, totaling 7,894 HYO, if proper measures have been taken against damage by rats and worms. Knowing these facts, we cannot help thinking, that the food shortage is not very serious, whatever the government might say.
[illegible]
RI and
[illegible]
A, chiefs of the Food Administration Bureau, replied that it may be the remains of some food supplied to the government and that it will be taken into custody after a prompt investigation.
In neighboring towns and villages, similar situations seem to exist. It is rumored that a large amount of food, including 10,000 HYO of Kaoliang (sorghum) is kept in storage at NODA-CHO, CHIBA-KEN. The food was sold to the Army, but now that the war is over it doesn't seem to belong to anyone.

ITEM 5 Monetary Contributions to YOMIURI Employees Struggle - Yomiuri-Hochi - 14 Nov 45. Translator: H. Nishihara
Full translation:

Contributors of funds to the struggle of the YOMIURI-HOCHI strikers are as follows:
TAKAHASHI, J., of the KACHU Railroad Company.
Sympathizers from the Technical Section of the SAITAMA Newspaper Company.
Sympathizers from the KOYAMA Wooden Toods Manufacturing Company.
Mr. KINEIMO, member of the Preparatory Committee of the TOKYO Salarymen's Society.
- 2 -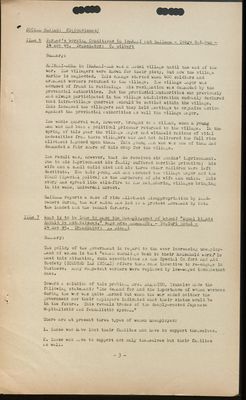 (View Page Image)
SOCIAL SERIES: 21 (Continued)
ITEM 6 Farmer's Working, Conditions in IBAR

[illegible]

I and SAITAMA - Tokyo Shimbun - 14 Nov 45. Translator: C. Gilbert
Summary:

SAISUKI-MURA in IBARA
[illegible]
I-KEN was a model village until the end of the war. The villagers were known for their piety, but now the village shrine is neglected. This change started when 400 soldiers and armament workers returned to the village. The village mayor was accused of fraud in rationing. His resignation was demanded by the provencial authorities. But the provincial authorities who previously had always participated in the village administration suddenly declared that intra-village quarrels should be settled within the village. This incensed the villagers and they held meetings to organize action against the provincial authorities as well the village mayor.
The whole quarrel was, however, brought to a climax, when a young man who had been a political prisoner returned to the village. In the spring of this year the village mayor had withheld rations of vital necessities from those villagers who had not delivered the full rice allotment imposed upon them. This young man who was one of them had demanded a fair share of this crop for the village.

The result was, however, that the received six months' imprisonment. Due to his imprisonment his family suffered terrible privation; his wife and a small child died and his three other children were left destitute. Now this young man has accused the village mayor and the TO
[illegible]
O (Special police) as the murderers of his wife and child. This story has spread like wild-fire to the neighboring villages bringing in its wake, universal unrest.
SAITAMA reports a case of rice allotment misappropriation by land-owners during the war which has led to a protest movement by both the landed and the tenant farmers.

ITEM 7 What is to be Done to Ease the Unemployment of Women? "Equal Rights Should be Established," says Mrs. A

[illegible]

SU. - Yomiuri Hochi - 14 Nov 45. Translator:

[illegible]

.

[illegible]

inagi
Summary:

The policy of the government in regard to the ever increasing unemployment of women is that "women should go back to their household work." To meet this situation, such associations as the Special Comfort and Aid Society (TOKUSHU IAN KYOKAI) offers them some incentive to re-engage in business. Many competent workers were replaced by low-waged incompetant ones.

Toward a solution of this problem, Mrs. AKAMATSU, Tsunelso made the following statement: "The demand for and the importance of women workers during the war was quite marked but when the war ended neither the government nor their employers indicated what their status would be in the future. This reveals traces of the deeply-rooted Japanese capitalistic and feudalistic system."

There are at present three types of women unemployed:
Those who have lost their families and have to support themselves.
Those who have to support not only themselves but their families as well.

- 3 -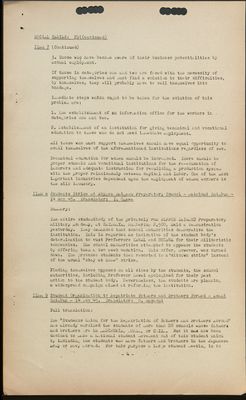 (View Page Image)
SOCIAL SERIES: 21(Continued)
ITEM 7 (Continued)
Those who have become aware of their business potentialities by actual employment.
If those in categories one and two are faced with the necessity of supporting themselves and must find a solution to their difficulties, by themselves, they will probably have to sell themselves into bondage.

Immediate steps which ought to be taken for the solution of this problem are:
The establishment of an information office for the workers in categories one and two.
Establishment of an institution for giving technical and vocational education to those who do not need immediate employment.
All those who must support themselves should have equal opportunity to avail themselves of the aforementioned institutions regardless of sex.

Technical education for women should be increased. There should be proper schools and vocational institutions for the re-education of laborers and adequate instruction for rebuilding, a production system with the proper relationship between capital and labor. One of the most important industries dependent upon the employment of women workers is the silk industry.

ITEM 8 Students Strike at Nippon Dai

[illegible]

aku Preparatory School - Mainichi Shimbun - 14 Nov 45. Translator: T. Ogawa
Summary:

The entire student body of the privately run NIPPON DAIGAKU Preparatory Military Academy, at SETAGAYA, numbering 2,500, held a demonstration yesterday. They demanded that school authorities democratize the institution. This is regarded as indicative of the student body's determination to oust Proferrors KAWAI and NOZAWA for their militaristic tendencies. The school authorities attempted to appease the students by offering them a two week vacation. This offer, however, was turned down. The provoked students then resorted to a "sitdown strike" instead of the usual "stay at home" strike.

Finding themselves opposed on all sides by the students, the school authorities, including Professor Kawai apologized for their past action to the student body. Nevertheless, the students are planning a widespread campaign aimed at reforming the institution.

ITEM 9 Student Organization to Repatriate Fathers and Brothers Formed - Asahi Shimbun - 14 Nov 45. Translator: O. Masashi
Full translation:

The "Students Union for the Repatriation of Fathers and Brothers Abroad" has already enrolled the students of more than 20 schools whose fathers and brothers are in
[illegible]
ANCHUEIA
[illegible]
, or CHINA. But it has now been decided to make a national student movement out of this student union by including the students who have fathers and brothers in the Japanese Army or Navy abroad. For this purpose a large student meeting is to
- 4 -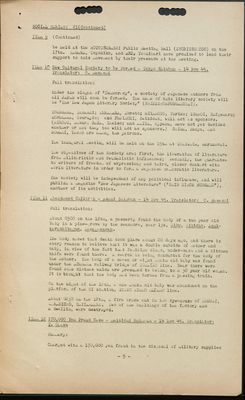 (View Page Image)
SOCIAL SERIES: 21(Continued)
be held at the HOTOSUBASHI Public Meeting Hall (KYORITSUKODO) on the 17th. KAGAWA, Toyohiko, and Yoshinari nave promised to lend their support to this movement by their presence at the meeting.

ITEM 10 New Cultural Society to be Formed - Tokyo Shimbun - 14 Nov 45. Translator: O. Masashi
Full translation:

Under the slogan of "Democracy", a society of Japanese authors from all JAPAN will soon be formed. The name of this literary society will be "The New Japan Literary Society" (SHINNIHONBUNGAKUKAI).

TOKUNAGA, Taoashi; KURA
[illegible]
RA, Koreto; MIYAWOTO, Yuriko; TS
[illegible]
OI, Shigenaru; KOBUKAWA, Tsurujio; and FUJIMORI, Seikichi, will act as sponsors. (HIROZU, Kazuo; SATA, Inelso; and AKITA, U
[illegible]
yaku, have not yet decided whether or not they too will act as sponsors.) S
[illegible]
IGA, Naoya, and
[illegible]
MI, Yaoko are among the patrons.
Tue inaugural meeting will be held on the 15th at TOKIWAYA, Marunochi.

The objectives of the Society are: first, the liberation of literature from militaristic and feudalistic influences; secondly, the guarantee to writers of freedom of expression; and third, closer contact with world literature in order to form a japanese democratic literature.

The society will be independent of any political influence, and will publish a magazine "New Japanese Literature" ("SHIN NI
[illegible]
ON BUNGAKU"), another of its activities.
ITEM 11 Abandoned Chil

[illegible]

n - Asahi Shimbun - 14 Nov 45. Translator: O. Masashi
Full translation:

About 0300 on the 12th, a passerby found the body of a two year old baby in a pine-rove by the seashore, near 138,
Kiko
,
Kikicho
,
Ashi
-
zarashitagun
,
Kanagawaken
.
The body snows that death took place about 20 days ago, and there is every reason to believe that it was a double suicide of mother and baby, in view of the fact the that feminine clogs, under-sash and a kitchen knife were found there. A search is being conducted for the body of the mother. The body of a seven or eight month old baby was found under the AB
[illegible]
A railway bridge of
[illegible]
O line. Near there were found some clothes which are presumed to belong to a 30 year old woman. It is thought that the body had been thrown from a passing train.
On the night of the 12th, a one month old baby was abandoned on the platform of the OI station, TOKYO
[illegible]
[illegible]
O line.
About 0230 on the 12th a fire broke out in the dye-house of KONUKI,
[illegible]
BICHO, SAITA
[illegible]
N. Two of the buildings of the factory and a dwelling were destroyed.
ITEM 12 170,000 Yen Fraud Case - Mainichi Shimbun - 14 Nov 45. Translator: T. Ogawa
Summary:

Charged with a 170,000 yen fraud in the disposal of military supplies

- 5 -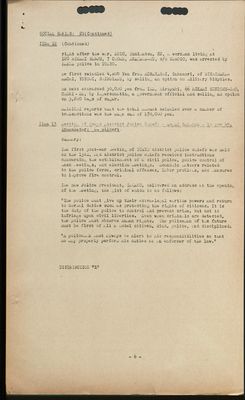 (View Page Image)
SOCIAL SERIES: 21(Continued)
right after the war, ENDO, Kuni
[illegible]
atsu, 22, a workman living at 120 MINAMI SENJU, 7 CHOME, ARAKAWA-KY, c/o NEMOTO, was arrested by KANDA police in TOKYO.
He first swindled 4,800 Yen from KOBAYASHI, Takanori, of NISHIHARA-MACHI YOYOGI, SAIBUYAKU, by selling an option on military bicycles.

He next extracted 30,000 yen from IDE, Hiroyuki, 66 MINAMI SENZOKU-CHO, OMORI - KU, by impersonating a government official and selling an option on 3,200 bags of sugar.

[illegible]
ICHI reports that the total amount swindled over a number of transactions was the huge sum of 170,000 yen.
ITEM 13 Meeting of Tokyo District Police Chiefs - Asahi Shimbun - 14 Nov 45. Translator: C. Gilbert.
Summary:

The first post-war meeting of TOKYO district police chiefs was held on the 13th, and district police chiefs received instructions concerning the establishment of a civil police, police control of mass meetings, and election meetings. Economic matters related to the police force, criminal offenses, labor problems, and measures to improve fire control.

The new Police President, TAKANO, delivered an address at the opening of the meeting, the gist of which is as follows:

"The police must give up their extra-legal wartime powers and return to normal duties such as protecting the rights of citizens. It is the duty of the police to control and prevent crime, but not to infringe upon civil liberties. Even when criminals are detected, the police must observe human rights. The policeman of the future must be first of all a model citizen, kind, polite, end disciplined.

"A policemen must always be alert to his responsibilities so that no may properly perform his duties as an enforcer of the law."

DISTRIBUTION "X"

- 6 -