Press translations [Japan]. Social Series 0018, 1945-11-19.
translation-number: social-0061
call-number: DS801 .S84
---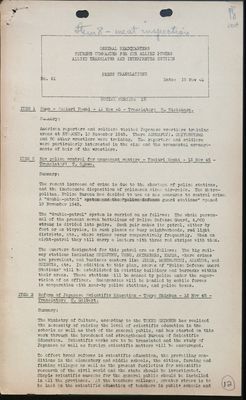 (View Page Image)
GENERAL HEADQUARTERS

SUPREME COMMANDER FOR THE ALLIED POWERS

ALLIED TRANSLATOR AND INTERPRETER SECTION

PRESS TRANSLATIONS

SOCIAL SERIES: 18

ITEM 1 Sumo - Yomiuri Hochi - Nov 45 - Translator: H. Nishihara.
Summary:

American reporters and soldiers visited Japanese wrestlers training areas at RYOGOKU, 10 November 1945. There AZUMAFUJI CHIYONOYAMA and 50 other wrestlers were training. The reporters and soldiers were particularly interested in the size and the ornamental arrangements of hair of the wrestlers.

ITEM 2 New police control for amusement centers - Yomiuri Hochi - 12 Nov 45 - Translator: T. ogawa.
Summary:

The recent increase of crime is due to the shortage of police stations, and the inadequate disposition of policeman since air-raids. The Metropolitan Police Bureau has decided to use as new measures to control crime, A ''double-patrol" system and the "police defense guard stations" opened 10 November 1945.

The "double-patrol" system is carried on as follows: The whole personnel of the present seven battalions of Police Defense Guard, 4,000 strong is divided into pairs. Each pair makes its petrol, either by foot or on bicycles, in such places as busy neighborhoods, red light districts, etc., where crimes occur comparatively frequently. When on night-patrol they will carry a lantern with three red stripes with them.

The quarters designated for this patrol are as follows: The big railway stations including SHINJUKU, UENO, AKIHABARA, KANDA, where crimes are prevalent, and business centers like GINZA, MARUNOUCHI, ASAKUSA, and SHIBUYA, etc. In addition to this plan, scores of "Police Defense Guard Stations" will be established in existing buildings and barracks within their areas. These stations will be manned by police under the super vision of an officer. Emergencies will be handled by mobile forces in cooperation with near-by police stations, and police boxes.

ITEM 3 Reform of Japanese Scientific Education - Tokyo Shimbun - 12 Nov 45 - Translator: C. Gilbert.
Summary:

The Ministry of Culture, according to the TOKYO SHIMBUN has realized the necessity of raising the level of scientific education in the schools as well as that of the general public, and has started on this work through the broadened and strengthened Bureau of Scientific Education. Scientific works are to be translated and the study of Japanese as well as foreign scientific matters will be encouraged.

To effect broad reforms in scientific education, the prevailing conditions in the elementary and middle schools, the cities, farming and fishing villages as well as the present facilities for scientific research of the civil world and the state should be investigated. Simple scientific museums for the general public should be installed in all the provinces. At the teachers colleges, greater stress is to be laid on the scientific education of teachers in public schools and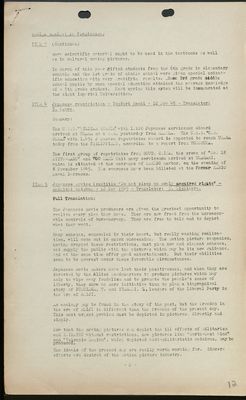 (View Page Image)
SOCIAL SERIES: 18 Continued)
more scientific material ought to he used in the textbooks as well as in cultural moving pictures.

In March of this year gifted students from the 6th grade in elementary schools and the 1st grade of middle school were given special scientific education with very gratifing results. Some 3rd grade middle school pupils by such special education attained the average knowledge of a 5th grade student. Next spring this system will be inaugurated at the eight Imperial Universities.

ITEM 4 Japanese repatriation - Yomiuri Hochi - 12 Nov 45 - Translator: T. Ogawa.
Summary:

The U.S.S. "WILLAM SUMMER" with 1,110 Japanese servicemen aboard arrived at URAGA at 8 a.m. yesterday from MANILA. The U.S.S. "C.M. COHAN" with 1,491 Japanese repatriates aboard is expected to reach URAGA today from the PHILIPPINES, according to a report from YOKOSUKA.

The first group repatriates from SOUTH CHINA, the crews of "No. 18 NITTO-MARU" and 700 KANE Unit navy servicemen arrived at URAGAMI, which is situated at the entrance of SASEBO harbor, on the evening of 8 November 1945. The evacuees have been billeted at the former HARIO Navel Barracks.

ITEM 5 Japanese movies (subtitle "Do not sleep on newly acquired rights" - Mainichi Shimbun - 12 Nov 1945 Translator: H. Nishihara.
Full Translation:

The Japanese movie producers are given the greatest opportunity to realize every plan they have. They are now freed from the unreasonable controls of bureaucracy. They are free to talk and to depict what they wart.

Many schemes, concealed in their heart, but really wanting realization, will come out in quick succession. The motion picture companies, having dropped these restrictions, must plan new and elegant schemes, and supply the public with the pictures which may be its new guidance, and at the same time offer good entertainment. But their abilities seem to be poorest under these favorable circumstances.

Japanese movie makers have lost their positiveness, and when they are directed by the Allied headquarters to produce pictures which may help to wipe away feudalism and to promote the people's sense of liberty, they show no more initiative than to plan a biographical story of FUKUZWA, T. and ITAGAKI, leaders of the Liberal Party in the era of MEIJI.

An analogy may be found in the story of the past, but the freedom in the era of MEIJI is different than the freedom of the present day. This most urgent problem must be depicted in pictures, directly and simply.

Now that the moving pictures can depict the ill effects of militarism and ZAIBATSU with out restrictions, new pictures like "North-East Wind" and "Volcanic Region", which depicted anti-militaristic opinions, maybe produced.

The ideals of the present day are really worth working for. Sincere efforts are desired of the notion picture industry.

- 2 -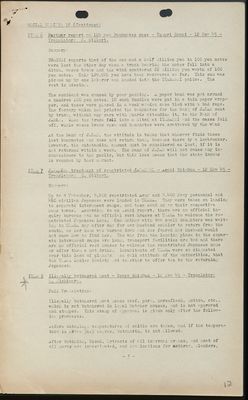 (View Page Image)
ITEM 6 Further report on 100 yen Banknotes case - Yomuri Hochi - 12 Nov 45 - Translator: C. Gilbert.
Summary:

YOMIURI reports that of the one and a half million yen in 100 yen notes were lost the other day when a truck bearing the notes fell into a ditch, cases broke and the wind scattered 22 million yen worth of 100 yen notes. Only 129,000 yen have beer, recovered so far. This sum was picked up by one laborer and handed into the ITABSHI police. The rest is missing.

The accident was caused by poor packing. A paper band was put around a hundred 100 yen notes, 10 such bundles were put in a thin paper wrap- per, and these were placed in a weak wooden case tied with a bad rope. The factory which had printed the banknotes for the Bans of JAPAN sent by truck, without any cars with guards attending it, to the Bank of JAPAN When the truck fell into a ditch at ITABASHI and the cases fell off, whole cases broke open and banknotes were scattered by the wind

At the Bank of JAPAN, the attitude is taken that whoever finds these lost banknotes and does not return them, becomes there by a lawbreaker. However, the outstanding amount must be considered as lost, if it is not returned within a week. The Bank of JAJAN will not cause any in convenience to the public, but this loss means that the state income is reduced by that amount.

ITEM 7 JAPANESE treatement of repatriated JAPANESE - Asahi Shimbun - 12 Nov 45 - Translator: C. Gilbert.
Summary:

Up to 9 November, 9,800 repatriated Army and 9,400 Navy personnel and 460 civilian Japanese were landed in URAGA. They were taken on landing to separate internment camps, and then send on to their respective home towns. According to an Asahi report, there are no official inquiry bureaus and no official rest houses at UKAGA to welcome the repatriated Japanese home. One mother with two small daughters was waiting in UKAGA after day for her husband soldier to return from the south, as her home was burned down and she feared her husband would net know how to find her. The way from the landing place to the separate internment camps are long, transport facilities are bad and there are no official rest houses to welcome the repatriated Japanese home or offer then a hot drink. Inhabitants of UKAGA were so disgusted over this lack of planning and cold attitude of the authorities, that the UKAGA Ladies Society got together to offer tea to the returning Japanese.

ITEM 8 Illegally butchered meat - Tokyo Shimbun - 12 Nov 45 - Translator: H. NIshibara
Full Translation:

Illegally butchered neat means beef, pork horseflesh, mutton, etc., which is not butchered in legal butcher houses, and is not approved and stamped. This stamp of approval is given only after the following processes.

before butching, temperatures of cattle are taken, and if the temperature is above 36.5 degree, butchering is not allowed.

After butching, blood, Extracts of all internal organs, and meat of all parts are investigated, and examinations for anthrax, glanders,

- 3 -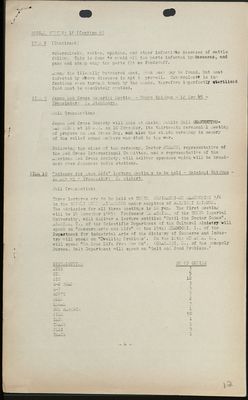 (View Page Image)
SOCIAL SERIES: 18 (Continued)
tuberculosio, rabies, aphthae, and other infectious deseases of cattle follow. This is done to avoid all the parts infected bye deseases, and pass and stamp only the parts fit as foodstuff.

Among, the illegally butchered meat, good neat nay be found, but meat infected by above diseases is apt to prevail. Tuberculosis is infectious even through touch by the hands, therefore imperfectly sterilized food must be absolutely avoided.

ITEM 9 Japan Red Cross Memorial Meeting - Tokyo Shimbun - 12 Nov 45 - Translator: H. Nishihara
Full Translation:

Japan Red Cross Society will hold at Musiam Public Hall (HAKUBUTSU - KAN KODO) at 10 a.m. on 10 November, its thirteenth ceremonial meeting of prayers on Red Cross Day, and also the eighth ceremony in memory of the relief squad members who died in the war.

Following the close of the ceremony, Doctor JUNAUD, representative of the Red Cross International Committee, and a representative of the American Red Cross Society, will deliver speaches which will be broad- cast over Japanese radio stations.

ITEM 10 "Science for Home Life" lecture meetings to be held - Mainichi Shimbun - 12 Nov 45 - Translator: C. Gilbert.
Hull Translation:

Three lectures are to be held at TOKYO, KOJIMACHI-KU MARUNOUCHI 3/4 in the SEIMEI HO
[illegible]
AIKANKODO under auspices of MAINICHI SHIMBUN. The admission for all three meetings is 10 yen. The first meeting will be l4 November 1945: Professor KAWASHIMAof the TOKYO Imperial University, will deliver a lecture entitled "Until the Doctor Comes", ASAHINA, T., of the Scientific Department of the Cultural Ministry will speak on "Measurements and Life" or. the 15th: KENMOCHI, I., of the Department for industrial Arts of the Ministry of Commerce and Industry will speak on "Dwelling Problems' On the l6th: MU
[illegible]
ACHA, H., will speak "On Home Life From Now On". KOBAYASHI, E., of the monopoly Bureau, Salt Department will speak on "Salt and Food Problems."
| | |
| --- | --- |
| DISTRIBUTION | NO OF COPIES |
| ATIS | 3 |
| CIE | 5 |
| CIS | 12 |
| G-2 SCAP | 3 |
| C-3 | 3 |
| GOV'T | 2 |
| BNLO | 2 |
| LEGAL | 3 |
| COL MASHBIR | 1 |
| FILE | 50 |
| INFO | 1 |
| TRANS | 1 |
| PERI | 5 |
| TRAIN | 1 |
- 4 -