Press translations [Japan]. Social Series 0016, 1945-11-14.
translation-number: social-0053
call-number: DS801 .S84
---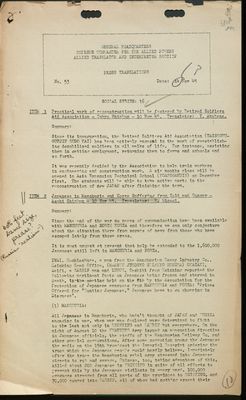 (View Page Image)
GENERAL HEADQUARTERS

SUPREME COMMANDER FOR THE ALLIED POVERS

ALLIED TRANSLATOR AND INTER!RETER SECTION

PRESS TRANSLATIONS

SOCIAL SERIES: 16

ITEM 1 Practical work of reconstruction will be fostered by Retired Soldiers Aid Association - Tokyo Shinbun - 10 Nov Translator: Y. Akabane.
Summary:

Since Its inauguration, the Retired Soldiers Aid Association (TAISHOHU-GUFJIN HODO FAI) has been actively engaged in the work of reestablishing demobilized soldiers in all walks of life. For instance, assisting them in getting employment, returning them to farms and schools and so forth.

It was recently decided by the Association to help train workers in engineering and construct ion work. A six months class will be opened in Asia Expansion Technical School (KOAKOGAKUIN) on December first. The students will be able to take active parts in the reconstruction of new JAPAN after finishing the term.

ITEM 2 Japanese in Manchuria and Korea Suffering from Cold and Hunger - Asahi Shimbun - 10 Nov 45. Translator: K. Minagi.
Summary:

Since the end of the war no means of communication have been available with MANCHURIA and NORTH KOREA and therefore we can only conjecture about the situation there from scraps of news from those who have escaped lately from those areas.

It is most urgent at present that help be extended to the 1,600,000 Japanese still left in MANCHURIA and KOREA.

IWAI, Hachisabure, a man from the Manchurian Heavy Industry Co., Hsinking Head Office, (MANSHU JUKOGYO SHINKYO HONSHA) OKAZAKI, Seifi, a HARBIN man and INOUE, Teshiki from Hsinking reported the following pertinent facts on Japanese being frozen and starved to death, in the meeting held on the 8th by the Association for the Protection of Japanese evacuees from MANCHURIA and KOREA: "Prizes Offered for Hunting Japanese." Japanese have to go shopping in Disguese".

(l) MANCHURIA:

All Japanese in Manohuria, who hadn't thought of JAPAN and RUSSIA engaging in war, when war was declared were determined to fight to the last not only in HSINKING and HARBIN but everywhere. On the night of August 10 the KWANTUNG Army issued an evacuation directive to Japanese officials, the staffs of the Manchurian Railway Co. and other special corporations. After some commotion among the Japanese the radio on the l5th broadcast the Imperial Rescript ordering the truce which the Japanese people could hardly believe. Immediately after the truce the Manchurian rebel army streamed into Japanese streets to rob and ravage. Chinese, too, taking advantage of this, killed about 200 Japanese in HSINKING in spite of all efforts to prevent this by the Japanese vigilants in every ward, 100,000 evacuees streamed from all parts of the provinces to HSINKING, and 70,000 poured into HARBIN, all of whom had nothing except their

(View Page Image)
SOCIAL SERIES: 16 (Continued)
clothes they had on, their luggage having been taken by Manchurians, They were living in school-houses, cinema-houses, railway store-houses on floors without any clothing or food or heat. Even with the poor crops this year in MANCHURIA, money could have bought every possible foodstuff but with no anticipation of conflict between JAPAN and RUSSIA Provisions had not been stored away. Their food was probably exhausted in August. There is possibility of their obtaining any fuel because the miners have all turned into bandits. At the end of August the prizes of ¥ 50 or ¥ 70 were offered for capturing one Japanese which is called "Japanese Hunting" and no Japanese could even go shopping in broad daylight without a disguise. By now their money must he exhausted.

(2) NORTH KOREA:

The disturbance in NORTH KOREA is spreading. Travel on trains being impossible in NORTH KOREA Japanese have to travel on foot in disguise. When Japanese enter NORTF KOREA in evacuation trains, they were inspected by the police consisting chiefly of college students. Some communist forces plundered their luggage and in September "Japanese Hunting" was still worse and Japanese had to eat their lunches while in hiding.

Women and children were hid under the floor. A pregnant mother and her daughter were raped and the mother killed herself. The present state of things in MANCHURIA and NORTH KOREA is like hell on earth, Immediate steps for the relief must be taken or else it will mean the death of 1,600,000 Japanese.

ITEM 3 Repatriation of Japanese nationals from South Korea - Nippon Sangyo Keizai - 11 Nov 45. Translator: T. Ogawa.
Summary:

Concerning the repatriation of Japanese from SOUTH KOREA, a transportation schedule covering a two month period from November 1 has been made, by the Allied Forces, and is already under way. Regarding the present situation of Japanese residents in SOUTH KOREA, Mr. WAKAO OIWA, manager of the KEIJO branch of KYODO News Agency (KYODO TSUSHIN SHA), who arrived in TOKYO yesterday, states that: "The transportation schedule made by the Allied. Forces seems to be going on very smoothly. 4,500 Japanese are leaving KEIJO every flay for FUSAN via two trains, while an average of 10,000 evacuees are sent home daily from FUSAN. In KOREA a crop of unprecedented Proportions is expected this year. Because of this rice is being sold at ¥ 6 or ¥ 8 at highest for 1 SHO (3.18 pints): meat is also plentiful. Public feelings have calmed down gradually and there is nothing to worry about concerning the food situation there.

ITEM 4 Tenant-Farming System: Its Reform Urgent Necessity. Land-Owners want payment In Farm Products. Tenants in Money - Mainichi Shimbun - 11 Nov Translator: K, Minagi.
Summary:

Problems in connection with the reform of tenant-farming are still left unsettled and as a result the government is hindered in the purchase of farm products.

- 2 -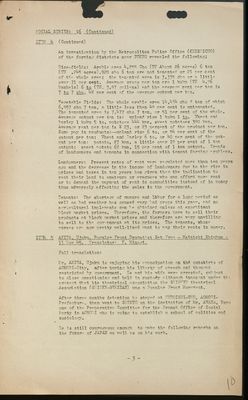 (View Page Image)
SOCIAL SERIES: l6 (Continued)
An investigation by the Metropolitan Police Office (KEISHICHO) of the farming districts near TOKYO revealed the following:

Rice-fields: Arable area 4,255 Cho (TN About 2½ acres) 6 tan (TN .245 acres) 920 cho 6 tan are not tenanted or 21 per cent of the whole area; the tenanted area is 3,335 cho or a little over 71 per cent. Average crops per tan are 1 koku (TK 4.96 bushels) 6
to
(TN. 3.97 gallens) and the average rent per tan is 7
to
7
sho
, 48 per cent of the average output per tan.
Vegetable Fields: The whole arable area 14,434 cho 8 tan of which 6,957 cho 7 tan, a little less than 49 per cent is untenanted. The tenanted area is 7,477 cho 7 tan, or 51 per cent of the whole Average output per tan is: upland rice 1 koku 1
to
. Wheat and barley 1 koku 5 to, potatoes 444 kan, sweet potatoes 390 kan. Average rent per tan is ¥ 23, or 23 percent of the product per tan. Some pay in Products:—upland rice 6 to, or 54 per cent of the output per tan; Wheat and Barley 6 to, or 40 per cent of the output; per tan: potato, 87 kan, a little over 19 per cent of 1 tan output; sweet Potato 62 kan, 15 per cent of 1 tan output. Trends of landowners and tenants in connection with tenant farming problems.
Landowners: Present rates of rent were regulated more than ten years ago and the decrease in the income of landowners due to the rise in prices and taxes in ten years has given them the inclination to rent their land to amateurs or evacuees who can afford more rent or to demand the payment of rent in commodities instead of in money thus adversely affecting the sales to the government.

Tenants: The shortage of manure and labor for a long period as well as bad weather has caused very bad crops this year, and no agricultural implements can be obtained unless at exorbitant black market prices. Therefore, the farmers have to sell their products at black market prices and therefore are very unwilling to sell to the government, at its prices. The tenants, whose purses are now pretty well-lined want to pay their rents in money.

ITEM 5 AKITA. Ujaku, Popular Front Dramatist Set Free - Mainichi Shimbun - 11 Nov 45. Translator: K. Minagi
.
Full translation:

Mr. AKITA, Ujaku is enjoying his emancipation on the outskirts of AOMORI-City, after having his liberty of speech and thought restricted by government, He and his wife were arrested, subject to close questioning and held in custody although innocent under the pretext that his theatrical association the SHINKYO theatrical Association (SHINKY-GEKIDAN) was a Popular Front Movement.

After three months detention he stayed at KUROISHI-CHO, AOMORI-Prefecture, then went to SHINTO on the invitation of Mr. AWAYA, Yuzo one of the Preparative Committee for the Branch Office of Social Party in AOMORI who is going to establish a school of politics and sociology.

He is still courageous enough to make the following remarks on the future of JAPAN as well as on his work.

- 3 -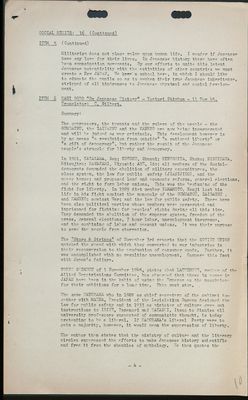 (View Page Image)
SOCIAL SERIES: 16 (Continued)
Militarism does not place value upon human life. I wonder if Japanese have any love for their lives. In Japanese history there have often been emancipation movements. By our efforts to unite this latent Japanese potentiality with the activities of other countries we must create a New JAPAN. We have a school here, in which I should like to educate the pupils so as to awaken their true Japanese inheritance, stripped of all hindrances to Japanese physical and social development.

ITEM 6 HANI GORO "On Japanese History" - Yomiuri Shimbun - 11 Nov 45. Translator: C. Gilbert.
Summary:

The oppressors, the tyrants and the rulers of the people - the GUMBATSU, the ZAIBATSU and the KANRYO are now being incarcerated and will be judged as war criminals. This development however is by no means "a revolution from outside" "a rationed liberty" or "a gift of democracy", but rather the result of the Japanese people's struggle for liberty and democracy.

In 1901, KATAYAMA, Sen; KOTOKU, Shusui; KINOSHITA, Shoko; NISHIKAWA, Mitsujiro; KAWAKAMI, Kiyoshl; ABE, Ido; all members of the Social-democrats demanded the abolition of military expenditures, the class system, the law for public safety (JIANIJIHO), and the upper house; and proposed land and economic reforms, general elections, and the right to form labor unions. This was the beginning of the fight for liberty. In 1929 diet member YAMAMOTO, Kenji lost his life in his fight against the monopoly of the GUMBATSU. ZAIBATSU, and KANRYO; against War; and the law for public safety. There have been also political parties whose members were persecuted and imprisoned for fighting for peoples' rights during all this time. They demanded the abolition of the emperor system, freedom of the press, general elections, 7 hour labor, unemployment insurance, and the combining of labor and peasant unions. It was their purpose to save the people from starvation.

The
"Stars & Stripes"
of November 3rd reports that the SOVIET UNION matched the speed with which they converted to war industries in their reconversion to the production of consumer goods. Further, it was accomplished with no resulting unemployment. Compare this feat with Japan's failure.
TOKYO SHIMBUN of 1 November 1945, states that LATTIMORE, member of the Allied Repatriations Committee, has obvserved that those in power in JAPAN have been in the habit of using the Emperor as the mouthpiece for their ambitions for a long time. This must stop.

The same HATOYAMA who in 1928 as chief secretary of the cabinet together with MAEDA, President of the Legislation Bureau designed the law for public safety and in 1933 as minister of culture gave out instructions to IRIYE. Tanenori and HAYASHI, Itsuo to dismiss all university professors suspected of communistic thought, is today pretending to be a liberal. If HATOYAMA's Liberal Party were to gain a majority, however, it would mean the suppression of liberty.

The author then states that the ministry of culture and the literary circles suppressed the efforts to make Japanese history scientific and free it from the shackles of mythology. He then quotes the

- 4 -

(View Page Image)
SOCIAL SERIES: 16 (Continued)
famous MEIJI journalist FUKUZAVA, Yukichi who asserted there is no history of JAPAN, but only of Japanese governments; that JAPAN has a government but no people; that the Japanese people have not yet become a nation. With all the talk of loyalty and hara-kiri, only the poor peasant SAKURA, Shugoro dared to fight against the government for people's rights. He was persecuted for his beliefs.

The author concludes his article stating that the downfall of JAPAN began with the Manchurian incident, when Japanese capitalism indicated its imperialistic designs. All this will have to be revealed in a new history of JAPAN.

| | |
| --- | --- |
| DISTRIRUTION | NO OF COPIES |
| CIE | 5 |
| CIS | 12 |
| G-2 SCAP | 2 |
| GPA | 3 |
| PUB HEALTH | 3 |
| COL MASHBIR | 1 |
| FILE | 50 |
| INFO | 1 |
| TRANS | 1 |
| PERI | 5 |
| TRAIN | 1 |
- 5 -