Press translations [Japan]. Social Series 0015, 1945-11-14.
translation-number: social-0050
call-number: DS801 .S84
---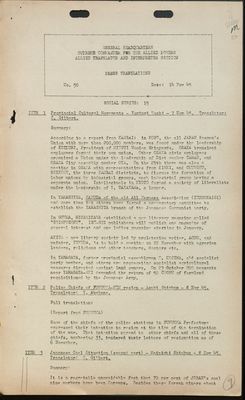 (View Page Image)
GENERAL HEADQUARTERS

SUPREME COMMANDER FOR THE ALLIED POWERS

ALLIED TRANSLATOR AND INTERPRETER SECTION

PRESS TRANSLATIONS

SOCIAL SERIES: 15

ITEM 1 Provincial Cultural Movements - Yomiuri Hochi - 7 Nov 45. Translator: C. Gilbert.
Summary:

According to a report from KANSAI: in KOBE, the all JAPAN Seamen's Union with more than 200,000 members, was found under the leadership of KOIZUMI, President of MITSUI Wooden Shipyards. OSAKA transient employees formed their own union. Other OSAKA civic employees organized a Union under the leadership of Diet member TAMAN, and OSAKA City assembly member OYA. On the 25th there was also a meeting in OSAKA with representatives from KINKI, and CHUKOKU, SHIKOKU, the three KANSAI districts, to discuss the formation of labor unions by industrial groups, each industrial group having a separate union. Intellectuals in KYOTO formed a society of liberalists under the leadership of Y. TAKAYAMA, a lawyer.

In YAMASHINA, KAKUDA of the old All Farmers Association (ZENNNOKAIGI) and more than ten others have formed a preparatory committee to establish the YAMASHITA branch of the Japanese Communist party.

In GUNMA, MINAMIKAVA established a new literary magazine called "SHINPUZOKU". ISE-SHI publishers will publish one magazine of general interest and one ladies magazine starting in January.

AKITA a new library society led by proletarian writer, AONO, and painter, FUKUDA, is to hold a meeting on 22 November with agrarian leaders, religious and other teachers, doctors etc.

In YAMAGATA, former provincial assemblyman K. KOJIMA, old socialist party member, and others are propagating socialist agricultural measures directed, against land owners. On 23 October 200 peasants near YAMAGATA-SHI demanded the return of 50 CHOBU of farmland requisitioned by the Japanese Army.

ITEM 2 Police Chiefs of FUKUOKA-KEN resign - Asahi Shimbun - 8 Nov 45. Translator: Y, Akabane.
Full translation:

(Report from FUKUOKA)

Some of the chiefs of the police stations in FUKUOKA Prefecture expressed their intention to resign at the time of the termination of the war. That intention spread to other chiefs and all of these chiefs, numbering 33 tendered their letters of resignation as of 6 November.

ITEM 3 Japanese Coal Situation (second part) - Mainichi Shimbun - 8 Nov 45. Translator: C. Gilbert.
Summary

It is a regretable unavoidable fact that 70 per cent of JOBAN's coal mine workers have bee n Koreans. Besides these Korean miners about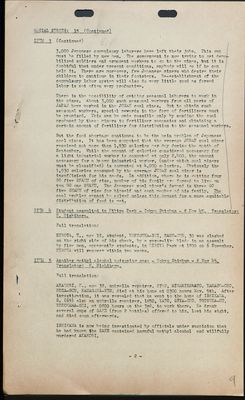 (View Page Image)
SOCIAL SERIES: 15 (Continued)
3,000 Japanese compulsory laborers have left their jobs, This gap must he filled by new man. The government is now trying to get demobilized soldiers and armament workers to go to the mines, but it is doubtful that under present conditions, anybody will go if he can help it. There are moreover, few Japanese miners who desire their children to continue in their footsteps. Re-establishment of the compulsory labor system will also do very little good as forced labor is not often very productive.

There is the possibility of getting seasonal laborers to work in the mines. About 3,000 such seasonal workers from all parts of JAPAN have worked in the JOBAN coal mines. But to obtain such seasonal workers, special rewards in the form of fertilizers must be promised. This can be made possible only by sending the coal produced by these miners to fertilizer companies and obtaining a certain amount of fertilizer for distribution to the seasonal workers.

But the food shortage continues to be the main problem of Japanese coal mines. It has been computed that the average JOBAN coal miner received not more than 1,930 calories per day during the month of September. While the amount of calories considered necessary for a light industrial worker is computed at only 2,400, the amount necessary for a heavy industrial worker, (under which coal miners must be classified) is computed at 4,000 Calories. Obviously the 1,930 calories consumed by the average JOBAN coal miner is insufficient for his needs. In addition, where he is getting four GO five SHAKU of rice, member of his family are forced to live on two GO one SHAKU. The Japanese coal miner's demand, is three GO five SHAKU of rice for himself and each member of his family. The coal problem cannot be solved unless this demand for a more equitable distribution of food is met.

ITEM 4 Student assaulted in Hibiya Park - Tokyo Shimbun - 8 Nov 45. Translator: H. Nishihara
.
Full translation:

KUBOTA, T., age 18, student, YOKOSUKA-SHI, SANO-CHO, 30 was slashed on the right side of his cheek, by a razor-like blade in an assault by five men, apparently students, in HIBIYA Park at 1800 on 6 November. KUBOTA will recover within two weeks.

ITEM 5 Another methyl alcohol poisoning case - Tokyo Shimbun - 8 Nov 45. Translator: H. Nishibara.
Full translation:

AKAHORI, K., age 38, umbrella repairer, 2742, MINAMIYAMATO, YAMATO-CHO, KOZA-GUN, KANAGAWA-KEN, died at his home at 0300 hours Nov, 5th, After investigation, it was revealed that he went to the home of ISEIKAWA, S. (69) also an umbrella repairer, 1850, YATO, SEYA-CEO, TOTSUKA-KU, YOKOHAMA-SHI, at 0800 hours on the 3rd, to work there. He drank several cups of SAKE (from 2 bottles) offered to him, lost his sight, and died soon afterwards.

ISHIKAWA is now being investigated by officials under suspicion that he had known the SAKE contained harmful methyl alcohol and willfully murdered AKAHORI.

- 2 -

(View Page Image)
SOCIAL SERIES: 15 (Continued)
ITEM 6 Abolition of General Rationing Office Old System of Registration of Neighborhood , Association Restored - Nippon Sangyo Kaizai - 8 Nov. 45. Translator: K. Minagi.
Summary:

Because of the new social situation as well as the conveniences of rationing vegetables, fish and other preserved foodstuffs, the much discussed system of the Office for General Rationing of Necessities of Life is to be abolished at the end of November. After December, each separate association concerned is to re-establish, by arrangement between City Authorities and representatives of the consumers and associations concerned, its own delivery offices, restoring the old relationship between the consumers and Delivery Offices by 20 November,

Each Neighborhood Association will have to be registered accordingly between the 21st and 25th. The stable foodstuffs and fuels are to be disposed of as before. Some of the measures to be taken by the associations concerned are as follows:
Vegetables: (Tokyo Vegetable Distribution and Control Association)
Area 35 TOKYO wards, MUSASHINO-CHO, MITAKA-CHO, HACHIOJI CITY, TACHIKAWA CITY.
Number of Distribution Offices to be established: Seven offices per 3,000 consumers.
Mode of Distribution: Consecutive allotment of fixed amount to individual unit.
Delivery: Delivered to the consumers if delivery is necessary.
Fish: (TOKYO FISF DISTRIBUTION and CONTROL Association)
Area: 35 TOKYO Wards, MITAMA.
Number of shops to be opened: One per 3,000 consumers.
Mode of Distribution: Delivery to separate families by Neighborhood units.
Preserved Foodstuffs: (TOKYO PRESERVED FOOD DISTRIBUTION and CONTROL Association)
Area: 35 TOKYO Wards.
Distribution: One shop per one CHOKAI (block of streets)
Liquors and Condiments: (TOKYO

SAKE

SALES Association. TOKYO

MISO

and

SKOYU

SALES Association)
Items: Liquors,

miso

,

shoyu

. salt, vinegar, sauce, canned or bottled food, non-alcoholic drinks, and condiments.
Area: 35 TOKYO Wards.
Shops are distributed according to necessity in areas suffering from bombardment.
- 3 -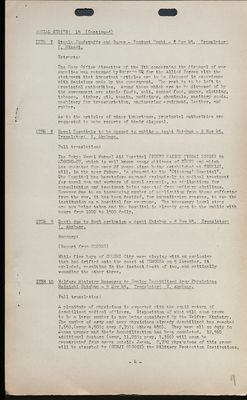 (View Page Image)
SOCIAL SERIES: 15 (Continued)
ITEM 7 Staple Foodstuffs and Sugar Yomiuri Hochi - 8 Nov 45. Translator: K. Minagi.
Extracts:

The Home Office directive of the 7th concerning the disposal of war supplies was returned by Supreme HQ, for the Allied Forces with the statement that important articles are to be disposed in accordance with decisions made by the government. The rest is to he left to provincial authorities. Among those which are to he disposed of by the government are staple foods, salt, canned food, uugar, clothing, tobacco, timber, oil, tannin, medicines, chemicals, sanitary goods, machinery for transportation, engineering equipment, leather, and rubber.

As to the articles of minor importance, provincial authorities are requested to make reports of their disposal.

ITEM 8 Naval Hospitals to be opened to pubile - Asahi Shimbun 8 Nov 45. Translator: Y. Akabane.
Full translation:

The Tokyo Naval Mutual Aid Hospital (TOKYO KAIGUN KYOSAI BYOIN) in MEGURO-KU, which is well known among citizens of TOKYO and which has operated for over 28 years since being established at TSUKIJI, will, in the near future, be changed, to the "Citizens' Hospital". The Hospital has heretofore engaged exclusively in medical treatment for naval men and workers of naval arsenals, no applications for consultation and treatment being accepted from ordinary civilians. However due to an increasing number of application from those suffering from the war, it has been decided, for humanitarian reasons, to use the institution as a hospital for everyone. The necessary legal steps are now being taken and the hospital is already open to the public with hours from 1000 to 1500 daily.

ITEM 9 Death due to Bomb explosion - Asahi Shimbun - 8 Nov 45. Translator: Y. Akabane.
Summary:

(Report from CHOSHI)

While five boys of CHOSHI City were playing with an explosive that had drifted onto the coast at KOMOURA on 5 November, it exploded, resulting in the instant death of two, and critically wounding the other three.

ITEM 10 Welfare Ministry Measures to Employ Demobilized Army Physicians Mainichi Shimbun - Nov 45. Translator: Y. Akabane.
Full translation:

A plenitude of physicians is expected with the rapid return of demobilized, medical officers. Disposition of what will soon prove to be a large number is now being considered by the Welfare Ministry. The number of army and navy physicians already demobilized has reached 7,650,(army 4,500; navy 2,700; others 450). They were all on duty in Japan proper and their demobilization has been completed. 12,560 additional doctors (army, 11 ,200; navy, 1,360) will soon be repatriated from areas outside Japan. 2,700 physicians of this group will be absorbed by (GUNJI HOGOIN) the Military Protection Institutions,

- 4 -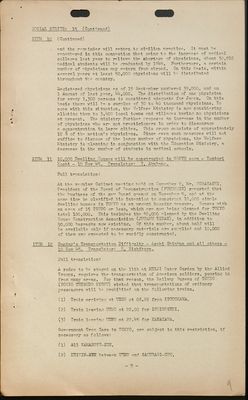 (View Page Image)
SOCIAL SERIES: 15 (Continued)
and the remainder will return to civilian practice. It must he remembered in this connection that owing to the increase of medical colleges last year to relieve the shortage of physicians, about 30,910 medical students will be graduated by 1949. Furthermore, a certain number of Physicians may return from abroad. On this basis, within several years at least 50,000 physicians will be distributed throughout the country.

Registered physicians as of 15 September numbered 39,000, and on 1 August of last year, 44,000. The distribution of one physician for every 1,300 persons is considered adequate for Japan. On this basis there will be a surplus of 30 to 40 thousand physicians. To cope with this situation, the Welfare Ministry is now considering alloting them to 3,400 local towns and villages having no physicians at present. The ministry further proposes an increase in the number of physicians who are not practicioners in order to discourage a consentration in large cities. This group consists of approximately 10 % of the nation's physicians. Since even such measures will not suffice to dispose of the large number of physicians, the Welfare Ministry is planning in conjunction with the Education Ministry, a decrease in the number of students in medical schools.

ITEM 11 10,000 Dwelling Houses will be constructed in TOKYO soon - Yomiuri Hochi 10 Nov 45. Translator: Y. Akabane.
Full translation:

At the regular Cabinet meeting held on November 9, Mr. KOBAYASHI, President of the Board of Reconstruction (FUKUKOIN) reported, that the business of the new Board, opened on November 5, and at the same time he clarified his intention to construct 10,000 simple dwelling houses in TOKYO as an urgent housing measure. Houses with an area of 15 TSUBO or less, which are now being planned for TOKYO total 100,000. This includes the 50,000 planned by the Dwelling House Construction Association (JUTAKU EIDAN), in addition to 50,000 barracks now existing. Of this number, about half will be available only if necessary materials are supplied and 10,000 of them are expected to be rapidly constructed.

ITEM 12 Sunday's Transportation Difficulty - Asahi Shimbun and, all others 10 Nov 45. Translator: H. Nishibara.
Full translation:

A rodeo to he staged on the 11th at MEIJI Outer Garden by the Allied Troops, requires the transportation of American soldiers, pouring in from many areas. For that reason, the Railway Bureau of TOKYO (TOKYO TETSUDO KYOKU) stated that transportations of ordinary passengers will be prohibited on the following trains.

Train arriving at UENO at 08.28 from ITOUOKAWA.
Train leaving UENO at 22.00 for ICHINOSEKI.
Train leaving UENO at 22.45 for KANAZAWA.
Government Tram Cars in TOKYO, are subject to this restriction, if necessary as follows:
All YAMANOTE-SEN.
KEIHIN-SEN between UENO and SAKURAGI-CHO.

- 5 -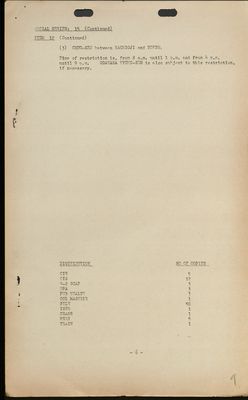 (View Page Image)



SOCIAL SERIES: 15 (Continued)





ITEM 12

(Continued)
CEUO-SEN "between KACHIOJI and TOKYO.
Time of restriction is, from 8 a.m. until 1 p.m. and from 4 p.m. until 9 p.m. ODAWARA KYOKO-SEN is also subject to this restriction, if necessary.

| | |
| --- | --- |
| DISTRIBUTION | NO OF COPIES |
| CIE | 5 |
| CIS | 12 |
| G-2 SCAP | 3 |
| GPA | 3 |
| PUB HEALTH | 3 |
| COL MASHBIR | 1 |
| FILE | 50 |
| INFO | 1 |
| TRANS | 1 |
| PERI | 5 |
| TRAIN | 1 |
- 6 -