Press translations [Japan]. Social Series 0013, 1945-11-15.
translation-number: social-0045
call-number: DS801 .S84
---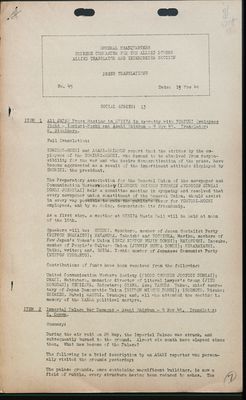 (View Page Image)
GENERAL HEADQUARTERS

SUPREME COMMANDER FOE THE ALLIED POWERS

ALLIED TRANSLATOR AND INTERPRETER SECTION

PRESS TRANSLATIONS

SOCIAL SERIES: 13

ITEM 1 All JAPAN Press Meeting in HIBIYA in sympathy with YOMIURI Employees Fight - Yomiuri-Hochi and Asahi Shimbun - 9 Nov 45. Translator: H. Nishihara.
Full Translation:

YOMIURI-HOCHI and ASAHI-SHIMBUN report that the strikes by the employees of the YOMIURI-HOCHI, who demand to be absolved from responsibility for the war and who desire democratization of the press, have become aggravated as a result of the impertinent attitude displayed by SHORIKI, the president.

The Preparatory Association for the General Union of the newspaper and Communication Workers Society (ZENKOKU SHIMBUN TSUSHIN JYUGYOIN KUMIAI DOMEI JUNBIKAI) held a committee meeting in sympathy and resolved that every newspaper union constituent of the General Union, should assist in every way possible to gain the public's favor for YOMIURI-HOCHI employees, and by so doing, demonstrate its friendship.

As a first step, a meeting at HIBIYA Music Hall will be held at noon of the 10th.

Speakers will be: SUZUKI, Mosaburo, member of Japan Socialist Party (NIPPON SHAKAITO); NAKAMURA, Takaichi and YOSHIOKA, Mariko, members of New Japan's Women's Union (SHIN NIPPON FUJIN DOMEI); NAKANISHI, Inosuke, member of People's Culture Union (JIMMIN BUNKA DOMEI); HIRABAYASHI, Taiko, writer; and, SHIGA, Yoshio member of Japanese Communist Party (NIPPON KYOSANTO).

Contributions of funds have been received from the following:

United Communication Workers Society (KYODO TSUSHIN JUGYOIN DUMIAI); OWAKI , Matsutaro, managing director of Liberal Lawyer's Group (JIYU HOSODAN); SEKIZAWA, Shisetaro; OYAMA, Esa; YASUDA Takeo, chief secretary of Japan Democratic Union (NIPPON MINSHU DOMEI); ISHIMOTO, Risuke; SHIMIZU, Subei; KATSUI, Tsuneya; and, all who attended the meeting in memory of the KANDA political martyrs.

ITEM 2 Imperial Palace War Damages - Asahi Shimbun - 9 Nov 45. Translator: T. Ogawa.
Summary:

During the air raid on 25 May, the Imperial Palace was struck, and subsequently burned to the ground. Almost six month have elapsed since then. What has become of the Palace?

The following is a brief description by an ASAHI reporter who personally visited the grounds yesterday:

The palace grounds, once containing magnificent buildings, is now a field of rubble, every structure having been reduced to ashes. The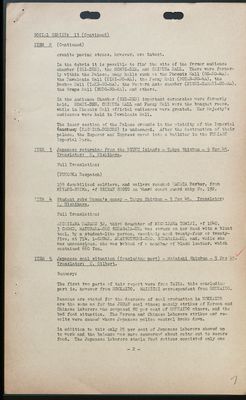 (View Page Image)
SOCIAL SERIES: 13 (Continued)
granite paving stones, however, are intact.

In the debris it is possible to find the site of the former audience chamber (SEI-DEN), the HOMEI-DEN, and CHIKUSA HALL. There were formerly within the Palace, many halls such as the Phoenix Hall (HO-NO-MA), the Pawalonia Hall (KIRI-NO-MA), the Peony Hall (BOTAN-NO-MA), the Bamboo Hall (TAKE-NO-MA), the Western Ante chamber (NISHI-TAMARI-NO-MA), the Grape Hall (BUDO-NO-MA), and others.

In the Audience Chamber (SEI-DEN) important ceremonies were formerly held. HOMEI-DEN, CHIKUSA HALL and Peony Hall were the banquet rooms, while in Phoenix Hall official audiences were granted. Her Majesty's audiences were held in Pawalonia Hall.

The inner section of the Palace grounds in the vicinity of the Imperial Sanctuary (KASHIKO-DOKORO) is undamaged. After the destruction of their palace, the Emperor and Empress moved into a building in the FUKIAGE Imperial Park.

ITEM 3 Japanese returning from the RYUKU Islands - Tokyo Shimbun - 9 Nov 45. Translator: H. Nishihara.
Full Translation:

(FUKUOKA Despatch)

199 demobilized soldiers, and sailers reached HAKATA Harbor, from MIYAKO-SHIMA, of SEINAN SHOTO on board coast guard ship No. 192.

ITEM 4 Student robs Woman's money - Tokyo Shimbun - 9 Nov 45. Translator: H. Nishihara.
Full Translation:

MICHIZAWA HANAKO 32, third daughter of MICHIJAWA TOMIJI, of 1040, 3 CHOME, MATUBARA-CHO SEDAGAYA-KU, was struck on her head with a blunt tool, by a student-like person, seemingly aged twenty-four or twenty-five, at 714, 1-CHOME, AKATSUTSUMI-CHO, SEDAGAYA-KU, and, while she was unconscious, she was
[illegible]
obbed of a handbag of black leather, which contained 660 Yen.
ITEM 5 Japanese coal situation (Concluding part) - Mainichi Shimbun - 9 Nov 45. Translator: C. Gilbert.
Summary:

The first two parts of this report were from TAIRA, this concluding part is, however from HOKKAIDO. MAINICHI correspondent from HOKKAIDO.

Reasons are stated for the decrease of coal production in HOKKAIDO are the same as for the JOBAN coal mines; namely strikes of Korean and Chinese laborers who composed 80 per cent of HOKKAIDO miners, and the bad food situation. The Korean and Chinese laborers strikes and revolts were caused where Japanese police control broke down.

In addition to this only 25 per cent of Japanese laborers showed up to work and the balance was more concerned about going out to secure food. The Japanese laborers staple food rations consisted only one

- 2 -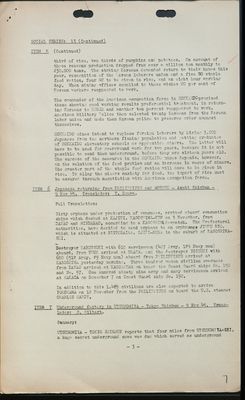 (View Page Image)
SOCIAL SERIES: 13 (Continued)
third of rice, two thirds of pumpkins and potatoes. On account of these reasons production dropped from over a million ton monthly to 230,000 tons. The strking Koreans demanded return to their homes this year, recognition of the Korean laborers union and a five GO staple food ration, four GO to be given in rice, and an eight hour working day. When mining offices complied to these wishes 20 per cent of Korean workers reappeared to work.

The commander of the American occupation force in HOKKAIDO promised those showing good working results preferential treatment, in returning Koreans to KOREA and another ten percent reappeared to work, American Military Police then selected twenty Koreans from the Korean labor union and made them Korean police to preserve order amongst themselves.

HOKKAIDO mines intend to replace foreign laborers by hiring 3,000 Japanese from the northern fishing population and getting graduates of HOKKAIDO elementary schools as apprentice miners. The latter will have to be used for overground work for two years, because it is not possible to send them underground, before they are sixteen years old. The success of the measures in the HOKKAIDO mines depends, however, on the solution of the food problem and an increase in wages of miners. The greater part of the staple food ration will have to be given in rice. To allay the miners anxiety for food, the import of rice must be assured, through negotiation with American occupation force.

ITEM 6 Japanese returning from PHILIPPINES and MOTRUK - Asahi Shimbun - 9 Nov 45. Translator: T. Ogawa.
Full Translation:

Sixty orphans under protection of evacuees, arrived aboard evacuation ships which docked at KAJIKI, KAGOSHIMA-KEN on 3 November, from DAVAO and MINDANAO, according to a KAGOSHIMA despatch. The Prefectural authorities, have decided to send orphans to an orphanage JIMPU RYO, which is situated at NITTODAIRA, IJIKI-MURA in the suburb of KAGOSHIMA-SHI.

Destroyer HARUTSUKI with 610 servicemen (427 Army, 189 Navy men) aboard, from TRUK arrived at URAGA, and the destroyer YOIZUKI with 600 (518 Army, 89 Navy men) aboard from PHILIPPINES arrived at KAGOSHIMA yesterday morning. Three hundred women civilian evacuees from DAVAO arrived at KAGOSHIMA on board the Coast Guard ships No. 150 and No. 57. One hundred ninety nine army and navy servicemen arrived at HAKATA on November 7 on Coast Guard ship No. 192.

In addition to this l,485 civilians are also expected to arrive YOKOHAMA on 12 November from the PHILIPPINES on board the U.S. steamer CHARLES HARDY.

ITEM 7 Underground factory in UTSUNOMIYA - Tokyo Shimbun - 9 Nov 45. Translator: C. Gilbert.
Summary:

UTSUNOMIYA - TOKYO SHIMBUN reports that four miles from UTSUNOMIYA-SHI, a huge secret underground cave was dug which served as underground

- 3 -

(View Page Image)
SOCIAL SERIES: 13 (Continued)
aircraft factory for JAPAN. It has an area of 11,000 TSUBO (l tsubo equals 3.95 square yards).

It was planned to transfer to this underground factory, the UTSUNOMIYA and MUSASHINO NAKAJIMA aircraft factories and the First Aircraft Arsenal. NAKAJIMA had planned to manufacture and assemble all the planes it had produced in the above two factories in this underground factory. By June of this year NAKAJIMA had produced 80 Type 84 planes and in August just before the Japanese capitulation, they were ready for large-scale production.

It was called the largest underground aircraft factory of the world. But, when the machines are removed, it will be nothing but a cold and damp vault that may be used for underground ice storage. A vain dream of the GUMBATSU.

ITEM 8 Theatricals - Tokyo Shimbun - 9 Nov 45. Translator: H. Nishihara.
Full Translation:

As the restrictions of wartime are removed, I thought that the comedian ENOKEN would run about the stage, (such was his way of acting before the war), but his acting now is rather timid and reserved.

DOMORI KIDAN (or a tale of a stammerer), original story by KOKUNI, H., scenario and direction by KIKUTA, K., is a comedy of a stammerer, who is troubled by his stammering and goes to a MIAI (or a visit to a lady for the purpose of marriage), and finds that the lady is a stammerer too. It is a comedy of nonsense. Songs and music are not effective, It is not successful.

"Until HIZAKURIGE is written", (HIZAKURIGE is one of Japanese classics of comedy), scenario by OTA, E., direction by SAITO, T. Story is as Fellows: A writer (played by ENOKEN) is embarrassed by bill-collectors and runs away from OSAKA. A clerk (played by KAWAZU, S.) of a SAMISEN (a musical instrument) store, and a girl (played by TAKASUGT, T.) who have run away from home because of unwillingness to marry, go with the writer. They all go to EDO, and there the writer publishes "HIZAKURIGE" and becomes famous. The girl and clerk return to OSAKA hand in hand.

Story is somewhat interesting, but KAWAZU, S. singing keeps the play from being successful as an operetta. ENOKEN's comic acting provoked plenty of laughter by the people who filled the theatre. But with out a good original story, a play can not be real amusement.

Representatives of SHOCHIKU, TOHO, YOSHIMOTO (theatrical companies) received the following directives from the Civil Information and Education Office, American General Headquarters:
Stories which are to be staged must be in accordance with the directive already issued.
Scenarios must be submitted one copy in English, and two copies in Japanese and English to the Civil Information and. Education Office, a week before they are staged.
No revision can be made after the scenarios have been submitted for approval. If revision is necessary, permission must be obtained. Revision without permission may result in prohibition of production.

- 4 -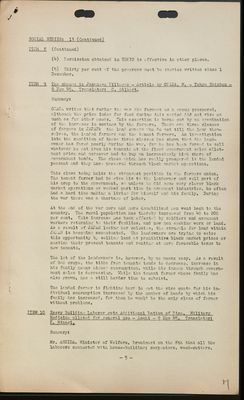 (View Page Image)



SOCIAL SERIES: 13 (Continued)





ITEM 8

(Continued)
Permission obtained in TOKYO is effective in other places.
Thirty per cent of the programs must be stories written since 1 December.
ITEM 9 The change in Japanese Villages - Article by OKADA, M. - Tokyo Shimbun - 9 Nov 45. Translator: C. Gilbert.
Summary:

OKADA writes that during the war the farmers as a group prospered, although the price index for food during this period did not rise as much as for other goods. This assertion is borne out by an examination of the increase in savings by the farmers. There are three classes of farmers in JAPAN: the land owners who do not till the land themselves, the landed farmers and the tenant farmers. An investigation into the condition of these three classes has shown that the landowner has fared poorly during the war, for he has been forced to sell whatever he got from his tenants at the fixed government sales allotment price and moreover had to buy an increasingly high share of government bonds. The class which has really prospered is the landed peasant and they have prosered through black market operations.

This class today holds the strongest position in the farmers union. The tenant farmer had to give his to the landowner and sell part of his crop to the government, so unless he did some very clever black market operations or worked part time in armament industries, he often had a hard time making a living for himself and his family. During the war there was a shortage of labor.

At the end of the war more and more demobilized men went back to the country. The rural population has thereby increased from 40 to 200 per cent. This increase has been effected by soldiers and armament workers returning to their families, and new men seeking work or land. As a result of JAPAN losing her colonies, the struggle for land within JAPAN is becoming accentuated. The landowners are trying to seize this opportunity by selling land at prohibitive black market prices or ousting their present tenants and renting at more favorable terms to new tenants.

The lot of the landowners is, however, by no means easy. As a result of bad crops, the tithe from tenants tends to decrease, increase in his family means higher consumption, while his income through government sales is decreasing. While the tenant farmer whose family has also grown, has a still harder time to subsist.

The landed farmer is fighting hard to get the rice quota, for his individual consumption increased by the number of heads by which his family has increased, for then he would be the only class of farmer without problems.

ITEM 10 Every Building Laborer gets Additional Ration of Rice. Military Medicine alloted for general use - Asahi - 9 Nov 45. Translator: K. Minagi.
Summary:

Mr. ASHIDA, Minister of Welfare, broadcast on the 8th that all the laborers connected, with house-building; carpenters, wood-cutters,

- 5 -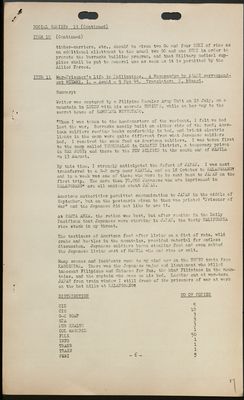 (View Page Image)
SOCIAL SERIES: 13 (Continued)
timber-carriers, etc., should be given two GO and four SEKI of rice as an additional allottment to the usual two GO and one SEKI in order to promote the barracks building program, and that Military medical supplies shall be put to general use as soon as it is permitted by the Allied Forces.

ITEM 11 War-Prisoner's Life in Philippines. A Memorandum by ASAHI correspondent MINAMI, I. - Asahi - 9 Nov 45. Translator: K. Minagi.
Summary:

Writer was captured by a Filipino Regular Army Unit on 19 July, on a mountain in LUZON with his comrade SUGIURA, while on hos way to the secret house of SAMUKAWA MITSUTARO.

"When I was taken to the headquarters of the regiment, I felt we had lost the war. Barracks neatly built on either side of the road; American soldiers reading books comfortably in bed, and bright electric lights in the camp were quite different from what Japanese soldiers had. I received the same food as American soldiers. I was taken first to the camp called TSUGEGALAO in CAGAYEN District, a temporary prison in SAN JOSE; and there to the NEW BILIBID in the south end of MANILA on 13 August.

By this time, I strongly anticipated the defeat of JAPAN. I was next transferred to a G-2 camp near MANILA, and on 18 October to KALANGBANG* and in a week was one of those who were to be sent back to JAPAN on the first trip. The more then 70,000 Japanese who are imprisoned in KALANGBANG* are all anxious about JAPAN.

American authorities permitted communication to JAPAN in the middle of September, but on the postcards given to them was printed "Prisoner of War" and the Japanese did not like to use it.

At SANTA ANNA, the ration was best, but after reading in the Daily Pacifican that Japanese were starving in JAPAN, the tasty CALIFORNIA rice stuck in my throat.

The tastiness of American food after living on a diet of rats, wild crabs and beetles in the mountains, provided material for endless discussion. Japanese soldiers began stealing food and even robbed the Japanese living east of MANILA who had rice or salt.

Many scenes and incidents come to my mind now on the TOKYO train from KAGOSHIMA. There was the Japanese major and lieutenant who killed innocent Filipinos and Chinese for fun, the kind Filipinos in the mountains, and the captain who gave me his bed. Looking out at war-torn JAPAN from train window I still dream of the prisoners of war at work on the hot hills at KALANGBANG*.

| | |
| --- | --- |
| DISTRIBUTION | NO OF COPIES |
| CIE | 5 |
| CIS | 12 |
| G-2 SCAP | 3 |
| GPA | 3 |
| PUB HEALTH | 3 |
| COL MASHZBIR | 1 |
| FILE | 50 |
| INFO | 1 |
| TRANS | 1 |
| TRAIN | 1 |
| PERI | 5 |
- 6 -