Press translations [Japan]. Social Series 0012, 1945-11-13.
translation-number: social-0044
call-number: DS801 .S84
---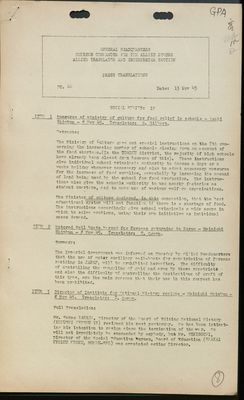 (View Page Image)
GENERAL HEADQUARTERS

SUPREME COMMANDER FOR THE ALLIED POWERS

ALLIED TRANSLATOR AND INTERPRETER SECTION

PRESS TRANSLATIONS

SOCIAL SERIES: 12

ITEM 1 Measures of ministry of culture for food relief in schools - Asahi Shimbun - 8 Nov 45. Transistor: C. Gilbert.
Extracts:

The Ministry of Culture gave out special instructions on the 7th concerning the increasing number of schools closing down on account of the food shortage. (In the TOHOKU district, the majority of high schools have already been closed down because of this). These instructions give individual school principals authority to decree a days or a weeks holiday whenever necessary and also to adopt necessary measures for the increase of food supplies, especially by increasing the amount of land being used by the school for food production. The instructions also give the schools authority to use nearby factories as student quarters, and to make use of various welfare organizations.

The Minister of culture declared, in this connection, that the best educational system will not function if there is a shortage of food. The instructions accordingly give school principals a wide scope in which to solve problems, using their own initiative as individual cases demand.

ITEM 2 Motored Sail boats barred for Koreans returning to Korea - Mainichi Shimbun - 8 Nov 45. Translator: T. Ogawa.
Summary:

The Imperial Government was informed on Tuesday by Allied Headquarters that the use of motor auxiliary sail-boats for repatriation of Koreans residing in JAPAN, will be prohibited hereafter. The difficulty of controlling the smuggling of gold and arms by these repatriate and also the difficulty of controlling the destinations of craft of this type, are the main reasons that their use in this respect has been prohibited.

ITEM 3 Director of Institute for National History resigns - Mainichi Shimbun - 8 Nov 45. Translator: T. Ogawa.
Full Translation:

Mr. Takao YAMADA, Director of the Board of Editing National History (KOKUSHI HENSHU IN) resigned his post yesterday. He has been intimating his intention to resign since the termination of the war. He will not immediately be succeeded by anybody, but Mr. SEKIGUCHI, Director of the Social Education Bureau, Board of Education (SHAKAI KYOIKU KYOKU, MO
[illegible]
BU-SHO) was appointed acting Director.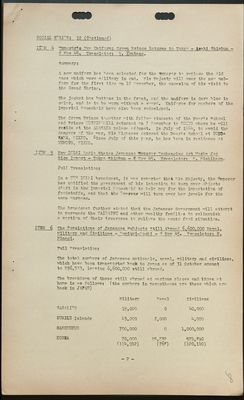 (View Page Image)
SOCIAL SERIES: 12 (Continued)
ITEM 4 Emperor's New Uniform; Crown Prince Returns to Tokyo - Asahi Shimbun - 8 Nov 45. Translator: Y. Akabane.
Summary:

A new uniform has been selected for the Emperor to replace the old ones which were military in cut. His Majesty will wear the new uniform for the first time on 12 November, the occasion of his visit to the Grand Shrine.

The jacket has buttons in the front, and the uniform is dark blue in color, and is to be worn without a sword. Uniforms for members of the Imperial Household have also been redesigned.

The Crown Prince together with fellow students of the Peer's School and Prince YOSHINOMIYA returned on 7 November to TOKYO where he will reside at the AKASAKA palace adjunct. In July of 1944, to avoid the dangers of the war, His Highness entered the Peer's School at TONOSAWA, NIKKO. Since July of this year, he has been in residence at YUMOTO, NIKKO.

ITEM 5 New DELHI Radio States Japanese Emperor Exchanging Art Works for Rice Import - Tokyo Shimbun - 8 Nov 45. Translator: H. Hishihara.
Full Translation:

In a NEW DELHI broadcast, it was reported that His Majesty, the Emperor has notified the government of his intention to turn over objects d'art in the Imperial Household to help pay for the importation of foodstuffs, and that the Empress will turn over her jewels for the same purpose.

The broadcast further stated that the Japanese Government will attempt to persuade the ZAIBATSU and other wealthy families to relinquish a portion of their treasures to relieve the acute food situation.

ITEM 6 The Populations of Japanese Subjects Still Abroad 6,600,000 Naval. Military and Civilians - Yomiuri-Hochi - 8 Nov 45. Translator: K. Minagi.
Full translation:

The total numbers of Japanese nationals, naval, military and civilians, which have been transported back to Japan as of 31 October amount to 296,533, leaving 6,600,000 still abroad.

The breakdown of these still abroad at various places and those at home is as follows: (the numbers in parentheses are these which are back in JAPAN)

| | | | |
| --- | --- | --- | --- |
| | Military | Naval | Civilians |
| SAGALIEN | 19,000 | 0 | 40,000 |
| KURILE Islands | 43,000 | 2,000 | 4,000 |
| MANCHUKUO | 700,000 | 0 | 1,000,000 |
| KOREA | 70,000 (114,912) | 15,232 (768) | 579,890 (120,110) |
- 2 -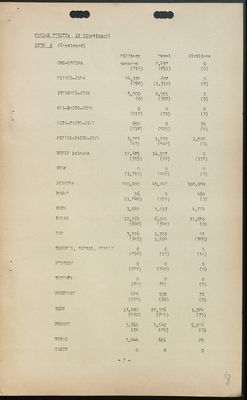 (View Page Image)
SOCIAL SERIES: 12 (Continued)
Military
Naval
Civilians
OMI-OSHIMA
unknown (219)
2,438 (851)
0 (0)
MIYAKO-JIMA
24,332 (258)
678 (1,310)
0 (8)
ISHIGAKI-JIMA
5,900 (0)
2,951 (307)
0 (3)
OKI-DAITO-JIMA
0 (217)
0 (80)
0 (3)
KITA-DAITO-JIMA
650 (218)
0 (515)
30 (4)
MINAMI-DAITO-JIMA
3,283 (4

[illegible]

)
1,130 (542)
1,500 (0)
BONIN Islands
19,685 (315)
14,927 (73)
0 (118)
GUMA
0 (1,719)
0 (926)
0 (0)
FORMOSA
200,000
45, 247
500,000
PAGAN
56 (1,845)
9 (319)
469 (0)
ROTA
1,541
1,913
4,774
PALAO
17,965 (600)
6,091 (349)
11,070 (0)
YAB
3,226 (343)
1,353 (1,200)
27 (385)
TOCOPEY, SONSOI, MERYIE
0 (868)
0 (13)
0 (14)
MELEYON
0 (788)
0 (840)
0 (0)
ENDEBEY
0 (89)
0 719
0 (0)
MORTIOCK
429 (290)
190 (60)
70 (0)
TRUK
13,400 (430)
22,906 (799)
1,524 (71)
PONAPE
5,666 134
2,140 (84)
5,986 (0)
KUSAI
3,444
601
25
YALUT
0
0
0
- 3 -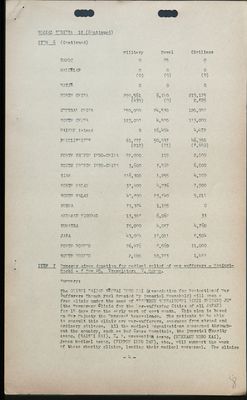 (View Page Image)
SOCIAL SERIES: 12 (Continued)
| | | | |
| --- | --- | --- | --- |
| | Military | Naval | Civilians |
| NAMOC | 0 | 25 | 0 |
| MAICELAP | 0 (0) | 0 (0) | 0 (0) |
| WATJE | 0 | 0 | 0 |
| NORTH CHINA | 299,561 (439) | 6,14 (0) | 219, 175 2,825 |
| CENTRAL CHINA | 750,000 | 24,530 | 120,000 |
| SOUTH CHINA | 123,000 | 4,520 | 113,000 |
| HAINAN Island | 0 | 16,494 | 4,472 |
| PHILLIPPINES | 61,727 (212) | 50,937 (21) | 46,350 (8,650) |
| NORTH FRENCH INDO-CHINA | 22,000 | 119 | 2,000 |
| SOUTH FRENCH INDO-CHINA | 3,600 | 7,962 | 6,000 |
| SIAM | 116,300 | 1,255 | 4,100 |
| NORTH MALAY | 37,400 | 4,236 | 7,900 |
| SOUTH MALAY | 48,800 | 23,840 | 9,211 |
| BURMA | 73,384 | 1,195 | 0 |
| ANDAMAN NICOBAI | 13,398 | 6,062 | 33 |
| SUMATRA | 70,000 | 4,087 | 4,760 |
| JAVA | 43,094 | 18,011 | 8,504 |
| NORTH BORNEO | 26,476 | 8,560 | 11,000 |
| SOUTH BORNEO | 2,109 | 10,783 | 1,483 |
ITEM 7 Emperor gives donation for medical relief of war sufferers - Yomiuri-Hochi - 8 Nov 45. Translator: T. Ogawa.
Summary:

The ONISHI ZAIDAN SENSAI ENGO KAI (Association for Protection of War Sufferers Though Fuel Granted By Imperial Household) will open a free clinic under the name of "ZENKOKU SENSAITOSHI RINJI SHINRYO JO" (the Temporary Clinic for the War-suffering Cities of all JAPAN) for 15 days from the early part of next month. This plan is based on Her Majesty the Empress' benevolence. The patients to be able to consult this clinic are war-sufferers, evacuees from abroad and ordinary citizens. All the medical organizations concerned the throughout the country, such as Red Cross Hospitals, the Imperial Charity Assoc, (SAISEI KAI), T. B. prevention Assoc. (KEKKAKU YOBO KAI), Japan Medical Assoc. (NIPPON IRYO DAN), et., will support the work of these charity clinics, lending their medical personnel. The clinics

- 4 -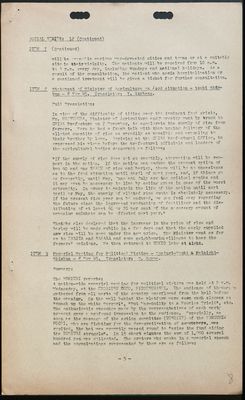 (View Page Image)
SOCIAL SERIES: 12 (Continued)
Will be opened in various war-devasted cities and towns or at a suitable site in their vicinity. The patients will be received from 10 a.m. to 3 p.m. every day, including Sundays and national holidays. As a result of the consultation, the patient who needs hospitalization or a continued treatment will be given a ticket for further consultation.

ITEM 8 Statement of Minister of Agriculture on Food situation - Asahi Shimbun - 8 Nov 45. Translator: Y. Akabane.
Full Translation:

In view of the difficulty of tiding over the imminent food crisis, Mr. MATSUMURA, Minister of Agriculture and Forestry went by truck to CHIBA Prefecture on 7 November, to accelerate the supply of rice from farmers. Here he had a frank talk with them urging delivery of the allotted quantity of rice as speedily as possible and appealing to their brother by love. Arriving at the CHIBA Prefectural Office, he expressed his views before the prefectural officials and leaders of the agricultural bodies concerned as follows:

"If the supply of rice does not go smoothly, starvation will be rampart in the nation. If the nation can endure the present ration of two GO and one SHAKU of rice and barley, there will be no uneasiness as to the food situation until April of next year, and, if things go on favorably, until May. June and July are the critical months and it may even be necessary to live by eating grass in case of the worst extremity. In order to maintain the life of the nation until next April or May, the supply of allotted rice quota is absolutely necessary. If the present rice year can be endured, we can feel easy regarding the future since the increased production of fertilizer and the distribution of at least 60 or 70 per cent of the necessary amount of ammonium sulphate can be effected next year."

Their he also declared that the increase in the price of rice and barley will be made public in a few days and that the early supplied new rice will be come under the new price. The Minister went as far as to NARITA and SAHARA and some neighbourim villages to hear the farmers' opinions. He then returned to TOKYO late at night.

ITEM 9 Memorial Meeting for Political Victims - Yomiuri-Hochi & Mainichi-Shimbun - 8 Nov 45. Translator: T. Ogawa.
Summary:

The YOMIURI reports:

A nation-wide memorial meeting for political victims was held at 2 p.m. Wednesday, at the KYORITSU KODO, HITOTSUBASHI. The audience of thousands gathered from all parts of the country overflowed from the hall before the opening. On the wall behind the platform were seen such slogans as "Smash up the white Terror!", "Put War-Guilty to a Peoples Trial!", etc. The enthusiastic speeches made by the representatives of each party present gave a profound impression to the audience. Especially, as soon as the message of the action committee (TOSOIIN) of the YOMIURI-HOCHI, who are fighting for the democratization of newspapers, was recited, the hat was promptly passed round to "arise the fund aiding the YOMIURI struggle". In 15 short minutes the sum of 1,000 several hundred yen was collected. The orators who spoke in a memorial speech and the organizations represented by them are as follows:

- 5 -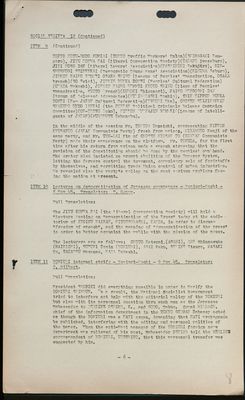 (View Page Image)
SOCIAL SERIES: 12 (Continued)
TOKYO KOTU-RODO KUMIAI (TOKYO Traffic Workers! Union) (SHIMAGAMI Zengoro), JIYU KONWA KAI (Liberal Convesation Society) (TAKANO Iwasaburo), JIYI HOSO DAN (Liberal Lawers' Association (NASHINOKI Sakjiro), MINSHUSHUGI SEINENKAI (Democratic Young mens' Association) (KIMURA Saburo), JINMIN KAIHO REMMEI OSAKA SHIBU (League of Peoples' Emancipation, OSAKA branch) (SO Seiei), JINMIN BUNKA DOMEI (Peoples' Cultural Federation) (OWADA Takeshi), JINMIN KAIHO REMMEI KYOTO SHIBU (Liege of Peoples' Emancipation, KYOTO Branch) (KUROKI Shigenori), KAIHO BENGOSHI DAN (Group of Peleased Adovocates) (KUEIBAYASHI Toshio), SHIN NIPPON BUNKA DOMEI (New JAPAN Cultural Federation) (FGUCHI Kan), CHOSEN SEIJIHANNIN SHAKUHO UNDO IINKAI (the KORPAN Political Criminals Release Campaign Committee) (ON-TETSU Boko), NIPPON BUYKAJIN RMEMEI (League of Intelligents of JAPAN) (MUROBUSE Takanobu).

In the middle of the session Mr. TOKUDA Tamaichi, representing NIPPON KYOSANTO (JAPAN Communists Party) fresh from prison, MIYAMOTO Kenji of the same party, and Mr. TEN-KAI Kim of CHOSEN KYOSAN TO (KOREAN Communists Party) made their appearance on the platform. Mr. TOKUDA, for the first time after his return from prison made a speech stressing, that the revision of the Constitution should be done by the peoples' own hand. The orator also insisted on prompt abolition of the Emperor System, letting the farmers control the Govement, compulsory sale of foodstuffs by themselves, and permitting Trade Union control of urban industries. He revealed also the party's policy on the most serious problems facing the nation at present.

ITEM 10 Lectures on democratization of Japanese newspapers - Yomiuri-Fochi - 8 Nov 45. Translator: T. Ogawa.
Full Translation:

The JIYU KONWA KAI (the Liberal Conversation Society) will hold a "Lecture Meeting on Democratization of the Press" today at the auditorium of KYOIKU KAIKAN, HITOTSUBASHI, KANDA, in order to discuss "freedom of speech", and the meaning of "democratization of the press" in order to better acouaint the public with the mission of the press.

The lecturers are as follows; CHOTO Katsumi, (ASAHI), ABE Shinnosuke (MAINICHI) SUZUKI Tomin (YOMIURI). ABAI Kaku, SEKINE Etsuro, MASAKI Ko, TAKATSU MASAKI Ko, TAKATSU Masanao, HARA Takashi.

ITEM 11 YOMIURI internal strife - Yomiuri-Hochi - 9 Nov 45. Translator: C. Gilbert.
Full Translation:

President SHORIKI did everything possible in order to Nazify the YOMIURI SHIMBUN. As a result, the National Socialist Government tried to interfere not only with the editorial policy of the YOMIURI but also with its personnel question thru such men as the Japanese Embassador to BERLINE OSHIMA, K., and GODO, Tako. Count MIRBACH, chief of the information department in the TOKYO GERMAN Embassy acted as though the YOMIURI was a NAZI organ, demanding that NAZI propaganda be published, interfering with the editing and personnel polities of the paper. When the anti-Nazi manager of the YOMIURI foreign news department was relieved of his post, Embassador OSHIMA told the BERLINE correspondent of YOMIURI, URESHINO, that this personnel transfer was suggested by him.

- 6 -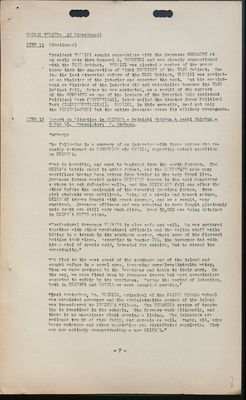 (View Page Image)
SOCIAL SERIES: 12 (Continued)
President SHOBIKI sought connections with the Japanese GUMBATSU at an early date thru General A. NOBUYUKI and was closely connectioned with the TOJO Cabinet, SHORIKI was elected a member of the upper house thru the suggestion of Kishi NOBUSUKE of the TOJO Cabinet. Duing the last attempted reform of the TOJO Cabinet, SHORIKI was nominated as Minister of the Interior and accepted the post. But his appointment as Minister of the Interior did not materialize because the TOJO Cabinet fell, Later he was nominated, as a result of the support of the GUMBATSU as one of the leaders of the Imperial Rule Assistant Political Part (YOKUSEIKAI), later called the Greater Japan Political Part (DAINIHONSEIJIKAI). SHORIKI, in this capacity, used not only the YOMIURI-HOCHI but the entire Japanese press for military propaganda.

ITEM 12 Report on Situation in OKIMAWA - Mainichi Shimbun & Asahi Shimbun - 9 Nov 45. Translator: Y. Akabane.

Summary:

The following is a summary of an interview with three nurses who recently returned to KAGOSHIMA via MANILA, regarding actual condition on OKINAVA.

"War is horrible, and must be banished from the earth forever. The OKINAWA battle ended in utter defeat, and the OKINAWANS made many sacrifices having been driven from behind to the very front live. Japanese forces posted native OKINAWAN troops in the most dangerous secters to act defensive walls, and the OKINAWANS fell one after the other before the onslaught of the powerful American forces. Even girl students were mobilized. Being of a simple and honest nature, OKINAWAN troops fought with great courage, and as a result, many survived. Japanese officers and men reported to have fought gloriously unto death are still very much alive. Over 30,000 are being detained in OKINAWA HONTO alone.

"Prefectural Governor SHIMADA is also safe and well, He was captured together with other prefectural officials and the police staff while hiding in a trench in the southern sector, where some of the fiercest battles took place. According to Doctor OTA, the Governor had with him a vial of cyanic acid, intended for suicide, but he missed the opportunity."

"We fled to the west coast of the southern end of the island and sought refuge in a coral cove, immersing ourselves in to the water. Then we were captured by the Americans and taken to their camp, On the way, we were fired upon by Japanese troops but were nevertheless escorted to safety by the Americans. During the period of detention, both in OKINAWA and MANILA we were occupied nursing."

"Last September, Mr. SHIKIYA, principal of the KAINAN Middle School was appointed governer and the administrative center of the island was transferred to ISHIKAWA Village. The TERAKOYA system of teaching is practiced in the schools. The farmers work diligently, and there is no uneasiness about earning a living. The islanders are rationed two Go of rice daily, and cereals as well. Sugar, oil, soya beans potatoes and other vegetables are distributed regularly. They are now actively reconstructing a new OKINAWA."

- 7 -

(View Page Image)
SOCIAL SERIES: 12 (Continued)
According to an ASAH dispatch from MIYAZAKI, the survivers on OKINAWA HONTO number about 300,000 and the war casualties about 100,000. About 50 per Cent of the army and navy men have survived. Governor SHIMADA is now in detention and Mr. K. IKEDA. Chief Prosecutor and Mr. S. MIZUTANI, Chief of the District Court are also safe.

| | |
| --- | --- |
| DISTRIBUTION | NO OF COPIES |
| CIE | 5 |
| CIS | 12 |
| G-2 SCAP | 3 |
| GPA | 3 |
| PUB HEAITH | 3 |
| COI MASHBIR | 1 |
| FILE | 50 |
| INFO | 1 |
| TRANS | 1 |
| PERI | 5 |
| TRAIN | 1 |
- 8 -