Press translations [Japan]. Social Series 0011, 1945-11-13.
translation-number: social-0043
call-number: DS801 .S84
---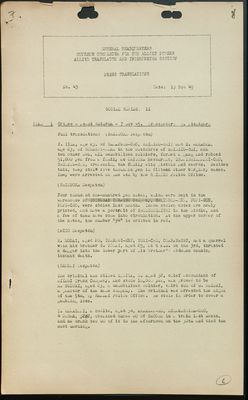 (View Page Image)
GENERAL HEADQUARTERS

SUPREME COMMANDER FOR THE ALLIED POWERS

ALLIED TRANSLATOR AND INTERPRETER SECTION

PRESS TRANSLATIONS

SOCIAL SERIES: 11

ITEM 1 Crimes - Asahi Shimbun - 7 Nov 45. Translator: H. Nishihara
Full translation: (SHIZUOKA Despatch)

F. IIDA, age 23, of YAMAFUKU-CHO, SHIMIZU-SHI; and Z. MURAOKA, age 23, of SODESHI-MURA in the outskirts of SHIMIZU-SHI, and ten other men, all demobilized soldiers, formed a gang and robbed 51,000 yen from a family at CH
[illegible]
OSE Resturant, TSUJ ISH
[illegible]
KI-CHO, SHIMIZU-SHI, treatening the family with pistols and swords. Besides this, they stole five thousand yen in fifteen other burglary cases. They were arrested on the 6th by the SHIMIZU Police Office.
(SHIZUOKA Despatch)

Four thousand one-hundred yen notes, which were kept in the warehouse of TOTSUBAN INSATSU Company, SHIZUOKA-KEN, FUJI-GUN, FUJI-CHO, were stolen last month. These stolen notes are newly printed, and have a portrait of SHOTOKUTHISHI in the middle, and a few of them have come into circulation. At the upper corner of the notes, the number ''94" is written in red.

(MITO Despatch)

H. NODAI, aged 20, IBARAGI-KEN, YUKI-CHO, ODABAYASHI, had a quarrel with his brother S. NODAI, aged 25, at 6 a.m. on the 3rd, thrusted a dagger into the lower part of his brother's abdomen causing instant death.

(SENDAI Despatch)

The criminal who killed TANIYA G. Aged 32, chief accountant of MIYAGI Truck Company, and stole 16,000 yen, was proved to be M. SUZUKI, aged 23, a demobilized soldier, third son of G. SUZUKI, a janitor of the same company. The criminal was arrested the night of the 5th, by SENDAI Police Office. He stole in order to cover a gambling loss.

I. KAWATANI, a coolie, aged 34, ARHAKAWA-KU, MIKAWASHIMA-CHO, 4 CHOME, 3282, obtained three GO of SHOCHO in a train last month, and he drank two GO of it in the afternoon on the 30th and died the next morning.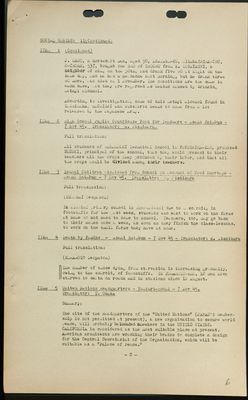 (View Page Image)
SOCIAL SERIES: 11 (Continued)
J.UENO, a horsecart man, aged 50, ARAKAWA-KU, MIKAWASHIMA-CHO, 2-CHOME, 537, bought one SHO of SHOCHU from K. KOBAYASHI, a neighbor of him, on the 30th, drank five GO at night on the same day, and he had a headache next morning, but he drank three GO more, and died on 1 November. The conditions are the same in each case, and they are regarded as deaths caused by drinking methyl alcohol.

According to investigation, some of this methyl alcohol found in TACHIKANA HACHIOJI and outskirts seems to come from a lot released by the Japanese Army.

ITEM 2 High School Pupils Contribute Food for Teachers - Asahi Shimbun - 7 Nov 45. Translator: H. Nishihara.
Full translation:

All students of HARAMACHI Technical School in FUKUSHIMA-KEN, promised SUZUKI, principal of the school, that they would present to their teachers all the crops they produced by their labor, and that all the crops would be divided among their teachers.

ITEM 3 School Children dismissed from school on Account of Food shortage - Asahi Shimbun - 7 Nov 45. Translator: H. Nishihara
Full translation:

(KUMAGAI Despatch)

In HIGASHI Primary school in KUMAGAI-SHI due to a scarcity in foodstuffs for the past week, students who want to work on the farms at home do not need to come to school. Teachers, too, may go back to their homes ones a week, as soon as they finish the class-lessons, to work on the small farms they have at home.

ITEM 4 Death by Famine - Asahi Shimbun - 7 Nov 45 - Translator: H. Nishihara
Full translation:

(KUMAMOTO Despatch)

The number of those dying from starvation is increasing gradually, owing to the scarcity of foodstuffs, In KUMAMOTO-KEN, 12 men have starved to death on roads and in stations since 12 August.

ITEM 5 United Nations Headquarters - Yomiuri - Hochi - 7 Nov 45. Translator: T. OGAWA
Summary:

The site of the Headquarters of the "United Nations'' (JAPAN'S membership is not permitted at present), a new organization to secure world peace, will probably be located somewhere in the UNITED STATES, CALIFORNIA is considered as the most suitable place at present, American architects are wracking their brains to complete a design for the central Secretariat of the Organization, which will be suitable as a "Palace of Peace."

- 2 -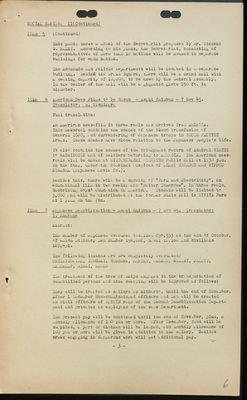 (View Page Image)
SOCIAL SERIES: 11 (Continued)
This photo shows a model of the Secretariat proposed by Mr. Vincent G. RALEY. According to his plans, the Secretariat, consisting of representatives of more than 10 nations will be housed in separate buildings for each nation.

The Economic and Politic Departments will be located in a separate building. Behind the Grand Square, there will be a Grand Hall with a seating capacity of 10,000, to be used by the General Assembly. In the center of the hall will be a gigantic globe 150 ft. in diameter.

ITEM 6 American News Films to be Shown - Asahi Shimbun - 7 Nov 45. Translator: H. Nishihara
Full translation:

An American news-film in three reels has arrived from AMERICA. This newsreel contains the scenes of the blood transfusion of General TOJO, and surrendering of Japanese troops in SOUTH PACIFIC Areas. These scenes have close relation to the Japanese people's life.

It also contains the scenes of the triumphant return of Admiral NIMITZ to WASHINGTON and of soldiers returning to AMERICA. The American newsreels will be shown at HITOTSUBASHI KYORITSU Public Hall at 1:30 p.m. on the 8th., under the combined auspices of ASAHI SHIMBUN and NIPPON EIGASHA (Japanese Movie Co.).

Besides this, there will be a showing of "Farm and Electricity" an educational film in two reels; and "Better Tomorrow", in three reels describing boys' education is American. Tickets will be limited to 3,000 and will be distribution at the former music hall in HIBIYA Park at 1 p.m. on the 7th.

ITEM 7 Japanese Demobilization - Ashai Shimbun - 7 Nov 45. Translator: Y. Akabane
Extract:

The number of Japanese evacuees totaled 296,533 at the end of October, of which military men number 156,882, naval 12,160 and civilians 127,491.

The following islands are now completely evacuated: OKIDAITOJIMA, TOKOBEI, SONSURU, MERIRU, MEREON, ENDABI, JALUIT, MALOELAP, MIREI, NAULU

The treatment of the crew of ships engaged in the transportation of demobilized persons and mine sweeping will be improved as follows:

They will be treated as sailors as hitherto, until the end of November. After 1 December Non-commissioned officers and men will be treated as civil officers of HANNIN rank of the Second Demobilization Department and privates as employees of the same Department.

The present pay will be continued until the end of the November, plus, a monthly allowance of 100 yen or more. After December, food will be supplied a part of clothes will be loaned, an monthly allowance of 100 yen or more will be given in addition to the salary. Besides crews engaging in dangerous work will get additional pay.

- 3 -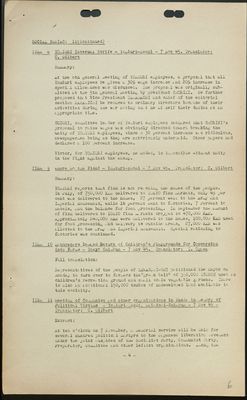 (View Page Image)
SOCIAL SERIES: 11(Continued)
ITEM 8 YOMIURI Internal Strife - Yomirui - Hochi - 7 Nov 45. Translator C. Gillbert
Summary:

At the 6th general meeting of YOMIURI employees, a proposal that all Yomiuri employees be given a 30% wage increase and 20% increase in special allowances was discussed. The proposal was originally submitted at the 5th general meeting by president SHORIKI. He further proposed that Vice President TAKAHASHI and chief of the editorial section NAKAMICHI be reduced to ordinary direction because of their activities during the war adding that he himself their duties at an appropriate time.

SUZUKI, committee leader of Yomiuri employees declared that SHORIKI's proposal to raise wages was obviously directed toward breaking the unity of YOMIURI employees, since a 30 percent increase was ridiculous newspapermen being as they are notoriously underpaid. Other papers had declared a 100 percent increase.

Victory for YOMIURI employees, he added, is impossible without unity in the fight against the enemy.

ITEM 9 Where Go the Fish? - Yomiuri - Hochi - 7 Nov 45. Translator: C. Gilbert
Summary:

YOMIURI reports that fish is not reaching the homes of the people. In July, of 750,000 KAN delivered to TOKYO fish markets, only 49 percent was delivered to the house, 27 percent went to the Army and Imperial household, while 16 percent went to factories, 7 percent to hotels, and the balance for food processing. In September the amounting of fish delivered to TOKYO fish markets dropped to 470,000 KAN. Approximately 240,000 KAN were delivered to the homes, 100,000 KAN used for food processing and delivery to outside areas, 27,000 KAN was allotted to the Army and Imperial Household. Special rationing to factories was continued.

ITEM 10 Landowners Demand Return of Children's Playgrounds for Conversion into Farms - Tokyo Shimbun - 7 Nov 45. Translator: T. Ogawa
Full translation:

Representatives of the people of KAWASAKI-SHI petitioned the Mayor on Monday to turn over to farmers the "green belt" of 350,000 TSUBOS used children's recreation ground and small scale vegetable gardens. There is also an additional 150,000 tsubos of undeveloped land available in this Vicinity.

ITEM 11 Meeting of Communist and other organizations in Kanda in memory of Political Victims - Yomiuri Hochi, Mainichi - Shimbun - 7 Nov 45 - Translator: C. Gilbert
Extract:

At two o'clock on 7 November, memorial service will be hled for several hundred political martyrs to the Japanese liberation movement under the joint auspices of the Socialist Party, Communist Party, Preparatory Committee and other leftist organizations. Among the

- 4 -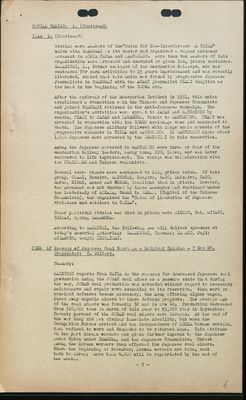 (View Page Image)
SOCIAL SERIES: 11 (Continued)
victims were members of the "Union for Non- Interference in CHINA" which with SHANGHAI as its center had organized a cogent anti-war movement in NORTH CHINA and MANCHUKUO. More than ten members of this organization were arrested and executed or given long prison sentences. NAKANISHI, K., former employee of the Manchurian Railways, who was sentenced for such activities to 15 years imprisonment and was recently liberated, stated that this union was formed by progressive Japanese Journalists in SHANGHAI with the ASAHI journalist OZAKI Shujitsu as its head in the beginning of the SHOWA era.

After the outbreak of the Manchurian Incident in 1931, this union established a connection with the Chinese and Japanese Communists and jointed SHANGAHI citizens in the Anti-Japanese campaign. The organization's activities were spread to JAPAN and MANCHUKUO by sending OZAKI to JAPAN AND KAWAMURA, Yoshio to MANCHUKUO, OZAKI was arrested in connection with the SORGE espionage case sentenced to death. The Japanese military followed with large scale arrested of the progressive elements in CHINA and MANCHUKUO. In MANCHUKUO alone about 1,000 Japanese were arrested by the KEMPETAI in this connection.

Among the Japanese arrested in MANCHUKUO were three or four of the Manchurian Railway leaders, among them, ITO, Takeo, who was later sentenced to life imprisonment. The charge was collaboration with the COMINT
[illegible]
RN and Chinese communists.
Several score others were sentenced to long prison terms. Of this group, OKAMI, Suchiro, HATSUCHI, Zenjiro, SATO, Daishiro, SATO, Haruo, NISHI, Masao and SUZUE, Yoshiichi died in prison. However, the movement was not checked by these measured and continued under the leadership of NOZAKA, Sanni in YEN
[illegible]
, (Captiol of the Chinese Communists), who organized the "Union of liberation of Japanese civilians and soldiers in CHINA".
Other political victims who died in prison were MIZUNO, Sei, MIYAGI, SHIRAI, Gyoku, KAWAMURA.

According to MAINICHI, the following men will deliver speeches at today's memorial gathering; NAKANISHI, Inosuke; NA
[illegible]
ANO, Juji; MIYAMOTO, Genji; KINTAIKAI.
ITEM 12 Reasons of Japanese Coal Shortage - Mainichi Shimbun - 7 Nov 45. Translator:C. Gilbert.
Summary:

MAlNICHI reports from TAIRA on the reasons for decreased Japanese coal production using the JOBAN coal mines as a measure state that during the war, JOBAN coal production was extended without regard to necessary maintenance and repair work essential to its operation. When work on homeland defense became necessary, the Army offering higher wages, lured away capable miners to these defense projects. The average age of the coal miners was formerly 32 and is now 40. Production decreased from 310,000 tons in March of this year to 83,000 tons in September Seventy percent of the JOBAN coal miners were Koreans. At the end of the war they did not display immediate hostility, but when the Occupation Forces arrived and the independence of KOREA became certain, they refused to work and demanded to be returned home. This attitude on the part Korean workers was given further impetus by the Japanese Koran Union under IMAMURA, and the Japanese Communists. Unrest among the Korean workers then effected the Japanese coal miners. Since the beginning, of November, Korean workers are being sent back to Korea; more than 4,000 will be repatriated by the end of the month

- 5 -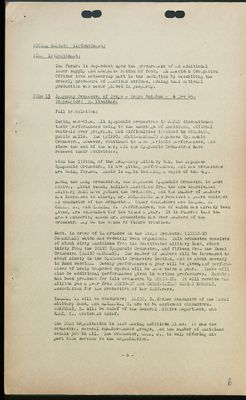 (View Page Image)
SOCIAL SERIES: 11(Continued)
The future is dependent upon the procurement of an additional labor supply and adequate ration of food. An American Occupation Officer took noteworthy part in the mediation by describing the orderly procedure of American strikes, adding that national production was never placed in jeopardy.

ITEM 13 Symphony Orchestra of Tokyo - Tokyo Shimbun - 8 Nov 45 - Translator: H. Nishihara
Full translation:

During war-time, all symphonic orchestras in JAPAN discontinued their performances owing to the shortage of musicians, official controls over programs, and difficulties involved in obtaining public halls. The (NIPPON KOKYO-GAKUDAN) Japanese Symphonic Orchestra, however, continued to make periodic performances, and since the end of the war, all the Symphonic Orchestras have renewed their activities.

With the lifting of the Army-Navy military ban, the Japanese Symponic Orchestra, is now giving performances, and new orchestras are being formed. Music is again becoming a topic of the day.

Among the many orchestras, the Japanese Symphonic Orchestra is most active, About twenty skilled musicians from the now deactivated military Band have joined the Orchestra, and the number of members has increased to ninety. Mr. ROSENSTOCH has received a years contract as conductor of the orchestra, Other conductors are YAMADA, K.ODAKA, N., and TAKATA, S. Performances, one of which has already been given, are scheduled for ten times a year. It is rumored that the great authority which Mr. Rosenstoch has over members of the orchestra may be the cause of future troubles.

Next, in order of importance is the Tokyo Orchestra (TOKYO-TO ONGAKUDAN) which has recently been organized. This orchestra consists of about sixty musicians from the deactivated military Band, about thirty from the TOKYO Symphonic Orchestra, and fifteen from the Naval Orchestra (KAIYO GAKUDAN). The number of members will be increased to about ninety in the Symphonic Orchestra Section, and to about seventy in Band section. Twenty performances a year will be given, and performances of newly composed operas will be made twice a year. There will also be additional performances given in various prefectures. Backing has been promised for this orchestra by TOKYO-TO. It will receive one million yen a year from TOKYO-TO and ONSHI-ZAIDAN SENSAI ENGOKAO, Association for the Protection of fear Sufferers.

YHUAUA, K. will be conductor; NAITO, S., former conductor of the Navl Military Band, and HAYAKAWA, Y. are to be assistant conductors. HORIUCHI, K. will be chief of the General Affairs Department, and KAMI, K., assistant chief.

The TOHO organization is also making ambitious plans. It has one orchestra, several chamber-music groups, and the number of musicians totals 300 in all. The conductor, UEDA, J., is only offering his part time service to the organization.

- 6 -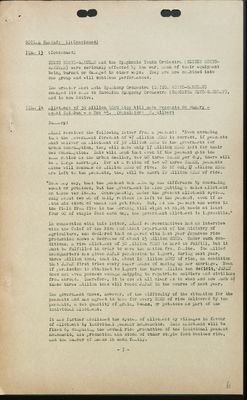 (View Page Image)
SOCIAL SERIES: 11(Continued)
TOKYO KOKYO-GAKUDAN and the Symphonic Youth Orchestra (SEIHEN KOKYO GAKUDAN) were seriously affected by the war, much of their equipment being burned or damaged in other ways. They are now combined into one group and will continue performances.

The Greater East Asia Symphony Orchestra (DAITOA KOKYO-GAKUDAN) changed its name to Shochiku Symphony Orchestra (SHOCHIKU KUYO-GAKUDAN), and is now active.

ITEM 14 Allotment of 30 Million KOKU Rice Will make Peasants Go Hungry - Asahi Shimbun - 8 Nov 45. Translator- C. Gilbert
Summary

ASAHI received the following letter from a peasant: "Even assuming that the government forecast of 47 million KOKU is correct, if peasants must deliver an allotment of 30 million KOKU to the government for urban consumption. This will have only 17 million KOKU left for their own consumption. This will mean that even if the peasant gets the same ration as the urban dweller, two GO three SHAKU per day, there will be large shortage. For at a ration of two GO three SHAKU, peasants alone will consume 28 million AOKU of rice. So if only 17 million KOKU are left to the peasants, they will be short 10 million KOKU of rice,

Some may say, that the peasant can take up the difference by consuming wheat or potatoes, but the government is also putting a sales allotment on those two items, Consequently, under the present allotment system, only about two GO of daily rations is left to the peasant, even if he adds his stock of wheat and potatoes. But, as one peasant who works in the field from five in the morning till eight at night needs at least four GO of staple food each day, the government allotment is impossible.

In connection with this letter, ASAHI representatives had an interview with the Chief of the Rice and Wheat department of the Ministry of Agriculture, who declared that compared with last year Japanese rice production shows a decrease of about 15 million KOKU, Under such conditions, a rice allotment of 30 million KOKU is hard to fulfill, but it must be fulfilled in order to save the nation from famine, The allied Headquarters has given JAPAN permission to import, during next year, three million tons, that is, about 18 million KOKU of rice, on condition that JAPAN first tries every other means of making up her shortage. Even if permission is obtained to import the three million ton deficit,' JAPAN does not even possess enough snipping to repatriate soldiers and civilians from abroad. Therefore, it is not at all clear as to when and now much of those three million tons will reach JAPAN in the course of next year.

The government knows, however, of the difficulty of the situation for the peasants and has agreed to take for every KOKU of rice delivered by the peasants, a set quantity of grain, beans, or potatoes as part of the individual allotment.

It has further abolished the system of allotment by villages in favour of allotment by individual peasant households, This allotment will be fixed by computing the actual rice production of the individual peasant household, his production and stock of other staple food besides rice, and the number of means in each family.

- 7 -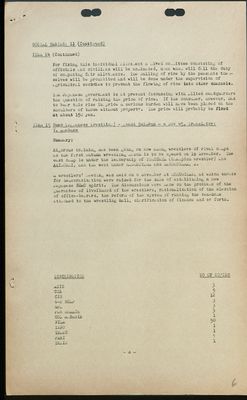 (View Page Image)
SOCIAL SERIES: 11 (Continued)
For fixing this individual allotment a mixed committee consisting of officials and civilians will be nominated, upon whom will fall the duty of computing fair allotments. The hulling of rice by the peasants them selves will be prohibited and will be done under the supervision of agricultral societies to prevent the flowing of rice into other channels.

Japanese government is at present discussing with Allied Headquarters the question of raising the price of rice. If the consumer, however, has to bear this rise in. price a serious burden will have been placed on the shoulders of those without property, The price will probably be fixed at about 150 yen.

ITEM 15 Suno (Japanese Wrestling) - Asahi Shimbun - 8 Nov 45. Translator: Y. Akabane.
Summary:

Rigorous training has been going on now among wrestlers of rival camps as the first autumn wrestling match is to be opened on 16 November. The east camp is under the leadership of YOKOZUNA (Champion wrestler) and AKINOUMI, and the west under HAGUROYAMA and NAYOROYAMA, A.

A wrestlers' meeting was held on 6 November at KORUGIKAN, at which shouts for democratization were raised for the sane of establishing a new Japanese SUMO spirit. The discussions were made on the problems of the guarantee of livelihood of the wrestlers, rationalization of the election of office-bearers, the reform of the system of running the tea-home attached to the wrestling hall, clarification of finance and so forth.

| | |
| --- | --- |
| DISTRIBUTION | NO OF COPIES |
| ATIS | 3 |
| CIE | 5 |
| CIS | 12 |
| G-2 SCAP | 3 |
| GPA | 3 |
| PUB HEALTH | 3 |
| COL MASHBIR | 1 |
| FILE | 50 |
| INFO | 1 |
| TRANS | 1 |
| PERI | 5 |
| TRAIN | 1 |
- 8 -