Press translations [Japan]. Social Series 0010, 1945-11-15.
translation-number: social-0034
call-number: DS801 .S84
---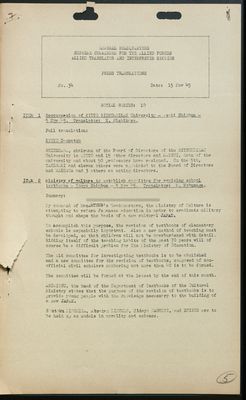 (View Page Image)
GENERAL HEADQUARTERS

SUPREME COMMANDER FOR THE ALLIED FORCES

ALLIED TRANSLATOR AND INTERPRETER SECTION

PRESS TRANSLATIONS

SOCIAL SERIES: 10

ITEM 1 Reconversion of KYOTO RITSUMEIKAN University - Asahi Shimbun - 5 Nov 45. Translator: H. Nishihara.
Full translation:

SHIDEHARA, chairman of the Board of Directors of the RITSUMEIKAN University in KYOTO and 15 other directors and MATSUI, dean of the university and about professors have resigned. On the 5th, TAKEGAMI and eleven others were appointed to the Board of Directors and MAEKAWA and 3 others as acting directors.

ITEM 2 Ministry of culture to establish committee for revising school textbooks - Tokyo Shimbun - 5 Nov 45. Translator: K. Nobunaga.
Summary:

By command of MacARTHUR's Headquarters, the Ministry of Culture is attempting to reform Japanese education in order to eradicate military thought and shape the basis of a new cultural JAPAN.

To accomplish this purposs, the revision of textbooks of elementary schools is especially important. Also a new method of teaching must be developed, so that children will net be overburdened with detail. Ridding itself of the teaching habits of the past 70 years will of course be a difficult problem for The Ministry of Education.

The old committee for investigating textbooks is to be abolished and a new committee for the revision of textbooks, composed of nonofficial civil scholars numbering not more than 40 is to be formed.

The committee will be formed at the latest by the end of this month.

ARIMITSU, the head of the Department of Textbooks of the Cultural Ministry states that the purpose of the revision of textbooks is to provide young people with the knowledge necessary to the building of a new JAPAN.

Sontoku KINOMIYA, Abraham LINCOLN, Hideyo MAGUCHI, and EDISON are to be held up as models in morality and science.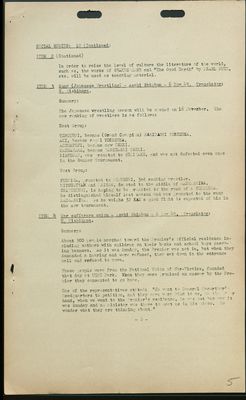 (View Page Image)
SOCIAL SERIES: 10 (Continued)
In order to raise the level of culture the literature of the world, such as, the works of SHAKES EARE and "The Good Earth" by PEARL BUCK, etc. will be used as teaching material.

ITEM 3 Sumo (Japanese Wrestling) - Asahi Shimbun - 6 Nov 45. Translator: H. Mishihara.
Summary:

The Japanese wrestling season will he opened on l6 November. The new ranking of wrestlers is as follows:

East Group:

TERUKUNI, became (Grand Champion) HARIDASHI YOKOZUNA.
AKI, became regal YOKOZUNA.
AZUMAFUJI, became new OSEKI.
MAEDAYAMA, became HARIDASHI OSEKI.
BISHUJAN, was promoted to SEKIWAKE, and was not defeated even once in the Summer Tournament.

West Group:

FUDOIWA, promoted to KOMUSUBI, 3rd ranking wrestler.
MITSUNEYAM and KAISAN, demoted to the middle of MAEGASHIRA.
CHIYONOUNI, is hoping to be promoted to the rank of a YOKOZUNA.
He distinguished himself last season and was promoted to the rank.
MAEGASHIRA. As he weighs 32 KAN a good fight is expected of him in the new tournament.

ITEM 4 War sufferers union - Asahi Shimbun - 6 Nov 45. Translator: H. Nishihara.
Summary:

About 300 people marched toward the Premier's official residence including mothers with children on their backs and school boys carrying banners. As it was Sunday, the Premier was not in, but when they demanded a hearing and were refused, they sat down in the entrance hell and refused to move.

These people were from the National Union of War-Victims, founded that day at UENO Park. When they were promised an answer by the Premier they consented to go home.

One of the representatives stated: "We went to General MacArthur's Headquarters to petition, and they were very kind to us, on the
[illegible]
hand, when we went to the Premier's residence, he was out because it was Sunday and no minister was there to meet us in his place. We wonder what they are thinking about."
- 2 -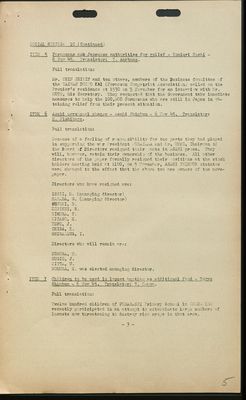 (View Page Image)
SOCIAL SERIES: 10 (Continued)
ITEM 5 Formosans ask Japanese authorities for relief - Yomiuri Hochi - 6 Nov 45. Translator: Y. Akabane.
Full translation:

Mr. CHIN SEIKIN and ten others, members of the Business Committee of the TAIWAN DOKYO KAI (Formosan Compatriot Association) called on the Premier's residence at 1530 on 5 November for an interview with Mr. MUTO, his Secretary. They requested that the Government take immediate measures to help the 100,000 Formosans who are still in Japan in obtaining relief from their present situation.

ITEM 6 Asahi personnel change - Asahi Shimbun - 6 Nov 45. Translator: H. Nishihara.
Full translation:

Because of a feeling of responsibility for the parts they had played in supporting the war President MURAYAMA and Mr. UENO, Chairman of the Board of Directors resigned their posts in ASAHI press. They will, however, retain their ownership of the business. All other directors of the paper formally resigned their positions at the stock holders meeting held at 1100, on 5 November, ASAHI SHIMBUN statutes were changed to the effect that the above two are owners of the newspaper.

Directors who have resigned are:

ISHII, M. (managing director)
HARADA, G. (managing director)
SUJUKI, B.
ONISHI, S.
KIMURA, T.
KITANO, K.

UENO, J.
CHIBA, K.
SHIRAKAWA, I.

Directors who will remain are:
NOMURA, H.
SUGIE, J.
NITTA, U.
NOMURA, H. was elected managing director.

ITEM 7 Children to be used in locust hunting as additional food - Tokyo Shimbun - 6 Nov 45. Translator: T. Ogawa.
Full translation:

Twelve hundred children of FUNABASHI Primary School in CHIBA KEN recently participated in an attempt to exterminate large numbers of locusts now threatening to destroy rice crops in that area.

- 3 -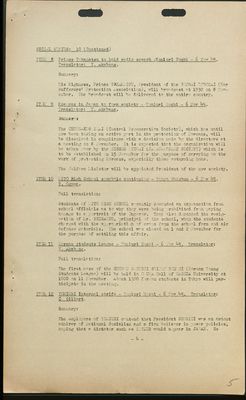 (View Page Image)
SOCIAL SERIES: 10 (Continued)
ITEM 8 Prince Takamatsu to hold radio speech -Yomiuri Hochi - 6 Nov 45. Translator: Y. Akabane.
Summary:

His Highness, Prince TAKAMATSU, President of the SENSAI ENGOKAI (War Sufferers' Protection Association), will broadcast at 1930 on 8 November. The broadcast will be delivered to the entire country.

ITEM 9 Koreans in Japan to form society - Yomiuri Hochi - 6 Nov 45. Translator: Y. Akabane.
Summary:

The CHUCO-KOS IKAI (Central Regeneration Society), which has until now been taking an active part in the protection of Koreans, will he dissolved in compliance with a decision made by the directors at a meeting on 8 November. It is expected that the organization will he taken over by the NISSEN KYOKAl (JAPAN-MORDAN SOCIETY) which is to he established on 15 November for the purpose of carrying on the work of protecting Koreans, especially those returning home.

The Welfare Minister will be appointed President of the new society.

ITEM 10 NITO High School squabble continuing - Tokyo Shimbun - 6 Nov 45. T. Ogawa.
Full translation:

Students of NITO HIGH SCHOOL recently demanded an explanation from school officials as to why they were being prohibited from paying homage to a portrait of the Emperor. They also demanded the resignation of Mr. SHIRACHO, principal of the school, whom the students charged with the appropriation of crops from the school farm and air defense materials. The school was closed on 1 and 2 November for the purpose of settling this affair.

ITEM 11 Korean students league - Yomiuri Hochi - 6 Nov 45. Translator: Y. Akabane.
Full translation:

The first mass of the CHOSEN GAKUSEI SEINEN REN EI (Korean Young Students League) will be held in OKUMA Hall of WASEDA University at 1000 on 11 November. About 1300 Korean students in Tokyo will participate in the meeting.

ITEM 12 YOMIURI internal strife - Yomiuri Hochi - 6 Nov 45. Translator: C. Gilbert.
Summary:

The employers of YOMIURI contend that President SHORIKI was an ardent admirer of National Socialism and a firm believer in power policies, hoping that a dictator such as HITLER would appear in JAPAN. He

- 4 -

(View Page Image)
SOCIAL SERIES: 10 (Continued)
sought every opportunity to contact members of the GERMAN Embassy, especially, Ambassador OTT. When YOMIURI built a Parachute Tower in November of I940, SHORIKI asked the GERMAN Air-Attache, von GRONAN, to make an opening speech, though the latter had expressed no interest whenever.

When FUJIWARA, G. was involved, as Japanese representative, to attend the 11th Congress of the NAZI Party, President SHORIKI sent HITLER a costly picture of a carp, a copy of which was hung in the YOMIURI Office. When HITLER declared war against RUSSIA, SHORIKI lauded the action before a meeting of the department heads and declared that if he had been HITLER, he would have acted in the same way.

SHORIKI firmly believed in GERMAN victory and whenever the superiority of the Soviet forces was pointed out to him, he took it very badly.

On 5 November a meeting of all the YOMIURI employees took place in the YOMIURI Office. SUZUKI, Chief of the YOMIURI Staff Committee gave a full report of the meeting with President SHORIKI. He then proposed that all employees retain their individual posts end continue the fight.

ITEM 13 Voice of peasants on Government compulsory allotment - Mainichi Shimbun - 6 Nov 45. Translator: C. Gilbert.
Extract:

A peasant wrote the following, letter to the MAINICHI. It is the Government's fault if we do not deliver our allotment of rice. Government money is no longer good for the purchase of commodities as payment in rice is always demanded. Secretary of Agriculture, MATSUMURA, in answer to various complaints that the State Ministers are living in luxury, states that he lives only on his rations and suffers from want the same as everyone else.

A TOKYO citizen writes that the peasants now selling rice at the black market price of Y 20 to 100 yen per SHO, seem to forget that when they had very little, the citizens of TOKYO starred a movement to save them and also that their present humble situation is not at all permanent. One of these days farmers will again be in a position in which they will need assistance and should co-operate now.

In KAWATO, a town in NIIGATA-KEN, it is reported that the mayor of the town has guaranteed that its citizens would not starve on account of Government rice allotment deliveries. If food supplies were inadequate, he promised to break into Government sealed rice in order to make up the deficit. Rice hauling is to be carried on under village supervision in order to prevent robbery.

ITEM 14 Social education - Asahi Shimbun - 7 Nov 45. Translator: Y. Akabane.
Full translation:

The Minister of Education has expressed his intention of emphasizing Social education as a means of reconstructing new JAPAN, and has issued instructions to prefectures, schools, religious bodies, etc., to put into execution the following items:

Recommendations for the establishment of young men's associations and women's culture associations, and the expenditure of efforts to facilitate their development.

- 5 -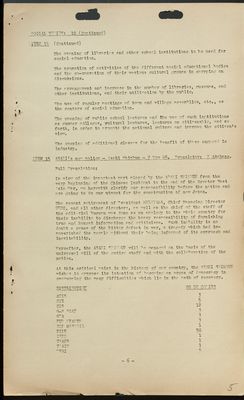 (View Page Image)
SOCIAL SERIES: 10 (Continued)
The opening of libraries and other school institutions to be used for social education.

The promotion of activities of the different social educational bodies and the co-operation of their various cultural groups in carrying on discussions.

The arrangement and increase in the number of libraries, museums, and other institutions, and their utilization by the public.

The use of regular meetings of town and village assemblies, etc., as the centers of social education.

The opening of public school lectures and the use of such institutions as summer colleges, cultural lectures, lectures on citizenship, and so forth, in order to promote the national culture and improve the citizen's view.

The opening of additional classes for the benefit of those engaged in industry.

ITEM 15 ASAHI's new policy - Asahi Shimbun - 7 Nov 45. Translator: Y. Akabane.
Full Translation:

In view of the important part played by the ASAHI SHIMBUN from the very beginning of the Chinese Incident to the end of the Greater East Asia War, we herewith clarify our responsibility before the nation and are going to do our utmost for the construction of new Japan.

The recent retirement of President MURAYAMA, Chief Managing Director UENO, and all other directers, as well as the chief of the staff of the editorial bureau was done as an apology to the whole country for their inability to discharge the heavy responsibility of furnishing true and honest information and criticisms. Such inability is no doubt a cause of the bitter defeat in war, a tragedy which had impoverished the people without their being informed of its approach and inevitability.

Hereafter, the ASAHI SHIMBUN will be managed on the basis of the universal will of the entire staff and with the collaboration of the nation.

At this critical point in the history of our country, the ASAHI SHIMBUN wishes to express its intention of becoming an organ of democracy in overcoming the many difficulties which lie in the path of recovery.

DISTRIBUTION

NO OF COPIES

ATIS
3
CIE
5
CIS
12
G-2 SCAP
3
G

[illegible]

A
3

[illegible]

HEALTH
3
COL MASHBIR
1
FILE
50
INFO
1
TRANS
1
TRAIN
1
PERI
5
- 6 -