Press translations [Japan]. Social Series 0009, 1945-11-11.
translation-number: social-0030
call-number: DS801 .S84
---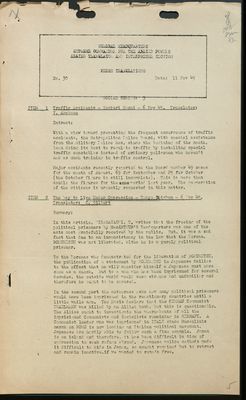 (View Page Image)
GENERAL HEADQUATERS

SUPREME COMMANDER FOR THE ALLIED POWERS

ALLIED TRANSLATOR AND INTERPRETER SECTION

PRESS TRANSLATIONS

SOCIAL SERIES: 9

ITEM 1 Traffic Accidents - Yomiuri Hochi - 6 Nov 45. Translator: Y. Akabane
Extract:

With a view toward preventing the frequent occurrence of traffic accidents, the Metropolitan Police Board, with special assistance from the Military Police has, since the begining of the month, been doing its best to regulate traffic by installing special traffic constables instead of ordinary policemen who haven't held as much training in traffic control.

Major accidents recently reported to the Board number 49 cases for the month of August, 69 for September and 25 for October (the October figure is still incomplete). This is more than double the figures for the same period last year. The cooperation of the citizens is urgently requested in this matter.

ITEM 2 The way to Live Under Oppression - Tokyo Shimbun - 6 Nov 45. Translator: C. Gilbert
Summary:

In this article,
[illegible]
IRABAYASHI, T. writes that the freeing of the political prisoners by MacARTHUR'S Headquarters was one of the acts most gratefully received by the public. But, it was a sad fact that due to an inconsistency in the law that the Korean, BOKURETSU was not liberated, altho he is a purely political prisoner.
To the Koreans who demonstrated for the liberation of BOKURKTSU, the publication of statement by BOKURKTSU in Japanese dailies to the effect that he will consider himself a Japanese must have come as a shock. But to a man who has been imprisoned for several decades, the outside world would seem strange and unfamiliar and therefore he ought to be excused.

In the second part the authoress, asks how many political prisoners would have been imprisoned in the reactionary countries until a little while ago. The Nazis declare that the GERMAN Communist THAELMANN was killed by an Allied bomb, but this is questionable. The Allies ought to investigate the whereabouts of all the imprisoned Communists and Socialists remaining in GERMANY. A Communist leader who was imprisoned in ITALY since Mussolinis march on ROME is now leading an Italian political movement. Japanese are hardly able to follow such a fine example. Japan is an island and therefore, it has bean difficult in time of oppression to seek refuge abroad. Japanese police methods made it difficult to hide in Japan, so nought remained but to retract and remain inactive. if we wanted to remain free.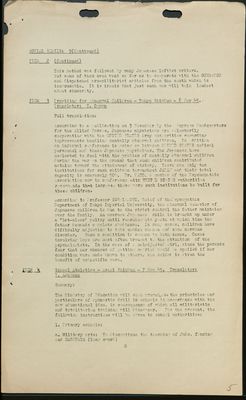 (View Page Image)
SOCIAL SERIES: 9(Continued)
This method was followed by many Japanese leftist writers. But some of them even went so far as to cooperate with the GUNBATSU and dispatched pro-militarist articles from the south which is inexcusable. It is ironic that just such men will talk loudest about sincerety.

ITEM 5 Providing for Abnormal Children - Tokyo Shimbun - 6 Nov 45. - Translator: T. Ogawa
According to a publication on 3 November by the Supreme Headquarters for the Allied Forces, Japanese physicians are voluntarily cooperating with the UNITED STATES Army authorities regarding improvements handling mentally abnormal children. In addition an informal conference is going on between UNITED STATES medical personnel and these Japanese physicians. The Japanese have neglected to deal with the problem of mentally abnormal children during the war on the ground that such children contributed nothing toward the attainment of victory. There are only ten institutions for such children throughout JAPAN and their total capacity is scarecely 500. Dr. KATO, a member of the Psychopathic Association now in conference with UNITED STATES authorities recommends that increase these more such institutions be built for these children.

According to Professor YOSHIMATSU, Chief of the Psycopathic Department of Tokyo Imperial University, the abnormal behavior of Japanese children is due to the strict control the father maintains over the family. An average Japanese child is brought up under a "let-alone" policy until reaching his youth at which time the father demands complete obedience. In many cases, children have difficulty adjusting to this sudden change end some nervous disorder. Such a condition is common to both sexes. Cases involving boys are most often brought to the attention of the psychologists. In the case of a maladjusted girl, since the parents fear that her chances of getting married would be spoiled if her condition were made known to others, she seldor is given the benefit of scientific care.

ITEM 4 School Athletics - Asahi Shimbun - 7 Nov 45. Translator: Y. Akabane
Summary:

The Ministry of Education will soon promulgate the principles and particulars of aymnastic drill in schools in accordance with the new educational idea, in consequence of which all militaristic and totalitarian training will disappear. For the present, the following instructions will be given to school authorities:
Primary schools:
Military arts: To discontinue the teaching of Judo, fencing and NAGINATA (long sword)

- 2 -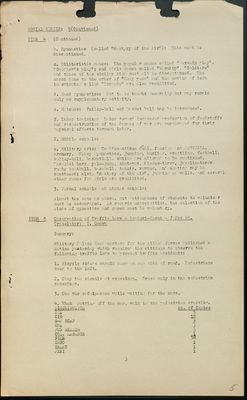 (View Page Image)



SOCIAL SERIES

:

9 (Continued)





ITEM 4

(Continued)
Gymnastics (called "Mastery of the Air"): This must be discontinued.
Militaristic games: The popular games called "Warship play", "Soldier's play"; and girls games called "Warship", "Soldiers" and those of the similar kind must all be discontinued. The march done to the order of "Keep pace" and the moving of legs in swimming called "Torpedo" are also prohibited.
Hand gymnastics: Not to be taught generally hut may remain only as supplementary activity.
Matches: Valley-ball and basket ball may be introduced.
Labor training: Labor toward increased production of foodstuffs and reconstruction of the damage of war are encouraged for their physical effects through labor.
Middle schools:
Military arts: To discontinue Jūdō, fencing and NAGINATA, archery. Heavy gymnastics, jumping, hurling wrestling, football, volley-ball, basketball, skiing are allowed to be continued. Parallel bars, pole-jump, shot-put, discus-throw, javelin-throw, rugby bootball, baseball, tennis, rowing, and skating may be continued; also, "Mastery of the air", jumping or walls, and several other games for girls are prohibited.
Normal schools and higher schools:
Almost the same as above, but attendance of students to volunteer must be encouraged. As regards universities, the selection of the Kinds of gymastics and games must be voluntary.

ITEM 5 Observation of Traffic laws - Yomiuri-Hochi - 7 Nov 45. Translator: T. Ogawa
Summary:

Military Police Headquarters for the Allied Forces published a notice yesterday which required the citizens to observe the following traffic laws to prevent traffic accidents:
Bicycle riders should keep on one side of road. Pedestrians keep to the left.
Obey the signals at crossings. Cross only in the pedestrian crossings.
Use the safely-zone while waiting for the cars.
When getting off the car, walk to the pedestrian crossing.
| | |
| --- | --- |
| DISTRIBUTION | No of Copies |
| CIE | 5 |
| CIS | 12 |
| G-2 SCAP | 3 |
| GPA | 3 |
| PUB HEALTH | 3 |
| COL. MASHBIR | 1 |
| FILE | 50 |
| INFO | 1 |
| TRANS | 1 |
| PERI | 1 |
- 3 -