Press translations [Japan]. Social Series 0008, 1945-11-12.
translation-number: social-0027
call-number: DS801 .S84
---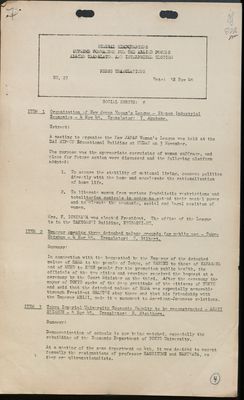 (View Page Image)
GENERAL HEADQUARTERS

SUPREME COMMANDER FOR THE ALLIED POWERS

ALLIED TRANSLATOR AND INTERPRETER SECTION

PRESS TRANSLATIONS

SOCIAL SERIES: 8

ITEM 1 Organization of New Japan Woman's League - Nippon Industrial Economics - 4 Nov 45. Translator: Y. Akabane.
A meeting to organize the New JAPAN Woman's League was held at the DAI NIPPON Educational Building at KUDAN on 3 November.

The purpose was the appropriate exercising of woman suffrage, and plans for future action were discussed and the following platform adapted:
To secure the stability of national living, connect politics directly with the home and accelerate the rationalization of home life.
To liberate women from various feudalistic restrictions and totalitarian controls in order to extend their mental power and to elevate the economic, social and legal position of women.
Mrs. F. ICHIKAWA was elected President. The office of the League is in the TAKEGASHI Building, KYORASHI-KU.
ITEM 2 Emperor opening three detached palace grounds for public use - Tokyo Shimbun - 4 Nov 45. Translator: C. Gilbert.
Summary:

In connection with the bequeathal by the Emperor of the detached palace of HAMA to the people of Tokyo, of HAKONE to those of KANAGAWA and of MUKO to KOBE people for the promotion public health, the officials of the two cities and province received the bequest at a ceremony by the Court Minister on the third. After the ceremony the mayor of TOKYO spoke of the deep gratitude of the citizens of TOKYO and said that the detached palace of HAMA was especially memorable through President GRANT'S stay there and that his friendship with the Emperor MEIJI, made it a monument to American-Japanese relations.

ITEM 3 Tokyo Imperial University Economic Faculty to be reconstructed - ASHI SHIMBUN - 5 Nov 45. Translator: H. Nishihara.
Summary:

Democratization of schools is now being watched, especially the rebuilding of the Economic Department of TOKYO University.

At a meeting of the same department on 4th, it was decided to accept formally the resignations of professor HASHIZUME and NANIWATA, as they are ultranationalists.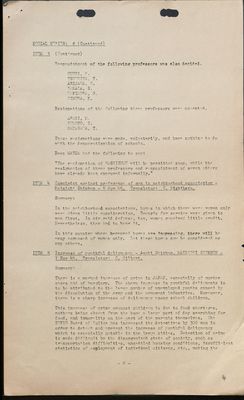 (View Page Image)
SOCIAL SERIES: 8 (Continued)
Reappointment of the following professors was also decided.

OUCHI, H.

TSUCHIYA, T.

ARIJAWA, H.

YAMADA, S.

WAKIMURA, G.

KIMURA, K.

Resignations of the following three professors were accepted.

ARAKI, M.

YUMOTO, T.

NAKAGAWA, T.

These resignations were made, voluntarily, and have nothing to do with the democratization of schools.

Dean MAEDA had the following to say:

"The resignation of HASHIZUME will be permitted soon, while the resignation of three professors and reappointment of seven others have already been approved informally."

ITEM 4 Complaint against preference of men in neighborhood, association - Mainichi Shimbun - 5 Nov Translator: H. Nishihara.
Summary:

In the neighborhood associations, homes in which there were women only were given little consideration. Rewards for service were given to men first. In air raid defense, too, women received little credit. Nevertheless, they had to bear it.

In this country where bereaved homes are increasing, there will be many composed of women only. Let these homes now be considered as any others.

ITEM 5 Increase of youthful daliquency - Asahi Shimbun, MAINICHI SHIMBUN - 7 Nov 45. Translator: C. Gilbert.
Summary:

There is a marked increase of crime in JAPAN, especially of murder cases and of burglary. The sharp increase in youthful deliquents is to be attributed to the number of unemployed youths caused by the dissolution of the Army and the armament industries. Moreover, there is a sharp increase of deliquency among school children.

This increase of crime amongst children is due to food shortages, mothers being absent from the home a large part of day searching for food, and immorality on the part of the parents themselves. The TOKYO Board of Police has increased its detectives by 300 men in order to detect and prevent the increase of youthful deliquency which is especially notable the large cities. Detection of crime is made difficult by the disorganized state of society, such as transportation difficulties, unsettled housing conditions, insufficient statistics of employment of individual citizens, etc., making the

- 2 -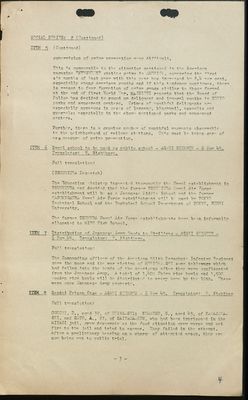 (View Page Image)
SOCIAL SERIES: 8 (Continued)
supervision of crime prevention very difficult.

This is comparable to the situation mentioned in the American magazine "NEWSWEEK" stating crime in AMERICA, comparing the first six months of last year with this year has increased by 8.4 per cent, especially among American youths and if this tendency continues, there is reason to fear formation of crime gangs similar to those formed at the of first World War. MAINICHI reports that the Board of Police has decided to round up deliquent and immoral youths in TOKYO parks and amusement centers. Crimes of youthful deliquents are especially numerous in cases of larceny, blackmail, assaults and quarels; especially in the above mentioned parks and amusement centers.

Further, there is a growing number of youthful vagrants observable in the neighborhood of railway stations. This must be taken care of as a measure of crime prevention.

ITEM 6 Naval school to be used as public school - ASAHI SHIMBUN - 6 Nov 45. Translator: H. Nishihara.
Full translation:

(TSUCHIURA Despatch)

The Education, ministry inspected thoroughly the Naval establishment in TSUCHIURA and decided that the former TSUCHIURA Naval Air Force establishment will be as a Japanese Middle School and the former KASUMIGAURA Naval Air Force establishment will be used by TOKYO Technical School and the Technical School Department of TOKYO, BUMRI University.

The former TSUKURA Naval Air Force establishments have been informally allocated to MITO High School.

ITEM 7 Distribution of Japanese Army to Civilians - ASAHI SHIMBUN - 6 Nov 45. Translator: H. Nishibara.
Full translation:

The Commanding officer of the American 511th Parachute Infantry Regiment gave the poor and the war victims of MORIOKA-SHI some table ware which had fallen into the hands of the Americans after they were confiscated from the Japanese Army. A total of 1,400 China rice bowls end 1,500 wooden rice bowls will be distributed to every home by the 10th. These were once Japanese Army property.

ITEM 8 Sendai Prison Case - ASAHI SHIMBUN - 6 Nov 45. Translator: H. Nishihar
Full translation:

OGUCHI, D., aged 32, of CHIBA-SHI; KOMATSU, S., aged 43, of KANAJAWASHI, and SATO, A., 27, of SAITAMA-KEN, who had been imprisoned in the MIYAGI jail, grew desperate as the food situation grew worse end set fire to the tried to escape. They failed in the attempt. After a preliminary hearing on a charge of attempted arson, they are now being put to public trial.

- 3 -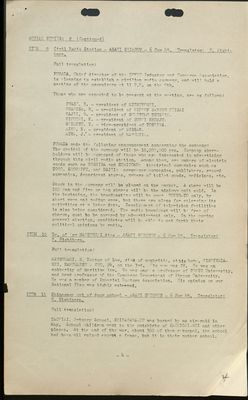 (View Page Image)
SOCIAL SERIES: 8 (Continued)
ITEM 9 Civil Radio Station - ASAHI SHIMBUN - 6 Nov 45. Translator: H. Nishibara.
Full translation:

FUFADA, Chief director of the TOKYO Industry and Commerce Association, is Planning to establish a civilian radio company, and will hold a meeting of the organizers at 11 P.M. on the 9th.

Those who are expected to be a present at the meeting, are as follows:

IWASE, E. president of MITSUEOSHI
ONAGISA, R. - President, of NIPPON SANGYO KEISAI
KAJII, G. - president of SUMITOMO TSUSHIN.
KIKUCHI, K. - president of BUGEI SHUNJU.
SHIMIZU, Y. - vice-president of TOSHIBA.
MIHO, K. - president of NISSAN.
MIWA, J. - president of MARUMIYA.

FUNADA made the following announcement concerning the company: The capital of the company will b a 10,000,000 yen. Company share-holders will be composed of those who are interested in advertising through this civil radio station. Among them, are makers of electric goods such as TOSHIBA and SUMITOMO: theatrical companies such as TOHO, SHOCHIKU, and DAIEI: newspaper companies, publishers, record companies, department stores, makers of toilet goods, medicines, etc.

Stock in the company will be placed on the market. A share will be 100 yen and five or ten shares will be the minimum unit sold. In the beginning, the broadcasting will be over TOKYO-TO only, by short wave and medium wave, but there are plans for enlarging its activities at a later date. Development of television facilities is also being considered. The radio broadcast will be free of charge, cost to be covered by advertisement only. In the coming general election, candidates will be able to set forth their political opinions by radio.

ITEM 10 Dr. of law MATSUNANI dies - ASAHI SHIBUN - 6 Nov 45. Translator: H. Nishihara.
Full translation:

MATSUNAMI, N. Doctor of Law, died of nephritis, at his home, KISHIWADA-SHI, NAMIMATSU - CHO, 24 on the 3rd. His age was 78. He was an authority of maritime law. He was one a professor of TOKYO University, and head professor of the Commerce Department of Nippon University. He was a member of Imperial Doctors Association. His opinion on our National Flag was highly esteemed.

ITEM 11 Shinagawa out of door school - ASAHI SHIMBUN - 6 Nov 45. Translator: H. Nishihara.
Full translation:

TACHIAI, Primary School, SHINAGAWA-KU was burned by an air-raid in May. School children went to the outskirts of HACHIOJI-SHI and other places. At the end of the war, about 300 of them returned, the school had been all ruined except a fence, but it is their mother school.

- 4 -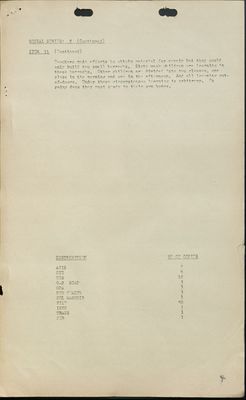 (View Page Image)
SOCIAL SERIES: 8 (Continued.)
Teachers made efforts to obtain material for repair but they could only build two small barracks. Sixty weak children are learning in these barracks. Other children are divided into two classes, one class in the morning and one in the afternoon. And all learning out-of-doors. Under these circumstances learning is arbitrary. On rainy days they must study in their own homes.

| | |
| --- | --- |
| DISTRIBUTION | NO OF COPIES |
| ATIS | 3 |
| CIE | 5 |
| CIS | 12 |
| G-2 SCAP | 3 |
| GPA | 3 |
| PUB HEALTH | 3 |
| COL MASHBIR | 1 |
| FILE | 50 |
| INFO | 1 |
| TRANS | 1 |
| PER | 1 |
- 5 -