Press translations [Japan]. Political Series 0258, 1946-02-01.
translation-number: political-1063
call-number: DS801 .S85
---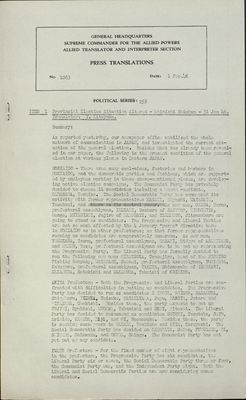 (View Page Image)
GENERAL HEADQUARTERS

SUPREME COMMANDER FOR THE ALLIED POWERS

ALLIED TRANSLATOR AND INTERPRETER SECTION

PRESS TRANSLATIONS

POLITICAL SERIES: 258

ITEM 1 Provincial Election Situation Altered - Mainichi Shimbun - 31 Jan 46. Translator: T. Kitayama.
Summary:

As reported yesterday, our newspaper office mobilized the whole network of communication in JAPAN, and investigated the current situation of the general election. Besides what has already been revealed in our paper, the following is the present condition of the general election at various places in Eastern JAPAN.

HOKKAIDO - There are many coal-mines, factories and harbors in HOKKAIDO, and the democratic parties and factions, which are supported by employees working in those above-mentioned places, are developing active election campaigns, The Communist Party has privately decided to choose 11 candidates including a woman candidate, GARASAWA, Toshiko. The Social Democratic Party has commenced its activity with former representatives MASAKI, Kiyoshi, WATANABE, Yasukuni, and others as its central power. As new men, OKADA, Haruo, prefectural assemblyman, IKEZAKI, Usaburo of SAPPORO, KIHOSHITA, Gengo, MIYAGISHI, Jujiro of HAKODATE, and TAKEMOTO, Jitsusaburo are going to stand as candidates. The Progressive and Liberal Parties are not so much affected by the 4 January "purre" directive here in HOKKAIDO as in other prefectures; so that former representatives running as candidates are comparatively numerous. As new men, YONEZAWA, Isamu, prefectural assemblyman, SASAKI, Hideyo of ASAHIKAWA, and MAENO, Yozo, prefectural assemblyman are to be put up representing the Progressive Party. The Liberal Party has formally decided to run the following new men: HIRATSUKA, Tsunejiro, head of the NICHIRO Fishing Company, WATANABE, Shohei, prefectural assemblyman, TOMINAGA, Kakugoro, profectural assemblyman, TAKETA, Shinnosukc of ISHIKARI, NAKAMURA, Sotokichi and NAKANURA, Takeichi of OBIHIRO.

AKITA Prefecture - Both the Progressive and Liberal Parties are confronted with difficulties in putting up candidates, The Progressive Party has decided to run as candidates S
[illegible]
INOTA, GIIMON, NAKAMURA, Shigeharu, IIZUKA, Teisuke, HATAKEYAMA, Juyu, NARITA, Jutaro and HIRASAWA, Chokichi. Besides those, the party expects to put up FUJIHI, Ryokichi, KODAMA, Takamichi and SEKI, Hitoshi. The Liberal Party has decided to recommend as candidates SUZUKI, Yasutaka, SATO, Arihide, KAMADA, Eiji, and OI, Naonosuke. Besides those, the party is seeking successors to NAKADA, Koshinao and NITA, Koreyoshi. The Social Democratic Party has decided on KATWAMATA, Seion, FURUSAWA, Hi, SHIMADA, Shinsaku, and OKUDA, Shingo. The Communist Party has not yet put up any candidate.
IWATE Prefecture - For the fixed number of eight representatives in the prefecture, the Progressive Party has six candidates, the Liberal Party six or seven, the Social Democratic Party three or four, the Communist Party one, and the Independent Party eight. Both the Liberal and Social Democratic Parties are now considering women candidates.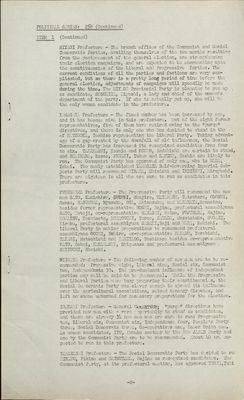 (View Page Image)
POLITICAL SERIES: 258 (Continued)
MIYAGI Prefecture - The branch offices of the Communist and Social Democratic Parties, availing themselves of the two months resulting from the postponement of the general election, are strengthening their election campaigns, and are expected to be encroaching upon the constituencies of the Liberal and Progressive Parties, The current conditions of all the parties and factions arc very complicated, but as there is a pretty long period of time before the general election, adjustments of campaigns will speedily be made during the time. The MIYAGI Provincial Party is planning to put up as candidate, SUSUKIDA, Kiyoshi, a lady and chief of the women's department of the party. If she is actually put up, she will be the only woman candidate in the prefecture.

YAMAGATA Prefecture - The fixed number has been increased by one, and it has become nine in this prefecture. Out of the eight former representatives, five of them have retired owing to the "purge" directives, and there is only one who has decided to stand in the of MATSUOKA, Toshizo representing the Liberal Party. Taking advantage of a gap created by the downfall of old influences, the Social Democratic Party has increased its rccognizcd candidates from four to six. TAKAMASHI, Yoshio and KONNO, Sadakichi are certain to stand, and SEKIHARA, Kazuo, FUNAKI, Takeo and KANEKO, Yoshio are likely to run. The Communist Party has approved of only one, who is WADA, Yohei. The newly established YAMAGATA Self-Soverning Imperial Subjects Party will recommend HIRAGA, Shinichi and INEIZUHI, Hiroyoshi. There are eighteen in all who aro sure to run as candidates in this prefecture.

FUKUSHIMA Prefecture - The Progressive Party will recommend the new men SATO, Zbnichire, SUZUKI, Shujiro, WATANABE, Tetsutaro, OGOSHI, Gunzo, HASUNUMA, Ryusuko, OTA, Akinosuke, and NAKARAYA, Senmatsu, besides former representative HOSHI, Hajime, prefectural assemblyman. SATO, Motoji, ex-representative HAYASHI, Heima, FUJBTARA, Hajimo, KOMATSU, Yoshimoto, KOWAGUCHI, Torao, KAWADA, Masatataka, SUGAIE, Kiroku, profcctural assemblymen SASAKI, Soji and HARA, Kokichi. The Liberal Party in making preparations to recommend prefectural assemblyman OUCHI, Ichiro, ex-representative NAKANO, Torakichi, TAKAGI, Matsukichi and KARIYADO, Toshikazo besides ex-representative KATO, Sohei, KARAHASHI, Shigemasa and profcctural assemblyman SEKIUCHI, Shoichi.

NIIGATA Prefecture - The following number of new men are to be recommended: Progessive eight, Liberal nine, Social six, Communist two, Independents 30. The pre-dominant influence of independant parties may well be said to be phenomenal. While the Progressive and Liberal Parties were busy preparing their constituencies, the Social Democratic Party was clever enough to spread its influence over the agricultural associations, solved tenancy disputes, and left no stone unturned for necessary preparations for the election.

IBARAGI Prefecture - General M
[illegible]
ARTHUR; "purge" directives have provided new men with a rare opportunity to stand as candidates, and there are already 34 new men who are sure to run: Progressive ton, Liberal six, Communist six, Independent four, People's Party three, Social Democrats three, Co-operatives one, Labor Union one. As women candidates, ITO, Nobuko another by the New JAPAN Party and one by the Communist Party are to be recommended. About 40 are expected to run in this prefecture.
YAMANASHI Prefecture - The Social Democratic Party has decided to run HIRANO, Rikizo and MATSUZAWA, Hajime as recognized candidates. The Communist Party, at its prefectural meeting, has approved YUKIE, Yuki

- 2 -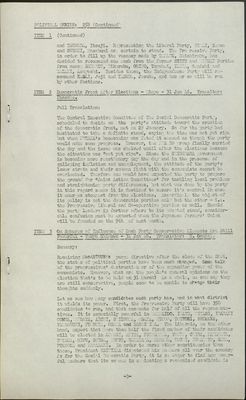 (View Page Image)
POLITICAL SERIES: 258 (Continued)
and TSUNODA, Itsuji. Representing the Liberal Party, HI
[illegible]
AI, Senze and SUZUKI, Masabumi are certain to stand. The Progressive Party, in order to fill up the vacancy made by TA
[illegible]
BE, Shichiroku, has decided to recommend one each from the former SEIYU and
[illegible]
NSEI Parties from among SHI
[illegible]
ZU, Hikoroku, OGINO, Toyohei, IKE
[illegible]
A, Gonichi and YAZAKI, Asayoshi. Besides these, the Independence Party will recommend KASAJ, Juij and YASUDA, Josuke, and two or so will be run by other factions.
ITEM 2 Democratic Front After Elections - Mimpo - 31 Jan 46. Translator: Passche.
Full Translation:

The Central Executive Committee of The Social Democratic Party, scheduled to decide on the party's attitude toward the creation of the democratic front, met on 29 January. So far the party had hesitated to take a definite stand, saying the time was not yet ripe but when NOZAKA's homecoming was feted it seemed as though the party would make some progress. However, the NISMTO group finally carried the day and the issue was shelved until after the elections because the situation was "not yet ripe". Since the SHIDEHARA government is becoming more reactionary day the day and in the presence of galloping inflation and unemployment, the attitude of the party's lower strata and their common fight with the communists cannot be overlooked. Therefore one would have expected the party to prepare the ground for "Joint Action Committees" for tackling local problems and straightening party differences, but when what was done by the party in this regard seems it is destined to secure it's control in case it emerges strongest from the elections. Accordingly the object of its policy is not the democratic parties only but the other - i.e. the Progressive Liberal and Co-operative parties as well. Should the party leadership further adhere to its adopted stand, considerable confusion must be expected when the Japanese Farmers' Union will be founded on the 9th of next month.

ITEM 3 On Spheres of Influence of Each Party Conservative Elements Are Still Powerful - Tokyo Shimbun - 31 Jan 46. Translation: R. Ochiai.
Summary:

Receiving MacARTHUR's purge directive after the close of the Diet, the states of political parties have been much changed. Some talk of the progressives' destruction or of the expending power of the communists. However, what are the people's general opinions on the election that's to be hold on 31 March? As a whole, we can say they are still conservative, people seen to be unable to change their thoughts suddenly.

Let us see how many candidates each party has, and in what district it wields its power. First, the Progressive Party will have 350 candidates to run, and that accounts for half of all the representatives. It is especially powerful in HOKKAIDO, TOTTORI, SHIMANE, YAMAGUCHI, FU
[illegible]
UOKA, OSAKA and KAGOS I
[illegible]
A. The Liberals, on the other hand, expect that more than half the fixed number of their candidates will be elected in A
[illegible]
ORI, AKITA, FUKUSH
[illegible]
A, TOKYO, C
[illegible]
IBA, KANAGAWA, TOYAMA, GIFU, SHIGA, KYOTO, WAKAYAKA, KAGAWA, KOCHI, KUMAMTO, SAGA, FUKUOKA and NAGASAKI. In order to nurse other constitencies then these, President HATOYAKA dispatched his members all over the country as for the Socila Democratic Party, it is so eager to find new powerful members that its scheme in maintaining a recognized candidate is
- 3 -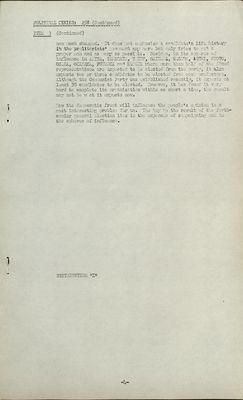 (View Page Image)
POLITICAL SERIES: 258 (Continued)
now much changed. It does not emphasize a candidate's life history in the prolitariats' movement any more but only tries to get a proper man and as many as possible. Besides, in its spheres of influence in AKITA, YAMAGATA, TOKKO, SAITAMA, NAGANO, AICHI, KYOTO, OSAKA, OKAYAMA, FUKUOKA and KAGAWA where more than half of the fixed representatives are expected to be elected from the party, it also expects two or three candidates to be elected from the party, it also expects two or three candidates to be elected from each prefecture. Although the Communist Party was established recently, it expects at least 30 candidates to be elected. However, it has found it very hard to complete its organization within so short a time, the result may not be
[illegible]
wat it expects now.
How the democratic front will influence the people's opinion is a most interesting problem for us. The key to the result of the forthcoming general election lies in the expenses of campaigning and in the spheres of influence.

DISTRIBUTION "X"

- 4 -